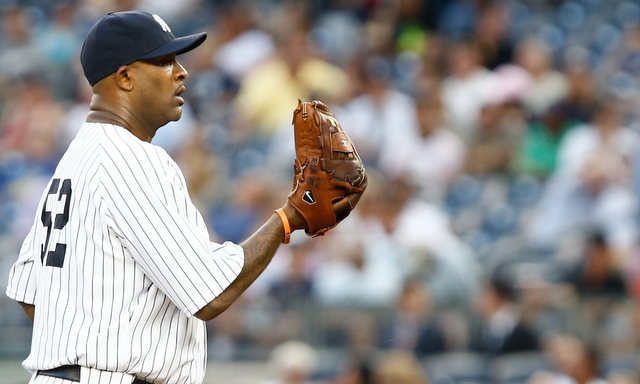 The Yankees stink. At least they stink right now. They've lost four straight and eight of their last nine games overall, and they seem to find a new way to lose every night. One night it's the offense, one night it's the pitching, one night it's the defense, and some nights it's all of the above. Those are the worst.
CC Sabathia has been on the mound for the last two Yankees wins and he pitched well both times out, well enough to make you think he is kinda sorta turning a corner. I hope so. The Yankees desperately need Sabathia to pitch them to another win this afternoon, just like they leaned on him to pitch them to so many wins from 2009-12. Here is the Rangers' lineup and here is the Yankees' lineup:
LF Brett Gardner
RF Carlos Beltran
DH Alex Rodriguez
1B Mark Teixeira
3B Chase Headley
2B Stephen Drew
SS Didi Gregorius
C John Ryan Murphy
CF Slade Heathcott
LHP CC Sabathia
It's a lovely day in New York. A little on the cool side but otherwise a perfect day for baseball. This afternoon's game is scheduled to begin at 1:05pm ET and can be seen on WPIX locally and MLB Network nationally. Try to enjoy the game.
Injury Update: Chris Martin (elbow) has already thrown one bullpen session and will throw another later today. He could head out on a minor league rehab assignment next … no new information on Jacoby Ellsbury (knee).