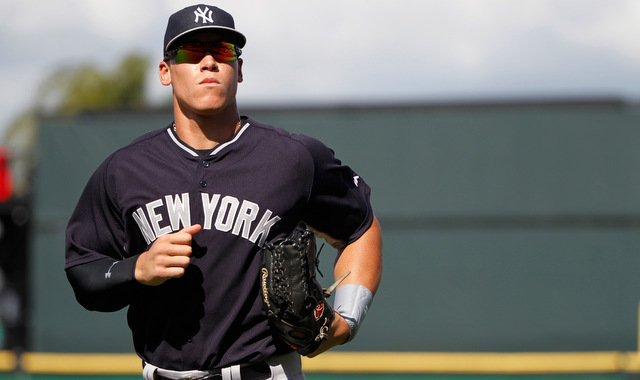 Earlier today, Keith Law published his updated list of the 25 best prospects in the minors (subs. req'd). With Cubs 3B Kris Bryant now in MLB, Astros SS Carlos Correa takes over as the number one prospect in baseball. Dodgers SS Corey Seager, Twins OF Byron Buxton, Phillies SS J.P. Crawford, and Indians SS Francisco Lindor round out the top five.
The Yankees have one player in Law's updated top 25: OF Aaron Judge ranked 16th, up from 23rd in Law's preseason top 100. Here's the blurb on Judge:
Judge is prone to strikeouts — he had 11 in a recent four-game stretch — but he also is doing so much damage when he does make contact that he projects as an average regular even if he doesn't improve his contact rate. He's also an above-average to plus defender in right. Most scouts I've talked to share my belief that he'll continue to close some of the gaps in his plate coverage, especially if he backs off the plate a little.
The "especially if he backs off the plate a little" comment made me chuckle because here's where Judge was standing in the batter's box in Spring Training: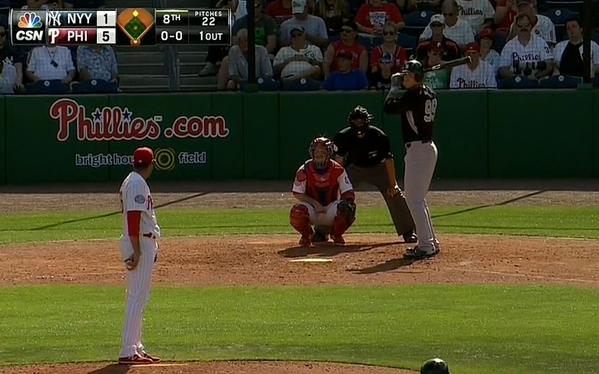 If he moves back any further he'll be in the on-deck circle.
Anyway, Judge, who turned 23 late last month, is hitting .288/.356/.469 (134 wRC+) with nine doubles and six homers in 180 plate appearances for Double-A Trenton this year. He hit .283/.411/.442 (149 wRC+) with nine doubles and eight homers in 285 plate appearances for High-A Tampa in the second half last year, so his raw power is starting to show up in games.
Despite a recent slump — Judge is 2-for-20 (.100) with 14 strikeouts (!) in his last five games — Judge has a 26.1% strikeout rate this year, which isn't too far off from the 23.3% strikeout rate he had with Low-A Charleston and High-A Tampa last year. (He had a 21.4 K% before this recent five-game slide.) Given his size and his long arms, Judge is always going to be prone to strikeouts, but when he makes contact, he does major damage.
The Yankees don't have any other top 25 caliber prospects in the system right now. I'm not even sure they have another top 50 caliber prospect either. RHP Luis Severino didn't make Law's preseason top 100 but that was an outlier — Severino was on every other top 100 list out there. 1B Greg Bird was 86th on Law's preseason list but he's been just okay (122 wRC+) and hurt (shoulder) with Double-A Trenton this year. No surprise he didn't shoot up the list.