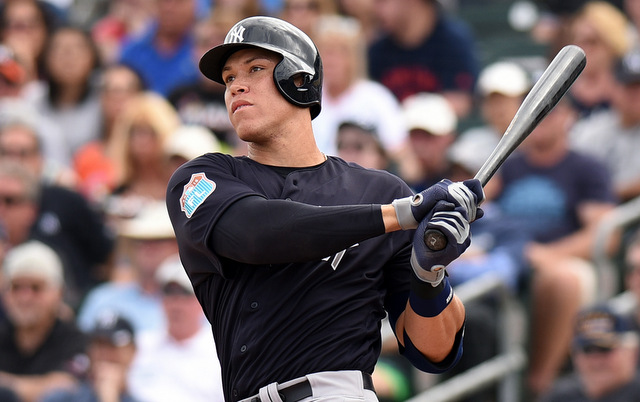 One of our longest running quasi-features here at RAB is the annual Prospect Watch. It's pretty simple. We pick a prospect each year, then track his performance in the sidebar with daily updates throughout the season. Think of it as the nuts and bolts of the player's Baseball Reference page in our sidebar. Easy, right?
In the past I would make an executive decision and pick the prospect myself. It was pretty easy back in the days of Phil Hughes, Joba Chamberlain, Andrew Brackman, and Jesus Montero. I can't remember who else has been featured in the Prospect Watch over the years — definitely Mason Williams and Eric Jagielo, I'm pretty sure Manny Banuelos too — but it's not really important now.
Rather than pick a prospect myself, these days I turn it over to you folks, the readers. Over the last few years I've picked a handful of prospects and let readers vote for the Prospect Watch prospect. Some say the Prospect Watch is cursed, you know. I only wish the pixels in our sidebar were so powerful. Anyway, here are the five candidates for the 2016 Prospect Watch, presented alphabetically.
OF Dustin Fowler
The Case For: Fowler, 21, was one of the breakout stars of the farm system last year, hitting .298/.334/.403 (114 wRC+) with 22 doubles, eight homers, and 37 steals in 587 plate appearances split between Low-A, High-A, and the Arizona Fall League. Didn't realize he stole 37 bags, did you? He drew rave reviews for his tools in the AzFL as well. Fowler fills all the columns and stands to improve even more now that he has another year as a full-time baseball player under his felt. (He split his time between three sports in high school.)
The Case Against: At this point Fowler is not expected to put up big power numbers. In fact, it took a strong AzFL showing to get his season slugging percentage over .400. (He slugged .394 at the two Single-A levels.) He could very well be a single-digit home run guy in 2016. Fowler's not a huge numbers prospect; a lot of his value is to tied to his defense and raw athleticism, which he's still working to turn into baseball skills.
The Case For: Last year's Prospect Watch prospect — we've had the same Prospect Watch prospect in consecutive years before, that's no issue — is the best prospect in the farm system. The 23-year-old Judge managed a .258/.332/.446 (124 wRC+) batting line with 26 doubles, 20 homers, and seven steals in 552 total plate appearances last year despite his second half skid at Triple-A. He's got power and he draws walks, and he's scheduled to start the season back with the RailRiders. Repeating a level usually provides a nice boost to a player's stats. Out of everyone in this post, I think Judge has the best chance to put up "holy crap" numbers in 2016.
The Case Against: Judge did scuffle at Triple-A last season, hitting .224/.308/.373 (98 wRC+) with eight home runs and an eyesore of a 28.5% strikeout rate in 260 plate appearances. Experienced pitchers took advantage of his massive frame and chewed him up with soft stuff away. Judge made some mechanical adjustments over the winter in an attempt to correct that flaw — he has a bigger leg kick and moved his hands slightly — and any time mechanical adjustments are made, there's a chance for a slow start as the player gets used to his new setup. As talented as he is, Judge comes with quite a bit of risk.
The Case For: The Yankees selected Kaprielian, 22, out of UCLA with their first round pick last summer. He's an advanced college pitcher with four pitches (fastball, slider, curveball, changeup) and good control, and last summer he experienced a velocity uptick that has stuck this spring. Kaprielian went from sitting 88-91 mph for most of his career with the Bruins to 94-96 mph in pro ball last year. Scouts have reportedly had him up to 97 mph this spring. Kaprielian is probably the "safe" pick here. Guys with three years of experience at a major college program and good control of four pitches tend to carve hitters up in the low minors. Grandmaster Kap will start the season at High-A and there's a chance he'll reach Triple-A by the end of the season, if not MLB.
The Case Against: It's tough to come up with a case against Kaprielian. There's the standard "he's a pitcher and pitchers tend to get hurt" disclaimer, which is always a bummer. Also, he's a starting pitcher, which means the Prospect Watch will be updated only once every five days. And chances are the Yankees will have Kaprielian on some sort of workload limit too, so he might be limited to five innings per start or something like that. They might even shut him down at some point. There aren't any real performance concerns with Kaprielian. It's all stuff out of his control.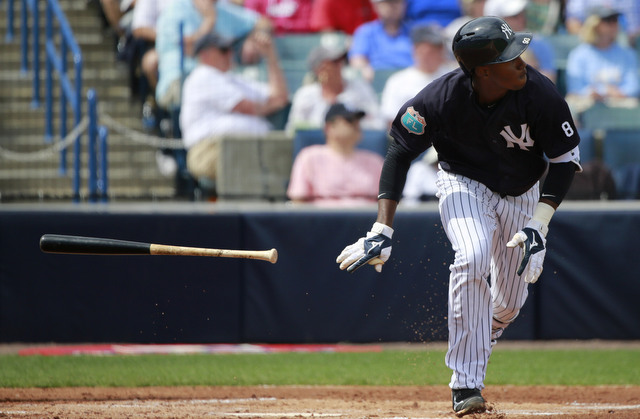 The Case For: Mateo is the most exciting prospect in the farm system. He has electric tools, headlined by his top of the line speed, which allowed him to a steal a professional baseball leading 82 bases in 2015. Mateo, 20, hit .278/.345/.392 (114 wRC+) with 23 doubles, eleven triples, and two homers in exactly 500 plate appearances last year, mostly at Low-A but also some at High-A. He's going to steal an obscene number of bases, and based on our quick look in Spring Training, Mateo might be ready to turn his batting practice power into in-game power. Either way, he'll do everything.
The Case Against: Mateo is a prospect you have to see with your own eyes to fully appreciate. The gaudy stolen base total will be fun, but otherwise this is a prospect likely to hit around .280 with a sub-.400 slugging percentage, and that's not eye-popping Prospect Watch material. Mateo is a better real life prospect than a stats prospect. Does that make sense?
The Case For: The third time at Double-A was a charm for the 23-year-old Sanchez, who had a 127 wRC+ with 12 homers in 58 games with Trenton before a promotion to Triple-A, where he had a 145 wRC+ with six homers in 35 games. Throw in his outrageous AzFL showing and Sanchez hit .276/.336/.503 (137 wRC+) with 29 doubles and 25 home runs in 515 total plate appearances in 2015. He's got big power and it seems Sanchez is just starting to put it all together. Good things are in his future.
The Case Against: Sanchez could very easily end up spending the majority of the upcoming season in the Bronx, meaning the Prospect Watch would really be a Backup Catcher Watch that gets updated once or twice a week. Where's the fun in that? The performance isn't much of a question here. Sanchez figures to mash this summer because he's mashed pretty much everywhere he's played. Will he play enough to justify a spot in the sidebar as the Prospect Watch prospect?
* * *
I also considered adding SS Wilkerman Garcia to the poll, but he's almost certainly going to start the year in Extended Spring Training before shuttling off to one of the short season affiliates, meaning the Prospect Watch would be dormant until late June. That's no fun. LHP Ian Clarkin also received consideration. There's just way too much downside risk there after Clarkin missed the entire 2015 regular season with an elbow injury. Hopefully Clarkin and Garcia will be candidates for the 2017 Prospect Watch.
Anyway, it's time for the poll. I'll leave the poll open until 12pm ET this Friday, so you've got a little more than 48 hours to mull the options and vote. Should be plenty of time. I'll reveal the winner Friday afternoon. Thanks in advance for voting.
Who should be the 2016 Prospect Watch?