As the playoffs are slowly drawing to a close, the rumors are starting to ramp up a bit. Just a few hours ago, Buster Olney reported that both Andy Pettitte and Mike Mussina may return to the Yanks. A few hours later, Ken Rosenthal struck back.
In his afternoon piece, Rosenthal dropped a plethora of rumors. I guess Fox is really dreading that Phillies/Rays World Series.
Anyway, Rosenthal contends that Derek Lowe isn't interested in pitching in the pressure cooker of New York City. He also claims that Mike Mussina isn't interested in pitching for the Yanks because he "fears that the Yankees will not be good enough next season for him to sufficiently chip away at the 30 victories he needs for 300." That's funny; a rather mediocre Yankee term just earned him 20 wins. I'm leaning with Olney on this report.
Meanwhile, the real news hit this evening. As the Yanks prepare for their organizational meetings in Tampa, Buster Olney reports that Andy Pettitte's agents have told the Yanks that the lefty wishes to return for 2009. But do the Yankees want him?
Right now, it'll be a while before we hear anything more about Andy Pettitte or any free agent, for that matter. We have to get through the World Series before MLB lifts its gag order — or really its gag request — on news not related to the playoffs. But we can speculate.
The Yanks seem to want two of CC Sabathia, A.J. Burnett and Derek Lowe. Clearly, Sabathia is the first choice. With Lowe seemingly out of the picture, they have to consider if the team would they be better off with Burnett or Pettitte. To me, the answer is Andy Pettitte, but I don't think the Yanks should count on him to be as good as they want.
We don't need to get into the numbers. We know Pettitte had a good 2007, a good first half in 2008 and a terrible end to the season. He seemed to fatigue in the second half, and his velocity was down by the middle of August. But with Wang and Chamberlain fronting the rotation, and Phil Hughes, Al Aceves or whoever else shows up at the back end, Andy Pettitte probably won't need to be more than a fourth starter.
For one year, I'd take Pettitte rather than Burnett. The current Blue Jay just isn't that good against teams that aren't the Yankees, and he's had a tough time staying healthy. Why waste money on four or five years of an injury-prone, average hurler when one year of that would suffice?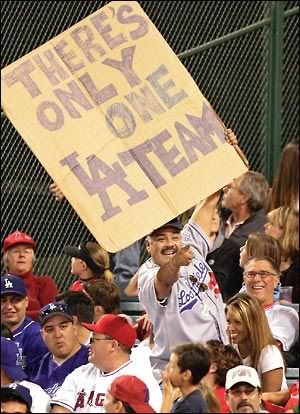 It's do or die time for the Dodgers, a loss tonight sends them packing for the winter. Fortunately for Joe Torre his best pitcher is set to take the bump tonight, as 24-yr Chad Billingsley looks to forget his 2.1 IP, 8 R disaster is Game 2 of this series. The 24th overall selection in the 2003 draft has seen his ERA, Kper9, BBper9, K/BB rate, OPS against, and # of pitches thrown per inning improve each year during his 3-yr stint in the bigs, so it's safe to say he's on the cusp of superstardom.
Unfortunately for Joe the Phils are sending their best pitcher to the mound as well, with also 24-yr old Cole Hamels looking to send the Phightin's back to the Fall Classic for the first time since 1993. Hamels has been automatic this postseason, with just 11 baserunners allowed & 17 strikeouts in 15 IP. Heidi Strobel's husband has improved his ERA, BBper9, OPS against, and # of pitches thrown per inning during his 3-yrs in the bigs just like Billingsley, but he gets much more love because he plays on the East Coast.
Game time is 8:22, Joe Buck & Tim McCarver have the call on FOX. Enjoy.
Philadelphia
1. Jimmy Rollins, SS
2. Jayson Werth, RF
3. Chase Utley, 2B
4. Ryan Howard, 1B
5. Pat Burrell, LF
6. Shane Victorino, CF
7. Pedro Feliz, 3B
8. Carlos Ruis, C
9. Cole Hamels, P (14-10, 3.09)
Los Angeles
1. Rafael Furcal, SS
2. Andre Ethier, RF
3. Manny Ramirez, LF
4. Russ Martin, C
5. James Loney, 1B
6. Casey Blake, 3B
7. Matt Kemp, CF
8. Blake DeWitt, 2B
9. Chad Billinglsey, P (16-10, 3.14)
By

While just this morning we were debating whether or not Willie Randolph should assume one of the vacancies on the Yankees' coaching staff, Ken Davidoff says fuggedaboudit. The Nationals, Newsday reports, are interested in bringing Willie aboard, and neither Brian Cashman nor Joe Girardi seem to keen on the idea of bring the former Mets manager and one-time Yankee coach back into the fold. · (8) ·
By

According to this ESPN.com article, Roger Clemens is not unhappy with the Yanks for the perceived final game snub. He's not looking to play any longer. He's not too keen to talk about that whole PED issue, and he's not going to be joining the Astros to fulfill his personal services contract any time soon. I wonder if, in four years, we'll be saying that he's not going to the Hall of Fame either. · (7) ·
By

Tim links to an article by Buster Olney in which he discusses the fates of Andy Pettitte and Mike Mussina. According to a "close friend" of Pettitte, the lefty wishes to return for '09. Further, he says there's a "growing sense" that Mussina will be up for the task as well. While these aren't wholly substantive rumors, it gives us something positive for the afternoon. After all, you can't have too many options in the rotation. · (112) ·
By

Frank Della Femina at NJ.com runs through the list of people who could potentially fill the Yanks' new-found coaching vacancies. The usual suspects — Willie Randolph, Larry Bowa — appear on the list. I'd be less surprised to see Randolph return than I would be if Bowa came back, but I can't imagine Joe Girardi will feel too comfortable with Randolph, an obvious candidate for the managerial spot, hanging around. · (32) ·
AzFL Peoria (5-4 loss to Pheonix)
Kevin Russo: 1 for 4, 1 R, 1 2B, 1 RBI, 1 K – played left field for what I believe is the first time in his career … he threw a runner out at second, so I'm sure he'll be seeing a little more action out there
HWB Waikiki (14-5 loss to North Shore)
Damon Sublett: 1 for 4, 2 R, 1 3B, 2 RBI, 1 BB, 3 K - 15 strikeouts in only 38 at-bats … yikes
Andrew Brackman: 4 IP, 3 H, 3 R, 3 ER, 4 BB, 4 K, 2 WP, 1 HB, 4-4 GB/FB – only 45 of 84 pitches were strikes (53.6%) … the wheels kinda came off in the 3rd, when he allowed 3 runs (walk, homer, walk, steal, wild pitch, single) on 31 pitches … he'd thrown just 16 pitches in the first & 15 in the second
By

Picking up on some rumors that the Yanks may make an offer for Dodgers pitcher Derek Lowe, SG at Replacement Level Yankees Weblog ran the numbers on Lowe yesterday to see how the sinkerball specialist may fare in the Bronx. SG's analysis turns out a pitcher who could fill the middle of the Yankee rotation at a good price for three years. While SG would rather see the Yanks sign Andy Pettitte for one season, Lowe seems to be a better bet for less money than A.J. Burnett would be be. I'm still not, however, sold on the idea. · (90) ·
David Ortiz would probably like nothing more than to see his last eight baseball games erased from the collective conscious. Since the start of the playoffs, the Red Sox's three hole hitter is 5 for 31 with eight walks and eight strike outs. He has a double, a triple and an RBI.
All over New England, the whispers are building, and the rumors are mounting. As The Wall Street Journal's Numbers Guy noted Wednesday before Ortiz's 1 for 4 performance last night, Boston fans are questioning the clutchiness of Big Papi. Carl Bialik, of course, uses New York's favorite whipping boy as a point of comparison:
In his last 16 postseason games, the New York Yankees' Alex Rodriguez has collected eight hits in 56 at bats, with one home run and one run batted in. In his last 13 postseason games, Boston Red Sox slugger David Ortiz has 10 hits in 51 at bats, with no home runs and five runs batted in. Rodriguez is famously un-clutch; Ortiz famously clutch. Yet both have had ups and downs in their playoff careers, which provide too small a sample size to reach definitive conclusions…Now Ortiz, the hero of the 2004 playoffs, is beginning to experience what A-Rod has: doubts about his clutch abilities.
Now, we've all been where the Rays are right now. We all know what it feels like to be in the drivers' seat against the Red Sox in a short series, and we all know what the Red Sox — or any team, really — can do with three very good pitchers lined up to pitch their next three games. If I've learned nothing since the start of the 2004 postseason, it is not to celebrate until the last out of the clinching game is within hand.
But David Ortiz's struggles present a very apt parallels to those of Alexander Emanuelle Rodriguez. For years, Ortiz has been a fan-favorite in Boston. He seemingly comes through in every conceivable clutch situation, and the fans expect him to pick up this team and carry them to promised land.
As Ortiz nears his 33rd birthday in a month, though, his body, never really a fine specimen, isn't holding up its end of the bargain. Various joints ache, and Ortiz's weakness — that he is a one-dimensional player — are laid out for all to see. David Ortiz without his power and hitting is nearly as a dead a weight in the Red Sox lineup as Jason Varitek currently is.
On the other side of things is A-Rod. Unlike Ortiz, A-Rod doesn't carry that clutch reputation. He's won two MVP awards in New York and through the first seven games of the 2004 playoffs, he was as hot a hitter as any in baseball. But over the Yanks' last few postseasons, A-Rod hasn't lived up to his billing.
In the end, of course, it's an issue of sample sizes. It's bad practice to aggregate playoff appearances over the years, and it's bad practice to assume that Ortiz isn't any more or less clutch than he used to be based on 31 at-bats in October. But fans will be fans, and as the Red Sox stare down the looming threat of elimination on Thursday, Ortiz, if he doesn't start hitting, will hear something familiar to A-Rod: boos in his home ballpark. The fans can be quite fickle as they wonder, "What have you done for me lately?"
By

Bryan Hoch reported this evening that the Steinbrenner Foundation has donated $1 million to MIT. The money will go toward improvements for the school's athletic facilities. On the face of it, it's a rather random donation, but George's dad Henry graduated from the Massachusetts university in 1927. · (26) ·