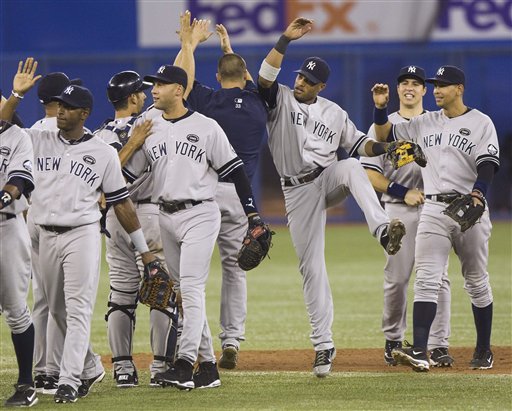 With a playoff spot finally clinched, all that's left for the Yankees in the regular season is to run out the clock and prepare themselves for the playoffs. During last night's postgame celebration, to a man every player and coach interviewed said making the playoffs was just their first goal, and winning the AL East is still on their minds. The Rays effectively have a game-and-a-half lead in the division because they hold the tiebreaker, so if the Yanks go 3-1 in their last four games they'll need Tampa to go 2-3 in their five remaining games (against the Orioles and Royals, no less).
There's nothing wrong with saying you still want to win the division, just for fan and PR purposes, but I hope Joe Girardi & Co. understand how much of a long shot that is right now. The 6-13 stretch earlier this month effectively killed any chance they had at the division, and that's fine. The important thing is to take advantage of these remaining regular season games by doing a few things to improve the team's outlook in the big picture.
Getting Healthy
This is far and away the most important thing. Nick Swisher's knee is worlds better than it was a few weeks ago, but it's still limiting him a bit in the outfield. Some time off his legs won't hurt. Mark Teixeira's bat is coming around, but he's still playing on a broken toe and giving him a little bit of a blow wouldn't be the worst thing in the world. No one wants David Robertson's back spasms to flare up again, so there's no reason to warm him up multiple times over these next few games. Jorge Posada is perpetually banged up. Getting the regulars some rest this weekend is strongly advised, particularly the older guys like Posada, Alex Rodriguez, and Derek Jeter. If it costs A-Rod a chance at 30 homers, so be it.
Avoiding Rust
As important as rest will be, there's such a thing as too much. You don't want to blindly sit players day after day only to have them rust out before the ALDS starts. Remember, there are four games and three off days (tomorrow, Monday, and Tuesday) left before the division series starts, so the regulars are guaranteed some rest as it is. They still need to get at-bats to stay sharp, which is why I expect Girardi to take a similar approach to last season when he started the regulars before lifting everyone Spring Training style in the fifth inning. Give them two or three trips to the plate before telling them to hit the showers.
Line Up The Rotation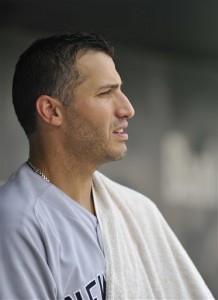 This one is obvious. We don't know who exactly will start Games Two and Three of the ALDS behind CC Sabathia in Game One, but it's a safe bet that it'll be Andy Pettitte and Phil Hughes in some order. In a perfect world, the Game Two starter would pitch this Saturday and the Game Three starter on Sunday to optimize the amount of rest each receives. Pettitte has already been pushed back to an unknown date this weekend, and after starting last Sunday Hughes' next start should be Friday. I fully expect Andy to start Saturday and Hughes Sunday to give them some extra rest and get things straight for the postseason. I wouldn't mind seeing Phil in Game Two, though.
Javy Vazquez gets the ball tonight, and presumably Dustin Moseley Ivan Nova would then go on Friday just to soak up those spare innings. Don't be surprised if A.J. Burnett gets some work in on Sunday out of the bullpen just to keep him from getting stale (as if he could get any worse).
Lay Off The Bullpen
Kerry Wood, Joba Chamberlain, and Robertson have been worked pretty hard this month, so giving them a chance to catch their breath these last four games will be nice. Boone Logan falls into that category as well, but as a one or two batter lefty specialist, his workload isn't a major concern. With Mariano Rivera's recent struggles, expect him to get no more than two token pitching appearance this weekend just to stay sharp. Friday and Sunday seem logical, regardless of score and whether or not it's a save situation. The other core relievers should expect similar treatment. Get ready for lots of Royce Ring, Jon Albaladejo, Romulo Sanchez, and perhaps maybe even an Andrew Brackman sighting.
* * *
Winning the division and securing home field advantage would be pretty sweet, but that has to take a backseat to everything I mentioned above, plus other non-obvious stuff that we aren't even aware of. Now that the Yanks are in the playoffs and there are so few games remaining in the season, it's best just to look at the overall picture and get everyone ready for October. I'll happily trade another division title for the best chance at a World Title.