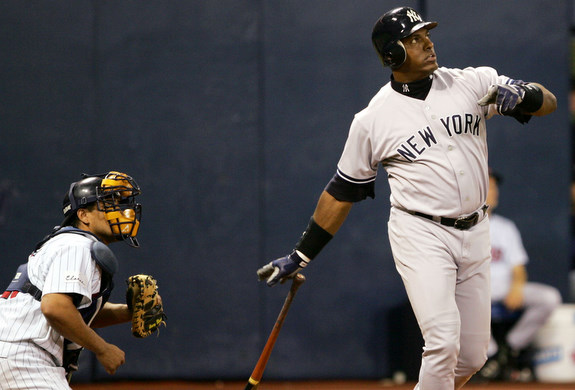 I have no idea why, but I was always liked Ruben Sierra, at least when he played in New York. The Yankees first acquired him from the A's for Danny Tartabull at the 1995 trade deadline, and then a year later he was shipped to Detroit for Cecil Fielder. In between the trades he called Joe Torre a liar for supposedly reneging on a promise of a more playing time, prompting the then-manager to call Sierra a "spoiled kid" and "uncoachable." Usually a player can't come back from something like that, but Sierra did, rejoining the Yankees in 2003 in a trade for Marcus Thames.
Torre and Sierra buried the hatchet, and he went on to become a moderately productive part-time player. He hit .244/.296/.456 with 17 homers in just 338 plate appearances in 2004, and of course his big moment came after the season in the playoffs. The Yankees were down 5-2 to the Twins in Game Four of the ALDS, but Sierra corrected things with a huge three-run homer off Juan Rincon to tie things up in the eighth inning, helping the Yanks to the eventual series win. The Twins haven't won a playoff game since, a stretch of ten games (really twelve since it goes back before Game Four). The Yankees re-signed Sierra for the final time six years ago today, and all told he hit .254/.310/.421 with 45 homers and horrifyingly bad defense in pinstripes.
Anyways, here is tonight's open thread. Both the Rangers and Islanders are in action, but you're free to talk about whatever your heart desires. Enjoy.