I checked on the scores earlier this afternoon, and when I looked at the continuation of yesterday's Tampa Yanks suspended game, the box score said Christian Garcia was pitching for Tampa. Garcia, as you may recall, is out for the year with elbow surgery. I hit refresh, and the box score was corrected to show that Wilkins Arias was pitching. Talk about getting your hopes up…
Triple-A Scranton (6-3 win over Columbus)
Andy Phillips: 2 for 4, 2 R
Eric Duncan: 0 for 4 – 0 for last 11…at least (I'm too lazy the check the game log of the last game in which he actually got a hit, so that could be as much as 0 for 13)
Shelley Duncan: 2 for 4, 2 R, 1 2B, 1 HR, 1 RBI – .330-.398-.689-1.088, stick Matsui in RF, bench Bobby, and let Shelley play LF
Bronson Sardinha: 1 for 4, 1 R, 1 K
Omir Santos: 2 for 4, 1 R, 1 K
Tyler Clippard: 5.1 IP, 8 H, 2 R, 2 ER, 2 BB, 3 K – 56 baserunners allowed in 38.2 IP, and lefties are giving him some trouble
Chris Britton: 1 IP, 3 H, 1 R, 1 ER, 1 BB, 1 K – bumped from the closer's role…
Everyday Ronnie: .2 IP, 0 H, 0 R, 0 ER, 0 BB, 1 K – 5 of 7 pitches were strikes, only 3 days until he can opt out…
Jim Brower: 2 IP, 2 H, 0 R, 0 ER, 0 BB, 1 K, 5-0 GB/FB
By

Killer puppetry dude! (FYI – no baseball here) · (1) ·
Shades of Friday Randomness…
A story on Mighty Matt's journey from receiving zero scholarship offers from Division III schools to pitching for the New York frickin' Yankees.
Joe Torre yanks Rasner after 78 pitches while Bruce Bochy leaves Tim Lincecum in to throw 112. Torre drives me nuts sometimes.
I'm far too pissed off to write a recap (even after a peaceful night of sleep). Being shut out by Jarrod Washburn and the Mariners is inex-freakin-cusible. However, check this.
We've had 15 games where our opponent has scored three or less runs (which is the root of the problem, right there), in which we are 13-2. Both losses are to the Mariners.
No Yankees opponent has finished a game with four runs. When our opponents score five or less runs, that 13-2 record becomes 14-5. Still not too shabby…except we've played 34 games. For those of you without a calculator (or a math teacher roommate), that's 15 games where the Yanks have allowed more than five runs (as in, six runs or more).
We all knew this has been the problem, despite all of our complaints about the offense. We've scored five or more runs 19 times, for a record of 13-6. No team should have such a shabby record in games where they score FIVE FREAKIN' RUNS. To further that, we're 2-7 in games in which we score four runs. Add that up, and you have 28 out of 34 games where the Yanks scored four or more runs, in which their record is 15-13.
Still think Clemens won't help?
In your spare time, definitely check out this article by Tim Marchman.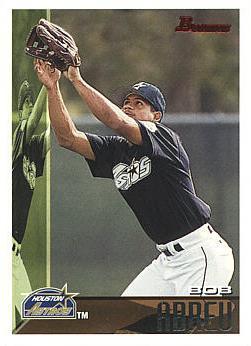 That was one uninspiring effort by the Yanks tonight and another unnecessarily quick Darrell Rasner hook by Joe Torre. Furthermore, Joe decided to bench the Yankees' hottest hitter — Doug Mientkiewicz — in favor of Josh Phelps. Torre wouldn't play Phelps when Mientkiewicz was struggling, but now that Doug is smokin' the ball, Torre decides he needs a night off? That's brilliant.
This team is floundering right now. They've dipped back to two games under .500, and Roger Clemens isn't going to be the answer. As we've mentioned over the last few days, we're less than enamored with Bobby Abreu. While the Yanks sadly won't be trading or replacing Abreu any time soon, something's gotta give. The two hole just isn't the answer for Abreu.
Tonight marked the third game in which Abreu hit second. He is now a whopping 1 for 12 in the two hole and has reached base once batting in front of Derek Jeter and Alex Rodriguez. Meanwhile, Jeter, in the same stretch of games, is 5 for 9 but never gets to bat with anyone on base in front of him.
Bobby Abreu in the two hole is solving nothing, and Oblivious Joe will just keep filling out that lineup card day after day in such a way that makes it impossible for the Yanks to score runs. Nothing new. Nothing to see here. Just another loss.
Triple-A Columbus (13-7 loss to Columbus) they got pounded this game…the pitchers gave up 23 H and 9 XBH to the Nationals' Triple-A squad…THE NATS!!!
Kevin Reese: 1 for 3, 1 R, 1 HR, 2 RBI, 2 BB
Chris Basak: 1 for 5, 1 R, 1 2B, 1 K
Andy Phillips: 1 for 4, 1 BB
Bronson Sardinha: 1 for 5, 1 RBI – threw a runner out at home from RF
Shelley Duncan: 4 for 5, 3 R, 1 2B, 1 HR, 1 RBI – he couldn't do any worse than Abreu is right now, could he?
Kevin Thompson: 3 for 4, 1 R, 1 RBI, 1 SB – picked off first
Alberto Gonzalez: 0 for 4, 1 K – first K in 27 AB
Ross Ohlendorf: 2.2 IP, 9 H, 6 R, 5 ER, 0 BB, 4 K, 1 WP, 1 E (pickoff) – for cryin' out loud Ross, you're better than this…
Ron "I'm better than Luis Vizcaino" Villone: 1.1 IP, 4 H, 1 R, 1 ER, 0 BB, 3 K
rest of bullpen: 5 IP, 10 H, 5 R, 5 ER, 2 BB, 4 K, 2 HR allowed
Every seventh inning at Yankee Stadium since September 18, 2001, Kate Smith (or Ronan Tynan) belts out "God Bless America." Before the performance (or recording), Bob Sheppard urges us to "remember the servicemen and women who have lost their lives defending our freedom and our way of life."
For a while after Sept. 11, all Major League Baseball teams were observing a moment of silence and playing this song. But now, five and a half years after the attacks, the moment of silence seems to have dwindled down to a half-second of silence, and "God Bless America" at Yankee Stadium – the only stadium at which it is performed on a daily basis – is raising more than a few eyebrows, as The New York Times noted yesterday. The Yankee Stadium ushers, it seems, chain in the fans and glare at folks who dare to move during the song.
Seconds before "The Star-Spangled Banner" and "God Bless America" are played, police officers, security guards and ushers turn their backs to the American flag in center field, stare at fans moving through the stands and ask them to stop. Across the stadium's lower section, ushers stand every 20 feet to block the main aisle with chains…

Howard J. Rubenstein, the spokesman for the Yankees' principal owner, George Steinbrenner, said the policy was an expression of patriotism. "Mr. Steinbrenner wanted to do all games to remind the fans about how important it is to honor our nation, our service members, those that died on Sept. 11 and those fighting for our nation," Rubenstein said in a telephone interview.
Among the sports world on the Internet, Will Leitch at Deadspin covered this story. He noted how bad the song is, how Irving Berlin himself grew to hate it, and how enforced patriotism on behalf of the Yankees is just tacky. Over at Fark, that site of high-brow Internet culture, the Farkers had a field day with it as well.
But none of the Yankee bloggers have tackled this issue. Why? Because we hate to mix baseball and politics. We all get along because we all love the Yankees. We don't want to know if we agree with George W. Bush's foreign disaster policy. We don't want to see the Yankee blogosphere devolve into a blue state-red state battle. It's bad enough we have to deal with Red Sox trolls; we're not going to get embroiled in the Michelle Malkin-Daily Kos wars as well.
I, however, want to break that silence. In my opinion – and in this piece I speak for me and me alone – it's time for the Yanks to give Kate Smith and Ronan Tynan a break. We know the Yankees, and every other baseball club, are patriotic. We know the Yankees played a major role in lifting New York's spirits in the fall of 2001 (even if those nasty Diamondbacks decided to rain on our parade).
But we also know that we are involved in a war in Iraq that shouldn't have been part of the War on Terror. We also know that President Bush has very little support in the New York area and is suffering through a time in his presidency during which 28 percent of the nation approves of his handling of the job.
We all want to see our troops fighting overseas return home safely, and none of us want another terrorist attack on our soil. But do we really need "God Bless America" at every baseball game? Someone tell the Yankees: This is baseball. Leave the patriotism for some other time.
Update: A few astute commenters have noted that my argument falls back too much on politics and not enough on what the Yankees are doing. My point in mentioning Bush's approval rating is to say that many people are uncomfortable with the way in which the Yankees promote George Steinbrenner's ideas of patriotism. While many others agree with it, why not just leave it out all together and let each of us acknowledge our support for America on our own terms?
By

The Giants made a couple of outfield moves yesterday, including the designation of Todd Linden for assignment. The way things are going now, there's absolutely no reason to not put in a claim. Linden is only 27, so he's still relatively young. He raked upon first entering the minors at AA, but has fallen off since. Declining player, or poor player development system? To help answer that, ask yourselves when was the last time the Giants developed a hitter at the minor league level. You keep thinking about that. Hopefully Cashman puts in his claim before you come up with one. · (4) ·
Melky
.129
Myers
.000
Jeter
.027
Henn
-.008
Nieves
.000
Vizcaino
-.021
Phelps
.000
Wang
-.234
Alex
-.031
Minky
-.037
Posada
-.057
Matsui
-.064
Damon
-.064
Abreu
-.068
Cano
-.071
Yesterday's game helped me put the value of defense in a better perspective. When you have a pitch-to-contact guy on the mound, you're going to need some solid performances by the guys behind him in order to get through it. Most of the time — even though they aren't the best fielders in the league — the defense is solid in support of Wang. Unfortunately, guys are going to have bad games; some guys are just bad.
Not that Wang did himself many favors. He didn't look his sharpest, leaving that sinker higher in the zone than he normally does (and a consequence of leaving that baby up is that it doesn't have nearly the bite as a lower version). Flat and waist high is no way to go through life.
If you saw the game, you know which plays I'm talking about. If you didn't see the game, you surely heard from a friend who is as frustrated as me. It was one of two games this season I clicked off in the middle — and I'm sure you can guess which the other was.
Let's start with my boy Bobby. On the first pitch in the fifth inning, Gerald Laird (.209/.284/.297) hit a deep fly ball to right. Melky makes that play. Damon makes that play. Matsui makes that play. Hell, fuckin' Bernie makes that play. But Bobby has all sorts of trouble when he has to run backwards, can't get under the ball, and it falls. Now, thankfully it's the fifth inning, and it's a 1-1 game, so even if the run scores it's not a fatal deficit.