Well, the Yankees definitely aren't boring anymore. Tuesday night's 7-6 win over the Blue Jays was, without question, the most intense and fun and stressful and exciting game of the season. It was the best game since the Carlos Beltran home run/Andrew Miller vs. Troy Tulowitzki game in Toronto last season, right? Has to be. This was playoff baseball. Goodness.
I seriously have no idea how to recap this game. I usually build these things as the game progresses, but it just wasn't happening with this one. The game was too hectic. It was crazy. I'm going to try something a little different and annotate the WPA graph so that way we hit on everything. Sound good? Too bad if it doesn't, we're going with it anyway. Let's get to it.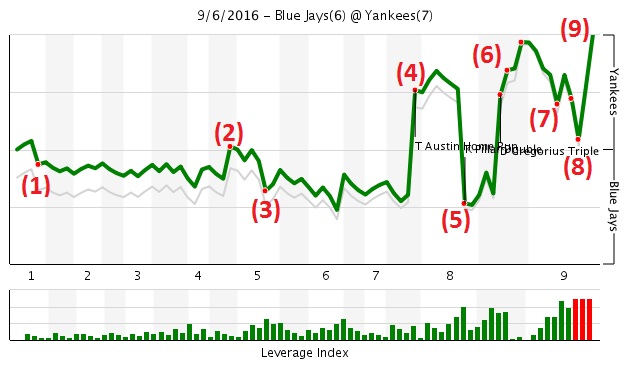 (1) Luis Cessa's fourth big league start was his biggest test so far. The Blue Jays can really hit, and Edwin Encarnacion made sure Cessa knew it in the very first inning. He missed his spot with a fastball (by a lot) and Encarnacion absolutely clobbered it into the second deck in left field. It left his bat at 114 mph, which is nuts. The Blue Jays took a quick 1-0 lead on that blast.
With a rookie pitcher, you worry a monster home run like that will scare them out of the strike zone or away from their fastball. Not Cessa. The Royals hit him around early in his last start, but he showed some composure and held Kansas City down long enough for the offense to come back. Cessa did the same in this one. He shook off Encarnacion's home run and retired nine of the next 12 men he faced. Only two of those 12 batters hit the ball out of the infield.
(2) Brian McCann must have known I have a "Brian McCann hasn't hit for much power lately" post in the hopper for Wednesday. I wrote the damn thing earlier on Tuesday and, sure enough, McCann goes and hits his third home run of the second half in the fourth inning to tie the game 1-1. It was only the second home run Aaron Sanchez has allowed since the All-Star break. That kid is mighty impressive, isn't he? He missed up with a changeup and McCann promptly deposited it into the second deck.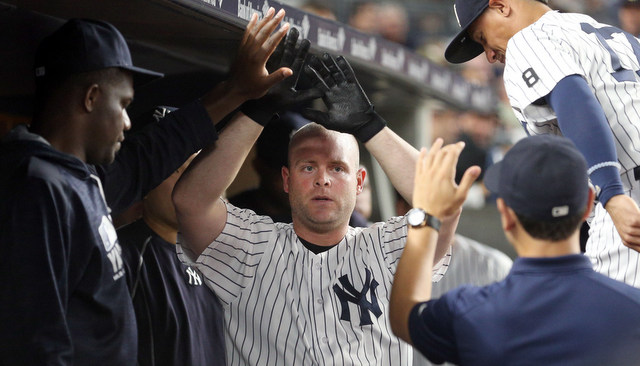 (3) The defense both helped and hurt Cessa in the fifth inning. Mostly hurt. Kevin Pillar dunked a single into center to start the inning, and after a Justin Smoak fly out, Devon Travis beat out an infield single when Chase Headley failed to make the barehand play. YES was using the behind the plate angle, which is basically the worst thing ever, so I have no idea if Headley had time to use his glove. Doesn't matter. Travis was safe the Blue Jays had two on with one out.
The next defensive miscue came on the very next pitch; Jose Bautista lifted a soft broken bat fly ball to left field that should have been caught, but Brett Gardner held up and allowed the ball to drop in for a run-scoring hit. He had to misread it off the broken bat. I can't explain it otherwise. It looked like Gardner thought it was hit harder than it actually was. The ball dropped in a few steps in front of him and the Blue Jays took a 2-1 lead. The Yankees had just tied the game in the previous half inning. Blah.
Toronto only scored one run in the inning because Headley atoned for his barehand whiff with an outstanding diving stop on Josh Donaldson's rocket down the line. It was ticketed for the corner and would have scored at least one run, if not two. Headley snared the hot shot and threw across the diamond for the out. One of the best defense plays of the season, bar none. Encarnacion flew out after that, so despite all the baserunners and bad defense, the Blue Jays were only able to score the one run that fifth inning.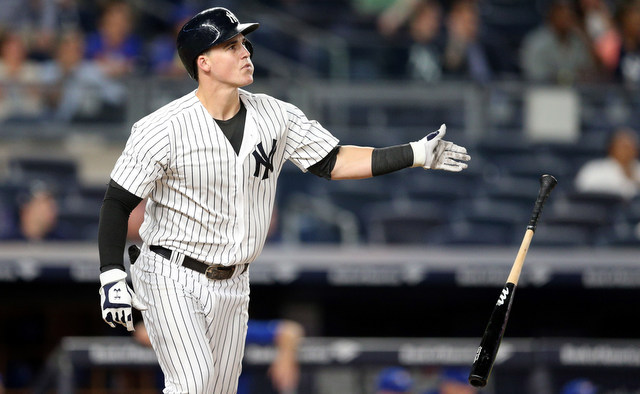 (4) It sure looks like Tyler Austin is getting locked in, huh? Austin hit a home run in his first MLB at-bat, then went into a 5-for-37 (.135) slump and found himself on the bench more often than not. He did come out with two doubles on Monday afternoon, and, more importantly, he had some quality at-bats. Austin was flailing a little bit before that. Monday he stayed controlled and did damage at the plate.
Before Austin played hero in the seventh, the struggling Aaron Judge extended the inning with a two-out single to center. He grounded out in his first at-bat of the night but it was actually a good at-bat. Sanchez jumped ahead in the count 0-2, Judge worked it full, fouled off another pitch, then rolled over on a sinker. Bad outcome, but it was his best at-bat in a long time. The single set Austin up for the go-ahead birthday home run. To the action footage:
What a bomb. I don't remember the last time a right-handed hitter hit one into the right field bleachers.
I told you Austin has oppo pop
. Austin is the first Yankee to hit a home run on his birthday since
Alex Rodriguez
last year. He's the first rookie to hit a birthday home run with the Yankees since
Eduardo Nunez
in 2011. Congrats, Tyler. Your 25th birthday was way better than mine.
(5) Rosters may be expanded, but that doesn't mean the bullpen can't be worn down. Tyler Clippard has pitched three straight days and Dellin Betances pitched two straight, so when Cessa was pulled with one out in the sixth, Joe Girardi had to do some mixing and matching. The just recalled James Pazos didn't get his batter out and gave way to Adam Warren, who got Smoak to ground into an inning-ending double play.
Warren stayed on to retire the side in the seventh, including Bautista and Donaldson, and he got the first two outs of the eighth too. The matching up started after Troy Tulowitzki singled with two outs in the eighth. Tommy Layne came in, walked pinch-hitter Melvin Upton, then gave way to Ben Heller. The Yankees were up 3-2 at the time, but the Blue Jays had two on, so Heller was in a pickle. He groove a fastball to Kevin freakin' Pillar, who hammered a go-ahead two-run double to the wall in left. Blargh.
Girardi sure seems committed to using Heller in tight spots, and the rookie couldn't get it done Tuesday. Betances was never going to come in for the four-out save after pitching Sunday and Monday, and with Clippard unavailable, Heller was probably Girardi's best option. Either him or Chasen Shreve, who got the last out of the inning. It's easy to say Heller shouldn't have been in that spot given the outcome, but the alternative was Jonathan Holder or Kirby Yates or Nick Goody, so yeah. Not great. Bottom line: Heller can't throw a pitch that poor. Even guys like Pillar will make you pay for grooved fastball. These are the big leagues.
(6) Earlier this season the Yankees would just roll over in a game like this. Blown lead in the eighth? Meh. Go get 'em tomorrow. Not these Yankees though. The kids don't know any better and the veterans feed off that. The eighth inning rally started with, of all things, a Jacoby Ellsbury walk. Those done come around often. Jason Grilli was up there grunting fastballs, but he missed with four wide ones, so Ellsbury was on first.
Grilli pretty much owned Gary Sanchez for the first out of the inning. Struck him out on four pitches and had Sanchez looking silly. Once Sanchez struck out, I was waiting for Ellsbury to take off for second — there's no reason to risk getting thrown out with Gary at the plate — but it never happened. Didn't need to. The slumping Didi Gregorius hit a first pitch triple over Pillar's head in left-center that scored Ellsbury to tie the game 4-4. I thought Pillar was going to catch it. He's so good in the field. It sailed right over his head though. How about that?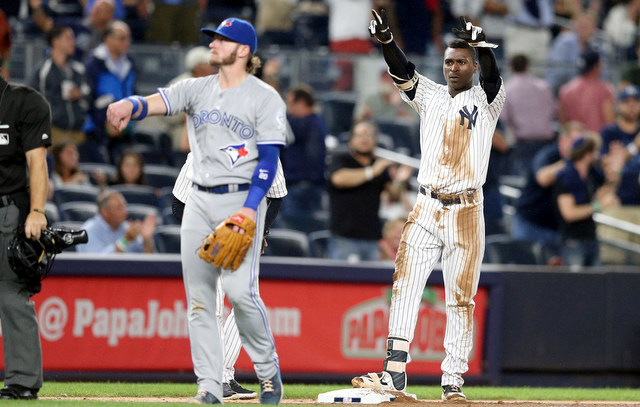 For the life of me, I will never understand why Grilli threw Starlin Castro a two-strike fastball. He got him to chase two breaking balls out of the zone for a quick 0-2 count because that's what Castro does, yet Grilli opted for the heater, and Starlin lifted it out to right field for the go-ahead sac fly. Grilli and Russell Martin got a little too cute there trying to set something up. They should know Castro will chase three straight pitches off the plate.
The sac fly gave the Yankees a 5-4 lead, and after McCann drew a five-pitch walk, Headley provided two insurance runs with a two-run home run into the short porch. Two insurance runs the Yankees would ultimately need. Headley more than made up for the missed barehand with the diving stop and the two-run home run. You done good, Chase.
(7) Three-run lead with Betances on the mound? No big deal. Even against the top of the Blue Jays lineup and while pitching the third straight day. Dellin had plenty of breathing room. Then eight of his first 12 pitches were balls and suddenly Encarnacion was up as the tying run. That was: bad. Encarnacion fouled off five pitches as part of a ten-pitch at-bat before beating out an infield single. A wild pitch moved Bautista and Donaldson up earlier in the inning, so a run scored to cut the lead to 7-5, and the tying run was on base.
(8) Betances was clearly not sharp in his third straight day of work, so much so that his first out was not recorded until his 27th pitch. Twenty-seventh! Woof. Betances struck out Martin for the first out, then walked pinch-hitter Dioner Navarro on seven pitches. The Yankees still led 7-5, but now the Blue Jays had the bases loaded and Dellin had thrown 34 (!) pitches to get one out. Egads. That's bad.
Betances needed another six pitches to get Upton to hit a ground ball towards defensive replacement Mark Teixeira at first. It should have been the second out of the inning. Instead, Dellin took a little misstep at first and completely missed the bag. Upton was safe and another run scored. And the bases were still loaded. And there was still only one out. And Betances had thrown 40 pitches and was visibly fatigued. He was on fumes. The stakes were high and morale was low. The Yankees needed a hero.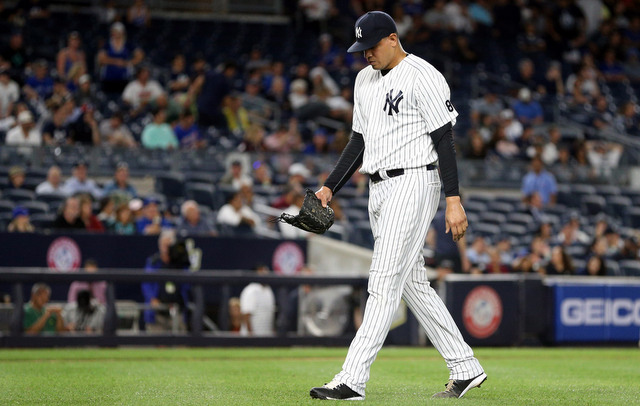 (9) Girardi did the only thing he could do after the Upton infield single: he took out Betances. He had to. Dellin's pitch count was through the roof — it wasn't just 40 pitches, it was 40 high-stress pitches — and he was working for the third straight day. It was dangerous to push him any further.
So, with Betances worn out and Warren having already pitched and Clippard unavailable, in came Blake Parker for the save chance with the bases loaded. The Yankees started 2016 with Aroldis Chapman and Andrew Miller in their bullpen along with Betances, yet here was Blake Parker coming in to get the most important two outs of the season. Baseball, man.
Parker was able to strike out Pillar for the second out using almost exclusively non-fastballs. He dropped a first pitch curveball in for a strike, then got him to swing through a second pitch splitter for an 0-2 count. Pillar fouled off a high fastball, then Parker spiked a splitter that Sanchez was able to block with his body. Huge underrated play in the game. The pitch was nowhere close to the plate and Sanchez kept it in front of him to stop the tying run from scoring.
Pillar fouled off a splitter before getting locked up with a curveball for a called strike three. I have no idea what he was looking for, but it definitely wasn't that. Pillar just froze. That was only the second out. Still one more to go with the bases loaded. Smoak was apparently paying attention during Pillar's at-bat, because when Parker again tried to steal a first pitch strike with a curveball, Smoak gave it his A-swing and drove the ball out to deep left.
Off the bat, I thought it was a line drive at Gardner, and I was just hoping it was close enough for him to catch it. I'm getting really bad at reading balls off the bat, it seems. The ball carried all the way to the wall, and there was definitely an "oh gosh that's going out" feeling in the pit of my stomach as I watched Gardner race back to the wall. The game ended with one of the best catches of the season. Take it away, Brett:
I don't know if that was the prettiest defensive play of the season — in fact, I know it's not — but dammit, that was easily the biggest defensive play of the season. Saved the game and kept the Yankees close in the postseason race. Smoak hit that ball mighty hard, much harder than I thought, and Gardner was able to make the catch even though the ball rolled up his damn glove and had to be snow-coned. Here's the slow motion replay: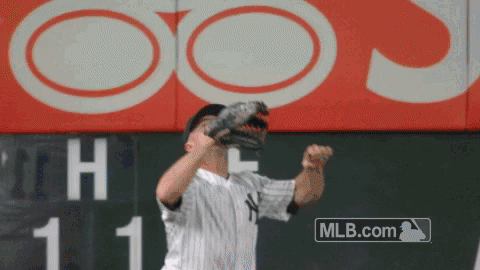 I love and hate this team so much.
Leftovers
The Yankees only had seven hits as a team, but three were home runs and another was a triple, so it all worked out. Sanchez, Castro, and Judge had the singles. McCann, Austin, and Headley had the dingers. Gregorius had the triple. Ellsbury drew two walks while McCann and Austin drew one each. Austin looks really comfortable at the plate right now. Glad to see it.
Seven relievers combined to throw 113 pitches in 3.2 innings. That's 10.3 pitches per out. Warren threw 44 in 2.1 innings and Betances threw 40 to get one out, so I reckon we won't be seeing those two for a few days. Clippard will be the closer du jour for a little while. Not so fun fact: three of those seven relievers (Pazos, Layne, Heller) did not retire a batter. Argh.
The Yankees caught a break in the ninth inning. Encarnacion should have been awarded first base on a catcher's interference call — the replay made it crystal clear — but the umpires missed it. It's not a reviewable play either. That would have loaded the bases with no outs. Of course, Encarnacion singled in a run later in the at-bat, so it's not like the non-call saved New York's bacon.
The Yankees have finally (finally!) won a series against the Blue Jays. They'd lost six straight series to Toronto dating back to last year, and they'd also lost five straight home series to the Blue Jays dating back to 2014. It was not a pretty win and it was certainly not stress-free, but at least now that monkey is off their back.
And finally, the Yankees are now 72-65 and a season-high seven games over .500. They're 20-13 since they gave up on the season and traded away some of their best players at the deadline. Also, the Yankees are now only 4.5 games back of the AL East lead. They haven't been that close since April 27th.
Box Score, WPA Graph & Standings
For the box score and updated standings, go to ESPN. For the video highlights, go to MLB.com. We have Bullpen Workload and Announcer Standings pages too. Here's the un-annotated win probability graph, which does not accurately reflect how much I nearly puked:

Source: FanGraphs
Up Next
Time to sweep these mofos. The rest of the AL East never bothered to bury the Yankees and now it's time to make them sweat it out. Bryan Mitchell is scheduled to start Wednesday's finale and make his 2016 debut after breaking his toe covering first base in Spring Training. Marcus Stroman will be on the bump for the Blue Jays. There are only 14 home games left this season, and RAB Tickets can get you in the door for all of them.