So, who would have guessed the Yankees would sweep a team before they got swept this season? Not many after those first three series, I'm guessing. New York finished off their first three-game sweep of the Rays at Tropicana Field since September 2005 on Sunday afternoon with a 5-3 win.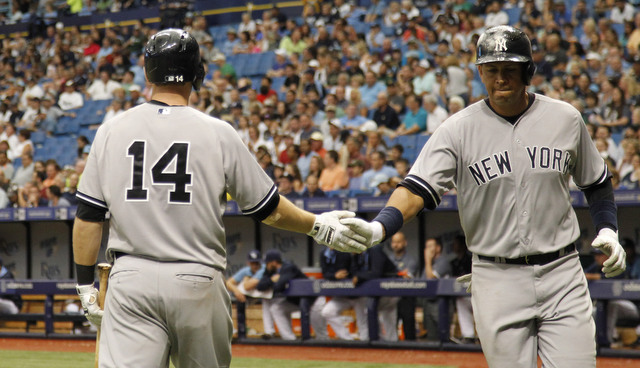 Early Attack
The Yankees were all over Rays starter Matt Andriese. All over him. Seven of the first 12 batters he faced reached base and ten of the 18 batters he faced overall reached base. Runs scored on three of his outs (two sac flies and a ground out), another out was a sac bunt, and two other outs were line drives right at defenders. The Yankees swung and missed at one of his final 32 pitches once the lineup turned over for the third time.
The Yankees built their four runs off Andriese without the benefit of any home runs. The first was a good old manufacturin' — Jacoby Ellsbury singled, moved to second on a balk, was bunted to third, then scored on Mark Teixeira's sac fly in the first inning. The second and third runs scored on a single (Brett Gardner), a double (A-Rod!), a ground ball (Teixeira), and an infield single (Chase Headley) in the third inning. It maybe could have been a bigger inning had Ellsbury not been thrown out throwing to steal second following a leadoff single.
The fourth run of the afternoon scored on John Ryan Murphy's sac fly following a Garrett Jones triple in the fourth inning — Desmond Jennings gets an assist for a poor attempt at a sliding catch. Brian McCann and Jones hit the Yankees' first two triples of the season, just as we all expected. All of that adds up to four runs on eight hits and two walks with just one strikeout in 3.1 innings against Andriese. Like I said, they were all over him.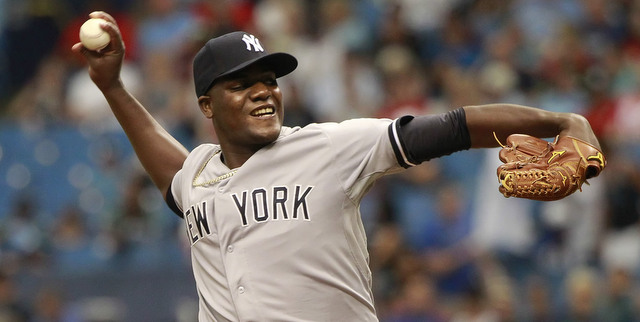 Please Return If Found: Pineda's Slider
Although the results weren't great (5.11 ERA), I thought Michael Pineda's stuff looked pretty good in his first two starts. Fifteen strikeouts and one walk in 12.1 innings kinda support that. Sunday's game was the opposite — his stuff wasn't as crisp, particularly his slider, but the results were good enough. He battled through 5.2 innings of three-run ball, allowing seven hits and one walk. He struck out five and threw 58 of 92 pitches for strikes (63%).
Pineda's slider in particular didn't seem to be cooperating against the Rays and that was evident on his 11th pitch of the game, which was a hanging slider Steven Souza Jr. skied to left for a two-run homer. Pineda missed his spot by the full width of the plate and the pitch just spun but didn't do anything. Classic cement mixer. Tampa scored their third run on two ground balls — a single through the left side by David DeJesus and a double down the left field line by Souza. Pineda didn't have a single 1-2-3 inning but was able to limit the damage. Sometimes you don't have your best stuff and need to battle, which is what Big Mike did Sunday. Consider this a learning experience.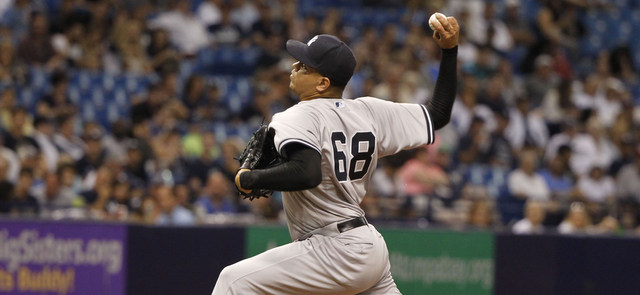 Hang On!
The Yankees scored their fifth run when Headley doubled into the right field corner. Alex Rodriguez singled to start the inning and moved to second on Teixeira's fielder's choice. I'm guessing Alex wouldn't have scored from first on the double, so hooray for moving the runner over. After Headley's double, just five of the final 19 batters they sent to the plate reached base. Didi Gregorius struck out with the bases loaded to end the seventh, which was their best chance to score some more insurance runs.
The bullpen was tasked with protecting an annoyingly close two-run lead for the final ten outs and it took four relievers to do it. Chris Martin faced three batters and retired one, which ended the sixth inning. Justin Wilson retired pinch-hitter Logan Forsythe for the first out of the seventh inning before Dellin Betances got the next five outs. He walked Jennings in the eighth inning but got out of it. Andrew Miller, who at this point is clearly the closer even though Joe Girardi won't call him that, struck out three straight batters after allowing a leadoff double in the ninth. The non-closer is 4-for-4 in save chances.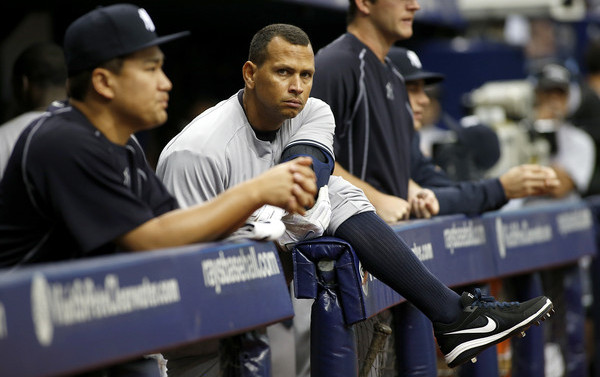 Leftovers
Betances stranded one of Martin's runners in the seventh and got five outs total. Only six of his 23 pitches were fastballs, and over his last three appearances, only 18 of his last 61 pitches have been fastballs. I've heard pitchers who are struggling with their mechanics will throw a lot of breaking balls because it forces them to slow their deliveries down a bit, so maybe that's what Dellin is doing. At some point he's going to have to throw more fastballs though.
The Yankees had the leadoff man reach base in each of the first seven innings. Through a dozen games this year, the Yankees have a .362 OBP when leading off an inning. Last year they had a .299 OBP leading off innings. Ellsbury (two), Headley (two), Jones (three), and Gregorius (two) all had multiple hits. Jones had the triple and two singles to the left side to beat the shift. A-Rod went 1-for-3 with two walks. He's hitting .316/.447/.711. Yup.
And finally, the Rays challenged a nice play by Stephen Drew and Teixeira in the sixth inning — Drew was in the shift, ranged to his left, threw from his knees in shallow right field, and Teixeira kept his toe on the bag while stretching to catch the throw — and lost. They're 0-for-7 on challenges this year. How does that happen? You get to watch the video before challenging!
Box Score, WPA Graph & Standings
Here are the box score, video highlights, and updated standings. Also make sure you check out our Bullpen Workload and Announcer Standings pages. For science, or something. Here's the win probability graph:

Source: FanGraphs
Up Next
The Yankees are off to Detroit for a four-game series with the Tigers, who have been the best team in baseball in the early going. Former All-Stars CC Sabathia and Alfredo Simon will be on the mound Monday night. Yep, Simon was once an All-Star. Just last year too.