By

Earlier today in an appearance on Mike Francesa's show, Yanks GM Brian Cashman all but admitted that Phil Hughes will not be moved back into the rotation this year. I echo what Joe said to me earlier about this: "I'm glad I came to grips with that earlier in the year." In general, there are two problems with leaving Hughes in the bullpen: 1) the team needs another starter, and 2) he'll be stuck on an innings limit again next year. The first part is most certainly true, there's not denying that. But what about those innings?

Hughes has thrown 84.1 IP this year between the majors and minors. As a full-time reliever in the months of June and July, Hughes threw 13 and 14.2 IP, respectively. If we assume he'll work 14 innings in both August and September, that would put him at 112.1 IP on the season, his most since throwing a career high 146 IP in 2006 and 42.2 IP more than he threw last year. Baseball Prospectus' PECOTA adjusted standings say the Yanks have a better than 93% of chance of making the postseason, but even if we assume zero playoff innings for Hughes and he finishes the season in that 110-120 IP range, he'd be good for 150 innings or so next year. That's … not terrible. Not ideal, but better than I thought it would be. · (34) ·
On August 18, 2006, the Yankees started a five-game series with the Red Sox with a rare Friday doubleheader. As usual, the two teams were battling it out atop the AL East. The Yankees, at 70-48, were a game and a half up on the Red Sox, though they had dropped the previous two games to Baltimore and were 4-6 in their last 10. The Sox, too, were 4-6 in their last ten. Yet none of that mattered on the afternoon of the 18th. All that mattered were the five games at hand, surely a series which would determine the fate of the AL East.
What followed was one of the most memorable Red Sox series in recent years. The Yankees offense stepped up, putting up double digit runs in the first three games of the series, taking them all. They put up an eight spot on Sunday to take that matchup, and then finally won a light-hitting affair on Monday, 2-1 to cap what has been dubbed the modern Boston Massacre. Five games, five Yankees wins. On the morning of August 22, the Yankees woke up to a 6.5 game lead, one they would not relinquish.
At the time, I could hardly believe those four days and five games actually happened. The two teams seemed evenly matched. They'd been atop the division all year. If you told me on Friday morning that either team would win all five, or even four of those games and I'd have said you were nuts. Beyond nuts. That you didn't understand the ebbs and flows of a season, and more than that the anyone-can-win-any-game nature of baseball. Funny how things work out sometimes.
On August 6, 2009, the Red Sox head down to the Bronx, two and a half games down in the AL East. Both teams have spent time atop the division this year, and the series is critical for both. Again, if you tell me that either team will take all four, I'll say you're nuts. Two teams of this caliber shouldn't have many lopsided affairs. In fact, they've had too many already this season.
Yet I can't shake the notion of the Yankees burying the Red Sox right here. A sweep would put them six and a half games up, exactly how many they were ahead after the Boston Massacre. While it's not quite as late in the season, it's late enough for a team like the Yankees. That would be an enormous cushion that they could build on in the coming weeks. Meanwhile, the Red Sox would be scrambling for the Wild Card.
It's not likely. It's not really necessary, either. Considering their eight-game deficit to the Red Sox already, the Yanks would do well to take three of four. Still, it's almost impossible to not think back to those four euphoric days in August 2006. They turned the season in the Yankees' favor. We can only hope the next four games have a similar effect.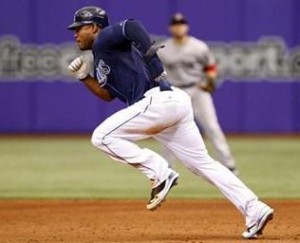 The Yankees have traditionally been a power hitting, high on-base percentage kind of team, going all the way back to the days of Ruth and Gehrig. They would dig in, make pitchers work, get on base somehow, then sit back and watch as their sluggers peppered the bleachers with big flies. This year's club is no different, but this weekend they have a chance to exploit one of Boston's biggest weaknesses: allowing stolen bases.
The Red Sox this year have been just terrible when it comes to allowing steals. I mean horrifically bad. On average, Major League clubs have stolen bases successfully at a 72.7% clip, but Boston has allowed runners to be successful on their steal attempts a ridiculous 85.2% of the time. All Star Catcher Jason Varitek has been the main culprit, allowing 69 steals in 83 attempts, or 85.6%. In addition to leaving his mask on during a fight, he's also hitting just .212-.356-.349 since May 30th, and the team's 3-4-5 starters have a combined 5.72 ERA. What exactly does he do well? Forgive me as I digress.
As for the rest of Boston's catchers, Victor Martinez has only played one game behind the plate for them and no one attempted a steal. With the Indians though, baserunners swiped bags at a 84.8% success rate. George Kottaras was the best of the backstop bunch, allowing steals at just a 83.8% clip, but he's on the phantom DL because the team has no spot for him and he's out of options and they don't want to lose him to waivers with a sore back and won't play in the series.
As a team, the Yankees have stolen 71 bases, a modest amount good for 12th most in baseball and 6th most in AL. Their 78.0% success rate is fourth best in the game behind the Rangers (83%), Rays (80.2%), and Phillies (79.8%). Obviously most of the stolen base credit goes to the presently injured Brett Gardner, who's stolen 20 bags with an 80% success rate. The Cap'n is second with 19 steals, getting the job done 82.6% of the time. Johnny Damon has picked his spots to go a perfect 8-for-8 in stolen base attempts. New addition Jerry Hairston Jr. hasn't attempted a steal in pinstripes yet, but he had seven steals in ten attempts in Cincinnati.
The Yankees will do their usual shtick of drawing walks and working counts and hitting homers this series, but the opportunity is there for them to take an extra base almost at will. Given the way the team has hit with runners in scoring position this year, maybe that's not such a good thing.
Photo Credit: Mike Carlson, AP
By

With the Red Sox coming to town tonight for the start of the biggest series of the season (to date, anyway), Jason at IIATMS pens an open letter to Joba, asking him to do the right thing and set the tone for the series with his pitching and not by throwing at people. I definitely agree, the Sox are coming off two tough losses in Tampa, no need to give them anything to rally around. · (129) ·
There was one reason why Mitre's poor outing didn't kill the Yankees that night, and that's Al Aceves. Even though he'd been a bit shaky of late, likely a symptom of his shoulder fatigue, Girardi had the confidence to go to him with one out in the fifth. As he's done for most of this season, Aceves gave the Yankees a few good innings which allowed them to win a game. It's time he got to pitch more innings.
Sergio Mitre, it would seem, is not working out. He's had only four starts, but he's yet to finish six innings. Last night he again lost Girardi's trust early, forcing the bullpen to get 14 outs, including the first two with a man already on base. The first six of those outs were recorded by Alfredo Aceves.
Next time around, the Yankees might want to consider flipping the two. Aceves can't go deep into the game at this point, but neither can Mitre. At least Aceves would be working into a position where he might be able to last six, seven innings. He might never get there, but there's little to lose in trying. Aceves has pitched well enough this season to earn a shot.
As a friend asked after I proposed this, why let Mitre blow games out of the pen? I'm not so sure he'd be bad out there. Even in the two-run first, the Jays were all grounders and bloops. The result was obviously bad, but I'll take a guy who can get a grounder out of the pen. Plus the Yanks have him signed through next season, so they might as well give him a shot out of the pen.
If Girardi's not going to let him work out of jams, Mitre is worthless as a fifth starter. The Yankees clearly aren't returning Hughes to the rotation, a waiver claim is unlikely, and no one wants to see Kei Igawa's return, the Yanks have no better alternative than to hand Aceves a rotation spot. The way he's been pitching most of the season, that's not a bad alternative at all.
If I told you that Sergio Mitre would only last 4.1 innings last night, you'd surely lower your head into your palm. Yet it wasn't that bad. Girardi exercised caution and relieved Mitre before he could cause any serious trouble. Al Aceves fended off the Blue Jays for an inning and two thirds, and that bought the Yankees offense enough time to rally ahead and take their second straight game from the Jays, 8-4.
Mitre didn't look bad to start the game, striking out Marco Scutaro and Aaron Hill. The Jays then went single happy, hitting ground balls and bloops on their way to four straight hits which resulted in two runs. The box score looked bad, but at least Mitre was keeping the ball on the ground. And striking out guys. Five innings, two runs was still a possibility.
Over the next few innings, it appeared he might just hold up. Mitre was by no means perfect over the next three innings, but he made some good pitches and got a strikeout with a runner on and two outs in the second, and a ground out with two on and two outs in the fourth. Jose Molina assisted in the third, picking off Vernon Wells on a snap throw to fist.
After getting yet another grounder to open the fifth, Mitre left one up to Adam Lind, and Lind did as Lind does, parking it in the right field seats. After a Lyle Overbay single, Girardi had seen enough. His team was down just one and he didn't want to see any more distance in the score, so he called on Ol' Reliable, Al Aceves, to finish off the fifth and then some. Al fulfilled his duty, retiring the first five batters he faced.
Meanwhile, the Yankees were thinking rally. Nick Swisher sparked them in the seventh with a leadoff solo homer, tying the game. This led to a multi-run inning, which is strange, because you'd think that a leadoff walk would lead to more multi-run innings. But no, Swisher's one run started a series of events which would eventually end with Mark Teixeira singling home the Yankees fourth run of the inning. Sandwiched in there was Jose Molina walking and Rod Barajas botching a play at the plate, so it was quite an eventful series of at bats. Even better, it left the Yankees with a lead.
I was a bit surprised to see Aceves back out to start the seventh after a long top of the inning. It made it easy to excuse the lead off home run to Marco Scutaro. Thankfully, the Blue Jays would not get a multi-run inning of their own. Ace got Aaron Hill to hit one right at Jeter, and then Phil Coke took care of the lefties Adam Lind and Lyle Overbay to cap the frame. Hughes and, after a few insurance runs, Robetson cleaned up.
It was encouraging to see the Yanks come back, despite a short start from Mitre. It's never a welcome sight to see a starter fail to finish five innings, but the Yankees bullpen was good enough to pick up the slack and limit the Jays. I keep thinking back to years past in games like this. Would the offense have come back last year? Would the bullpen have held together for so long in 2007? I'm not so sure. It's reassuring to know that both can happen in 2009.
The Yanks have now won three straight, and with two straight Red Sox losses they head into the weekend series two and a half games up in the AL East. The Yankees have no excuses this time. They've got to take three out of four, though there's always the thought of a sweep right in the front of my mind. They'll kick it off with Joba vs. Smoltz tomorrow night. I couldn't be more excited.
Triple-A Scranton had a scheduled off day. They did get some help, as Russ Ortiz was signed to aid the thinned out rotation.
Double-A Trenton (8-4 loss to Reading) they faced Pedro tonight, who flat schooled 'em
Austin Krum, PJ Pilittere & Edwar Gonzalez: all 0 for 4 – Krum K'ed thrice, Pilittere twice, Edwar once
Reegie Corona: 1 for 3, 1 R, 1 BB, 2 K, 1 SB
Eduardo Nunez: 2 for 4, 2 R, 1 HR, 2 RBI, 1 K, 1 SB – took Pedro deep
Chris Malec & Richie Robnett: both 1 for 4, 1 K
James Cooper: 0 for 3, 1 K
Marcos Vechionacci: 2 for 3, 1 R, 1 K, 1 E (throwing) – 17 errors on the year
Jeremy Bleich: 5 IP, 11 H, 7 R, 5 ER, 1 BB, 6 K, 1 HB, 8-1 GB/FB – he's at 124.2 IP right now … career high is 98.2 IP two years ago
Kanekoa Texeira: 2 IP, 1 H, 1 R, 1 ER, 2 BB, 2 K, 1 WP, 4-0 GB/FB
Jose Valdez: 1 IP, zeroes, 1 K, 1-1 GB/FB
Can a brother get a Melancon sighting?
Tie game, don't screw it up Mitre.
As someone with a long Polish last name, I sympathize with Marc Rzepczynski. Any time people see more than eight letters and an ski at the end, it's an opening for 1) gross mispronunciation, and 2) ridicule, because it's not a good ol' 'Merican name — the "I'd like to buy a vowel" line is already old, at least in my mind. Yet I can't empathize with him. My name is 100 percent phonetic. If you took the time to look at the letters, you could pronounce it with ease (when I took the GREs, the administrator said anyone who couldn't pronounce it is an idiot…I liked her). Marc? Not so much. So please, for the sake of your host, let's lay off the guy, at least on his surname.
And, for reference, it's Zep-CHIN-Ski.
A 2007 fifth-round pick out of UC Riverside, Rzepczynski shot through the minors. He spent a full year at Class A Lansing last season, posting excellent numbers in 121 innings. The most impressive: just two homers allowed. In fact, in 254.2 minor league innings, spanning back to the New York Penn League in 2007 through his stint in AAA this season, Rzepczynski allowed just five home runs. FIVE. In the majors he's allowed just one homer through 27.2 innings. His 3.1 percentage of fly balls hit for home runs is far, far below the league average of 7.8 percent. Normally I'd say he's in line for a statistical correction, but it appears this anomaly is part of Rzepczynski's skill set.
How does he do this? The double threat of strikeouts and ground outs. Rzepczynski has a 1.94 ground out to air out ratio, well above the league average of 1.07. He also gets 1.09 ground balls for every fly ball, again well above the league average of 0.78. He has also struck out 25.4 percent of all batters he's faced in the majors, much higher than the league average of 17.8 percent. In fact, it seems the only reason he's not pitching better right now is that he still has a case of the walks: 14.4 percent of major league batters facing him have walked, far above the league average of 9 percent. This could be a boon for a patient team like the Yankees.
Rzepczynski is mostly a fastball-slider guy, averaging 88 mph with the fastball — with considerable sink, of course. He also has an average curve and an average change, which he uses to mix things up. FanGraphs' linear weighs for pitch types shows his slider to be his most effective pitch. I'm willing to bet that's how he gets the bulk of his strikeouts.
On the hill for the Yanks is Sergio Mitre, who has supposedly worked out the kinks which hampered him in his last start. The Yanks aren't asking the world. Just six innings, three runs. Then hopefully the Yanks can get to this rookie starter.
Oh, and as if you hadn't already heard, the Yankees have recalled RHP Anthony Claggett. To make room for him on the roster, they've designated Cody Ransom for assignment.
Lineup:
1. Derek Jeter, SS
2. Johnny Damon, LF
3. Mark Teixeira, 1B
4. Alex Rodriguez, DH
5. Nick Swisher, RF
6. Robinson Cano, 2B
7. Melky Cabrera, CF
8. Jerry Hairston, 3B
9. Jose Molina, C
And on the mound, number forty-five, Sergio Mitre.