By

Much like the RAB Fantasy Football League last year, we're going to run a fantasy baseball league this year. It's going to be another insanely deep league with 20 teams, plus there's some unique scoring (Holds + Saves instead of just Saves) and settings (no waivers, everyone's a free agent). We're going to use ESPN instead of Yahoo this time because it's more customizable and is a bit more user friendly. I gave first dibs on spots to those in the football league, but there's still four spots left to be filled. If you want in, email me (Mike) using the link on the left right. Note that the comments for this post are closed.

Please make sure you look over all the league settings (which you can find here) before deciding you want in. The draft date is set for Sunday, March 22nd at 6pm EST, and we'd like to have as many team owners there as possible. This is going to be a keeper league (so it continues on year after year), so please only email if you're serious. We'd like to avoid having people abandon their team in midseason. Of course it's free to join. Thanks.

Update (11:19am): One more spot left…

Update (11:23am): The league's full. Thanks everyone. · (2) ·
By

With the appropriate caveats — it's early; Spring Training stats don't count for anything; small sample size — let's pretend there is a pitcher who has thrown 8 innings for the Yanks this spring with very promising results. Let's pretend that in those 8 innings, this left-hander has allowed three hits and no runs. Let's pretend he has struck out six while walking none, and let's pretend, for good measure, that the people watching the games are noticing his performance. And now let's pretend that the guy's name isn't Kei Igawa. Would you consider him for the bullpen? Because that's exactly what Kei Igawa has done this spring. · (108) ·
Performance issues in Spring Training are easy to write-off as no big deal*. Joba didn't record an out against Team Canada? No sweat. It was only March fifth. That's something for Future Joe to get worked up over. But what if Joba struggled against the Reds last night? Given my track record — I said not to get worked up over Hughes's poor spring last year — I'd have continued not sweating, but there definitely would have been cause for concern. That's not the case thankfully, as Joba tossed an efficient three innings.
He was so efficient, in fact, that in three innings he couldn't get to his target pitch count. He needed just 29 to down the Reds, striking out three in the process. Stuff-wise Joba looked fine. He eased into his fastball, hitting low 90s in the first inning before ratcheting it up a few mph in the next two. His slider didn't seem to have a ton of bite, but he got a couple of strikeouts with it, including a knee-buckling called strike three. It wasn't Joba vs. Beckett good, but Joba's performance quelled the murmur of concern surround him.
Phil Coke looked solid in his two innings of work, striking out three allowing three hits, and picking Brandon Phillips off first. He was hitting low 90s, a couple 93s on the gun, which is impressive to say the least. Igawa followed that up with two scoreless, two-strikeout frames. Chris Garcia struck out two and walked one in an inning, and Anthony Claggett finished things off with two strikeouts in a scoreless ninth.
On the offensive side of the ball, sure-to-be-optioned Juan Miranda crushed a homer to right center in the fourth, and Shelley Duncan hit his second of the spring in the seventh. Brett Gardner helped his case with two hits, though he did get caught trying to take second and he misplayed a liner right at him (tough sledding). Hideki scored from second on a single, Ramiro Pena picked up a double, and Jesus Montero went 1 for 1. It was a good day for both the offense and the pitching.
Plenty of folks watched Team Netherlands upset Team Dominican Republic last night, which means Robinson Cano should be back in camp in the next couple of days. Kevin Russo, please claim your spot in minor league camp. There's little chance Cano will be around for tomorrow afternoon's game against Detroit, but he could be back in the lineup Friday against Boston.
It was tough not to enjoy the game last night. If camp broke today, you'd have to believe Gardner and Coke would be heading north with the team. They're really impressing this Spring. Now they'll have to keep doing it for the next three weeks.
* That's what she said!
I vividly remember Opening Day 2003. I was a sophomore in college, and on the night of the Yanks' first game against the Blue Jays, I was in the middle of a rehearsal with my jazz group. When rehearsal ended, I had a phone call from my parents with some terrible, terrible news: Derek Jeter had been involved in a bad injury.
As the news unfolded over the next few days, the prognosis was not good. Jeter has dislocated his shoulder in a collision at third base with the catcher. He would not play again until May 13.
At the time, an injury to Jeter and a lengthy stay on the DL seemed unfathomable. How could the Yanks stay afloat with Erick Almonte filling in? Well, the team, behind some very solid pitching, went 25-11 without Jeter.
Flash forward to this weekend when Alex Rodriguez announced his intention to go under the knife. As Tyler Kepner noted, this injury had 2003 written all over it. The Yanks would be without one of their leaders for the first month of the season, but it will all be okay.
While a lot of crazy columnists wrongly feel the Yanks will be better off without A-Rod, the team can weather the A-Rod-less storm for a few weeks. As they did in 2003, they can lean on their pitching to bring them through April, and when A-Rod returns, well, the team just gets that much better.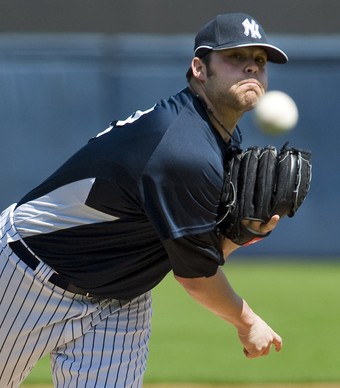 All eyes are going to be on Joba tonight, especially after his poor performance in his two previous starts. He's faced eleven batters this spring, walking four and allowing four hits while retiring just three, none via the strikeout. Is it a big start for Joba? No, not really. It's March 10th for cryin' out loud. Compared to where the rest of the rotation is right now, this should be his preseason debut. It would be nice to see some vintage Joba though.
As you can see, the Yanks are trotting out the A team:
Gardner, CF
Damon, LF
Nady, RF
Matsui, DH
Ransom, 3B
Molina, C
Miranda, 1B
Berroa, SS
Pena, 2B
Scheduled Pitchers: Joba Chamberlain, Kei Igawa, Chris Garcia, Phil Coke, Mike Dunn, Anthony Claggett
YES is carrying the game, first pitch is set for 7:15. Hooray for the first night game thread of the year.
Photo Credit: Steve Nesius, Reuters Pictures
I just wrapped up the part of The Yankee Years that Tom Verducci and Joe Torre call the last moment of Yankee magic at the old Stadium. With one swing, the much-maligned Aaron Boone delivered a stunning end to one of the most dramatic playoff series of all time.
Since then though, the Yanks have suffered through five seasons of bad luck, on and off of the field: Jason Giambi's tumor, the 2004 playoff collapse, the Mitchell Report, the dismissal of Joe Torre, A-Rod's PED scandal, the bad PR over the season-ticket problems with the new stadium and the political scandals that have lurked around the edges of the new stadium as well. Some of these stories are driven by a media that is highly skeptical of the Yanks and their ways. Others constitute legitimately bad news.
To the end, in a must-read piece, Pete Toms, one of the authors at The Biz of Baseball, ponders the state of the Yankee brand. Is the Yanks' brand a tarnished one? The Yanks, Toms believe, are overreaching at a time when the American people are economically weak, and the team may be out of step with its fans:
Of more importance to the Yankees than the admonishments of local politicians is the widespread anti Yankee sentiment amongst rank and file fans. Instead of excitement about the new stadium and free agent signings, Yankee blogs, message boards and newspaper reports are rife with the comments of angry fans expressing their outrage over how and where their seats have been "relocated" in the new stadium…The negative impact of the recession on the Yankees is not limited to diminished demand for expensive seats. The credit crisis increased the stadium construction borrowing costs. Bloomberg reported on how changes in the municipal bond market affected the Yankees second round of financing. "The New York Yankees sold $259 million of bonds at yields two to three percentage points higher than the baseball team's first round of city-approved tax-exempt financing to finish its new stadium in the Bronx…"

On the field, the Yankee brand has been tarnished (rightly or wrongly) by A Rod. A Rod's $300 million dollar contract was justifiable for the Yankees because of two reasons. 1. He would sell out tickets and luxury boxes at the new stadium during his pursuit of the HR record. AND he would do it as a "clean" player. In short, he would be the next Yankee icon. 2. The same pursuit would be of great value to YES. Again, somehow that seems a long time ago. Now the Yankees have hundreds of millions of dollars committed to an unpopular superstar who they can never portray as "good" to Bonds "evil". Serious questions surround his long term health, particularly minus PEDs which have been credited with contributing to the extraordinary success of some superstar players at relatively advanced ages (Bonds, Clemens). Subsequent to the announcement of A Rod's injury, some pundits are suggesting that the loss of the Yankees premier player and arguably MLB's best player is actually a positive..

In the short term, winning is marketing. Much of the complaining about seat relocations, public handouts to billionaires paying millionaires and a cheating superstar, can be overlooked if the Yankees win. But as defined by Yankee fans, winning means winning it all. Long term, is what the Yankees are selling out of step with the zeitgeist? Tom Van Riper wonders, "Sure, the economic slump will only last so long, but some experts think the shock and suddenness of the global financial crisis may have shifted consumer attitudes permanently. For all but the wealthiest, the luxury sports experience could be out for a long time. That means a lot of $1,000 tickets and personal seat licenses could go unsold and unpopulated for a very long time." That, not A-Rod, is the Yankees' biggest problem.
The problem Toms identifies is part of the Yankee Catch-22. The team has become a brand because they won so often in the late 1990s. In order to continue winning, they started spending. In order to keep up the spending, they need more money. To get more money, they started a cable network and built a state-of-the-art stadium. To fill that stadium, they need to get prices at the right level, and they need to win.
Along the way, the team has hit a few speed bumps and larger roadblocks, but I think Toms nails it when he boils it down to winning. Non-Yankee fans may scorn and despise the Yanks, but they still turn out on the road to watch the Yankee brand play. If the team wins, if they get over this PR hump of the ticket problems — a PR problem about which most fans are antipathetic or ignorant — the brand is as strong as ever.
Those of us that put the Yanks under a microscope on a daily basis may see the last few years as part of a bad cycle for the team. However, as the stadium opens, as YES draws record ratings for Spring Training games, the Yankees and their brand are not suffering.
After we found out the severity of A-Rod's hip injury last week, Ben wrote up possible replacements, headed by Mark Grudzielanek. Once surgery became a certainty, Mark Teahen's name popped up in the conversation. Either one could help bridge the gap separating the start of the regular season and the start of A-Rod's season. At that point, both players could become valuable parts of a potentially strong Yankees bench. Yet Ken Rosenthal doesn't think that the Yanks will seek an external replacement, not when the third baseman is slated to miss as few as 23 games — though Will Carroll thinks he could check in ahead of schedule.
A simple four-week replacement for A-Rod might not be the most prudent roster move it were for that sole purpose. Why pay millions, plus players in a possible trade, if you're getting your All-Star third baseman back after just a month of the season? As I've argued before, the move would strengthen the bench after A-Rod's return, making a move a bit more likely. Teahen would be ideal is that situation, since he can play more positions than Grudzielanek.
In addition to those guys are players who are in camp on minor league deals who could get the axe or opt out of their deals between now and the beginning of the season. The only name I can think of off the top of my head is Morgan Ensberg, and I'm not sure the Yanks want to try that again after last year's failed experiment. Plus, if he plays well enough to indicate that he can play in the majors, he could very well catch on with the Rays — though they do have Willy Aybar blocking him. Other than that, can anyone else think of some minor league contract guys who could serve the Yanks' purposes?
This is all to say that I think a short-term replacement would be a good idea now if that player can slide to the bench after A-Rod's return, preferably filling in at many positions rather than just as a utility infielder. If a free player or a trade makes any degree of sense in that regard, I'd like to see Cashman pounce on it.
Last summer Brett Sullivan at Project Prospect presented a new metric he developed for minor league pitchers called Dominance Factor, which measured performance based on four key factors: strikeout, walk and groundball rates, as well as age relative to level. He adjusted the formula a few weeks ago to more accurately weigh groundball rate and age, and now what we have a nice easy number that gives us an idea of how well a pitcher performed at their level.
It's a very straight forward formula that requires nothing more than simple addition, subtraction and a tiny bit of multiplication. I was going to show you an example of how it works, but it's not worth the effort. If you click the first link above, Sully runs through an example for you. What I did do though is run the numbers for all of the Yanks' minor league pitchers in 2008. Well, not all of them, just guys with at least 25 IP at any level from Low-A up through Triple-A.
I'm sure there's a way to combine stats across several levels, but I'm not smart enough to figure out how to do it. Instead you're getting different number for each player at each level in which they pitched, meaning you'll get Zach McAllister's DF at both Low-A and High-A. As you can imagine the data table is pretty big, so I hid it behind the jump.
By

A few weeks ago, I sat down virtually with the good folks over at Razzball and fielded some questions on the 2009 Yankees. Check out my answers right here. We talk Joba, Yanks who need to bounce back from injuries, the expectations for A.J. Burnett and CC Sabathia and the center field position battle. It is, thankfully, an A-Rod-free season preview. [Razzball] · (6) ·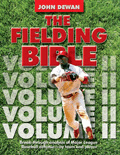 Baseball all boils down to runs. As the Moneyball/Baseball Prospectus crowd have long realized, the more runners a team has on base, the more runs they are going to score, and the more games they are going to win. Hence, the recent emphasis on on-base percentage and other offensive-oriented stats.
Over the last few years, a nascent field of statistical analysis has come into its own largely in part of the efforts of John Dewan. Three years ago, Dewan unveiled his plus/minus system in a way to measure how teams prevent runs from scoring.
This year, in his second volume of The Fielding Bible, Dewan takes this analysis one step further with Defensive Runs Saved by position. The book contains year-by-year rankings and three-year cumulative totals for all Major League Baseball players, and as expected, the Yanks in 2008 were pretty terrible in the field. That is, after all, what happens when you build a team around hitters.
Here's how the Yanks' starters did:
| Player | Position | Runs Saved | Position Rank |
| --- | --- | --- | --- |
| Jason Giambi | 1B | -13 | 34 |
| Robinson Cano | 2B | -13 | 35 |
| Derek Jeter | SS | -8 | 31 |
| Alex Rodriguez | 3B | 1 | 17 |
| Johnny Damon | LF | 4 | 9 |
| Melky Cabrera | CF | 2 | 14 |
| Brett Gardner | CF | 4 | NA |
| Bobby Abreu | RF | -12 | 34 |
| Xavier Nady (2 tms) | RF | -2 | 22 |
| Jorge Posada | C | -18 | NA |
| Jose Molina | C | 31 | 2 |
Overall, according to The Fielding Bible, the Yanks featured a total -43 Team Defensive Runs. As Dewan figures that 10 Defensive Runs is the equivalent to one win, the Yanks' defense cost them around 4 wins last year.
Things, though, are looking up for 2009. While Jorge Posada will hopefully take over the bulk of Jose Molina's catching duties, he more than makes up for it offensive. (Aside: Dewan's book features an excellent essay comparing Molina's impact behind the plate. It's hard to overrate Jose Molina as a defensive catcher. He is truly in a class by himself.)
Meanwhile, Mark Teixeira and his +17 fielding rating will replace Jason Giambi's -13. Johnny Damon will notch a full season in left field, and Xavier Nady could be a +10 improvement over Bobby Abreu. It's tough to say how the center field battle will shape up between Brett "Babe Ruth" Gardner and Melky Cabrera, but in the early going, Dewan's system prefers Gardner.
Now, it would be really easy and far too simplistic for me to proclaim the Yanks four wins better because of their projected +40 swing on Defensive Runs between 2008 and 2009. As Dewan notes, defense is only half of the battle, and the book ends with a chart of Total Runs adding up the top 260 players' offensive and defensive contributions. For example, despite his terrible fielding, Bobby Abreu was responsible for three more runs — or 0.3 wins — than Xavier Nady. Mark Teixeira was responsible for a whopping 74 runs — or 7.4 more wins — than Jason Giambi.
The Yankees went into the 2008-2009 off-season intent on improving the team's defense. That was, after all, why Manny Ramirez drew so little interest from the Bronx. On paper, at least, they seem to have accomplished that goal. Derek Jeter and Robinson Cano still raise some eyebrows up the middle, but overall, the Yanks should have a solid fielding team in 2009. That should be a welcome relief from the last few seasons.