We haven't seen much of the Yanks entourage this morning — just one guy standing in the back of the room right now. Why is that? According to Ken Rosenthal, they're talking to the Dodgers about Robinson Cano — and Melky Cabrera:
As the Dodgers try to resolve their infield, they are again talking to the Yankees about a trade for second baseman Robinson Cano. The teams have resumed their discussions about Cano at the winter meetings, according to one source.

The Dodgers also are interested in Yankees center fielder Melky Cabrera, and the Yankees likely would want outfielder Matt Kemp and pitching in return. The Dodgers' interest in Cabrera is a sign that they might not be confident of Andruw Jones making a strong return in 2009. The Dodgers also need to find a match for Juan Pierre, who has requested a trade.
The Veterans' Committee is starting their presser, so we're going to switch gears to that. Feel free to speculate here, though.
Update (1:05 p.m.): The rumor has been debunked by Colletti. Mike and I came back from lunch (the Bellagio buffet might be the best on the Vegas strip) and there was a pack of reporters surrounding him. So the mixed reports commence here at the Winter Meetings.
By

MLBTR links to a GAKIII rumor concerning the Brewers and Sabathia. Milwaukee may give CC an opt-out after three years in an effort to get the lefty to stay. I'm sure that will end well for the Brewers. · (30) ·
By

It's not even 8am here in Vegas, and we've already spotted Joe Girardi & Gene Monahan talking it up in the bowels of the Bellagio as we walked to the press room. We didn't go over to introduce ourselves, Girardi looked like he was ready to rumble. We also spotted Billy Beane chatting with someone important looking in one of the hallways. Cool stuff.

There's exactly six other people in the press room right now, so I guess most of the media is sleeping off their wild Sunday night. Joe and I don't expect to be breaking any big news or rumors while we're here, but we will pass along any info we manage to dig up. Right now we're just trying not to step on anyone's toes, and not look like fools. Check back often, we'll be here all week.

Update (8:15am): We went looking for coffee and almost had a Homer Simpson-George Harrison moment with Billy Beane "Oh my God! Where did you get that breakfast!" Buck Martinez is recording a radio show next door, and you have to walk right by him to get the free coffee and breakfast (which we eventually found). The media room is ever so slowly starting to fill out, and they're setting up for the HOF Press Conference, which starts at 10.

Update (8:40am): We have major breaking news from Vegas: Sweeny Murti is in the house. There's not a whole lot going on, most of the media guys are just catching up with each other after not having seen one another in a while, and other than Billy Beane (who went into the trainer's conference) there's not an exec (that I recognize) to be found. I'll pick up soon. · (35) ·
By

By the time the dust settled last night, only two players accepted their clubs' offers of arbitration. Of the players I thought might accept — Jason Varitek, Jon Garland and even Mark Grudzielanek — none accepted. So I have to wonder if the Yanks misread the market. Should they have offered arbitration to Bobby Abreu and Ivan Rodriguez? Of course, their decision would have impacted the Adam Dunn and Pat Burrell decisions as well, and it's really hard to play the "What If?" game here. Yet, I wonder who is making the bigger mistake: the second-tier players for not accepting arbitration or the risk- and cost-averse clubs who simply do not want these players around at any cost anymore? · (90) ·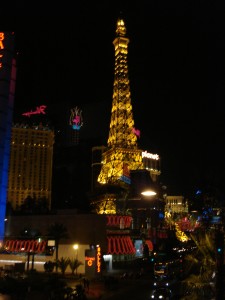 All hell breaks loose tomorrow, but for now here's one last Sunday night update. Joe and I grabbed a few drinks at various Bellagio bars, and recognized some faces as we walked the floor: Ken Rosenthal of Fox Sports (he makes Dustin Pedroia look like Gheorghe Muresan), plus Jayson Stark and Jerry Crasnick of ESPN (we're sure it was Crasnick this time). We also ran into PeteAbe, who was cool enough to stand around and talk to a bunch of lowly bloggers for a good 15-20 mins. I'm sure we passed by some other important people, but just didn't recognize them.
Word on the street is that Brian Cashman left for dinner with his homies while rockin' one of his four World Series rings, which he never wears. Could he have been flaunting it to CC during a meeting? Feel free to speculate. 'Til tomorrow …
Now that the non-law school students among us are gambling away our advertising revenue settling in to Sin City, let's set the stage.
Right now, we're not sure what's going to come of our heading to Vegas except wall-to-wall coverage of the Winter Meetings and a whole of standing around, according to this guy. Mike and Joe will be at Greg Maddux's retirement announcement tomorrow; they'll sit in on Brian Cashman's media moment; and they'll get the lay of the land.
To keep up to date with RAB during the week, we can offer you a few choice ways of staying in touch. First and foremost, keep checking back here. We'll have updates as soon as we can on site. For up-to-the-moment Twitter updates, you can follow RAB on the social networking service. Joe will be updating via Blackberry as he can. You should join us on Facebook too. We also have a RAB Yahoo! Groups page for rapid-fire e-mail updates, but we're not totally sure what's going on with that yet.
Anyway, that's that for staying in touch. Now, on to the good stuff: rumors, rumors rumors.
So we're here, we're registered, and we've feasted on the Bellagio buffet (couldn't have asked for much more; we had a hard time walking back to our hotel). So while we digest, here are some pictures from the early goings.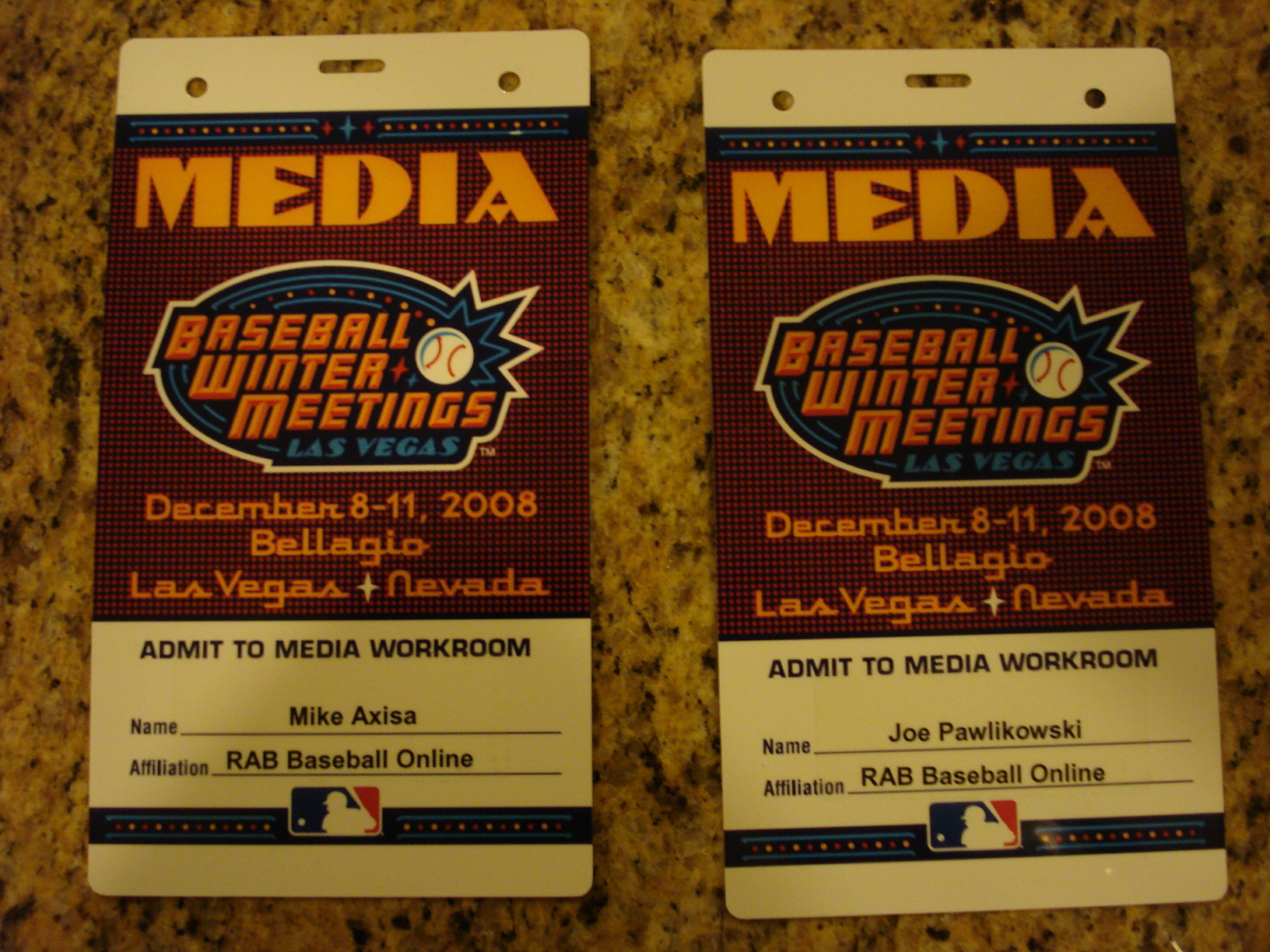 Yep, that's us. For some reason, I had this nagging fear that something would have gotten screwed up and we wouldn't have gotten these.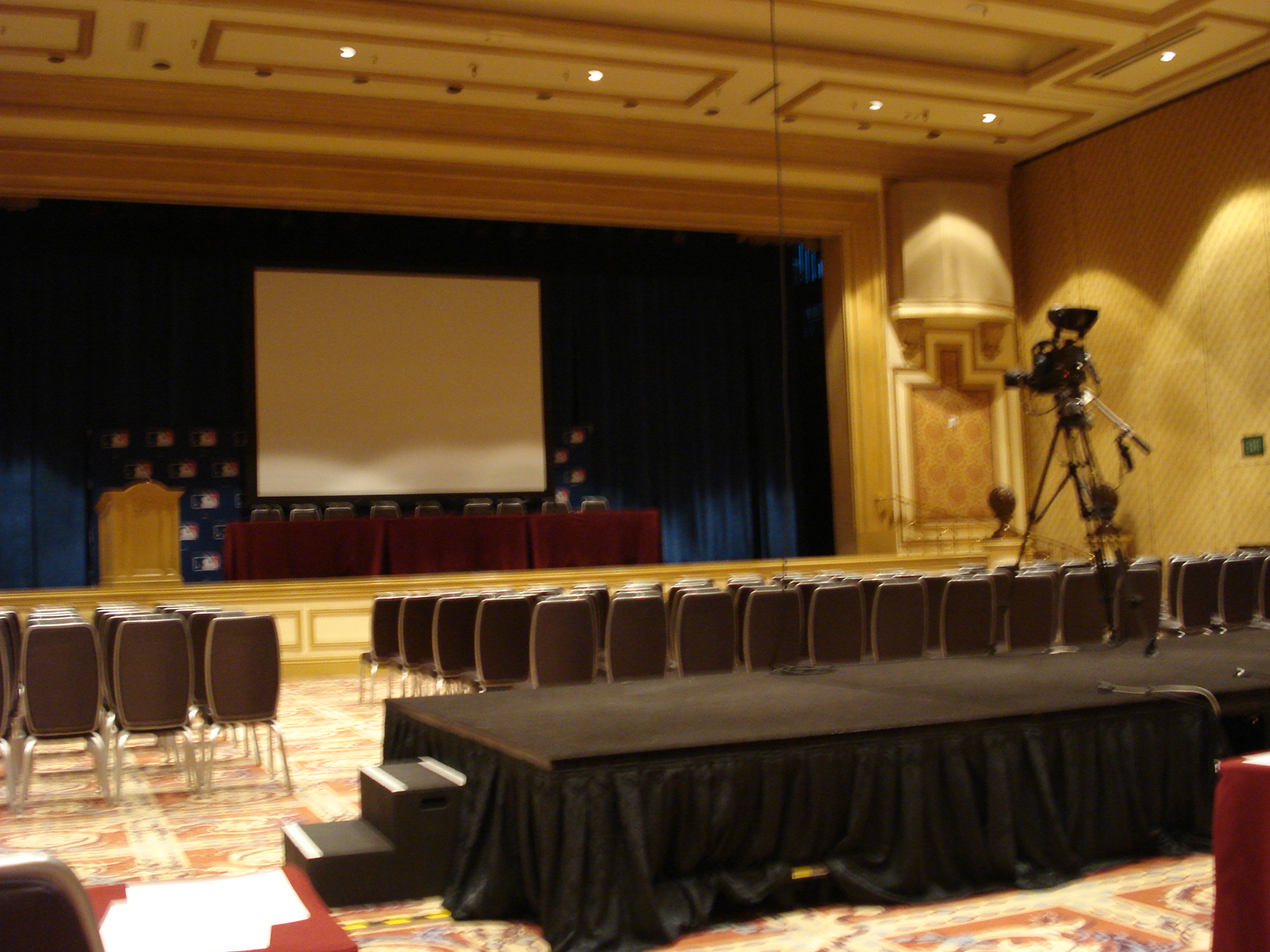 The press room. We're 90 percent certain Jerry Crasnick of ESPN was in there. On our way out, we 100 percent saw Gene Monahan, who was there for the trainers conference.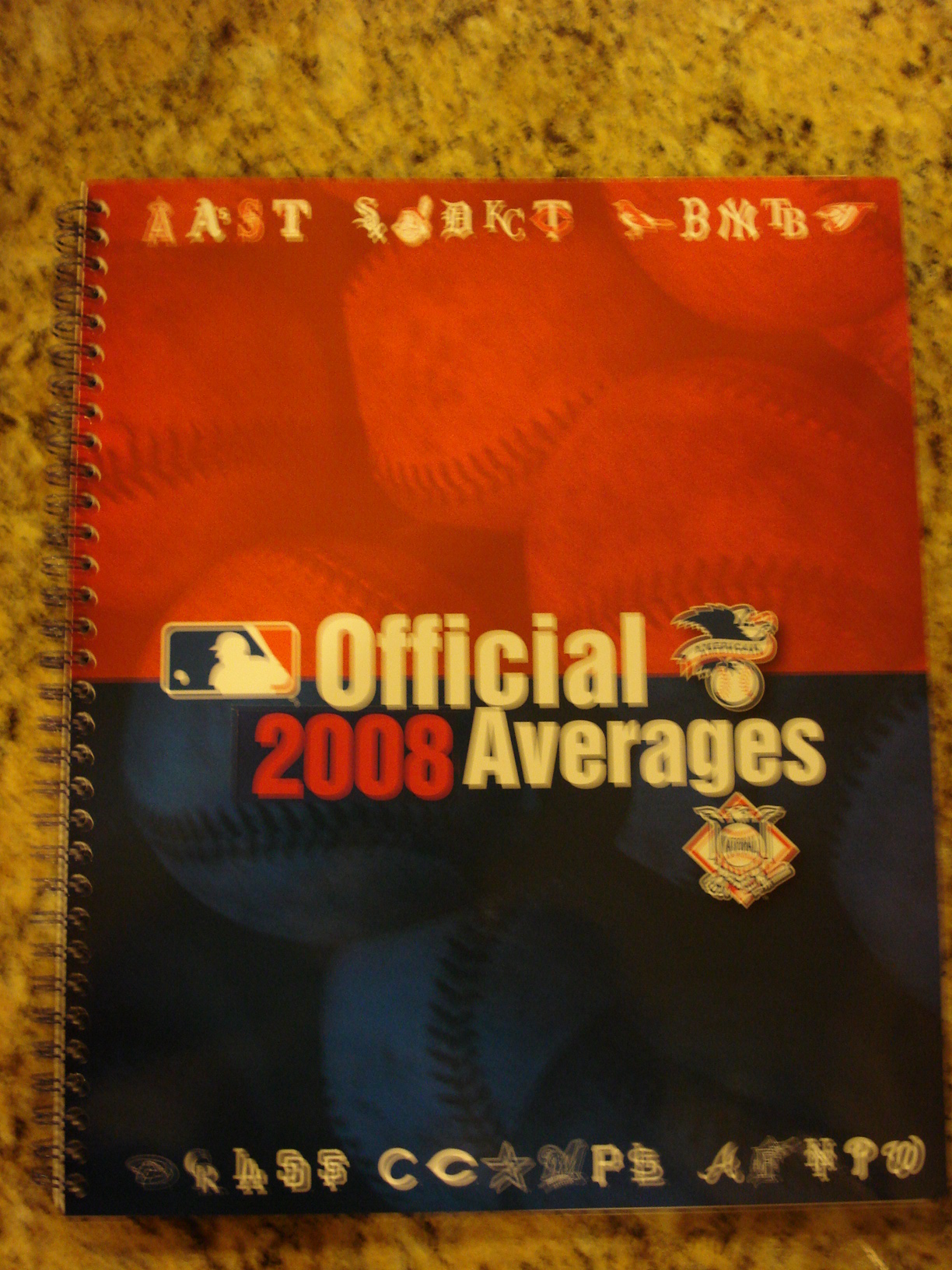 NERDS!!!!! Seriously, this is one comprehensive stat package. No wOBA, though.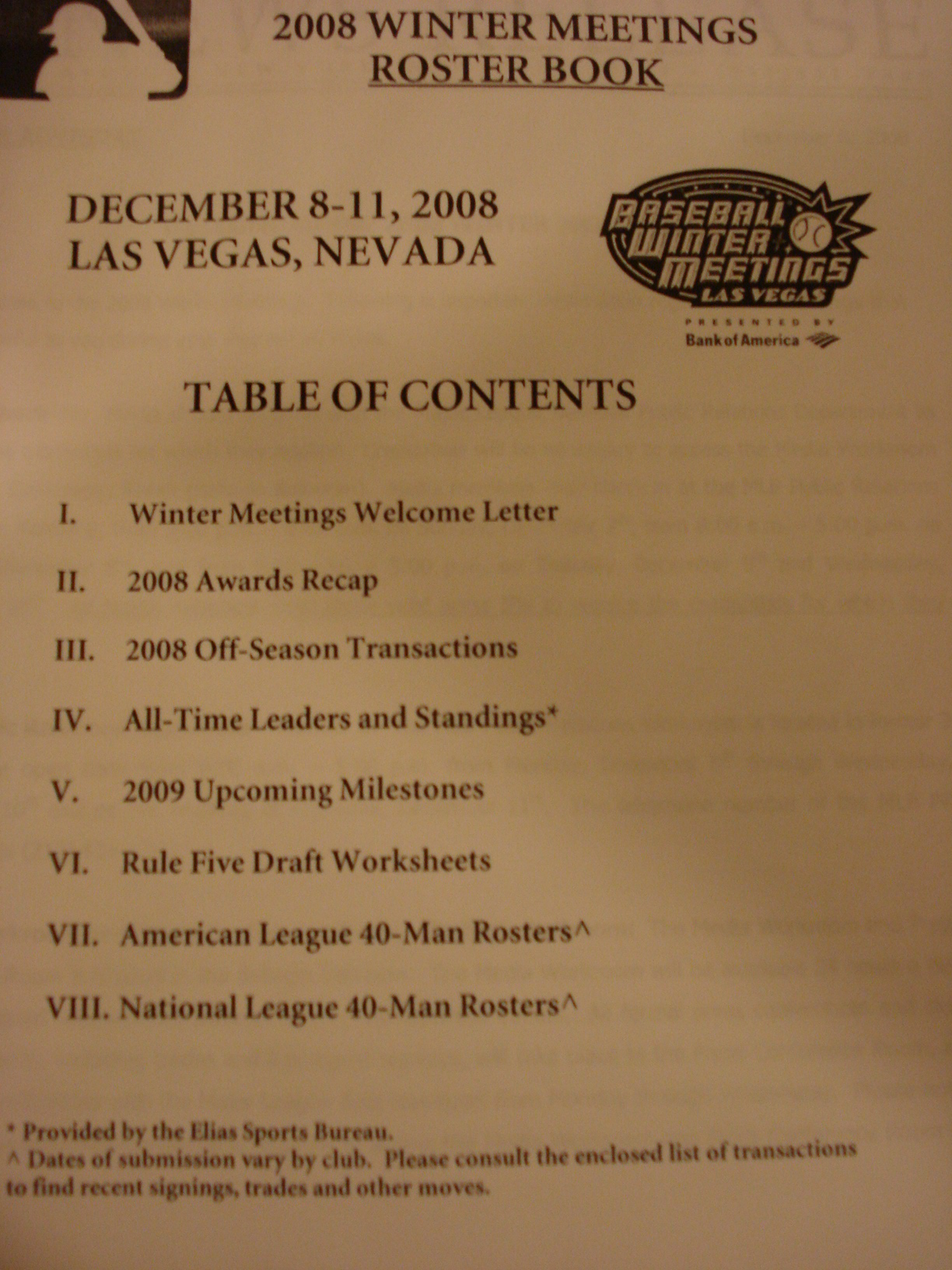 This is the TOC of the cool binder they gave us. Disappointingly, the Rule 5 worksheet lists all teams, not just team which have picks.
This is probably all we've got for tonight. Everyone's getting here and getting settled in, and even then a lot of people are flying in tomorrow morning. Mike and I will have a drink for each of you.
The Greg Maddux press conference is at 11:30 tomorrow, so we'll be there for that, as will most everyone there I assume. Girardi's availability is on Tuesday, and we'll probably pop in for Torre's on Wednesday.
'Till then…
By

And we were on the same plane as Brian Cashman. At least I think we were, why else would he would be waiting for his bag at the same baggage claim as us? Oh yeah, this is cool. · (60) ·
By

Add Jon Heyman to the long list of writers who think the Yanks are interested in Ben Sheets. Heyman notes that Sheets will decline arbitration tonight, spurred on in part by the idea that the Yanks are interested. While his speculation is just that and Sheets seems to be on the Yanks' second tier of choices, we have repeatedly expressed our support for Ben Sheets. Fewer years and a few million less should land Sheets, and it's a much better risk than overpaying Derek Lowe or A.J. Burnett. · (37) ·
While one Kennedy may be gearing up to join New York's Senate delegation, another is quietly restoring his status as a pitching prospect. Pitching for the Indios de Mayaguez in the Puerto Rican Winter League, Ian Kennedy has put together a strong of solid outings.
Yesterday, facing the Aguilas Cibaenas, Kennedy had another solid outing. He emerged the hard-luck loser in a 1-0 affair, but six innings, he allowed one earned run on five hits and two walks while striking out six. On the season, he now has 34.2 innings under his belt, and he's allowed 12 walks and 19 hits while striking out 31. While the Caribbean winter leagues are a far cry from MLB hitters, Kennedy is throwing strikes with confidence.
Now, the Yankees won't just hand Ian Kennedy a job come March, but he'll very much be in the mix. He turns 24 later this month, and there's no reason why he can't still be a good Major League starter. After a rough season, his winter league showing is a good sign indeed.