By

It seems that the Red Sox and Mark Teixeira have a decade-long history that goes back to the 1998 draft. According to Justin Sablich, Boston tried to draft and sign Teixeira in the first round, and when the then-18-year-old expressed his desire to go to college, the Red Sox made sure Teixeira wasn't drafted by anyone else. A jilted lover — or, in this case, a first baseman — never forgets. · (13) ·
With the world economy in turmoil, the Yankees have spent money with seemingly no regard for the markets, and they've taken their fair share of criticism for it. Some other owners think they can't compete with the Yanks' millions. Other commentators think the Yanks are showing an insensitivity to the struggles of most Americans during a recession.
Maury Brown succinctly summed up this spending. "The total base salaries of A-Rod ($32 million), Jeter ($20 million), Teixeira ($20 million), and Sabathia ($14 million) for 2009 will be $86 million," Brown writes, "or more than the Opening Day payrolls of more than half the league last year (Brewers, Indians, Giants, Reds, Padres, Rockies, Rangers, Orioles, Diamondbacks, Royals, Twins, Nationals, Pirates, Athletics, Rays, and Marlins)."
On the flip side, however, are those who see the Yankees' spending as the perfect storm at the right time. The Yanks cleared a lot of money off their books this year, and they are simply replacing those contracts in the most efficient way possible. They've signed pieces they need, and even Peter Gammons offers up praise for the Yanks' approach. Meanwhile, as Cliff Corcoran noted earlier tonight, the Yanks are basically replacing their 2008 free agents dollar for dollar.
Take a look at the chart Corcoran drew up:
He adds some commentary (emphasis mine):
As you can see, even after signing CC Sabathia, Mark Teixiera, and A.J. Burnett, the Yankees' commitments for 2009 are still within $4 million of their 2008 payroll. That number will increase. Coming off a career year, Xavier Nady will earn a few million more via arbitration (Brian Bruney and Melky Cabrera are also arb-eligible, but unlikely to get significant raises), and there's still a chance that the Yankees will add payroll via a one-year deal for Andy Pettitte or an alternate fifth-starter or a veteran center fielder. There are also automatic incremental raises due to the team's pre-arbitration players based on major league playing time. Even still, the net change in team payroll will be negligible relative to the massive dollar figures connected to those three new contracts.
In the end, the Yankee spending seems to look bad, but they're not doing much more than filling holes with large contracts. It's sort of crazy to realize that the Yankees now have the top four contracts in the game, but a free agent class similar to the one we've seen in 2008 doesn't come along that often. The last time this much talent was available for only money was in 2000 when Manny Ramirez, Alex Rodriguez and Mike Mussina signed some of the wealthiest deals around.
I certainly understand why some people may be uncomfortable with the spending, and why some Yankee fans — my dad included — may view it as ostentatious spending. But it's part of the system. The Yankees are replacing old contracts with new ones, and they're doing it with the resources they have and can spend. Until or unless someone comes along to limit that spending, the Yankees will keep on doing what they do best, come economic hell or high water. It always has been and always will be a business, and the Yanks are at the top of the game in that regard.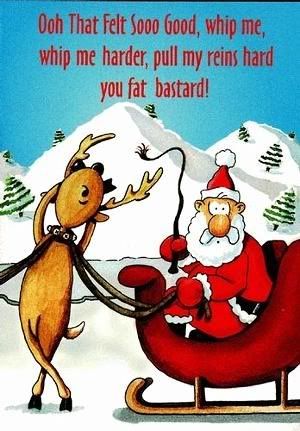 Barring some unforeseen baseball news, this is going to be it from us for a while today. Enjoy the holiday. We'll be back later tonight.
Merry Christmas to all from the three of us here at RAB.
By

The Times' Ben Shipgel profiles Mark Teixeira today, and he paints a picture of a consummate professional baseball player who, like many of us, grew up idolizing Don Mattingly. Long gone, it seems, are the days when the Yanks' first baseman wintered in Las Vegas and spent his spare time signing body parts. · (15) ·
It's almost unnecessary to defend the Yanks' recent spending spree. Yankee fans love it, and Yankee haters won't like no matter how much logic you throw their way. But for some reason, that fact of life hasn't prevented Randy Levine from excusing the Yanks' spending spree.
In a Michael Schmidt piece in The Times today, Levine defends the Yankees' big contracts. "The philosophy of George Steinbrenner, which has been continued by Hal and Hank, is that the Yankees are a sacred trust to their fans and they believe in continually reinvesting in the team rather than reinvesting in themselves," Levine said to Schmidt. "We follow all the rules of baseball, we pay millions of dollars to other teams and we are essential to the revenues generated by Major League Baseball and its networks and other entities."
Writes Schmidt:
In signing C. C. Sabathia and A. J. Burnett to big free-agent contracts and reaching agreement with Mark Teixeira on an eight-year, $180 million deal, the Yankees have now spent far more money this off-season than the other 29 major league teams combined. For those keeping score, it is $423.5 million to $296.6 million. That kind of discrepancy is too much for some commentators and for the Milwaukee Brewers' owner, Mark Attanasio, who on Tuesday resurrected the idea of a salary cap as a way of reining in the Yankees.

Levine will have none of it. He said that the Yankees, by spending substantially on players, were making sure they remained a top asset in the sport. "We are usually in the top of road attendance and we get some of the highest television ratings, both when we play national games and when we visit other teams," he said. He said if the Yankees' new stadium, which will be ready for the 2009 season, allows the team's revenue to increase, then "so will the revenues of the rest of the game."

Levine added: "We are sensitive to the economic times and our fans. We believe it is good for the franchise and good for the fans to put the best product possible on the field, and that is what we strive to do."
As Mike noted yesterday, baseball doesn't need a salary cap, and anyone who says so right now is just envious of the Yankees' situation. They're doling out less money so far in 2009 than they did in 2008, and the reason they spent so much this year was because they could. The Yanks knew the 2008 free agent class was ripe for the picking, and they knew they had the money. It would have been far, far worse had they not spent.
Of course, ESPN will complain. Other owners will complain. But when it the time comes for the Yanks to visit, 29 other teams will look forward to the sell outs and capacity crowds that follow the Bombers on the road. It's just a fact of baseball life, and no one should criticize or excuse a team that has money and knows how to spend it.
By

About a year ago, Alex Belth serialized the story of Ray Negron on Bronx Banter. This winter, Belth returns with another Negron tale. This one is about the Yankee lifer's final night at Yankee Stadium during the last game at the House that Ruth Built in September. Check it out here on SI.com. It's a nice baseball story for a quiet Christmas day. · (3) ·
We heard the doubts about Andy Pettitte start yesterday with a PeteAbe post. They grow louder today as Newsday's Kat O'Brien chimed in.
In a piece that also provides some insight into the way the Mark Teixeira signing went down, O'Brien notes that her Yankee sources say the Front Office is no longer sure they want to welcome Pettitte back to the fold in 2009. She writes:
Still, even the Yankees have limits. As of midday Wednesday, a final decision had not been made on whether the one-year, $10-million contract offer to Pettitte was still on the table. Yet an inside source said the Yankees were at that point inclined to stick with their team as is.

Pettitte has had that contract offer from the Yankees since early November. And while he stated all season that he wanted to return to the Yankees in 2009 and pitch in the new Yankee Stadium, he has adamantly held out in hopes of taking a smaller pay-cut from the $16 million he earned in 2008. At the winter meetings and also at last week's press conference introducing Sabathia and Burnett, both Yankees general manager Brian Cashman and manager Joe Girardi said they hoped a return could be worked out.

But Pettitte may have waited too long to accept the Yankees' offer. With Teixeira now in the fold for eight years and $180 million (pending a physical), Pettitte may be priced out of plans. The source said nothing had been finalized on Pettitte, but the Yankees were leaning towards no. The 36-year-old lefty went 14-14 with a 4.54 ERA for the Yankees this season, having a good first half, but struggling after the All-Star break.
As I said yesterday, Pettitte may learn the hard way that "you snooze, you lose" is a very important life lesson to learn. If he doesn't get a deal because he was torn over $6 million, he'll have to live with that decision. For what it's worth, Ken Davidoff thinks Pettitte will come back (third-to-last paragraph), but I'm not so sure.
So if this really is the end of Andy Pettitte, I can't say I'm too disappointed. I think that he would be a sturdy back-of-the-rotation pitcher for 2009, and as we've learned over the years, a team can never have too much pitching. However, He's not worth the $16 million he wants, and based on his performance in the second half in 2008, he just didn't seem to have it. I'm ready to move forward with Phil Hughes, Al Aceves, Ian Kennedy or anyone else the Yanks choose to plug into the five spot.
In an off-season in which the Yanks have spent money they have, it will be sad for nostalgia's sake to see Pettitte shut out. But he had his offer and declined it. That is, sometimes, just the way the baseball cookie crumbles.
The Yankees have already given their fans three of the best Christmas presents anyone could ask for, so whatever Santa brings this year is just icing on the cake.
Baseball news is going to be pretty nonexistent the rest of the day, so go and spend time with family and friends. Eat some good food, sit around in gay Christmas sweaters, go caroling, get into a snowball fight with those bastard kids down the street (if there's snow where you live). Go do whatever it is you this time of year, and forget all about the Yankees for a few hours. Your blood pressure will thank you.
Happy Holidays to you and yours from the three of us here at RAB. Be safe, and may Mo watch over you.
If you need to talk baseball, or anything really, do it here. Just be nice.
As much as it pains me to admit it, Curt Schilling has the most level-headed assessment of the Yanks' Mark Teixeira signing. While his loyalty to his friends — most notably, Mike Lowell — may lead Curt to overvalue what Lowell would bring and undervalue Teixeira's potential contribution, he chides Boston sports fans for their reaction to the signing.
Take a look:
Please stop with the greedy bum statements too, all of you screaming that would be saying nothing if the Sox had ante'd up. I'm surprised but I don't think nearly as much as most others. Why? Because not once, never, did you hear ANYTHING from Mark in this entire charade. This is how Scott Boras works, and his clients love him for it. Mark never said he wanted Boston, sources 'close to negotiations' did. That and a handful of nickels will get you a quarter.

Stop being surprised in these deals when you hear comments from EVERYONE but the players. Until the player speaks I am comfortable telling you more than 90 percent of what you hear is what teams WANT you to hear through their media 'sources'. Half of these folks get told things from teams because teams
WANT that message in particular, out there…

I think the Steinbrenners, coming off a miserable last season in Yankee Stadium, are dead set on opening the new stadium with a World Series and they don't care how much it costs. Good for them. You can bitch all you want about the Yankees and greed but they spend money in a sincere effort to win it all, every year. What fan wouldn't want their teams to do that.
We might not like Curt around here. He's often outspoken and obnoxious, and he certainly knows how to goad Yankee fans. But he's hit the nail on the head with this one. The Yankees did what they should do with money lying around, and Boston's fans should realize that had the Red Sox signed Teixeira, they'd be dancing in the streets around Copley Square today.
By

Derek Lowe is most likely New York-bound, according to numerous reports. Only this time, the other New York team gets to make a free agent splash as they sign another potential Red Sox target. While Ben Shipgel of The Times figured that Boston and the Mets would duke it out over Derek Lowe, the Boston.com staff reports that Lowe and the Mets are nearing a deal. Omar Minaya will net himself another starting pitcher for four years at around $14-$16 million a year. That's not a bad deal for a team sorely in need of starting pitching. · (42) ·