As 2009 dawns, it does so an age of economic uncertainty. Last year was one of the worst in our nation's history, and some major indexes ended the year down nearly 40 percent.
While the Yankees have seemingly weathered the storm for now, the rest of baseball has not been so lucky. Teams have fired employers or instituted hiring freezes, and spending is down across the board. Buster Olney noted on Wednesday that the 29 other teams had spent $244 million more at this point in the off-season last year. In fact, only one non-Yankee — Ryan Dempster — has signed a deal for more than $40 million.
Meanwhile, major free agents across the board remain unsigned. Adam Dunn, Jason Giambi, Pat Burrell and Bobby Abreu headline a second tier of power-hitting outfield/DH types who have been subject to few rumors, and Manny Ramirez and Derek Lowe are still searching for jobs. Now, these players won't stay unemployed for much longer, but the 2008-2009 market will really test agents across the board.
Derek Lowe provides the perfect test case. The Mets have been rumored to be in on the Lowe bidding, and now that the Yanks have wrapped up two starters and a first baseman, they no longer seem to be interested in the former Dodger. The Red Sox and Phillies have expressed lukewarm interest at best, and the demand for Lowe just isn't what Scott Boras wants it to be.
The Mets know they are potentially bidding against only themselves, and to that end, they made an initial three-year, $36-million offer. Early reports had Lowe searching for a four-year deal at around $16 million per. As you could guess, Lowe is reported not impressed by the Mets' offer and is still looking for "a more desirable offer." Unless the markets rebound 4000 points when they reopen later today, a significantly better deal just won't arrive on Lowe's doorstep.
Meanwhile, Manny Ramirez finds himself in the same situation. With the Yankees no longer interested in his services, it seems that only the Giants and Dodgers are kicking the tires on Manny. The future Hall of Famer turned down a guaranteed $40 million when he wrote his ticket out of Boston, and while he once expected a lavish multi-year deal, he will probably wind up with two or three years at a salary not much higher than the one he declined in 2008.
This all boils down to a test of Scott Boras. Long known for getting above-market deals for his clients, Boras supposedly took a less for Teixeira from the Yanks than the Nationals would have paid and now is facing a reality in which his two top clients aren't going to see the millions they were envisioning six months ago. If Boras can get the big money deals, then he has truly earned his title as an über-agent, but if Lowe signs for three years at a lower-than-expected AAV and Manny doesn't land his mega-contract, Boras will emerge just like the rest of us, shaken by bad economy and paying the price for it.
By

While Joe Torre and Scott Proctor will no longer be joined together in bullpen bliss, the former Yankee has latched on with another team. He has reportedly signed a one-year deal with the Marlins worth up to $1 million. I, like Torre, always had a soft spot for Proctor. Hopefully, he can overcome his elbow troubles and have a good year in Miami. · (13) ·
As the Yanks head into Spring Training, they may or may not have a roster with too many outfielders for too few spaces. Johnny Damon is entrenched in left field and the lead-off spot while Brett Gardner and Melky Cabrera will seemingly battle it out for center field. In right, Nick Swisher and Xavier Nady offer the Yanks a plethora of platoon options with Hideki Matsui as the DH.
The Yanks could look to trade an outfielder. Damon wouldn't — and probably shouldn't — be the one to go while no team would take on Hideki without a guarantee that his knees could hold up. So that leaves Swisher and Nady as the potential trade bait. Swisher had a seemingly poor 2008, but luck had a big role in suppressing his numbers. He also has a better track record than Nady.
But no one seems to generate more discussion than Nady as the Yanks shop their outfielders. In answering some mail this week, Steve Goldman opined about Nady:
What happened to the Yankees' fondness of Xavier Nady? It seemed like when they got him, the organization really liked him. But now they're thinking of trading him? Trading away a .305 AVG, 25 HR and 97 RBI from an offense that had trouble scoring runs last year? Does that even make sense? –Tucker

It makes a ton of sense, Tucker, because Nady isn't really a .305 hitter. In his career, he's been far closer to the hitter he cooled from his hot pinstriped start, a .268/.320/.474 hitter. As far as corner outfield production goes, it's subpar. If Nick Swisher gets back on track this year, he'll get on base much closer to 40 percent of the time and show comparable power. The value in Nady last season was that he was a huge in-season upgrade on Melky Cabrera, who he displaced from the lineup by allowing Johnny Damon to go back to center. That was a very nice move by Brian Cashman to staunch a bleeding wound, but Nady isn't someone a championship team plans on starting.
Meanwhile, one of the various Steve's who read RAB wrote in with this take on the X Man:
He's one of the more misunderstood players on the Yanks, with many believing "he had a fluke year" and "he's a NL player," both of which are demonstrably false.

Check out the progression Nady has made over the past 5 years, especially vs righties. (The numbers are BA/OBP/SLG/OPS.)

2004
vs R .178 .213 .311 .524
vs L .344 .417 .563 .979

2005
vs R .223 .270 .431 .700
vs L .323 .400 .452 .852

2006
vs R .263 .312 .424 .736
vs L .336 .418 .551 .969

2007
vs R .274 .322 .479 .802
vs L .295 .356 .463 .819

2008
vs R .317 .357 .529 .886
vs L .262 .361 .444 .805

He has steadily improved from being a platoon player who only hit lefties, to one who hit righties better than lefties last season. Even if that was a peak year for him, if he was to revert to his 2007 line he would still be a fine everyday player and a good replacement for Abreu, especially when you factor in his value as a (slightly better than league average) fielder, and Abreu being the worst RF in the AL by most measures.

Now to the AL/NL stuff:

2007
1st Half .291 .344 .504 .848
2nd Half .255 .303 .425 .728

2008
1st Half .321 .377 .525 .901
2nd Half .284 .333 .492 .825

The middling second half he had leads many Yankee fans to believe that he's "not an AL player," but he actually had a similarly weak (.80 drop off in OPS both years) 2nd half in 2007 in the NL, which could say something about his conditioning or training regimen, but not the league. It's also worth noting that he only became a full time player in 2008 (607 PAs), he had about 500 PAs in 2007/2006 and 356 PAs in 2005. Again, he is progressing from a platoon player to an everyday player.
So what will it be? Should the Yankees trade Xavier Nady? I'd be inclined to keep him as a fourth outfielder, long his traditional role, and if Swisher falters, they have a Plan B. He provides a lot of pop off the bench, and the Yanks don't need to trade him right now.
Let's open the floor on this debate with an ever-popular poll, and feel free to use this post as tonight's open thread.
Should the Yankees trade Xavier Nady?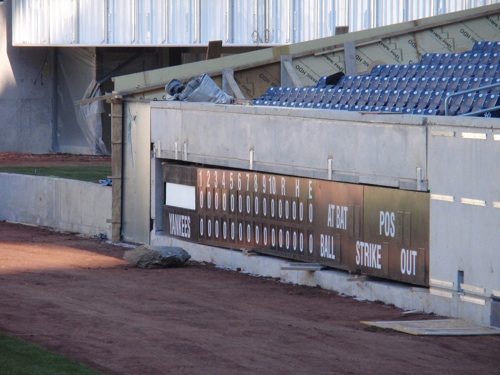 In left field, a manual scoreboard represents a throwback to another era.
Via Shutterfly member KEVINF279 (and with a hat tip to Sliding Into Home) come new pictures from inside Yankee Stadium. Construction is set to wrap up on Feb. 17, 2009, and the new stadium looks great.
Once inside, the Great Hall will honor Yankees of years gone by while a rather large screen dominates center field. The entire scoreboard complex dominates the view, and a new façade rings the stadium. Monitors ring the entrance
As the field awaits games, the new stadium features a smaller foul territory. While the Yanks are trading outs for a better view of the field, the recessed upper decks shouldn't seem as far away as they otherwise would.
We have some more views of the stadium after the jump. Click the images to enlarge.
By

Over at the LoHud Yanks blog, Peter Abraham is hosting guest columns for the month of January. We drew the short straw with the Jan. 1 post and explored Johnny Damon's impending free agency. Damon has, in our view, far exceeded our expectations, and the Yanks are going to have to decide what to do with him after the 2009 season. While their trend this year has been to jettison the old guys, Damon's presence atop the lineup should not be underestimated. · (68) ·
As 2008 draws to a close, let's ring in the New Year and this open thread with a look at RAB's top ten posts of 2008. After the list, use this thread as a general open thread. Have a safe and happy New Year. We'll see you tomorrow in 2009.
1. Watch the nine-minute Venditte fiasco
Everyone loves a sideshow, and apparently everyone loves ambidextrous pitchers facing switch hitters as well.
2. Inside the new Yankee Stadium
In March, the Yanks unveiled some fairly detailed renderings of the steakhouse, martini bar and premium seating suites inside the new Yankee Stadium. We went for a digital tour.
3. The Free Agent Starter Debate: Sheets vs Burnett
A few weeks before the Yankees signed A.J. Burnett to a five-year deal, we decided that Ben Sheets would be the safer bet. Sheets, by the way, is still unsigned and is the subject of few rumors these days.
4. ESPN: Yanks acquire Swisher
In early November, long before the Yanks decided they needed to acquire everyone this off-season, they made the first splash of the Hot Stove League by trading for Nick Swisher. We had all the news.
5. Yanks seemingly rule out Sheets
The Yankees ruled out Ben Sheets. This, apparently, was our fifth most popular post of 2008, and it almost qualifies as anti-news. Who knew?
6. Preseason Top 30 Prospects
Mike unveiled his preseason rankings of the Yanks' top 30 prospects, and everyone wanted to talk about it.
7. What about Swish?
One week before the Yanks went out and landed themselves Nick Swisher (see number 4, above), Mike urged Brian Cashman to do just that. We could be the Yanks' GM.
8. Game 112: Hot hot hot
The only game thread to make this list just happened to be the one in which Joba Chamberlain left his start against the Rangers with a shoulder injury. Over the last two seasons, the Yanks have lost Joba, Phil Hughes and Chien Ming Wang to injuries while playing in the great state of Texas. Coincidence? I think not.
9. What would happen if the Yankees didn't bring back Derek Jeter?
For better or worse, the fate of Derek Jeter will continue to be a hot topic of conversation over the next two seasons.
10. Where's CC?
Four different reporters had CC Sabathia in four different locations over one weekend in November. We got a good laugh out of that one.
By

If you're looking for a way to kill your hangover spend New Years day, check out the new MLB Network. Baseball's own TV channel debuts tomorrow at 6 p.m. with a Hot Stove League show. At 7 p.m., catch a retransmission of the original broadcast of Don Larsen's perfect game followed by an interview with Yogi and Don. It's hard to beat baseball on a Thursday in January. · (35) ·
Garrison Lassiter | SS
Background
Lassiter grew up in High Point, NC, just outside of Greensboro and Winston-Salem, where he attended West Forsyth High School. He had been "a guy," as scouts call them, for several years, having played on the American Legion senior team as a 14 yr old after starring for years on AAU and UAAA teams. As a junior he hit .413 with 5 homers and 34 RBI, and he followed that up by hitting .500 with USA Baseball's Junior National Team during the summer, where he was one of 20 players to make the team. He also participated in the prestigious Aflac All-American Game.
Lassiter hit .468 as a senior for the Titans, stealing 21 bases and scoring 29 runs in the process. He drove in the game winning run with a triple off the wall in the left-centerfield gap in the North Carolina vs South Carolina Senior Challenge in his last game as an amateur. Larrister was part of a powerful UNC recruiting class that included Tim Melville (Royals' fourth rounder, but a top 15 talent), Derrik Gibson (BoSox's second rounder), and LJ Hoes (O's third rounder).
His commitment to the Tar Heels caused him to drop big time in the draft; Lassiter lasted until the Yanks bit in the 27th round, #830 overall. Considered a low priority guy, the Yanks ramped up their effort to sign him after first rounder Gerrit Cole decided to follow through on his commitment to UCLA. Lassiter signed late on the August 15th deadline for $675,000, equivalent to slot money for a mid-second round pick.
Pro Debut
Because he signed late, Lassiter appeared in only six games for the Rookie level GCL Yanks. He went 3 for 4 with an RBI and a stolen base in his first game as a pro, following it up with a 2 for 4 effort the next day. He finished up with a .261-.292-.261 line in 23 at-bats.
Scouting Report
The first thing everyone notices about Lassiter is his swing; he has a sweet stroke from the left side and outstanding bat speed. It allows him to hit for average and more power than expected out of a typical middle infielder. Standing very upright and slightly open in his stance, Lassiter uses a pronounced leg kick as a timing mechanicm, similar to Johnny Damon. His approach at the plate is unrefined and will need improvement, particularly for when he climbs the ladder and faces better pitching.
Lassiter has good actions and is athletic in the field, but he has to improve his hands and footwork. His strong and accurate arm is his best defensive attribute. Like his plate approach, his fielding skills need work. Listed at 6'1″, 185 lbs, there are no concerns that he'll outgrow shortstop, however if he doesn't improve his fielding enough he will have to move to either second or third. His speed is good and he's a weapon on the basepaths.
You can see his MLB Scouting Bureau video here, and his video from various high school showcases here.
2009 Outlook
Although he could probably hold his own in full season ball because of his pure bat skills, Lassiter should start 2009 in Extended Spring Training to work on his plate approach and fielding. With Carmen Angelini set to repeat Low-A Charleston, Lassiter could move on to Short Season Staten Island when the season starts in June, or perhaps take over at short for the River Dogs if Angelini earns a midseason promotion to High-A Tampa.
My Take
You gotta love it. Anytime you get a player and prospect with this kind of ability in the 27th round you can't not approve. Lassiter has star potential if everything clicks, but he'll more than likely end up a solid regular, and there's nothing wrong with that. It should be noted that he's a bit of a project, and will likely need a full year at each level as he moves up the organizational ladder.
By

Now that Manny Ramirez and Scott Boras know that the market for the slugger isn't as robust as they hoped, the dynamic duo has gone crawling back to the Dodgers. While Boras still contends that a market for Manny will soon materialize, I wonder if they'll be able to get the Dodgers to put that generous two-year, $45-million offer back on the table. Everyone in baseball knows that Ned Colletti will be competing with himself for the services of Ramirez. · (30) ·
On December 1, 24 players were offered arbitration. Only two of them — Darren Oliver and David Weathers, both relievers — accepted. Of the remaining 22, six have signed, three with the Yankees. We've heard names like Manny Ramirez, Brian Fuentes, Derek Lowe, and Milton Bradley discussed, but nothing seems imminent. Would some of them have fared better by accepting arbitration and re-entering the free agent pool next winter?
Fred Claire tackled the topic at the end of his latest article. It deals with the free agent class of 2009, noting that it's not nearly as top-heavy as this year's talent. The top pitcher, John Lackey, might not even make it to free agency. Matt Holliday is a very good hitter, but after him there's not much unless Vlad Guerrero can stay healthy. That is, unless you count Chipper Jones, who is a decently safe bet to stay with Atlanta.
So why didn't a few more free agents accept arbitration this year and hope for better conditions next year?
"I was particularly surprised that so many ranking free agents refused arbitration," observed a general manager. "It would seem that next offseason would be a better marketplace from a player's perspective. I think a few agents didn't offer the best advice to their clients [at the arbitration deadline on Dec. 7.]"
Is it really going to be a better market, though? There might not be as high end talent available after the 2009 season, but for the most part the unsigned guys who declined arbitration either are getting on in years or aren't top-tier guys. The older guys want their final multi-year contracts, and the second- and third-tier guys don't necessarily stand a better chance next winter. Maybe economic conditions improve and teams can spend a bit more. But with attendance forecasted to take a hit next year, is that a likely scenario?
No, for the most part I don't blame these guys for declining arbitration. It's worked for CC Sabathia, A.J. Burnett, Mark Teixeira, Raul Ibanez, Casey Blake, and Francisco Rodriguez. I'm sure Ben Sheets, Derek Lowe, Orlando Hudson, Oliver Perez, etc. will find buyers for their services.