Depending on your point of view, the Yankees and Rays started the biggest series of the season on Monday evening. It's critical in the AL East race, but rather unimportant in the race for a playoff spot. After a classy and emotional tribute to George M. Steinbrenner III and the unveiling of a small, unassuming monument* in his honor in Monument Park, the two AL East powerhouses met for the fourth time in eight days. Much like last series in Tampa, it was a close game that went back and forth, except this time the Yanks blew it open late and held on for a much needed win.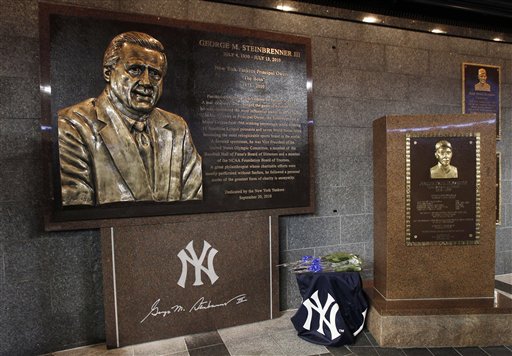 Biggest Hit: Granderson Part One
One thing that's been lost among the recent RISP failure is the power outage plaguing the Yankee lineup. They had hit just ten homers in the 13 game slump, and eight of those came in the last five games. Curtis Granderson obviously came to park with the intention of fixing that, even if he had to do it singlehandedly.
The score remained tied at zero through the first two innings and one batter before Frankie Cervelli laced a single back through the middle in the third. Derek Jeter grounded out to third to move Cervelli up into scoring position, setting the stage for another RISP FAIL. Instead of getting the run in, Grandy did one better. He drove Cervelli and himself in with a two run homer into the Yankee bullpen. Those two runs increased the Yanks' chances of winnings by close to 19%, though it's never that easy these days.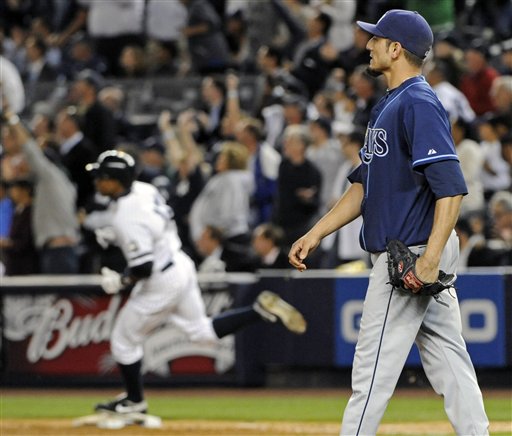 Honorable Mention: Granderson Part Deux
As they're wont to do these days, the Yanks blew their once comfortable four run lead in the middle innings and were faced with the task of pushing across a few runs to avoid another demoralizing loss. Brett Gardner, Cervelli and Jeter led off the bottom of the sixth with consecutive singles, scoring one run and getting the Yanks back on top. But Granderson wasn't satisfied with that, nor was he satisfied with shortening his swing up and trying to hit a sac fly to get the man in from third. No, he got greedy.
Joe Maddon mercifully lifted Matt Garza after Jeter's single, bringing in the fastball heavy Grant Balfour. His first three offerings were (yep) heaters that led to a 2-1 count. The fourth fastball never made it to the catcher. Grandy jumped all over the high pitch and yanked it right off the rightfield foul pole, high enough that he probably was going to land in the upper deck. If not, it was going to come damn close. The Yanks had their four run lead back, and Curtis proved once again that he's a bad, bad man.
The Grandy Man is now hitting .274/.369/.578 with 11 homers in 149 plate appearances since reworking his swing with Kevin Long in Texas last month. Extrapolated out over 162 games, it's a 49 homerun pace. That'll do.
Biggest Out: Longo's GIDP
Ivan Nova's starts have become all too predictable. The young righthander starts out strong, very strong in fact, and then suddenly loses it later in the outing when the lineup turns over for a second time. After a meaningless Carl Crawford single in the first, Nova retired 13 of the next 14 men he faced, the last six on a total of 13 pitches. And then the sixth inning happened.
Yanks were up four-zip, then bam, Jason Bartlett singles to left to lead off the inning. John Jaso follows that up with a walk, and Ben Zobrist completed the trifecta by loading the bases with no one out on a single. Here it comes, the game-tying grand slam and the same sad story that's played out over the last week and a half. No, Tampa decided to drag things out.
The first run came in on a catcher's interference, putting Crawford on first and forcing Bartlett in. Now a granny gives the Rays the lead. Quite the opposite happened though, as Evan Longoria got caught out in front on a changeup and bounced the ball to Alex Rodriguez at third, who started your standard 5-4-3 double play. A run came in to score and Zobrist moved up to third, but those two outs cut the Rays chances of winning by 14%.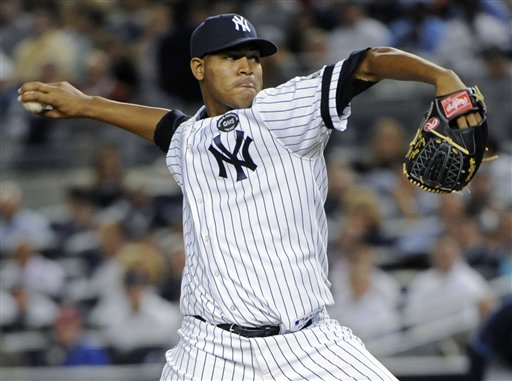 Wait, He's Bringing In Gaudin?
Another game, another questionable bullpen move by Joe Girardi. Boone Logan relieved Nova after the Longoria GIDP to face three straight lefties, but that's not the questionable move. Logan failed to retire any of the three men he was brought in to face, which is rather awful since his job description is rather simple and straightforward (get the damn lefties out). With another run in and the lead down to one, Girardi went to one of his three trusted setup men to escape the bases loaded, two out jam. Wait, no he didn't.
Out from the bullpen came Chad Gaudin. The same Chad Gaudin that had pitched in five of the last ten games and four of the last eight. The same Chad Gaudin that basically no one not named Joe Girardi has confidence in. Sure enough we walked B.J. Upton to force in the tying run before escaping the inning after damn near walking in another run. That's exactly what you like to see, the team's worst reliever pitching in the highest leveraged spot of the game.
The move to Gaudin would have been tolerable if the regular setup crew was unavailable of working in yesterday's game, but no. There was David Robertson out for the seventh, and then Kerry Wood for part of the seventh and the entire eighth. If they're giving Gaudin a chance to prove himself before the playoffs, fine, but wouldn't it make sense to let D-Rob or Wood escape the sixth and have Gaudin start fresh in the seventh? Girardi and the Yanks are just lucky they got away with it this time.
Leftovers
Like I said, it was another meltdown for Nova the third time through the order. It happens like clockwork, and it's what will prevent the Yanks from giving the kid a spot in their postseason rotation barring an emergency. Perhaps he's going to his offspeed stuff too early and needs to save some tricks before using them all up early. I dunno what it is, but that's something Nova will absolutely have to improve upon if he wants to be a starter in this league long-term.
Jeter had a pair of hits, including a ground rule double deep into the rightfield corner and the go-ahead single back through the box. Cervelli managed to go 3-for-4 from the nine-spot, so the 9-1 hitters combined to reach base five times.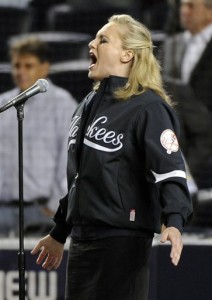 The Yanks scored eight runs, so you'd assume that the 3-4-5 hitters would be a big part of it, right? Wrong. Mark Teixeira, A-Rod, and Robbie Cano combined to go hitless in 13 at-bats, with Alex driving in a run on a sac fly and Cano drawing a walk. Not going to win many games when those three do that, but this was one of the exceptions.
Nick Swisher is starting to get back in a groove after his knee injury related hiatus; he went 2-for-2 with a pair of walks. Strangely enough, four Yankees (Jeter, Lance Berkman, Gardner, Cervelli) saw exactly 15 pitches each on the day.
Mariano Rivera allowed a run on a ground rule double that landed on the foul line and bloop single over Tex's head, so he was hardly knocked around. He's still not right though; the command's just a little off. Don't worry, he'll find it before you know it. I suspect he, Robertson, and Wood will be unavailable on Tuesday after working in each of the last two games. Looks like Joba Chamberlain's going to have his work cut out for him in the second game of the series.
The win pushes the division lead to one-and-a-half games over the Rays, and the Red Sox loss drops the magic number down to just five. It's looking inevitable that the Yanks will simultaneously clinch a playoff spot and eliminate Boston from postseason contention when the two clubs meet this weekend.
WPA Graph & Box Score
The first thing that came to mind when I saw this graph was "oh no you don't!" Get it? Like the Rays were trying to come back and the Yanks said "oh no you don't!" Eh, eh? Oh screw you guys. Here's the box score, nerd score, and video.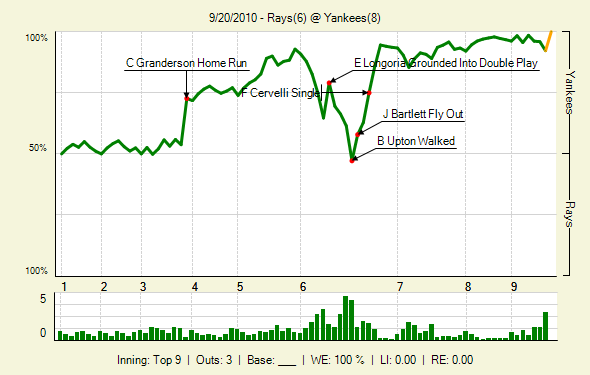 Up Next
Same two teams again at the usual 7:05pm ET start time on Tuesday. Phil Hughes gets the ball against changeup guru Jamie Shields.