Though the Yanks walloped the Orioles in a thoroughly enjoyable fashion last night, the game was overshadowed a bit by other events around baseball. Ken Griffey Jr., hero to a generation of kids and a centerpiece to baseball card collections everywhere, announced his retirement. The announcement was past due, but for Griff we give a pass. Then there was the perfect game in Detroit that ended imperfectly. Armando Galarraga had it, Jim Joyce blew it, and, well, there's no reason to rehash that whole situation here.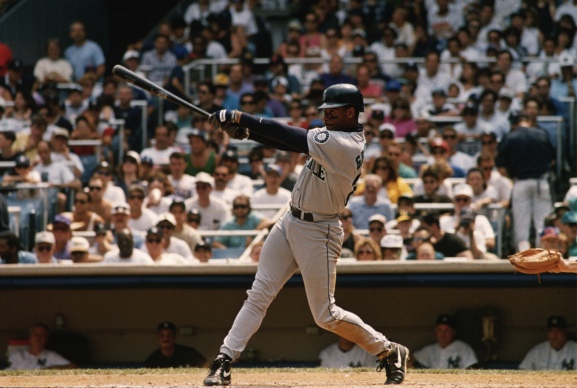 Biggest Hit: Granderson puts them on the board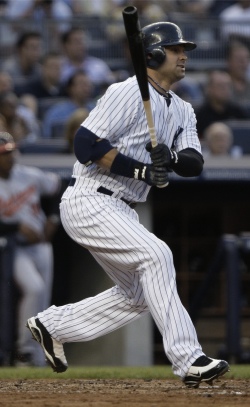 In a one-sided game, the first runs rule. That's the case in this game, as the biggest WPA swing came in the second inning. Robinson Cano led off with a single, and then Jorge Posada, in his first at-bat back from the disabled list, worked a quick five-pitch walk, setting up an excellent situation for Curtis Granderson. Orioles starter Brad Bergesen went with the fastball exclusively, and left the fourth one right over the plate. Granderson hit it so hard and so definitively out of any fielder's range that Posada scored all the way from first.
With Posada back and playing often, chances are Granderson will have to get used to hitting seventh. It's like Robinson Cano hitting eighth on previous Yankee teams. On any other team he'd be hitting in a much more prominent spot, but with the Yankees' lineup composition it's one of the few areas he fits. He went 3 for 4 last night.
Honorable mention goes to Nick Swisher, whose double later in the inning gave the Yankees all they'd need. Bergesen tried to slip a slider by him, but it was right over the heart of the plate and Swish just tore into it. If he weren't hitting so well then Granderson could very well be hitting second. But he is, and he's a welcome addition to the top of the lineup.
Biggest Pitch: All of Hughes's
Q: What was there not to like about Hughes's start?
A: Very little.
Once again, Phil Hughes had the gas working last night. He threw 68 four-seamers and generated five swings and misses. He threw 101 total pitches, 72 of which were strikes. That's quite the high strike total. Yet, despite that, he broke the Yankees' three-game starter walkless streak. Burnett, Pettitte, and Vazquez avoided walking hitters in their starts, and with a strike to ball ratio like Hughes he figured to continue it. But no, he walked Luke Scott in the sixth, his only shaky inning.
If that's the worst of the start, you know it's another great one. Hughes struck out seven, five swinging. Even on the strikeouts looking he looked good. In the first he thew Nick Markakis an 0-2 curve that dropped right into the zone, and in the fifth he struck out Adam Jones on six fastballs, the last of which did look a bit off the plate, but it got the job done.
Another good sign: by my count there were only eight two-strike fouls. Part of Hughes's problem in the starts against the Red Sox and Mets was the inordinate number of foul balls. That made him work deeper at-bats, and eventually meant an early exit. He has adjusted during the past two starts, going with his curveball a bit more often. He has also stuck with the four-seamer, almost daring hitters with it, rather than throwing a barrage of cutters, as he did against the Sox and Mets.
Another offensive slaughter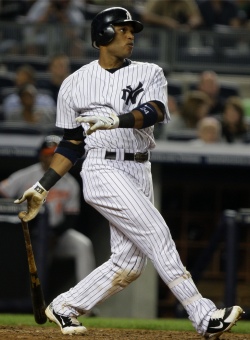 There weren't many remarkable storylines in this one. It was domination from the beginning. The domination itself, in fact, was probably the most interesting part of the game, other than Hughes's performance. The Yankees racked up 15 hits, four of which went for extra bases. Robinson Cano hit his 12th home run, Nick Swisher continued his hot hitting with a 3 for 5 effort, and Curtis Granderson continued to make Joe Girardi's decision to hit him seventh a difficult one.
Another high points: Jeter drew a walk to leadoff the game for what had to be the first time this season. Posada was the only other Yankee to walk. Granderson got another hit off a lefty. With a 2 for 3 night Gardner got the ol' batting average back over .300. In more revealing stats, Swisher creeps closer to a 1.000 OPS.
Oddities
Just because there's little else to say about the game:
Miguel Tejada tried to score from first, in the eighth, with none out, his team down 8-1.
Marcus Thames entered as a defensive replacement. Bask in those words, because you'll probably never see them again.
Totally boring chart and box score
The green line means the Orioles suck.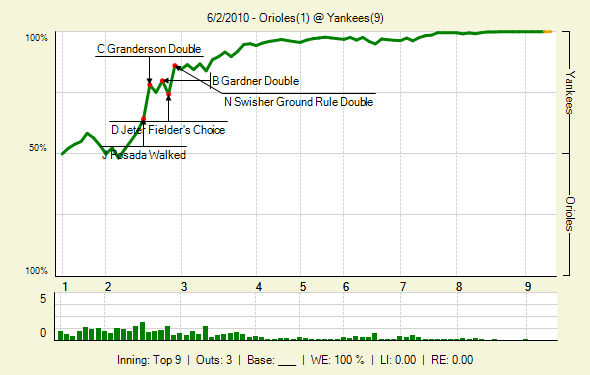 You can get your regular box score at the .com and the green lines and acronyms you don't understand at FanGraphs.
Next Up
Oh hey, day game. CC Sabathia vs. Kevin Millwood at 1 in the Bronx.