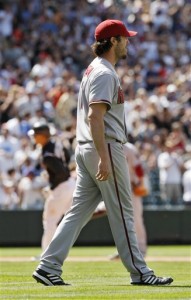 Roy Halladay. Win.
Jamie Moyer. Loss.
Kyle Kendrick. Loss.
Hisanori Takahashi. Loss.
Mike Pelfrey. Win.
Johan Santana. Win.
Rodrigo Lopez. Loss.
What's wrong with that picture? It's completely backwards. The Yankees are losing to the pitchers they theoretically should beat, and beating the pitchers they theoretically should lose too. Don't get me wrong, beating quality pitchers is great, but you're going to face more have-nots than haves over the course of a 162 game season, so it would be nice to start beating those guys.
Thankfully, the truly great Dan Haren is on the mound for Arizona tonight, even if his 2010 season hasn't been up to his lofty standards. He's still striking out a ton of guys (8.97 K/9) and walking next to no one (1.78 BB/9), but he's getting beat with the long ball (1.60 HR/9) and some plain old bad luck (.344 BABIP). The 4.71 ERA is deceiving, because everything else suggests he's been much better (4.10 FIP, 3.43 xFIP, 4.22 tRA). But hey, the Yankees have made a habit out of beating guys like this in the last week or so, so let's hope this trend continues.
Here's your starting nine…
Jeter, SS
Swisher, RF
Teixeira, 1B
A-Rod, 3B
Cano, 2B
Posada, C
Granderson, CF
Gardner, LF
Pettitte, SP
Hopefully Andy doesn't get too cute when Haren is at the plate tonight, dude's got a 1.000 OPS this year.
First pitch is scheduled for 9:40pm ET, and the game can be seen on YES. The temperature is going to flirt with triple digits tonight, but I'm sure the roof will be closed and the air conditioning will be on.