By

Picking up on a thread in the DotF comments, Jose Tabata was indeed removed from tonight's Trenton Thunder game for disciplinary purposes. John Nalbone has the story, but details are scarce. No word if the Yanks' prospect will face a second suspension this year yet. · (11) ·
Some housecleaning:
Triple-A Scranton (5-2 loss to Pawtucket)
Brett Gardner & Bernie Castro: both 1 for 3 – Gardner K'ed & was caught stealing
Alberto Gonzalez: 0 for 4, 2 K
Jason Lane & Chris Stewart: both 0 for 3, 1 K – Lane was hit by a pitch, stole a base & scored a run
Ben Broussard & Justin Christian: both 1 for 4, 1 K – Christian scored a run
Greg Porter: 2 for 4, 1 2B
Danny McCutchen: 4.2 IP, 3 H, 3 R, 3 ER, 1 BB, 4 K, 5-5 GB/FB – AAA hasn't been so kind
Steven White: 2.2 IP, 2 H, 2 R, 2 ER, 3 BB, 2 K, 1 HB, 1-5 GB/FB – 27 of 50 pitches were strikes (54%)
David Robertson: 0.2 IP, 0 H, 0 R, 1 BB, 1 K
A few years ago — it must have been around 2002 or 2003 — I was sitting in the Tier Reserve for a mid-summer game. In front of me, one of the regular beer guys — muscular guy with tattoos up and down his arms — had stopped to serve a customer in the top of the 6th. As the inning ended, he was pouring beer, and a familiar refrain floated out of the Yankee PA system. "I hate this song," he muttered to himself.
Now, I don't like to use the word "hate" in labeling things. It's a strong word, and it always seems fairly irrevocable. Once you hate something, you can't really change your mind later on without seeming wishy-washy.
But I knew exactly how this guy felt because by that point, I too hated the Village People's Y.M.C.A. I still do. At the exact same time in my life — the 1995-1996 school year on the Bar Mitzvah circuit and 1996 Yankee season — this song entered my life with a vengeance, and it's never left. Every season, about 20-30 times a year, I'm subjected to this song and countless thousands of people attempting to sing along with it.
It's not that it's a bad song; I appreciate its place in disco history and its relevance for the gay community in 1970s America. But it's also not a very good song, and enough is enough. There are some songs that can be played over and over. There are others — such as Nickel Back's This Is How You Remind Me — that are insufferable. The Y.M.C.A. is one of the latter.
If anyone is to blame for sustaining the Y.M.C.A. craze well beyond any normal limit, the Yankees would shoulder that load, and a recent Spin magazine profile drives that point home. Jeff Pearlam — hat tip to BBTF — traces the page two, he traces its prevalence at sports events to Yankee Stadium circa 1996. Here's how Joseph Malloy, a former General Partner with the Yankees, describes the origins of the now-tired sixth-inning grounds crew shtick:
It was the opening of Legends Field, our spring-training stadium in Tampa, and a couple of the grounds crew guys approached me with the idea of bringing a little excitement to the exhibition games. In the middle of the fifth inning, when they dragged the infield, the guys wanted to do the arm motions to "Y.M.C.A." I hadn't heard the song for a long, long time, but the crowd absolutely loved it. I thought, "Hmmm, this might work in New York."
Malloy, who had no idea that the song is chock full of reference to a gay lifestyle at Y (duh), got more than he bargained for. Juan Gonzalez in the Daily News wrote:
[The grounds crew] began to dance, strut, and gyrate around second base while they dragged the field. The capacity crowd roared with approving laughter. We all cheered and applauded, and for a moment we all felt a little warmer inside. It was baseball poking fun at itself, reminding us all that this huge, multibillion-dollar, cutthroat business is, after all, about people having a good time.
And truth be told, it was fun. For a season. Now in its thirteenth year as a Yankee Stadium gimmick and one that has spread well beyond the confines of the House that Ruth Built, it's tired and played out. The grounds crew isn't nearly as into it, and it's just one more noisy thing to throw at the fans in between innings.
The players themselves don't seem to go for it either. "I hate Y.M.C.A. I've been over it since I first heard it," J.P. Howell told Pearlman. I know you how you feel, J.P.
As the Yankees look north to their new ballpark this year, they should assess the state of between-innings entertainment and decide which, if any, of the distractions should cross the stay and which should stay behind at the old stadium comes down. The Y.M.C.A. is tops on my list. Let's bury it in the remains of the House that Ruth Built.
Via Jayson Stark:
Kei Igawa isn't quite as buried on that Yankees' depth chart as Carl Pavano, but it's close. And he's already homesick. We've heard from two different baseball men recently that Igawa asked the Yankees over the winter if there was any way he could return to Japan. The Yankees quietly explored their options, got nowhere and gave up. They're still on the hook for nearly $11 million to Igawa through the 2010 season.
Now, this isn't an original idea. RAB commenters have mentioned it; my mom has mentioned it. But how hard could the Yankees have tried to ship Igawa back to Japan?
Kyle Kendrick's experience aside, a trade back to Japan for Igawa would be fairly unprecedented. Japanese League players — Alfonso Soriano and Hideo Nomo, I'm looking at you — have "retired" in Japan so that they could sign MLB free agent contracts, but never in the history of the game has an American team traded a player back to his home country.
At this point, it's clear that the Yanks have just about slammed the book on the Kei Igawa Era. He has never been an effective Major Leaguer, and he's not a part of any of the Yanks' long- or short-term plans. He's owed just $11 million over the next two and a half seasons, a paltry sum by Yankee standards. So why not just release him?
Well, the Yanks don't want to let him go because they're afraid that some other team will pick him up for the league minimum and catch lightening in a bottle. By now, though, considering that the Yanks have even explored sending him back to Japan, it's clear that Igawa is nothing more than a warm body to fill space at AAA. He's probably going to end his brief American career as the highest-paid AAA starter ever, but that's better than watching him get shelled in the Bronx.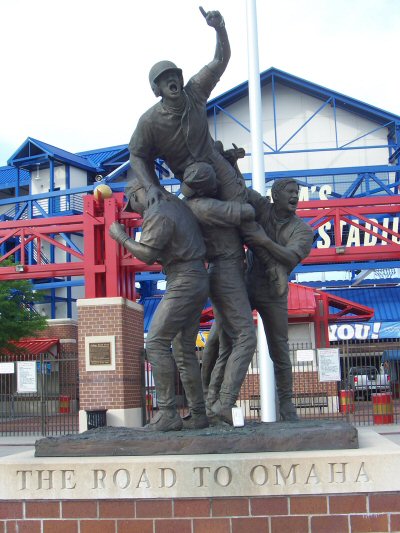 Not Yankee related, but exciting nonetheless. The NCAA baseball postseason starts tomorrow night as the double elimination Regionals kick off in 16 college towns across the country. The NCAA postseason is some of the most exciting baseball you can find (the College World Series has been far better than the actual World Series for about 5 years running now), and I can't possibly recommend spending a two week summer vacation in Omaha for the CWS any more highly. It's unbelievable (and scorching hot).
The crew over at The College Baseball Blog have done us all a favor and posted previews of each regional, as well as their picks for Omaha. Two-time defending CWS champs Oregon State are left sitting at home this year, thanks to a paultry 11-13 conference record, and 27-24 overall. The team they beat for those two titles, North Carolina, was ranked in the top 5 all year and locked up a top 8 national seed. A bunch of games are going to be on ESPNU, CSN and various FSN channels, and the primo pitching matchups to look out for on Day One are Aaron Crowe (Missouri) vs. Lance Lynn (Ole Miss), and Brian Matusz (San Diego) vs Tyson Ross (Cal.)
Baseball America is having another Bracket Challenge this year, where the winner takes home a rather expensive DeMarini bat and a BA book (there's a bunch of other prizes as well). If you're interested you can check out my brackets here. Arizona State has just been too good all year, and I went with the underdog Mizzou as the runner-up because of their Aaron Crowe-Kyle Gibson-Ian Berger rotation. No team in the country can match that.
I know I've linked to this clip a billion times before, but I'd be remiss if I didn't link to it again for all of you that haven't seen it: here's current Yankee farmhand JB Cox closing out Texas 2005 CWS Title. Enjoy.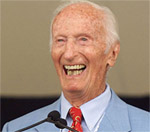 Of the many injured Yankees, the one nostalgic fans miss the most is soon-to-be centenarian and long-time Voice of the Yankees Bob Sheppard. Sheppard has been on the DL, so to speak, since the end of September with a very bad illness.
But today, we learn some good news: Sheppard hopes to be back in the booth by July 1, and he definitely wants to be in the booth for the All Star Game and for the opening of the new stadium. No word on if the Yanks plan to schedule any rehab appearances for the Hall of Famer in Trenton or Scranton.
Via PeteAbe, we find a site called Busted Halo and an interview with Sheppard. Sheppard, who won't give out his age, is rumored to be 98 years old and has been announcing games for 57 seasons. In the interview, Sheppard talks about his illness:
Up until my recent illness, I have been physically fit for somebody my age. But last January for some reason or other, life caught up with me, and I began losing weight. I had a very serious problem with my lungs because of a bronchial problem and I was hospitalized. I had lost weight. I had gotten down to 103 pounds!
He talks about returning to the Bronx:
According to the doctor, when I reach, "my fighting weight" about 145-150, he will allow me to go back to Yankee Stadium and finish the season. So my target date to be back is July 1. There is an All Star Game to be played at Yankee Stadium on July 15th and one of my goals is to be there and announce it. I did one years and years ago at Yankee Stadium but I can't recall it. So now this would be something to remember. I do want to be there next year when we open a new Stadium. And I'd like to be the one who says, "Good Afternoon Ladies and Gentlemen…Welcome to the NEW…Yankee Stadium."
From the way he talks, it sounds like Sheppard's illness was more serious than anyone had really reported. I'm glad to hear that Bob's on the mend, and I'm eagerly awaiting his return to Yankee Stadium. It's just not the same without him.
Thankfully, I have this piece by Larry K. from Save Phil Hughes.
Although I was into baseball as early as seven years old (I actually still have all 792 baseball cards of the Topps 1988 set in an album in storage somewhere), and I have vague memories of occasionally watching the pitiful teams of 1989-1991, my rabid devotion to the Yankees didn't fully develop until closer to 1993/1994.
I vividly remember my heartbreak in August 1994 upon reading in the Daily News that the players had indeed gone on strike after threatening to do so all year, especially given that the Yankees incredibly had the best record in the American League, and Paul O'Neill was leading the league in batting average. (Joe's note: I was at the final game that season. Sadness.)
The 1995 season is the first I can recall really getting hardcore into Yankee games on a regular basis. It was also the year I'd attend my first playoff game, and boy was it ever a classic — Game 2 against the Mariners at Yankee Stadium. My childhood idol Donnie Baseball blasted a home run in the bottom of the sixth, and Jim Leyritz would go on to hit a walkoff shot in the bottom of the 15th, the first of many of The King's legendary playoff moments. Unfortunately, like every Yankee fan, I've never been able to purge that horrible image of Ken Griffey, Jr. rounding third and sliding into home with the winning run in Game 5. Thankfully the following season was one for the ages, but I don't need to reminisce about 1996 here. We all know how it went down.
As I became crazier and crazier about the Yankees in the mid-90s, my intellectually curious self sought to augment my enjoyment of the games with supplemental material, like any good baseball fan would — and the only avenues available at the time were New York's daily newspapers. I quickly discovered that the Times' sports section was a routine disappointment and the Post's — while an improvement over the Times — still felt lacking.
And so it was the New York Daily News that became my holy grail of Yankee coverage. Everything about the News' coverage of the Yankees felt superior — the game recaps, the columnists, the analysis, the secondary stories, the notebook. Even to this day, on the rare occasion that I pick up a physical copy of one of the dailies, I always gravitate towards the News.
Of course, as anyone reading this knows, these days the mainstream media has essentially become irrelevant. I first discovered Bronx Banter, the granddaddy of all Yankee blogs, during the 2004 season, and was instantly hooked. Alex Belth's analysis and perspective seemed so fresh and advanced, and was only bolstered when Cliff Corcoran came along and truly upped the ante.
Now once any junkie gets hooked, they always need more, and fortunately the Banter provided a plethora of links to other insightful folks blogging about the Yankees. Shortly thereafter I discovered the brilliance of the Replacement Level Yankees Weblog and the Pinstriped Bible and Blog, and it escalated from there. Steve Goldman's careful and critical sabermetric analysis of the team in particular really started to change the way I watched the game, as a greater understanding of advanced statistical metrics significantly enhanced my enjoyment.
Later on Peter Abraham's Lohud Yankees Blog hit the scene, providing fans with an unprecedented level of updates and access, and to this day remains the pinnacle of mainstream media coverage of the team.
As I continued to devour these and several other Yankee blogs on a daily basis, eventually I came across a new site that quickly established itself as the new go-to Yankee site for me: the one you're reading right now, River Ave. Blues. Right off the bat I knew I had found gold, as these were three guys who just got it. They're an incredibly intelligent, even-keeled trio (their eternal optimism even during this latest stretch of offensive ineptitude is something every Yankee fan should strive for), and their multiple daily contributions have truly become essential reading for any informed Yankees fan. It's gotten to the point where just about everything Ben, Joe and Mike write is almost exactly what I'd say about any given Yankee topic myself, essentially rendering my opinion useless. (ed. note: I accepted this guest submission before reading this paragraph.)
Anyway, getting to the point I'm trying to make (and yes, I do have one) is that all of the terrific amateur work being done online by these highly informed and astute Yankee fans has truly rendered the mainstream media useless. Outside of Pete Abe and maybe Tyler Kepner at the Times, there really isn't a single writer in the mainstream media worth reading. I used to have respect for Mark Feinsand, but the Daily News has made sure to strap its baseball dunce cap tightly on his head. And it's kind of appalling that the people who are actually paid to report on the team are one-upped multiple times every day by folks who write about the team free of charge. If there were any justice, perhaps one day we'll see our boys at RAB getting paid to do what they do best.
And Bill Madden, who back when I first starting reading the News in the 90s seemed like the most knowledgeable and best baseball writer in the city, has resorted to spewing inane drivel like this column, in which he incredibly believes that Joba Chamberlain is far more valuable as an 8th inning setup man as opposed to a starter. I mean, this argument has been rehashed to death. If you understand the value in moving Joba to the rotation (which, thankfully, the Yankees do), then congratulations, you actually have a brain, and have a decent understanding of how baseball works.
By

That number, according to dnScoop, is how much RAB is worth. The Juiced Sports Blog claims that we're the 84th most valuable blog on the blogosphere, and that's pretty freakin' cool. If anyone's interested in buying the site, we're open to negotiations.

(h/t to Pinto) · (23) ·
Here's the short recap that Mike and I came up with on IM a few minutes ago: Pettitte good. Giambi good. Millar suck. Joba good. Mariano good.
That's quite the recipe for a win. The Yanks got a solid 6.2-inning effort from their starting pitching, some timely hitting from the offense and some solid relief work to leave Baltimore with a win.
My only gripe with this game was the way Joba Chamberlain was handled. The Yanks were loathe to use Chamberlain with a lead in an extra-innings game last night, but tonight, they were happy to use him to throw 28 pitches in 1.1 stellar relief innings before Joe Girardi did the by-the-books move and called on his closer to end the game.
When Joba came in with two outs in the seventh, I was rooting for a Goose Gossage-type 2.1-inning save. Alas. It was not to be. But Joba got his work in, and a win is a win is a win. I'll take it.
Game Notes: With his home run tonight, Giambi has now hit 188 home runs on the Yankees. He had 187 as a member of the Oakland Athletics. It's hard to believe; I still seemingly associate Giambi with the A's teams from the early 2000s.
Pedro vs Price … Price wins.
Triple-A Scranton (9-4 win over Pawtucket)
Brett Gardner: 1 for 3, 1 R, 1 RBI, 2 BB1 K, 1 SB
Alberto Gonzalez: 3 for 5, 1 R, 1 2B, 4 RBI, 1 K – you know, Derek Jeter has been playing like crap lately…
Jason Lane: 2 for 5, 1 R, 1 RBI, 2 K
Ben Broussard: 0 for 2, 1 R, 2 HBP – taken out after being hit by a pitch in the 7th … but I think it was for defensive purposes, he was playing RF
Cody Ransom: 2 for 5, 1 R, 1 HR, 3 RBI, 2 K, 1 SB
Eric Duncan & JD Closser: both 1 for 5 – Duncan K'ed … gulp … 4 times
Greg Porter: 2 for 4, 3 R, 1 2B, 1 BB, 1 K
The Ghost of Kei Igawa: 7 IP, 8 H, 2 R, 2 ER, 0 BB, 4 K, 9-10 GB/FB – 73 of 100 pitches, a very un-Kei-like rate
Heath Phillips: 0.1 IP, 3 H, 1 R, 1 ER, 2 BB, 0 K, 2 WP – I want Ben Kozlowski back
Scott Patterson: 1 IP, zeroes