Via Rich comes an interesting tidbit in this Ken Davidof blog post:
Well, I think it's about time for me to give up on Kei Igawa. I didn't see Friday's game, but the brutal numbers speak for themselves. My faith was based on the faith of people whose opinions I respect. The Padres claimed Igawa on waivers last year, and San Diego GM Kevin Towers routinely makes great pitching acquisitions. And the Red Sox have been hoping that the Yankees give up on Igawa, so that Boston can make an end-around effort to get him (obviously, the Yankees wouldn't give Igawa directly to the Red Sox).
While we know that the Padres were interested in 2007, Buster Olney feels that the Padres have long since passed the point of caring about Kei Igawa. But enter the Red Sox. Davidof suggests that the Red Sox are now interested in Igawa and I cannot, for the life of me, figure out why. A left-handed fly-ball pitcher throwing in Fenway would get utterly rocked by opposing teams. Plus, the Red Sox are not suffering from a lack of pitching depth.
So what's the story here? Why would the Red Sox even be remotely interested in Igawa? Unless they wanted to stick to the Yanks by turning Igawa's waist-high, 88-mph fastballs into something they aren't and will never be, Igawa's just not a name that makes sense in Boston.
By

Ah, Scotty Bro. Everyone loved Scott Brosius (and no one booed Macus Thames, Jeff Weaver, Homer Bush, John Oledud, Andy Phillips, Bubba Crosby or Johnny Damon for taking his numbers). Jim Baumbach recently caught up with Brosius in Oregon and wrote a nice piece about Brosius' current role as the head coach of the DIII Linfield College team. Brosius sounds like a man enjoying his retirement from baseball. · (8) ·
This is a guest post by Adam Bernfeld. He is trained as an engineer and likes to apply his analytical nature to baseball to differentiate "what seems" vs. "what is". His interests include PITCHf/x, DIPS, the concept of clutch, and Laura Posada.
"Statistics are like women: mirrors of purest virtue and truth, or like whores to use as one pleases."
-Theodor Billroth
It is true that in a vacuum, statistics are almost entirely useless. One can manipulate the numbers to prove any side of an argument. They can however provide illumination in instances where what seems may differ from what is. For example, a few years ago before John Dewan wrote the Fielding Bible, a lot of Yankee fans truly did believe that Derek Jeter was a good defensive shortstop because he both seemed like a good fielder, and our broadcasters told us that he was a good fielder. Similarly, watching a Yankee game, one could be led to believe that Chien-Ming Wang possesses the best sinker in all of baseball. After all, it is 94 miles-per-hour and looks like it is dropping off a cliff. Surely no one's could be better, right? Well, using PITCHf/x data, I hope to crown the true "Sultan of Sink."
For those new to PITCHf/x, it is a system developed by Sportsvision in use by Major League Baseball that uses two cameras to measure the position of the baseball between the pitcher's hand and home plate, which can be used to determine various parameters about each pitch including velocity and break (for a more thorough introduction to PITCHf/x, refer here and here).
Using PITHf/x data compiled by Josh Kalk of The Hardball Times, detailed pitch information can be seen for individual players or in a searchable database. For this study, I will compare the speed, horizontal break and vertical break of the average signature pitch of baseball's prominent sinkerballers from the 2007 season. Based on reputation and ground ball rates, I have chosen a test group that includes: Chien-Ming Wang, Fausto Carmona, Aaron Cook, Roy Halladay, Tim Hudson, Derek Lowe, Sergio Mitre, Brandon Webb and Jake Westbrook.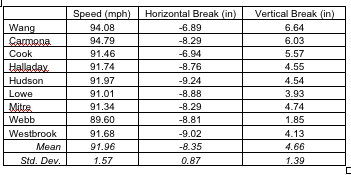 Note in the chart above that the values for break represent the number of inches that the pitch moves compared to a pitch thrown without spin, or, compared to a straight pitch under only the influence of gravity. The negative numbers for horizontal break indicate that the pitch moves inside to right-handed hitters. The positive values for vertical break indicate that the pitch crosses the plate higher than a pitch without spin would have. This may seem counterintuitive as we are talking about sinkers, but in reality sinkers are thrown with backspin and do rise (resist dropping actually), albeit much less than a 4-seam fastball, so they do in fact appear to sink. A 4-seam fastball is gripped across the seams resulting in more backspin than a sinker (or 2-seam fastball) which is gripped along the seams; the more backspin, the larger the positive vertical break. For comparison, Joba Chamberlain's fastball has a vertical break of 11.42 inches, compared to the average vertical break of 4.66 for our sinkerballer group.
The chart above can be shown graphically by plotting horizontal break on the x-axis and vertical break on the y-axis with pitch speed represented by dot size. In this graph, the lower right hand corner, the point (0,0), represents a pitch thrown without spin.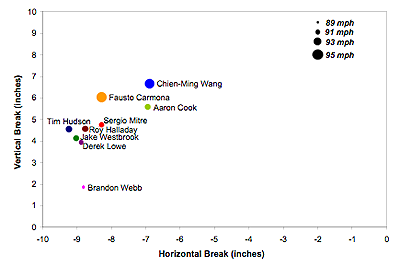 In hopes to build some sort of consensus as to who possesses the best sinker, I used the three PITCHf/x values (speed, horizontal break, vertical break) to create a z-score (also called a "standard score") which is a statistical quantity used to combine multiple values measured on different scales. I then ordered the average z-score of each pitcher from high to low to rank the pitcher with the best combination of speed and break. Think of this as an index of the "stuff" on the pitcher's sinker, or a "sinker-stuff index". This value appears on the chart below alongside each pitcher's groundball to flyball ratio (GB/FB), swing and miss (S&M) percentage, fair ball (FB) hit percentage, and fair ball extra base hit (XBH) percentage. All of these values are for sinkers only, except GB/FB which is the rate for all pitches thrown regardless of type.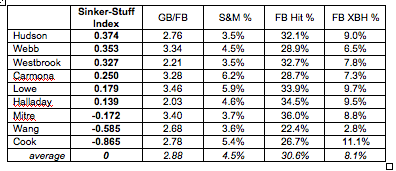 The results of this study are interesting. While throwing one of the harder sinkers in the league (second only to Fausto Carmona), Chien-Ming Wang's sinker actually sinks less than any other member of the test group. This is certainly a surprising observation. In fact, his sinker also has the lowest horizontal break, causing his sinker to rank 8th out of 9 in my sinker-stuff index. This certainly manifests itself in his below average groundball to flyball ratio and sinker swing and miss percentage. Remarkably however, compared to the test group Wang has the lowest percentage of hits off of sinkers, and by far the lowest percentage of extra base hits off of sinkers.
While some may chalk these low hit percentages up to luck, it appears that something deeper may be happening here. Finally though, the stats are pointing towards something that we already believed to be true. What seems agrees with what is, and that is the fact that Chien-Ming Wang rarely allows a hard hit ball off of his sinker. Why then, is his sinker so successful in spite of the fact that it moves so much less than those of his peers? Maybe my methods are all wrong (I hope not). Maybe pitch speed is more significant than pitch break (possibly). Maybe the ease of his delivery, which also includes a pronounced, varied hesitation, has a great effect on hitters' timing (possible). Maybe Wang's defense is better at turning batted balls into outs than the others on this list (unlikely). Maybe the DIPS people are right and hit percentages are no more than statistical variations (possibly, although I believe that DIPS applies more loosely to sinkerballers). Maybe it is a combination of all of these factors or even something that I have not thought of (likely), so please feel free to throw out explanations of your own.
Regardless of the reasons, I am glad that Wang is a Yankee as he gives us a very good chance to win once every five days. While his low ranking in my sinker index does not correlate with his outstanding results, at the end of the day I'll always take the results over the "stuff". Though after much machination, I have not definitively proved where Wang's sinker ranks amongst his brethren, but I hope that this was interesting and informative, and maybe allows you to view the game and the sinker in a different light the next time the Wanger takes the hill.
By

Site news time: We've had something of an ambiguous naming situation going on here since Day 1. The site is called River Ave. Blues and our website's always been RiverAveBlues.com. To ease the confusion of the Ave./Avenue differences, we've acquired the RiverAvenueBlues.com domain name. So you can now reach the site by typing in either address in your web browser. Exciting times. · (9) ·
RAB Note: There's no Down on the Farm for Sunday because there were no games. Two were rained out; two teams had scheduled off days.
So I got my wish on Sunday: The Yanks were rained out, thus saving us the agony of another Kei Igawa start. Almost.
The Baseball Gods, you see, are fickle. While the Yanks' rain out meant a rejuggled rotation, the Scranton/Wilkes-Barre Yankees were also rained out, and Ian Kennedy's start will be pushed back from Sunday to Monday. Thus, instead of being the potential starter for Friday's game had he done well in AAA yesterday, Kennedy wouldn't be set to start again until Saturday, and the Yanks are left searching for another starter. Curses!
Already, this is shaping up to be the topic of the week. Yankee bloggers, sick of writing about fist pumps and David Wells, have turned to everyone's favorite game, Guess the Starting Pitcher. Our first two contestants were Peter Abraham and Cliff Corcoran. They both come to the same conclusion: Anybody but Igawa. And I don't have a better answer.
Right now, what we do know is that Kei Igawa is not and probably never will be a legitimate Major League pitcher. Buster Olney said as much on Saturday:
Kei Igawa threw 64 pitches Friday, and Detroit swung and missed only twice and mustered 11 hits in 19 at-bats against the left-hander, a mere .579 batting average. Heard this evaluation from one Yankees' source: Igawa doesn't have the raw stuff to pitch in the majors.
Kei Igawa is just flat-out terrible, and that is no longer news. So the Yanks have myriad options open to them. They could have Kennedy throw a side session tomorrow and bring him up next week. They could go with a AAA starter like Dan Giese or Steven White and hope to catch lightening in a bottle for a day. They could go with last year's sacrificial lamb Chase Wright. They could — but probably won't after Jonathan Albaladejo's injury — ask Ross Ohlendorf to throw a three- or four-inning start with a patchwork of bullpen pitchers behind him picking up the slack.
Right now, we just don't know, and until the Yankees announce something, I'm sure everyone writing on the Yankees will spend the week speculating. So what do you do, RAB readers? I'm at a loss for this one, but I'd settle for just about anyone other than Kei Igawa.
By



Remember that nifty United Countries of Baseball map that debuted at last year's All Star Game? Someone with more free time that I have decided to update the map to reflect the views of people on the Internet who criticized the original version of the nifty map. You can see the updated version right here or by clicking on the image above. · (16) ·
By

While the Yankees have plans to tear down Yankee Stadium soon after their new ballpark opens next year, Detroit is still trying to figure out what to do with Tiger Stadium. The historic stadium has sat unused since Comerica Park opened in 1999, and some Detroit fans want to keep the oldest parts of the stadium. If they can raise the money soon, the stadium will stay. Check out this nifty slideshow that goes with Joe LaPointe's article. · (1) ·
By

Via the NYYFans forum comes word that the Yanks have sent a staffer from their psychological profiling department to meet (and evaluate) Vanderbilt RHP Brett Jacobson. Saber-Scouting's first ever post was a scouting report of Jacobson, who is 1-3, 5.80 ERA with 39 hits and 16 walks allowed in 35.2 IP. He's struck out 32 and picked up 4 saves while serving as coach Tim Corbin's "moment of truth" reliever. Jacobson was the Commodores' swingman/number three starter last year behind 2007 top overall pick David Price and current ace Mike Minor. The original article implies that the Yanks are looking at Jacobson in the first round, but that would be an overdraft. He should still be around when the Yanks pick in the second round, #75 overall. · (14) ·
I'm pretty sure that Joe Girardi is now messing with us.
On a day when it's supposed to rain for all eternity in Detroit, the Yankees' manager has installed Derek Jeter in the cleanup spot for the second time in his career. The last time Jeter, who has just one home run on the season, hit in the four spot was on July 10, 1999 when the Yanks lost a heartbreaker to the Mets. Mariano Rivera gave up two runs in the bottom of the 9th to blow the save, and Jeter went 0 for 4 with a walk.
It probably won't matter much though because the tarp's on the field, and reports from Detroit say that the game will be long delayed if it's played at all. The Yanks could be, depending upon the outcome out of Scranton today, been saved from a Kei Igawa start.
Here's your lineup:
Damon LF
Cabrera CF
Abreu DH
Jeter SS
Giambi 1B
Duncan RF
Cano 2B
Molina C
Gonzalez 3B
Pettitte P
*** YANKEES-TIGERS RAINED OUT***
The Yankees and Tigers are rained out today. The Yankees are not scheduled to return to Detroit but could land in Detroit on a mutual off day. According to the YES Network, the next four starters are Andy Pettitte, Chien-Ming Wang, Mike Mussina and Darrell Rasner. The Yanks will skip Kei Igawa's Wednesday start and deal with Friday when the time is right.
But there's some bad news too: The Scranton game was postponed. So Ian Kennedy's scheduled start will be pushed back a day, and he wouldn't be ready to pitch on Friday. Fate, it seems, is trying to hand the Yankees another Kei Igawa outing. The Mets would go to town on Igawa though. I shudder to think of the possibilities.
Now get off the computer, and go spend some time with your mothers. It is, after all, Mother's Day.
Update by Mike (1:35): Not only was Triple-A Scranton rained out, as Ben mentioned above, but Double-A Trenton was also washed out. High-A Tampa and Low-A Charleston both have scheduled off days, so no DotF today.
Tell your mom I said hi. (kidding)
By

The Yanks and their fans could avoid another torturous Kei Igawa start this week if the threat of rain becomes a reality in Detroit today. Ed Price has all the details, and I urge Yankee fans everywhere to hope for a rained-out game today. Save us from Igawa. · (11) ·