By

The Olympian is reporting that Larry Bowa is heading to Seattle to anchor the third base job in Safeco. The Seattle Times has a slightly different take. Bowa has been offered the job but hasn't yet accepted. The Yanks should just step in and make Bowa an offer to stay in the Bronx that he can't refuse. Manager, bench coach, whatever. They can't afford to lose Torre and Bowa in the same week. This new era of Yankee ownership is off to one stellar start. · (42) ·
AzFL Peoria (9-3 loss to Scottsdale)
Brett Gardner: 2 for 5 – picked off first
Juan Miranda: 1 for 3, 1 RBI, 1 BB
Reegie Corona: 0 for 3, 1 BB, 1 K – 4 for 21 in the AzFL
Steven Jackson: 2 IP, 3 H, 0 R, 0 ER, 0 BB, 2 K, 3-1 GB/FB
Kevin Whelan: 1 IP, 2 H, 2 R, 2 ER, 2 BB, 2 K – the good news? one of those walks was intentional
HWB Honolulu (7-2 loss to West Oahu)
Austin Jackson: 0 for 2, 1 BB, 1 K – hasn't gotten a hit in the last 5 days
Bradley Suttle: 1 for 4, 1 K – still hitting .103-.239-.179 despite his recent "hot" streak
Anthony Claggett: 1 IP, 4 H, 2 R, 2 ER, 0 BB, 2 K
The Dominican Winter League and Venezuela Winter League scoreboards aren't updated. Since this is a daily thing, I'm not gonna bother updating the stats. Besides, the action there isn't all that exciting anyway.
By

The first three guys on Brian Cashman's docket for the managerial job are getting their credentials in order. Would Don Mattingly, Joe Girardi and Tony Peña step on down? Noticeably absent from this list is Larry Bowa who will play a big role on the Yankees next year. My money's on Mattingly as the manager with Bowa as the heavy-handed (in a good way) bench coach. · (9) ·
Joe Torre is still fielding questions about his meeting yesterday with the Yankee executives. But his prepared comments are over, and Joe pretty much spoke as you would expect him to do. He was fair and kind toward the Yankees, and it's clear he still considers himself to be part of the organization. The door is also not yet fully shut if the Yankees come back and make him another offer.
Torre did not have an easy time of it. "I just felt the the terms of the contract were probably the thing I had the toughest time with," he said. "The one year, for one thing. The incentives, for another. The fact that I had been there 12 years and I didn't think motivation was needed. I felt pretty well renewed every year, and we knew exactly what was expected here."
He also spoke about how this decision would impact the players. While he appreciated the sentiments, he did like how the Yankees players were pressing because they felt they were playing for his job in the playoffs. It created too much pressure on the team. "I didn't think it was the right thing for me," he said. "I didn't think it was the right thing for my players."
He spoke about how the guys in Tampa didn't want this to be a negotiation. It was a one-time offer, and in response to Bob Klapisch's question about whether this was an offer he was supposed to refuse, Torre was non-committal. It's up to us to decide that he said, and I've decided that he probably was supposed to refuse it.
I know many of you have spoken about the money, but Joe said the money, while it weighed on him a little, was not the motivating factor. He was simply insulted at the belief that the Yanks would make the playoffs and literally give up. He was insulted over the performance-based clauses. He feels that the first six years – making the World Series five times – put undo expectations on the club. It's hard to disagree with that.
Later on, Torre said that it was not about the money. A two-year, $14-million deal wouldn't cut it. He wants the commitment from the Yankees execs that they won't mess with him, and he wants them to have faith in his ability after 12 very successful years at the helm.
Torre questioned the time frame for the decision during the question and answer session. He wondered why it took the Yankees brass two weeks to decide that they wanted him to be in charge. It made him a little suspicious of the offer once he heard about it. That's yet another notch for the argument that the Yanks never wanted Joe to take this offer. I wonder how public response to this move and Torre's press conference will impact the Yanks.
There is no doubt that Randy Levine and Joe Torre do not like each other. Torre's vague answer during the press conference and laugh said it all.
JP's AzFL update is here. Hawaii Winter Baseball had the day off.
Dominican Winter League
Ben Kozlowski: 0.2 IP, 1 H, 1 R, 0 ER, 0 BB, 1 K – that's from Wednesday's game, nobody played Thursday
Venezuela Winter League scoreboard still isn't updated. Piece o' crap. 
Joe Torre is hosting his own press conference at 2 p.m. ESPN plans to carry it live after an hour-long special on his managerial tenure in the Bronx. You would think from the coverage that Torre had died.
Now, I'm not sure what to expect at this press conference. Torre has always been the consummate professional in New York City. He's been praised for handling the team, the Boss and the media in a way that had Larry Bowa gushing about him yesterday.
So what happens at 2 p.m.? My bet is absolutely nothing. He'll thank the Yankees for his tenure, explain why he turned down a $5 million deal and say he's moving on with his life.
But I could be wrong. What if Joe is simply so fed up with the Yankees and their inept hierarchy of management that he snaps at the press conference? Nothing is stopping Joe from railing into Randy Levine and Levin's assinine comments yesterday. Nothing is stopping Joe form telling us how he really feels about Steinbrenner. For once, I'd love to see a press conference where something happens.
I doubt honesty would impact Joe's future job prospects. He already holds a near-legendary status among the rest of baseball and is widely considered one of the most respected faces of the Bronx in this age of chic Yankee hatred. Some people would even laud him for daring to stand up to Steinbrenner.
No matter what, the media circus of the Yankees that has consumed the playoffs this year continues. This, more so than a Cleveland-Colorado World Series, is good for baseball even if it's bad for the Yankees.
If George Steinbrenner seriously considers Joe Torre part of the Yankee family, as he said he did today, I know exactly what the Yankees should do with Torre. Fire John Sterling and install Torre in the Lowe's Broadcast Booth. That would certainly improve home improvement the quality of the CBS game broadcasts by about 1000 percent.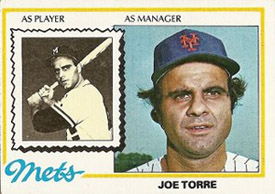 With one poorly-worded statement, the Yankees turned Joe Torre, the man who just refused $5 million to manage, into a sympathetic figure. They could have fired him easily; he could have walked away a week ago. But instead, the Yankees tried to save face, and they failed utterly.
Today, as Buster Oleny detailed, Torre flew down to Tampa this afternoon to meet with the Yankee big wigs. At the time, it even looked like Torre would be coming back. But when Joe landed in Tampa and heard the offer, it was all over.
Torre, as we now know, said no, shook hands and went back home. George Steinbrenner, the outgoing head of the Yankees, told Joe he would be a Yankee for life. Steinbrenner was singing a different tune a week ago when he threatened Torre's job if the Yanks couldn't outlast Cleveland, and for a few minutes, it seemed like the Yankee gambit worked.
AFL Peoria Javelinas (7-5 loss to Phoenix Desert Dogs)
Juan Miranda: 2-5, 1 RBI, 2 K's
Brett Gardner: 2-5, 1 RBI, 1 R
I don't know if I've ever seen as many lefties as I've seen in the AFL over the last two weeks. It's becoming very clear that both Miranda and Corona are having a tough time with the adjustment. Their AFL splits are after the jump. Read More→