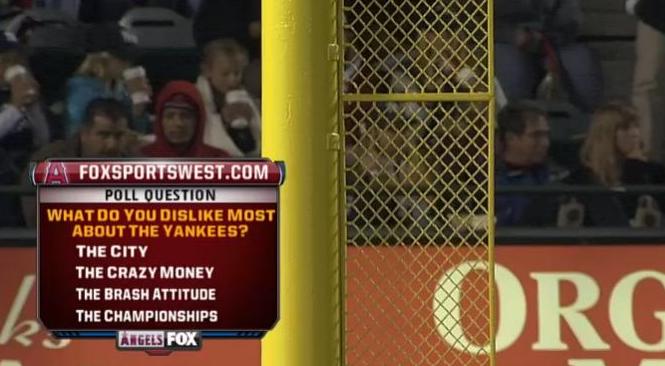 The game started with a 15-pitch at-bat by Derek Jeter, which was pretty awesome. The rest of the game? Not so much. Let's recap "night game on the west coast" style…
Ivan Nova probably did just enough to keep his rotation spot in this game. The Angels tagged him for two runs in the first and another run in the fourth, but the end result was eight hits, two walks, three runs (two earned) in six innings, which is plenty from a fifth starter. Unfortunately, Nova doing just enough to keep his rotation spot is probably bad news for the Yankees overall.
Jered Weaver was on the ropes after two innings, having thrown 53 pitches and giving back one of those first inning runs. He rebounded to complete seven innings on 119 pitches, retiring nine of the final ten men he faced. Some hacky at-bats by the Yankees didn't help matters though.
The Yankees only had three hits (but five walks), one of which was a ground rule double by Jorge Posada that absolutely cost them a run. If it doesn't hop into the stands, Nick Swisher scores from first since he was running on contact with two outs. Dems the breaks.
That's pretty much all there is to say. There's no shame in losing to a guy like Weaver, especially when you're running a rookie like Nova out there. Hell, we should be surprised the score was as close as it was. CC Sabathia gets the ball against (I think) Ervin Santana on Saturday night (it definitely won't be Dan Haren, I'm sure of that much), another brutal west coast night game. It's Southern California, don't they want to play under the sun on a weekend? Lame.