Some random stuff I discovered whilst surfing the web:
While all standard sample size warnings apply, LaTroy Hawkins has recorded each of his outs this spring via the groundball. Considering his whole shtick coming in was that he transformed himself into a sinkerball pitcher last year, this is nothing but encouraging.
Former Marlins' first rounder Jeff Allison is back in camp with the team after 15 months of sobriety. I was hoping Allison would fall to the Yanks at the 27th overall pick in the 2003 draft, but alas, they ended up with Eric Duncan after the Fish made the high school southpaw the 16th overall pick. Allison's story is a bit more self-destructive than Josh Hamilton's, but if Hammy can come back, maybe Allison can too.
Which pitching line is the ugliest: Josh Wymer's, Craig Chaput's or Kevin Nabors'? I say Nabors'.
The more I think about Pedro Alvarez's injury, the more I realize there's almost no chance he falls all the way to the Yanks at #28. Mark Teixeira broke his ankle his draft year and not only went fifth overall anyway, he also received a deal worth $9.5 million. Alvarez isn't in Tex's class, but there are some out there that think he is. Something crazy could happen.
There's still a big chunk of Spring Training left, but I can totally see Scott Patterson making the team. Girardi's been using him in a fireman role – bringing him in the middle of an inning to work out of a jam – and he's been perfect so far. Brian Bruney may have lost some weight and grown out his hair, but he's still craptastically ineffective. Patterson's making the most of his opportunity; Bruney isn't. Simple as that.
Here's your top two prospects for the 2009 draft. Gibson's video doesn't do him justice; he'll be the best pitching prospect to come out of the draft since Prior.
Eric Erickson is now 3-0, 2.75 ERA, 0.81 WHIP with a 23-2 K/BB ratio in 19.2 IP with Miami this year. The Yanks drafted Erickson out of high school in the 43rd round of the 2006 draft, but didn't sign him. He's the lefthander the system is sorely lacking. Ho hum.
More from the "What Could Have Been" files: Rick Porcello is having himself a damn good spring considering he's a 19-year-old in big league camp. 9-1 GB/FB ratio so far. Wow.
Torre's been getting a mixed bag from some of his personal favorites so far. At least Joe's third base decision just got a whole lot easier.
By

A-Rod will DH and refrain from throwing for a few days as he deals with a sore shoulder. Three weeks into Spring Training is exactly when players start complaining about the minor aches and pains of getting back into playing shape. Posada's feeling it too. Nothing to worry about here. · (1) ·
As commenter barry notes, we seem to be getting some ads for Yankees and Mets ringtones. Now, I have no clue what these ringtones are — possibly "New York, New York" for the Yanks and "Meet the Mets" for our cross-town rivals, but beyond that, I'm not sure what else they could do. But that's not what has me scratching my head. Check out the Mets ringtones ad: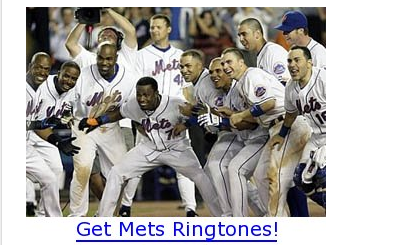 They're all gathered around the plate, apparently awaiting whoever hit a walk-off homer. Everyone looks excited, but more importantly, almost everyone is there. Reyes, Beltran, Wagner, Delgado, Wright…hell, I even see LoDuca off to the right.
Now let's look at the Yanks ad: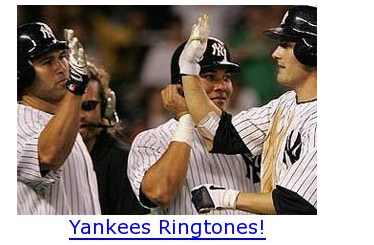 So we get Johnny Damon slapping hands with…Nick Green. What the hell? And Melky's in the middle of it, looking as awkward as we've ever seen him — well, without a bat in his hands, at least. And is that a camera dude in the background? He kinda reminds me of Bob Golic.
Seriously, who's going to buy Yanks ringtones when Damon, Melky, and Nick friggin' Green are advertising them?
By

Vince Gennaro, consultant to the stars (or at least Major League Basebal teams), takes a look at Joba's role on the pitching staff and its financial impact on the Yankees in his latest Yahoo! Sports column. It's a good read, and his conclusion is that the "Yankees stand to gain more than $24 million in value over the next six years before he is eligible for free agency." I'll have more on the baseball impact of Joba's role on the pitching staff soon. · (6) ·
My line of work is basically all Internet, so I stumble across some strange things. Today, it was a Wall Street Journal article about how baseball teams are using the wisdom of fans to make decisions. We know, thanks to Peter Gammons, that front offices read blogs. This piece goes a little deeper, citing a few specific instances of teams using the aid of fans for strategic advantage.
The first is of a Cardinals program called One for the Birds, wherein fans send in bios of lesser-known college players. The powers-that-be then review these fan submissions and send scouts to check out the most interesting of the crop. This is absolutely free for the Cardinals to try out. While they'll have to spend the money to actually scout the players, they'll have a decent idea of who's worth it and who's not. The pay-off for a real discovery by these means would be astronomical.
And then there's the infamous Internet story of U.S.S. Mariner's open letter to M's pitching coach Rafael Chavez, urging him to fix Felix Hernandez's pitch selection. Through a simple analysis, Dave Cameron, the site's author, determined that King Felix was far too reliant on the fastball. The letter was penned on June 27th, the day after Felix got lit up by the Red Sox for five runs in 5.2 innings–a far cry from his near-no-hitter back in April. He ended up tossing 16 innings over his next two starts, allowing just two runs, both in the first bout. The funny thing is that he struck out only seven over those two starts, which isn't usually Felix's game. However, he only walked three, which surely aided in his success.
This actually plays right into the philosophy espoused in the book Wikinomics, which, coincidentally, I'm in the middle of reading. It's about harnessing the awesome power of mass collaboration. Which is really what we do here on baseball blogs. We talk, you comment, and we're all a bit more knowledgeable as a result. While some baseball front offices tend to shun blogs, some are embracing them as source of collective knowledge. We at RAB — Mike, Ben, myself, the commenters, hell, even the lurkers — might not have more knowledge than Damon Oppenheimer and Brian Cashman. But because we're all working together, we might think of something that the two of them couldn't. And that, my friends, is how we're all doing part to help our beloved Yankees.
When I railed on the Daily News' Spring Training coverage yesterday, most of you who chimed in agreed with my critique of the paper's over-the-top attention to Spring Training details. Thursday's game — highlighted by a horrendous pitching effort by Yankee ace Chien-Ming Wang — gives us another chance to evaluate how the New York sports media covers March.
Today's story comes to us via Tyler Kepner of The Times. With a headline "Girardi Says Wang Has Work to Do," Kepner's piece explores Wang's terrible start today in the context of Spring Training.
"His sinker was up, his slider was flat," Manager Joe Girardi said. "He was in bad counts. They were aggressive, and they weren't missing. You don't ever like to get your butt kicked, but it's a spring training game. We're trying to get arm strength and we're trying to get him ready for the season, and we've got work to do."

Wang said he had to work on shortening his stride to the plate. He said his stride was too long because he was trying to throw too hard. "I will fix it quick," he said…

The pitching coach, Dave Eiland, said: "It's early, so he's feeling strong. He was just under some pitches, so they were staying up and he wasn't getting that late movement on his sinker. He did throw some good changeups. I try to take the positive out of everything. It was a rough day for him, but I think he'll be O.K. He knows what he needs to do."
That's all there is to it. There's no need to harp on Wang's previous bad outings or his subpar ALDS appearances. A few quotes from the manager, one from the pitcher and one from the pitching coach all recognizing that Wang is working on getting his mechanics and arm angle where it should be for the season. That is how to cover Spring Training.
The world of New York media is a tough one. Some of the harshest and most popular blogs exist to dissect the media arena in this city. But for sports, be aware of what you read. Spring Training is a time for practice; it's not a time to be concerned about how some bad outing in Florida stacks up against career experience. Worry in April; worry in May; enjoy it in March.
Another day, another mediocre Yankee reliever popping off about Joe Torre's bullpen management skills.
Today's contestant is Krazy Kyle Fansworth. He of the 1.45 WHIP and 4.80 ERA had this to say about his former boss:
"I always have confidence in myself, definitely," he said. " But it's tough when you do lose the confidence from your manager to maybe prepare yourself day in and day out when you have no clue about anything."

Farnsworth criticized the way the Yankees handled him last season, saying no one asked him if he could pitch on consecutive days or in the middle of an inning, two things Torre was reluctant to do. The Yankees decided unilaterally on "The Farnsworth Rules," according to the reliever.

"I know that's been going on in the past, especially last year," he said. "They decided not to use me back-to-back days. They never came up to me and asked me. I don't know why that came about."
While I can understand why members of the Yankee bullpen were skeptical of Torre's bullpen patterns, this is another example of a crappy pitcher bemoaning a fate that was largely in his hands. In 64 appearances last season, Farnsworth managed to throw just 14 one-two-three innings. He gave up walks; he gave up hits; he nibbled; and he was eventually replaced by Joba Chamberlain. Is it really surprising that Torre didn't want to use him?
I'd be thrilled if Farnsworth could rediscover himself in 2008. A halfway decent season by the Farns could allow Joba to move seamlessly into the starting rotation without significantly weakening the Yanks' late-inning pitching. But right now and forever really, Farnsworth only has himself to blame. If he didn't like how Torre didn't have confidence in him, it was because he didn't show anything confidence-worthy on the mound last season. Prove us wrong, Kyle.
By

After opening the season with seven home games, the Yanks embark on a killer April road schedule. Over the subsequent three weeks, they will play 18 of 20 games on the road. With only two days off in April this year, it's going to be a grueling month on the road, and the main culprit behind the delays is, according to Ed Price, the Pope and his April 20th Yankee Stadium mass. Got that, Benedict? It's your fault the Yanks are on the road; how about we get something in return? I'll take wins. · (14) ·
By

Wang didn't even finish a full inning today, giving up six runs in .2 innings of work. He threw 32 pitches to what I'm guessing, from PeteAbe's account, was 11 hitters. · (25) ·