Mitch Hilligoss was put on the DL with a "lower body injury." David Robertson has been promoted to Tampa, and it's about damn time.
Triple-A Scranton (5-4 loss to Buffalo in 11 innings)
Justin Christian: 2 for 6, 1 R, 1 K, 1 SB
Shelley Duncan: 1 for 4, 1 2B, 1 BB – in other news, Andy Phillips went 0 for 3 with 2 K and was taken out of the game for Miguel freakin' Cairo…
Bronson Sardinha: 1 for 4, 1 R, 1 RBI, 1 BB, 2 K
Eric Duncan: 2 for 5, 1 R, 1 2B, 1 RBI, 1 K, 2 E (fielding, throwing)Â – 3 doubles in his last 5 games
Alberto Gonzalez: 0 for 4, 2 K
Run-Elvis: 5 IP, 6 H, 4 R, 2 ER, 3 BB, 4 K, 7-4 GB/FB
Edwar: 3 IP, a whole bunch of zeroes, 6 K, 3-0 GB/FB – in other news, Kyle Farnsworth allowed 2 more baserunners tonight (Kper9 up to 16.62)
Jim Brower: 2 IP, 4 H, 1 R, 1 ER, 2 BB, 1 K – first run allowed since June 8th
By

According to the Daily News, Jason Giambi hasn't made much progress in his quest to heal his torn plantar fascia. The report says he's still wearing a boot. While the initial timetable put his return date at around the start of July, some less optimistic writers speculated that Giambi could miss the whole season. Right now, it's not looking too good for the Yanks' DH. · (4) ·
By

In an interview on the Michael Kay Show on Thursday, Brian Cashman declined to say if Joe Torre's job was safe. "I think everybody currently shouldn't feel very comfortable and I don't think anybody does," he said. With this lukewarm endorsement in mind, I think the next 10 games against the A's, Twins and Angels will go a long way toward determining Torre's future with the Yanks. · (5) ·

All numbers cited are as of 6/28 before the game
Oh, our outfield. Coming into this season, it looked so promising. Matsui, Damon, Abreu. And Melky as a backup to boot. Yeah, there were chirps and whispers about the age of the unit, but hey, 34 isn't exactly old. And for guys who had been were great last year (with the obvious exception of Matsui), you wouldn't expect them to turn shitty overnight.
But really, that's what they did. At least in relative terms. Any way you want to slice it, they're not performing to expectations. And it's freakin' killing this offense (among other things, of course, but this one is just glaring). A quick look at rate stats will make this abundantly clear.
We didn't quite win, either, but we're winning. Thanks to changes in the MLB rules effective this year, we'll pick this game up exactly where we left it off: with Derek Jeter standing on first with one out in the top of the 8th with an 8-6 lead.
Some times, you just catch a break.
Some tidbits from LoHud:
Spoke to Brian Cashman this afternoon. He is interested in acquiring a first baseman but offered no comment on Shea Hillenbrand. He did say, however, that he will not be trading Phil Hughes, Joba Chamberlain or Ian Kennedy.
…
Hughes has started his throwing program and a few days ago threw off the half mound in Tampa.
Update by Joe: Better news on Hughes: he'll throw off a full mound this weekend. According to Pete Abraham, "The hope is that he will return by the end of July." The article also mentions that they've signed third-round pick Ryan Pope (the pitcher from Savannah College of Art and Design) and are laying it on thick for Carmen Angelini. End of update.
Good news all around, although don't think that just because Cash didn't comment on Hillenbrand that means he isn't interested; if he said he wanted him, it'd be tampering (I think).
Triple-A Scranton (6-2 loss to Buffalo) it's not fair that Buffalo can roll this guy out of the 'pen to protect a 4 run lead…
Justin Christian: 1 for 4, 1 R, 2 K
Kevin Reese: 2 for 4, 2 RBI
Shelley Duncan, Bronson Sardinha & Alberto Gonzalez: all 0 for 4, 2 K – Sardinha threw a guy out at third
Eric Duncan: 0 for 2, 2 BB – 6 for his last 44 with 13 K
Tyler Clippard: 3.1 IP, 8 H, 6 R, 5 ER, 3 BB, 1 K, 1-7 GB/FB – 38 H, 26 ER, 22 BB, 15 K in 28.1 IP since he beat the Mets in his MLB debut…
Sean Henn: 2.2 IP, 1 H, 0 R, 0 ER, 1 BB, 2 K
Steven Jackson: 2 IP, 0 H, 0 R, 0 ER, 1 BB, 2 K – 5 H, 3 ER, 3 BB, 4 K in 7.2 innings since moving to the 'pen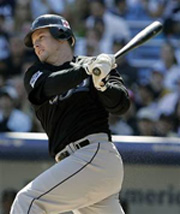 It was so close to happening last winter. The Yankees sought a right-hand-hitting first baseman, and Shea Hillenbrand was on the free agent market. So, you'd think this was a bada-bing, bada-boom deal, right? Well, unfortunately, Hillenbrand and his agent far overvalued his worth and demanded a two year contract. The Yankees declined and signed Doug Mientkiewicz, leaving Hillenbrand to sign with the Angels. Well, it's nearly a half-year later, and Hillenbrand is on the verge of yet again becoming a free agent. It seems that the Angels have realized the errors of their ways, and are prepared to cut bait, giving Bill Stoneman 10 days to trade him, lest he become a free agent (he would almost certainly clear waivers). This is the Yanks' big opportunity. They must sign Shea Hillenbrand.
By

You need an iPig:

"This is the most anticipated pig since Porky," [St. Paul] Saints general manager/executive vice president Derek Sharrer said in statement. "Taking on a major player like Apple is daunting, but our sense is that Apple has exposed a niche that these pigs fill. Our critics will say there's no market for trying to reinvent the pig. We'll see."

Now if only the Yankees could get an iWin. (hat tip to TPA) · (0) ·
So Mariano Rivera pitched tonight because, according to Kenny Singleton, he "needed work." But last night, when the Yanks needed a win, Rivera just sat in the bullpen as Scott Proctor imploded. I covered this to death earlier with this post here and this one here, but it's worth repeating. We have seem terrible bullpen utilization by Joe Torre over and over again this season.
Meanwhile, the lethargic Yankee offense has mustered a two-run home run in 18 innings in Baltimore. So at this point, I have to wonder: Who's going to be managing the Yankees on Friday when they return home from what would be, at best, a 2-7 road trip against the Orioles, Giants and Rockies? Which brings me to a new poll…
Who will be managing the Yankees come Friday evening?
By

Just because he's available doesn't mean we want'em. (career OPS+ = 97, including 61 this year) · (6) ·