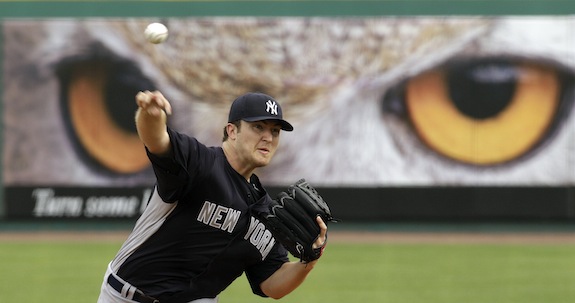 It's a bit grey and only around 50 degrees in New York this afternoon, but down in sunny Florida, the Yanks are gearing up to play two games at the same time. The club has some split-squad action today as Ivan Nova and the outfielders head to Dunedin to take on the Blue Jays while the infielders stick around in Tampa to face the Braves. Phil Hughes gets the start, and the game will be on the YES Network at 1:05 p.m.
Unfortunately, those of us watching at home will miss the chance to watch Jesus Montero. He's catching Ivan Nova today, and in the field, the other game features Eric Chavez at first and Ronnie Belliard at second. Those two are battling it out for a reserve spot on the Yanks' bench.
In the game we get to see, we have the lineup:
Jeter SS
Jones LF
Teixeira 1B
Rodriguez 3B
Posada DH
Nuñez 2B — I'd hate to see Eduardo batting sixth anytime after March.
Romine C
Maxwell RF
Krum CF
Hughes P
On the bench, we have Gustavo Molina; infielders Addison Maruszak, Corban Joseph, Carmen Angelini and Bradley Suttle; and outfielders Ray Kruml and Brett Gardner. Rafael Soriano, Steve Garrison, Joba, Pedro Feliciano, Eric Wordekemper, Andrew Brackman, Hector Noesi and Luis Ayala will be in the bullpen. It is unlikely, however, that Brackman will get in the game.