With the Yankees 4-1 win over the Orioles last night they've secured yet another series triumph. Their one series loss balances out with their one sweep, meaning that even if they lose tomorrow they'll still have a .667 win percentage. They do have a good chance to sweep, too, as the pitching matchup favors them. Then again, it seems like the pitching matchup favors them every game these days.
Chalk up this win to Burnett and Cervelli. The former brought his best stuff and flummoxed Orioles hitters for 7.1 innings. The latter not only played some excellent defense, including an incredible catch while falling into the dugout, but also had a 3-3 night at the plate. Even when he made an out it was a sacrifice that led to a run.
Biggest HitBunt: Pena's sacrifice
In case we haven't made it lear, we use Win Probability Added (WPA) to determine the biggest moments of the game. You can click on the WPA link to read a full explanation of the stat. If you're really interested in WPA and its applications, read this thread on The Book Blog. (And if you're really hardcore, read the comments.) This is a long way of saying that I don't think Pena was responsible for the biggest WPA swing of the game. He happen to be the guy who got the carousel started, though.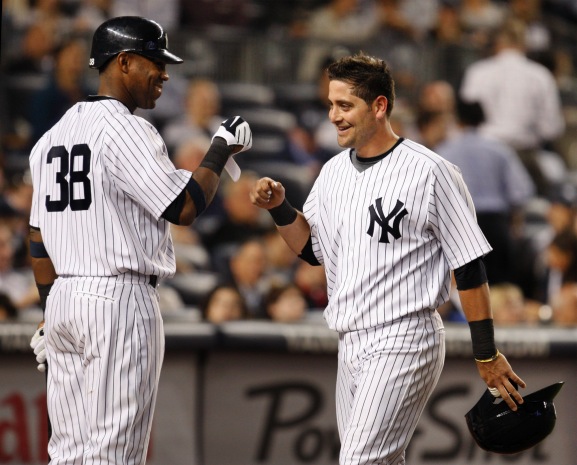 Through four innings Orioles starter Brian Matusz got through the Yankees' lineup with few troubles. His only earned run came on Francisco Cervelli's triple, but even that wasn't totally his fault. Most of the blame goes to Adam Jones, who dove for a ball that only he thought he could catch. A web gem it was not, and the Yanks took advantage a batter later when Pena grounded one to short. That was in the third. Two innings later, Matusz would again run into the buzzsaw that is the bottom of the Yanks order.
Matusz started the inning in the worst possible way, by walking Brett Gardner. That can cause problems. Cervelli then continued his good luck ways, blooping one into right. With runners on first and second with none out, and with the top of the order due up, sacrificing Pena was a pretty obvious choice. After popping one up and having it roll foul, he successfully laid down a good one. It went to the left side for Matusz to field. What followed made me think of the opening lines of this song. (Pardon the Fred Durst cameo; it was 1998, after all.)
Just as A.J. Burnett had done in the third, Matusz threw it past the second baseman covering first. That was more than enough leeway for Brett Gardner to score, breaking the 1-1 tie. Four batters and two walks later, the Yankees added another run to that tally. It would be enough to topple the Orioles.
Biggest Pitch: Burnett's blunder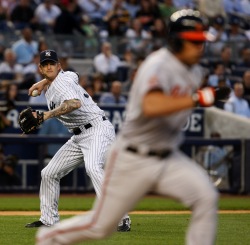 Through the first two innings it looked like Burnett had stuff that would baffle the Orioles all night long. Garrett Atkins opened the inning with a single, but no problem, right? Burnett has actually been inducing grounders, so the double play was an actual possibility. But instead he walked Rhyne Hughes, bringing up Cesar Izturis in an obvious sacrifice situation. He laid it down and Burnett fielded, but he threw it too far to Cano's glove side. The ball got past him, which allowed Atkins to score and give the Orioles their first lead of the game.
Though first two batters were reversed (hit-walk for the O's and walk-hit for the Yanks), the two botched bunt situations were pretty much identical. The 7-8 hitters got on, setting up a sacrifice for the No. 9 guy, with the Nos. 1 and 2 hitters waiting to break open the game. Both pitchers threw the ball away, allowing the lead runner to score. The difference, of course, was that Burnett struck out the next three hitters, while Matusz recorded two outs before walking two straight to force in a run.
The dominance of Allen James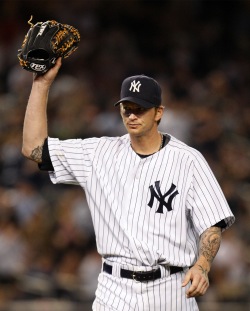 Heading into last night's start, we saw a bit of a different look from Burnett. Last year he was a high-strikeout, high-walk, high-flyball guy. This season, however, he's struck out far fewer batters, just 5.40 per nine, compared to 8.48 per nine last year. His walks, though, are also down, 2.43 per nine to 4.22 last year. Meanwhile, his ground ball rate rose from 42.8 percent to 48.5 percent. It's still early, and there's no telling if these peripherals will hold up. Watching him deal, though, it sure looks like he knows what he's doing.
Burnett allowed just one run last night, though because it scored on an error it was unearned. How a pitcher can skate by with an unearned run on his own error is beyond me, but then again I dislike the entire concept of earned runs. This time, though, he had his strikeout stuff, sitting down eight Orioles. Even better, three of them came with a runner on third and less than two outs. In fact, in every runner on third, less than two outs situation Burnett recorded a strikeout.
As if the return of his strikeouts wasn't good enough, Burnett also recorded eight outs on the ground. With 7.1 innings pitched, Burnett recorded 22 outs. Sixteen of them were a strikeout or a groundout. There was nothing unimpressive about this start.
Can't forget Cervelli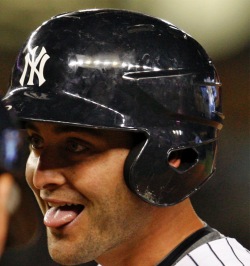 No one wants Jorge Posada's bat out of the lineup. He's one of the top offensive catchers in the league, one of the few that can hit for power. Thanks to Francisco Cervelli's torrid start, the Yanks aren't missing Posada as much as they could. He was one of the heroes last night, involving himself in nearly every scoring situation.
In the third his leadoff triple led to the tying run. In the fifth his single put the Yankees in a favorable position. He even scored the run when A-Rod walked with the bases loaded. Then in the eighth his sacrifice put Brett Gardner on third with one out, which set up the Pena sacrifice fly.
That doesn't even cover what he did while donning the tools of ignorance. The kid looks like a natural behind the plate. He blocks pitches well, using his glove and chest protector to keep the ball in front of him. He showed excellent tracking skills when he ran down that fly ball that was about to land in the Yankees dugout. There's not much more you can ask of a backup catcher.
Joys
All accounted for above.
Annoyances
All accounted for above. Which is to say that errant throw in the third, but even that lasted all of a minute. Hard to stay annoyed when Burnett comes back and strikes out the next three guys.
WPA Graph
I would like to take this WPA graph behind the middle school and get it pregnant.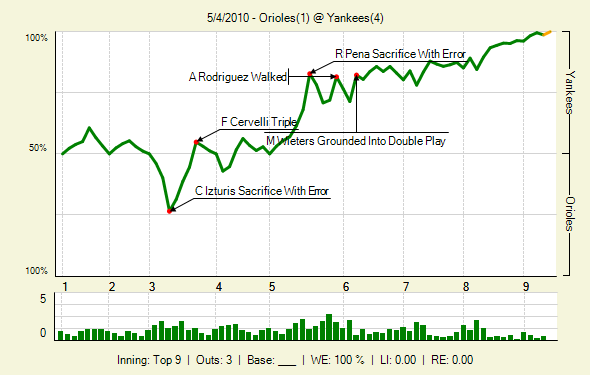 Next Up
It's a getaway day for the Orioles, as they'll play a 1 p.m. game tomorrow. David Hernandez against Andy Pettitte. And then the Red Sox.