By

According to Keith Olbermann, Gino Castignoli, the construction worker infamous for burying a David Ortiz jersey in concrete in the new Yankee Stadium has also buried a 2004 ALCS program under the new stadium as well. This time, however, he ain't sayin' where the goods are buried. While the Yankees aren't about to dig up their entire new stadium in search of a delinquent program, this new story promises to get Hank riled up and ESPN on the case. I wonder if the Yanks know of anybody who could "send a message" to Castignoli. (Hat tip to iYankees.) · (8) ·
By

As the Yankees and the Mets both deal with underperforming first basemen at the ends of lengthy and expensive contracts, Dan Graziano takes a look at the Mark Teixeira sweepstakes and concludes that the Yanks and Mets will emerge as the two most likely bidders for Teixeira's service. Throughout the piece, Graziano bemoans the old sluggers on the New York teams and calls Teixeira — 29 at the start of next season — a "a breath of fresh air for either New York team."

But the problem is that Teixeira will be a breath of fresh air only until he too starts getting old. I don't think Teixeira will sign for anything less than seven years, and while I'm not opposed to the idea, his contract will eventually be as problematic as Jason Giambi's and Carlos Delgado's are right now. While "in with the young, out with the old" is a sound philosophy, the young grow old quickly. · (59) ·
Foes of Brian Cashman can take heart. In a Tyler Kepner piece in Tuesday's Times, Hank Steinbrenner, the outspoken of the two brothers, shares his views on the current Yankee brain trust, and from his words, it seems that while Joe Girardi and his three-year contract are safe, Brian Cashman and his remaining five or six months may not be.
Hank on Girardi: "I think he's doing fine. It's pretty simple — he's playing the hand that he was dealt, just like I am. He's doing the best job he can. I have complete confidence in Joe."
Hank on Cashman: "If Brian wants to be the G.M. next year, there's a chance he will be. If he doesn't want to, he won't be. At this point, do I still want him to be the G.M.? Yeah, I do."
Talk about hedging your bets: If Cashman wants to come back, says Hank, it's not a given. There's a chance that he'll return which also means there's a chance that he won't return.
But within the same interview, Hank took what could be interpreted as a dig as father's heavy-handed style of management. "Whether those cards work or not will determine what happens in the off-season, and I'm going to do whatever I have to do to win," Hank said. "There's been a lot of mistakes the last five to seven years that I had nothing to do with and Joe had nothing to do with — and quite a few things Brian had nothing to do with."
There were indeed quite a few things Cashman had nothing to do with that have plagued the Yankee organization over the last ten years. The challenge for anyone — and it's impossible task for those not in upper-level management positions in the Yankee organization — is to weed out the Cashman Moves and the George Moves. Hank probably knows the difference, and he, for now, sees something he likes in Cashman and the role Brian plays.
We've made our thoughts fairly clear on this issue. We think Cashman has done a great job. Of course, many Yankee fans judge success absolutely: Either the team wins the World Series and the season is a success or the team does not win the World Series and the season is a failure. While we can try to convince doubters that the playoffs — five-game and seven-game series — are in no way indicative of how good — the 2007 Red Sox — or how average and lucky — the 2006 Cardinals — a team is, Yankee fans are set in their ways.
If the Yanks are serious about pursuing a new path, they should let Cashman's plan run its course, and that course is longer than the first quarter of the season. That course is probably two or three years long. If the Yanks were to dismiss Cashman now, the spoilers of his era — a highly regarded farm system and better international scouting — would continue to pay dividends well into the tenure of the next GM. And until the Yankees win four World Series in five years, we'll forever be having the same debate we have now.
Cashman and his approach have gotten the Yanks into the playoffs every year of his tenure so far. Why change things now?
Yes, I'm kidding.
Triple-A Scranton (5-3 loss to Pawtucket)
Bernie Castro: 1 for 4, 1 RBI, 1 BB, 1 SB
Justin Christian: 2 for 5, 1 R, 3 SB
Brett Gardner: 2 for 4, 1 R, 1 3B, 2 RBI, 1 BB, 2 K, 1 SB – RBI machine
Jason Lane: 1 for 3, 1 3B, 1 RBI, 1 BB
Cody Ransom: 0 for 3, 1 K – ejected for throwing his bat after taking a called third strike
Eric Duncan: 2 for 3, 1 BB, 1 K, 1 SB
Heath Phillips: 3 IP, 4 H, 4 R, 4 ER, 2 BB, 2 K, 1 WP, 5-2 GB/FB – CJ says Karstens' start was pushed back to tomorrow because the weather sucked
Scott Strickland: 3 IP, 0 H, 0 R, 0 ER, 1 BB, 3 K, 3-3 GB/FB
Steven Jackson: 2.2 IP, 3 H, 1 R, 1 Er, 1 BB, 2 K, 0-5 GB/FB
By

Jon Lester just completed a 300-pitch no-hitter against the Royals. No one will be more insufferable now than Lester's biggest fan boy. As ESPN reminds us about Lester's story — he beat cancer — on the special coverage on national TV, someone totally just said, "Un-fucking-believable" to Lester. It was very audible and rather amusing. · (74) ·
In one corner: The Yankees are done. The Yankees have a terrible defense, an old lineup and no spark-plug. They have young pitchers that need some seasoning, and a new manager who hasn't yet mastered managing a team in New York. They're overpaid, underperforming and aren't likely to get any better this year. Middle of the division, here we come.
In the other corner: The Yankees are once again starting slow. That they are 20-24 despite little in the way of offense is a promising sign. Once they're hitting the ball, they'll win games in droves. Chien-Ming Wang and Mike Mussina have been great; Andy Pettitte will get back and track; and Ian Kennedy and Phil Hughes will right their ships in due time. Plus, we've got Joba Chamberlain the starter hopefully on the horizon. With A-Rod on the mend and Jorge a few weeks behind him, with Robbie Cano's and Jason Giambi's bats showing signs of waking up, it's only a matter of time before they turn it up a notch.
And so that's your premise for your off-day open thread: Are the Yankees really this bad or is it just an early-season slump? Play nice; have fun.
The 11-year deal between the Yankees and Adidas will come to end when the Yanks move out of Yankee Stadium and across the street to their new digs. According to a report in Sports Business Journal (subscription required), Nike will replace Adidas as the Yanks' sponsor.
Terry Lefton reports:
Nike and the New York Yankees have agreed in principle to a five-year sponsorship agreement that will begin in 2009, the team's first in the new Yankee Stadium.

The cash and product deal ends a historic 11-year relationship between Adidas and the Yankees that remains one of Adidas' biggest U.S. sports marketing expenditures…

But with the deal ending, sources said that the Yankees originally tried to sell Nike a signage package, but that Nike was more interested in other rights. Consequently, Nike's deal with the Yankees is short on branding and long on marketing. Nike will be able to increase the amount of team apparel it already sells as an MLB licensee and it will have a store-within-store shop at the new stadium. It will also run local marketing campaigns, grassroots initiatives, and outfit Yankee coaches and minor leaguers with cleats and other performance wear.
There is no word yet as to the monetary value of the deal, but it's sure to be a lot. The Yankees' deals with this companies tend to pay for themselves rather quickly. Expect to see a lot of Nike signage and branding throughout the new stadium in 2009.
Hat tip to Maury Brown's Biz of Baseball.
By

So A-Rod comes off the DL tomorrow. Praise Jebus. The question is now what to do to clear a 25-man roster spot for him. With Betemit out, Alberto has to stay. So the team is essentially left with three options. One, send Britton packing (not that I want to, but he's clearly the first to go). With the day off today, the bullpen should be completely rested, and we don't need 13 pitchers. Two, send Shelley back to Scranton. Three, DFA Ensberg. I guess option one seems the most likely. But I wonder how much more time Shelley and Ensberg have on this team. · (31) ·
This guest post is by Jim Johnson, formerly of Bronx Block.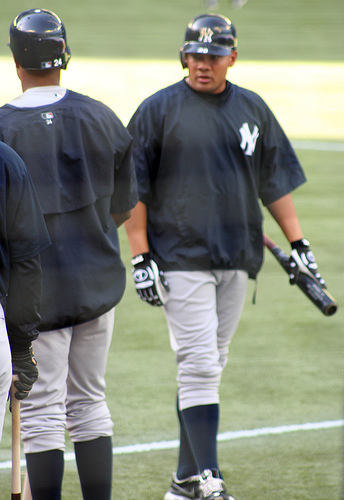 Let's look at the road Melky Cabrera has taken in his young career.
In 2005, he was brought up for a bit and embarrassed himself.
In 2006, he filled some holes when some injuries hit the team and out-performed expectations while playing most of the year.
In 2007, he became the starting center fielder early in the season. However, he did not take a major step forward in his development as one would have hoped.
As of 2008, Melky has made center field his own and his performance is fairly positive.
2007 was a troubling year for Melky. While playing in 20 more games and collecting 85 more at-bats than in 2006, his average dropped 7 points, his slugging remained the same, and his on-base percentage dropped a hefty 33 points. He stuck out more and walked less. This is not what anyone in the Yankee organization wanted to see. Melky has drawn comparisons to Bernie Williams and Carlos Beltran at the same point in their careers. Now, I don't think that anyone truly believes that Melky can match Williams or Beltran in terms of talent, but the comparisons are there.
2008 is going to be a very important year for both Melky Cabrera and the Yankees. How Melky performs this year could set events in motion that could reverberate thought the entire Yankee organization. There are two possible scenarios. For the sake of discussion, let's assume that the below come true.
Brett Gardner continues to develop as hoped and is ready to become the 4th outfielder on the Major League club in 2009.
Austin Jackson continues to develop as hoped and is ready to contribute to the Major League club mid-2009 and be the starting center fielder in 2010.
Jose Tabata continues to develop as hoped and is ready to contribute to the Major League club mid-2010 and be a starting corner outfielder in 2011.
If we assume that those 3 prospects work out as planned (which may or may not be a stretch), there are two ways this could all play out:
Scenario 1
Melky Cabrera improves on his plate discipline in 2008, increases his power numbers, and finishes with a batting average over .300. The Yankees decides that his potential is legit and decide that he has a long-term role with the team. With RF open due to the departing of Bobby Abreu, the Yankees decide to slide either Cabrera or Brett Garnder to RF until Austin Jackson is ready to make the jump to the majors. From then on, Gardner can slide into the role of 4th outfielder and pinch runner. The organization continues to develop Tabata and will decide which corner of the outfield to slot him into.
Backtrack to 2009. With Bobby Abreu departing and Melky moving to RF, there will be a heavy offensive drop-off. The Yankees will see an offensive reduction from C, SS, CF, RF, and potentially LF and DH. By losing their 3rd place hitter and replacing him with a bottom-of-the-order hitter, the Yankees will probably go out and sign Mark Teixeira to a hefty 7-year deal. Teixeira will be 29 at the start of the 2009 season and is a switch hitting first baseman with a .290 Avg / 30 HR / 100 RBI bat. He's a two-time Gold Glove winner and two-time Silver Slugger winner.
With the need for offense, Teixeria will be able to name his price. By the end of the contract, much as we see with Jason Giambi, Yankee fans may be grumbling that they have better 1B options sitting on the bench because of the money the starting guy makes. Also, the deal with probably keep Jorge Posada behind the plate for an extra year than he would have otherwise. I see Posada as a C/1B/DH in year 3 of 4 and a DH in year 4 of 4. Teixeira's signing will block 1B for Posada, possible Jesus Montero and, of course, Derek Jeter. With a full outfield and 1B tied up for the foreseeable future, Jeter may not have a place to move in 2011 when he signs his new deal. He'll either have to remain at shortstop (yikes) or take up the very valuable DH position.
Montero might even be dangled as trade bait if one or more of the trio of young starts the Yankees have do not work out. With the signing of Teixeira, the Yankees may not be willing to shell out the kind of money that C.C. Sabathia will be commanding, no stadium or not.
Shelley Duncan will have no place on this team, either.
Scenario 2
Melky Cabrera puts up another 2007 and looks more like a back-of-the-order bat instead of a front-of-the-order bat. The decision will be made to overpay Bobby Abreu to re-sign for 2 years instead of the 3 that he could get elsewhere. Melky will remain the starting CF in 2009 but will split a little time with new 4th outfielder Brett Garnder. There is little doubt that Melky is keeping the spot warm for Austin Jackon. Once Jackson gets called up later in the season, Melky will begin to get moved around the outfield a bit. In 2010, the Yankees decide to go with their center fielder of the future and Melky becomes expendable.
There are several ways the Yankees could go after this. With Bobby still with the team, the Yankees may not be so eager to sign Teixeira to big bucks. They may prefer to hand the role to Shelley Ducan and/or Juan Miranda with an occasional start by Posada or even Damon. The future of 1B could fall in the lap of Derek Jeter or Jesus Montero.
The success of Hughes/Joba/Kennedy coupled with Cashman's salesmanship and the status of whatever Hank had for dinner last night will have a factor on whether or not the Yankees will make a play for C.C. Sabathia. Actually, I think the biggest factor in this decision may be how Joba the Starter looks in late 2008 vs. how Joba the Reliever looked in early 2008/late 2007. Everyone in their right mind wants him in the rotation, but the combination of him shortening games, Mariano's aging, the availability of a big-time lefty starter the sudden abundance of available money may swing this decision in the other direction.
If Melky does not take a significant step forward in 2008, I see him being shipped off to another franchise within 2 years. The Yankees have 2 star-caliber outfield prospects coming up and another who is a perfect 4th outfielder or bottom-of-the-order hitter. Granted, these decisions could be affected by the 2008 performances of Tabata and Jackson nearly as much, but for the time being, Melky's destiny rests in his own hands. A significant part of the Yankee roster going forward could be shaped by how much improvement the Yankees see in their 9th place hitter in 2008.
Melky image from flickr user phillenium1979 under a Creative Commons license.
At the outset of the season we announced our plan to raise money for The Jorge Posada Foundation with The Big Three K's Craniosynostosis Pledge Drive, where readers pledge a certain amount of money for each strikeout recorded by Phil Hughes, Joba Chamberlain and Ian Kennedy. The response we received was better than I expected: 24 pledges totaling $4.94 per strikeout.
Even though The Big Three haven't performed as well as we hoped, they've still helped us raise $266.49. We're on pace to pull in over $980 over the course of the season, and obviously we all hope Phil, Joba & IPK right their respective ships and make that number even bigger.
If you haven't already pledged, please consider doing so. We're very flexible about this and can start your pledge today, retroactive to the start of the season, any time really. You set the terms and everyone wins. Whether you think the Yanks should traded for Santana or not, we can all agree that this is for a good cause. Shoot me a line at mike (at) riveraveblues (dot) com, stick Pledge Drive in the subject line, and we'll get you all set up.