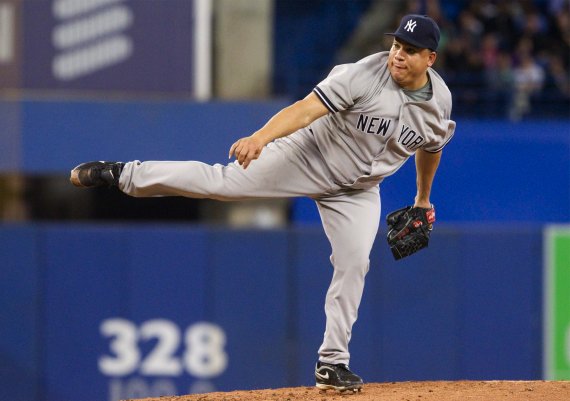 The Yankees needed length from a starter. The bullpen has thrown a lot of innings, and while I might have overstated the case yesterday, it's pretty clear that the Yankees can't sustain their current usage patterns. Bartolo Colon didn't seem likely to be that guy. He appeared to tire a bit as he got around the fourth inning of work in his first three appearances. While he didn't finish seven, he did last more than six and put the Yanks in a position to win on Wednesday.
Colon's 6.2 innings were the second most pitched by a Yankee this season. He handled the Blue Jays with authority, using their own aggression against them. Using a pair of fastballs he kept the ball mostly on the ground. When he needed a swing and a miss he went to the slider or changeup. Of the 25 batters he faced, 14 either hit the ball on the ground or struck out. It was just what the Yankees needed. It meant a lot to Colon, too. He's hanging onto the pair of cleats he wore last night. Hey, first win in almost two years.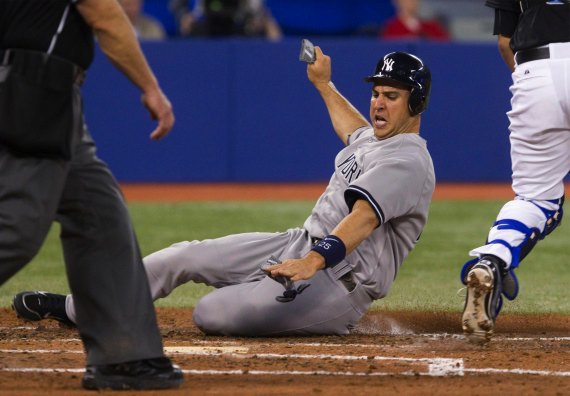 The Yanks offense looked roughly the same as it has most games this year. They actually scored only one run via the home run, but they cashed in on extra base hits and opened up a 5-1 lead after five. Mark Teixeira doubled three times in three different ways, scoring after two of them. Curtis Granderson added an RBI triple and a solo homer. The only thing the offense didn't accomplish was scoring four runs in an inning. They remain the only team who hasn't done that.
(Also, glove slap to MLB.com's Bryan Hoch, who came up with two excellent tidbits that made this recap.)
While Granderson has struggled for short stretches in the young season, he has also come through with a ton of power. His ninth-inning home run was his sixth of the season, tying him with Mark Teixeira for the AL lead. The triple was his first of the season; he hit seven last year. His average (.272) and OBP (.322) aren't quite up to par, but his power has helped compensate. He also had seen the fifth most pitches per plate appearances in the majors heading into the game. Best of all, his RBI triple came off a lefty. He's actually hitting better against lefties (.353) better than righties (.237) in the minuscule sample that is this season's splits.
One thing that became apparent is that the Yankees really want to see if Lance Pendleton is worth keeping around. Hector Noesi has been on the roster longer, but Pendleton already has 3.1 innings of work under his belt. It makes enough sense. Pendleton's ceiling is probably a reliever in the majors, while Noesi still might have a future as a starter, even if the chances of him winning a long-term spot in the Yankees rotation are slim. Pendleton didn't impress anyone with his performances, but I wouldn't be surprised to see him get another shot if the Yankees get a big lead, or find themselves behind considerably, during a game in Baltimore.
A win heals all wounds after a tough loss. Bartolo Colon came up aces on a night when the Yankees really could have used it. The win gives them a split of the series with the Blue Jays, and while they could have swept it they can put that loss behind them and move onto the next series against Baltimore. It will change soon enough, but once again the Yankees go to bed the only team above .500 in the AL East.