By

Jon Heyman has an interesting piece up on at CNNSi.com on the fate of Joe Torre. We should know by Tuesday at the earliest if Joe is staying or going, and Heyman speculates that with Joe's enjoying the support of both the public and current Yankee fans, the Steinbrenner sons may have a hard time summoning up the strength to fire the beloved Torre. All of this leaves me to wonder: Outside of A-Rod, is Joe Torre now the most powerful figure in New York baseball? He sure has seemed to eclipse George Steinbrenner. · (6) ·
JP's AzFL update is here.
HWB Honolulu (10-3 win over Waikiki)
Ajax: 2 for 3, 2 R, 1 3B, 2 RBI, 1 BB – multihit games (with at least 1 XBH) in 4 of his last 6 contest…yeah, the rust's off
Venezuela Winter League - if a player doesn't have a link to a box score, it's the same as the guy above him
Frankie Cervelli: 0 for 2, 1 BB, 1 K
Marcos Vechionacci: 1 for 3, 1 BB, 1 E (throwing) - hitting .333 thru 3 games 
Gerardo Casadiego: 0.2 IP, 1 H, 0 R, 0 ER, 0 BB, 1 K
Justin Pope, Alberto Gonzalez, Edgar Soto, Edwar Gonzalez, Scott Patterson and Wilmer Pino are also playing for various teams throughout the league. Interestingly enough, Jose Tabata is on the Caribes de Oriente roster, and the six-week rehab period for his surgery is up, so he might actually play.
The VWL is a no joke league, there's established big leaguers all over the place. Miggy Cabrera, Frankie Rodriguez, Ramon Hernandez & Kelvim Escobar are the best of the bunch. Oh, and Bobby Abreu is on the Leones del Caracas roster.
If Tim McCarver and Joe Buck love Jonathan Papelbon so much, why don't they just marry him?
Meanwhile, considering how poorly Sabathia and Carmona have pitched the last two nights, I'm starting to get the sinking suspicion that the Yanks just flat-out sucked during the ALDS. Cleveland's pitching isn't really that good.
Update 1:11 a.m.: Unsurprisingly, Eric Wedge's stupid decision to pinch run for Travis Hafner with two outs in the 9th of a tie game has come back to haunt him. Trot Nixon will now bat against a lefty with two on and one out in the 11th. Do these managers never learn? Pinch-running against Papelbon with two outs is pretty useless.
Update 1:16 a.m.: Nevermind. That worked. And I sure am glad the Yanks never made that Melky-for-Gagne trade. What idiot suggested that?
The Peoria Javelinas defeated the Scottsdale Scorpions 8-5
Brett Gardner: 2-5, 1 R – one of the outs was a line drive to LF. He also turned a routine grounder into a very close play at first.
Juan Miranda: 1-4, 2B, 1 RBI, 1 R.
Eric Wordekemper: 1 IP, 5 H, 3 ER
The Javelinas batted around in the first inning by scoring 6 runs and never looked back. Brett Gardner started in LF and and it's a good thing he did because the center fielder was taken off the field on a cart during the 6th inning after crashing hard into the center field wall. They're calling it a concussion but it looked a lot worse. Gardner took over in CF for Schafer.
Update: Ross Ohlendorf will report to the AFL soon, as mentioned by Fred in the comments. The official report can be found here.
Besides having the coolest name in baseball, dude's got the sickest stuff I've seen in a long time. He just struck out Dustin Pedroia on a 98 mph sinker that bounced a foot in front of the plate. Wowza.
Little known factoid about the guy: when the Indians signed him for $25,000 out of the Dominican, he was a 6'2″, 120 lb 16-yr old with no teeth – they'd all rotted out from eating sugar canes his whole life. Not all aces come as prepackaged hype machines, you know.
This guy's just ridiculous, and it's so much fun to watch. Comment on the game here if you please.
By

Tip o' the hat to commenter yankz for pointing this story out. It appears that Joba Chamberlain will, in fact, be a starter in 2008:

Speaking with a reporter from The Associated Press, owner George Steinbrenner's son, Hank, confirmed the news on Chamberlain — who allowed just one earned run during 24 innings in the regular season as a setup man for Mariano Rivera. This decision is independent of Rivera's status as a potential free agent.

That's always good to hear. · (15) ·
After reading the comments on the fork in the road post, I thought I'd follow up a bit. I enjoyed the discussion, and thought some good ideas came out of it. I really believe that the more we talk about these issues, the more we'll all learn. Remember, I'm no expert. I'm some dude who thinks about baseball a lot and posts his thoughts for public viewing. You guys are the crux of it all. You call me out when I say something stupid, and you lend different ideas to the ones I present. That's why this site works so well.
Honestly, my biggest problem with what I wrote is how I presented it. It was written over the course of a couple of days, and as I progressed the ideas kind of shifted. In essence, the beginning didn't mesh with the end, and the middle didn't do a good job of transitioning. What follows is what I think I should have written — only better, because it takes the discussion we had into consideration. And I'm sorry, but it's going to be another long one. I'll leave out the pictures this time.
As I mentioned in my disclaimer, the Yankees would never take the more radical path. They have the resources to stay in contention, so they're going to continue along that path…if they can. This is where I'll defend the "gut the team" notion. The essence is simple: The Yanks might not have much of a choice in the matter.
By

Long opposed to instant replay, Commissioner Bud Selig said today that he is open to the idea of fielding a recommendation from the General Managers on whether or not to implement the technology in the sport. I've been on the record in favor of instant replay in certain situations. Like many issues, people on both sides of the coin here feel very strongly about it, and it'll be interesting to see if this goes anywhere. · (4) ·
HWB Honolulu (10-4 win over Waikiki)
Ajax: 2 for 4, 1 R, 1 3B, 1 RBI, 1 K – 10 hits & 6 RBI in his last 6 games
Bradley Suttle: 1 for 4, 1 R, 1 2B, 1 K – sighs of relief all around…he's now 1 for 25 in Hawaii
George Kontos: 5 IP, 4 H, 1 R, 1 ER, 1 BB, 5 K, 3-6 GB/FB – knocks that ERA down to 4.50
JP's AzFL update is here.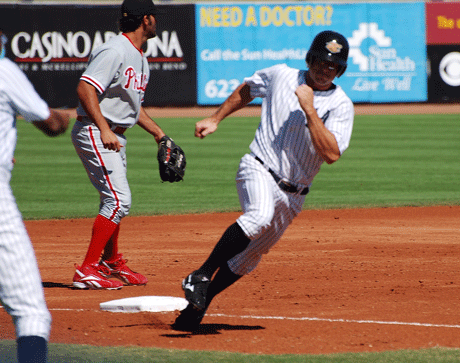 The Javelinas beat the Saguaros 8-3
Brett Gardner: 1-3, 1 Triple, 2 BB, 1 K, 1 R
Reegie Corona: 1-3, 1 Double, 1 BB, 1 K, 1 R
The Javelinas are now 3-1 on the season after another convincing victory. They're batting .328 as a team and are led by the top two hitters in the league, coming into today's game. After today's results, Gardner is hitting a cool .500 through the first four games of the season.