AFL Javelinas (7-6 loss to the Scottsdale Scorpions in 10 innings)
Brett Gardner: 1-5, 1 R, 3 K's. Beat the pitcher to 1B for an infield single
Juan Miranda: 1-3, 1 2B, 1 RBI, 2 BB, 1 K. Picked off second base.
Steven Jackson: 1 IP, 2 H, 2 ER, 1 BB, 2 K's. His grandfather, Scott Jackson, was a three-year letter winner at Clemson in the 1950′s
Ross Ohlendorf: 1 IP, zeros. 3-0 GB/FB ratio. Say goodbye to the taxi squad.
Remember when I said that outfielders don't get errors if the sun was in their eye. Well that goes for the moon as well. Miranda's double was a sinking line drive but the left fielder got a terrible jump and the ball skipped under his glove when he tried to make a diving catch. It was originally ruled an error but later changed to a hit. Read More→
Keven Whelan is the only Yankee that made the cut this year. The game will be played on Friday, 10/26. The Rising Starts Showcase is really more of a who's-who among prospects and it's not necessarily based on performance. This year Brett Gardner was overlooked in favor of Javelinas teammates Justin Maxwell and Dexter Fowler who are batting .190 and .211 respectively. Our boy was robbed…. and I bet they didn't even wear a mask.
Remember those Octobers back in 1996, 1998, 1999, and 200, when Rudy Giuliani, then mayor of New York, could be found at every Yankees World Series game? Despite presiding over a city that houses two baseball teams, Rudy wore his colors proudly. Now, though, he's committed what amounts to treason. Yes, Rudy Giuliani is rooting for the Red Sox in the World Series.
So why would Rudy break allegiances like this?
"I'm an American League fan, and I go with the American League team, maybe with the exception of the Mets," he said. "Maybe that would be the one time I wouldn't because I'm loyal to New York."
That's a piss-poor excuse to root for the hated Red Sox. Is there any team in baseball that would make you root for the Sawks? Not me. Not any Yankees fans I know. I'd even root for the Mets if the Series came down to those two teams.
In the grand scheme of things, it means nothing. Who is Giuliani, anyway? My answer: a braying ass, just like the rest of his political brethren. I don't care necessarily that he's rooting for the Sawks. He's clearly not the type of person I'd ever willingly associate with, so he can root for whoever he wants for all I care.
My concern is for how he's presented himself as this loyal Yankees fan, and then goes and does what no self-respecting Yankees fan would ever do.
So next season, when Rudy's countenance appears on the scoreboard and he proclaims, "Here's what I got to say. Let's go Yankees!" give him the middle finger. He clearly doesn't mean it.
This stretch in between the end of the ALCS and the end of the World Series is pretty slow for teams not from Denver or Boston. The Commissioner's Office tries to keep attention focused on the Series and asks teams not to make many grand announcements before the championship trophy is doled out next week.
But the Yankees are the Yankees, and they do what they please. While Joe Girardi may now be the presumptive front-runner for the Yankees' vacant managerial job, today's news comes to us courtesy of Tyler Kepner. Writing a piece that's a mix between news reporting and news analysis, Kepner delves into the chess game that is the A-Rod/Yankees negotiations. Kepner writes:
The Yankees will soon confront Alex Rodriguez's agent, Scott Boras, and the overriding issue is which side will back down first.

Neither side accepts the other's premise. Boras does not seem to believe that the Yankees will remove themselves from negotiations if Rodriguez opts out of his contract and becomes a free agent. The Yankees are highly dubious that Boras can find a more lucrative contract than the one they plan to offer.
The Kepner piece basically puts into print what we've all believed this summer: The Yankees and Boras have been conducting quasi-negotiations through the press for the past few months, and right now, it's a dance.
We know that A-Rod claims to like being in New York. On more than one occasion this season, he expressed his love for this town and its fans despite a tumultuous 2006 relationship. When the Yankees clinched the Wild Card, it sounded like A-Rod wanted to stay in New York. He's even planning on buying a multi-million-dollar East Side townhouse.
At the same time, the Yankees sure could use A-Rod. He seems to put a lot of fans in the seats, and his offensive production would be impossible to replace. Now, while the Yankees seem firm on the opt-out deal, it's hard to imagine this team simply walking away from its marquee player. Like it or not, Alex Rodriguez is the current face of the Yankees, and everyone involved knows that.
From a the Boras perspective – that is, from the money side of the equation – Alex Rodriguez is due for a raise. Fault Tom hicks for this one. He outbid himself by nearly $20 million for A-Rod and then felt the need to acquiesce to Boras' demands of an opt-out clause following each season for the last three years of the deal. After turning in a 54-home run, 156-RBI season, Alex will earn more money amazingly enough.
And that's where the Yankees come in. A few other teams could theoretically afford to pay A-Rod more than $25 million a year. Maybe the Red Sox could (but Theo is smarter than that); maybe the Angels or Dodgers could; if an ownership group were in place, maybe the Cubs could. But in reality, these teams are unwilling to handicap themselves with this big of a contract.
The Yankees, on the other hand, due in large part to their youth movement, can afford to do so. With Clemens gone and Moose and Giambi nearly off the books entirely, the Yankees will soon have a lot of extra cash lying about. Their stars of tomorrow – Joba, Phil, IPK, Cano, etc. – aren't making that much money right now. The new stadium promises to be a cash cow, and the YES Network has seen its value increase by leaps and bounds over the last few seasons.
With the money coming to them from the Rangers over the next few seasons and already deep pockets, the Yankees can definitely afford to keep A-Rod. So in the end, it's simply a matter of bending to Boras' demands. Scott Boras knows that if he loses the Yankees, he loses his leverage in negotiations, and it behooves both parties to get this deal done.
Even if Boras and the Yankees aren't ready to take money, as they define the parameters of the negotiations, my money's still on A-Rod anchoring third base next year and for many more to come.
Ross Ohlendorf was assigned to the taxi squad, which means he's only eligible to play on Wednesdays and Saturdays. He probably wasn't going to pitch more than two days a week, so the taxi squad is really a non issue. What it does mean is that Eric Wordekemper will most likely stay with the AFL team rather than giving his roster spot back to Ohlendorf. The taxi squad is used when a team assigns more than 7 players to the AFL.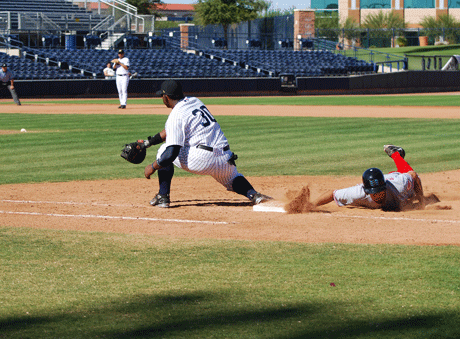 AFL Javelinas (2-0 loss to Surprise Rafters)
Brett Gardner: 0-4, 2 K's – In true Johnny Damon fashion, Gardner was the DH and hit lead off. It was his first game without a hit.
Juan Miranda: 0-4, 1 K – Has batted Cleanup in every game he's played.
Reegie Corona: 1-3, 1 2B, 1 K – Still looking for his first hit from the right side.
It's amazing what a little wind can do in a hitters league like the AFL. There was a 25mph wind blowing in from RF and the Javelinas were held to just two hits and no runs. One of the hits came from Corona and it was a ball that a cheap pair of sunglasses should have caught without a problem. They have a strange rule in the AFL – if the fielder looses the ball in the sun and he doesn't touch it – it's ruled a hit (or a double in the case of Corona). For what it's worth, Gardner hit the deepest fly out of the day. He hit the ball straight into the wind and the right fielder caught it on the edge of the warning track. The game photo's are on the other side. Read More→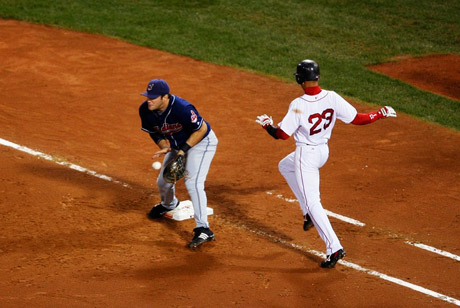 Go nuts on this one, kids. Don't be too mean.
Photo courtesy of Getty Images.
Bradley Suttle | 3B
Background
Born in San Antonio, TX, Suttle's family resides 30 miles northwest in the small surburban town of Boerne, TX, best known for the landmark Supreme Court case The City of Boerne vs. Flores. Suttle, who prefers to go by Bradley, had a dynamic high school career as a two-way player at Boerne High, helping the Greyhounds go a combined 100-30 during his 4 year career, which included reaching the 4A State Championship Title in 2004 (his junior year). At the plate, Suttle scored over 115 runs, and racked up over 60 extra base hits & 120 RBI in his career, while striking out 411 batters in 256 innings on the mound.