Remember when we all laughed at the Mets for blowing a seven-game lead in 18 days at the end of the 2007 season? Well the Yankees just blew a seven-game lead in 15 days. At least they still have another 50 games to play. Wednesday night's 2-1 loss to the Indians was New York's fifth straight loss and ninth in their last 13 games. The Blue Jays won yet again, so Toronto now leads the AL East by a half-game. The Yankees do have a one-game lead in the loss column, but that doesn't make me feel any better.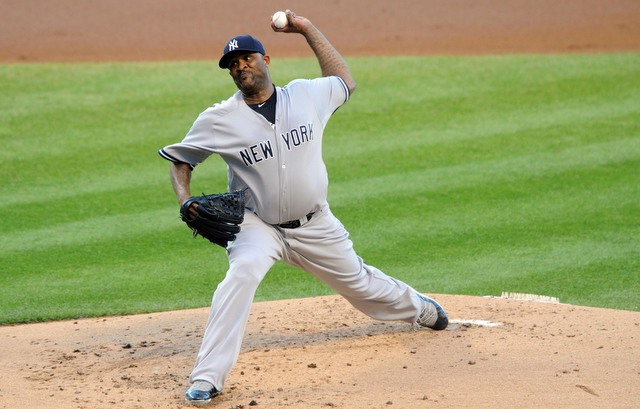 Bend, Sorta Break
Looking at the box score, this seems like a perfectly acceptable start for CC Sabathia. Two runs on nine hits and two walks in six innings? Not great but that works. Sabathia has not been good this year and that's a winnable start. Of course, if you watched the game, you know it was maybe the ugliest six innings of two-run ball you will ever see. Sabathia was in bend but don't mode all night. Basically from the very first batter he faced.
Sabathia put the leadoff man on base is five of six innings including the first, when Jose Ramirez sliced a 2-2 single to left field. CC was able to strand that runner, as well as the leadoff base-runners he allowed in the third and fourth innings, but Sabathia wasn't as lucky after that. Three singles and a bunt tied the game 1-1 in the fifth and then the Indians took a 2-1 lead on three singles and a ground out in the sixth. At one point six of nine Indians had hits against Sabathia and one of the three who didn't laid down a sac bunt.
The defense gave Sabathia a big lift and helped him navigate those six innings with only two runs allowed. They turned two double plays behind him and Didi Gregorius turned in a pair of gems, one in the second and one with runners at first and second to end the sixth. Gold star kinda plays. Two runs in six innings from Sabathia is fine, you'll take that result every time at this point of his career, but it was not pretty. He's lucky the damage wasn't worse.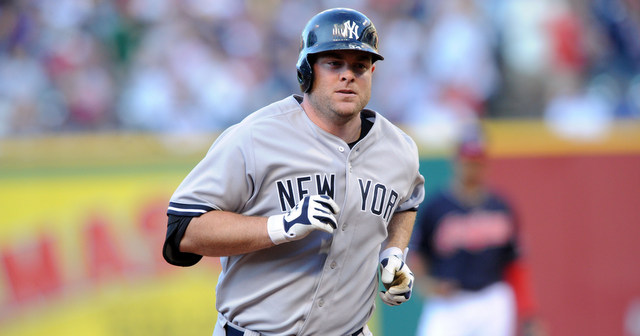 Missed Opportunities
Early on, it looked like the offense was on the verge of breaking out. Chase Headley drew a one-out walk in the first and the Indians turned a gorgeous double play on Alex Rodriguez to bail out Danny Salazar. Brian McCann smashed a long solo home run in the second, it was a no-doubter off the bat, and two batters later Gregorius crushed a ball to the warning track that looked long gone. The acoustics at Progressive Field are deceiving. It sounded like Didi really laid into that one.
The Yankees had just the one run but there were some encouraging signs in the early innings. Salazar needed the great double play in the first and Gregorius nearly hit a ball out in the second. Offense was coming … then it didn't. Salazar settled in, retired 13 of the next 15 batters faced — one of the base-runners was erased on a botched hit and run! — and pitched into the eighth inning. More of the same. Lots of weak contact and easy outs. Nothing we haven't seen the last week or so.
Salazar did give the Yankees some hope in both the seventh and eighth innings but of course they didn't capitalize. A Mark Teixeira single and a Carlos Beltran double put runners at second and third with one out in the seventh, then Gregorius popped up on the infield and Chris Young struck out. Inning over. In the eighth, Brett Gardner and Headley drew back-to-back walks with one out, then Indians closer Cody Allen got A-Rod to bang in a 6-4-3 double play. He couldn't have rolled it any better. Tailor made.
Earlier this year, a one or two run deficit felt like nothing because the Yankees were consistently putting together rallies. Now I'm at the point where I'm wondering how they'll blow whatever opportunities they do get, which feels a little too much like the 2013-14 seasons to me. It hits a little too close to home, ya know? The offense has rendered me speechless. I am without speech. Aarglebargle.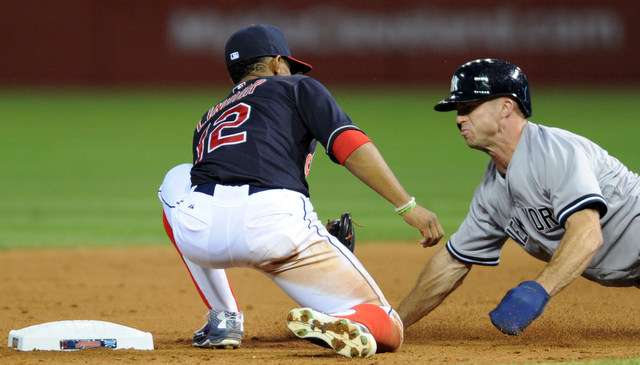 Leftovers
Chasen Shreve and the just called up Nick Goody tossed scoreless seventh and eighth innings, respectively, to spare the rest of the overworked bullpen. Shreve took a line drive to the pitching shoulder and the trainer didn't even come out to check on him. Yes, Shreve waved them off, but still. Right in the shoulder! Gotta get out there and check on him. Geez.
Four hits: McCann's homer, Beltran's double, and singles by Gardner and Teixeira. Gardner, Beltran, Young, and Headley (two) drew the five walks. Gardner was thrown out trying to steal in the sixth inning but it wasn't really a steal attempt. It was a hit and run, Headley swung through the pitch, and Gardner was out by a mile. Brett has one attempted one real steal in almost two months.
Gregorius made a spectacular diving stop to rob Giovanny Urshela of a hit in the second inning (video). Urshela was originally called safe but it was overturned on replay. The Yankees are 15-for-21 (!) on replays this year. That 71% success rate is the best in baseball. (The Mariners and Diamondbacks are the only other teams over 66%.) Bret Weber, whose official title is Baseball Operations Assistant, is the club's behind the scenes video replay guy. He deserves a full World Series share after the season.
And finally, we reached peak crazy in the ninth inning, when John Ryan Murphy pinch-ran for McCann with one out, not Jacoby Ellsbury. (McCann reached on a wild pitch after striking out.) Ellsbury instead stood on deck when Gregorius struck out out to end the game, waiting to pinch-hit for Young. Amazing.
Box Score, WPA Graph & Standings
Here are the box score and video highlights, and here are the updated standings and postseason odds. Also check out our Bullpen Workload and Announcer Standings pages. Now here's the LPA graph:

Source: FanGraphs
Up Next
The Yankees will look to avoid their sixth straight loss Thursday night when they wrap up this three-game series against the Indians. The pitching matchup will be Nathan Eovaldi and Trevor Bauer.