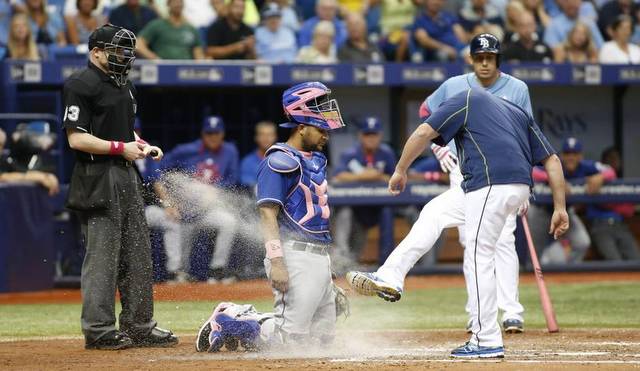 Again with the Rays. Again. The Yankees and Rays have already played two series on the young season, with New York winning both of them. They swept three games at Tropicana Field in the middle of April and then won two of three in the Bronx at the end of April. These two clubs will play another four games in the Trop this week.
What Have The Rays Done Lately?
The Rays split four games with the lowly Rangers at home this weekend. They won two of three at Fenway Park before that and lost two of three at Camden Yards before that. Tampa Bay is 17-15 with a +10 run differential this year. They're in second place in the AL East and three games back of the Yankees, so I guess first place is on the line.
Offense & Defense
In the first year post-Joe Maddon, the Rays are averaging just 3.78 runs per game with a team 100 wRC+, so while they've been league average on a rate basis, their run output is below the 4.24 runs per game league average. Timing is important! New skipper Kevin Cash is without 2B Ryan Brett (shoulder), OF Desmond Jennings (knee), DH John Jaso (wrist), and IF Nick Franklin (oblique), all of whom are on the DL and won't return this series.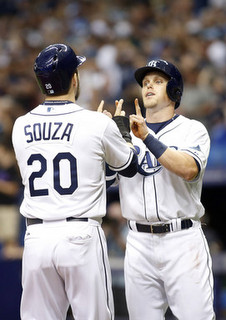 As usual, the Rays are led offensively by 3B Evan Longoria (155 wRC+), who is drawing more walks than ever (15.0%) because teams are pitching around him. Just 46.6% of the pitches thrown to him this season have been in the zone, the lowest rate of his career and below the 48.2% league average. UTIL Logan Forsythe (131 wRC+) and OF Kevin Kiermaier (117 wRC+) are off to nice starts and OF Steven Souza Jr. (114 wRC+) is a three true outcomes machine — 54.8% of his plate appearances have ended with a walk, a strikeout, or a homer.
1B James Loney (90 wRC+), a certified Yankee killer, is off to a slow start after missing time with an oblique problem, and SS Asdrubal Cabrera (62 wRC+) has been awful all year. OF Brandon Guyer (149 wRC+) and OF David DeJesus (128 wRC+) are doing fine work in platoon roles while IF Tim Beckham (80 wRC+) isn't. OF Joey Butler (86 wRC+ in very limited time) was just called up to replace Jennings and the catching tandem of C Rene Rivera (17 wRC+) and C Bobby Wilson (25 wRC+) has been dreadful.
Defensively, the Rays are strongest in the outfield thanks mostly to Kiermaier. Souza is a quality defender as well and the Guyer/DeJesus/Butler trio is alright overall. Longoria and Loney are excellent on the infield corners but Asdrubal and the Forsythe/Beckham tandem on the middle infield is really shaky. Rivera is a top of the line pitch-framer and about average at everything else behind the dish. Tampa's defense took a hit with Jennings' injury but it's still solid everywhere aside from the middle infield.
Pitching Matchups
Monday: LHP CC Sabathia (Career vs. TB) vs. RHP Alex Colome (Career vs. NYY)
Colome, 26, was supposed to be part of the fifth starter's competition in camp, but his arrival was delayed by visa issues, then he came down with pneumonia once he got to Florida. He opened the season on the DL and has made two starts since being activated, allowing two runs in ten innings. Colome has struck out ten and walked zero so far. The rookie righty has thrown 49.2 career innings in MLB and doesn't have a significant platoon split (.277 vs .269 wOBA in favor of righties). Colome is a mid-90s four-seam fastball guy with a mid-80s cutter/slider thing — he can vary the break on it, so it can be short like a cutter or sweepy like a slider — and a low-80s changeup. He'll also flip a few upper-70s curveballs per start as well.
Tuesday: RHP Nathan Eovaldi (Career vs. TB) vs. RHP Chris Archer (Career vs. NYY)
The Yankees lucked out and did not face the 26-year-old Archer in their first two series with the Rays this year. Archer's been outstanding, with a 2.59 ERA (2.84 FIP) and excellent peripherals (29.9 K%, 8.4 BB%, 54.5 GB%, 0.65 HR/9) in seven starts and 41.2 innings. His last two starts have been his worst of the season though — nine of the 14 runs he's allowed in 2015 have come in those two outings. Archer has been better against lefties (.227 wOBA) than righties (.265 wOBA) this season, which is out of line with the rest of his career. He's basically a two-pitch pitcher, using mid-90s fastballs and upper-80s sliders to dominate. Archer rarely throws a changeup and his fastball/slider combo is so good he really doesn't need it. He's easily the best non-Michael Pineda starter in the AL East at this very moment.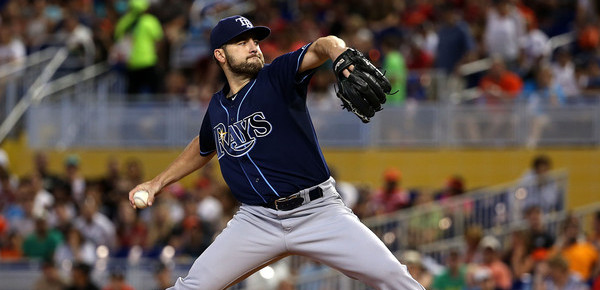 Wednesday: RHP Adam Warren (Career vs. TB) vs. RHP Nathan Karns (Career vs. NYY)
Karns, 27, will be the first pitcher the Yankees face for a third time this year. The Yankees scored two runs in five innings against him in the middle of April, then one run in 4.1 innings in late-April, running up his pitch count both times. Karns has a 3.79 ERA (4.77 FIP) in seven starts in 40.1 innings this season, with good strikeout (23.0%) and ground ball (49.5%) rates but not so good walk (11.5%) and homer (1.34 HR/9) numbers. Righties (.295 wOBA) have had more success against him than lefties (.265 wOBA) this year in his limited sample of work. Karns uses low-to-mid-90s four-seamers to set up his big breaking low-80s curveball, the pitch that is the reason he is in the big leagues. He also throws a mid-80s changeup.
Thursday: RHP Chase Whitley (Career vs. TB) vs. TBA
Two weeks ago southpaw Drew Smyly dominated the Yankees, striking out ten in six innings. He made one more start after that, then landed on the DL with a tear in his labrum that will likely require season-ending surgery. Rough. It's unclear who will take his spot in the rotation. The two main candidates are righties Matt Andriese (5.40 ERA and 4.72 FIP) and Erasmo Ramirez (8.31 ERA and 3.67 FIP), though I suppose a call-up is always possible too. Ramirez has more experience as a big league starter but Andriese has made more starts this season (three to two), including one this past weekend. I guess Thursday's starter will depend on whether either of these guys is needed in long relief this week. We'll find out soon enough.
Bullpen Status
The Rays currently have an eight-man bullpen and they really need it. Their rotation is really shaky aside from Archer and RHP Jake Odorizzi at the moment. Andriese and Erasmo are candidates to start Thursday, and whoever doesn't start will serve as a long man with RHP Andrew Bellatti (3.76 FIP), who was just called up to make his MLB debut over the weekend.
Cash's late-inning duo is RHP Brad Boxberger (1.66 FIP) and RHP Kevin Jepsen (4.26 FIP), though RHP Steve Geltz (2.86 FIP) will also see some high-leverage work from time to time. LHP Xavier Cedeno (4.87 FIP) is Tampa's only lefty reliever. RHP Ernesto Frieri (6.69 FIP) and RHP Brandon Gomes (3.57 FIP) are the other two relievers. Cedeno, Frieri, and Jepsen all pitched yesterday. Check out the status of the Yankees' bullpen without Bullpen Workload page. Then check out DRays Bay and The Process Report for the latest on the Rays.