I've only got nine questions in the mailbag this week, mostly because I didn't have time to answer any others. As always, RABmailbag (at) gmail (dot) com is the place to send us questions.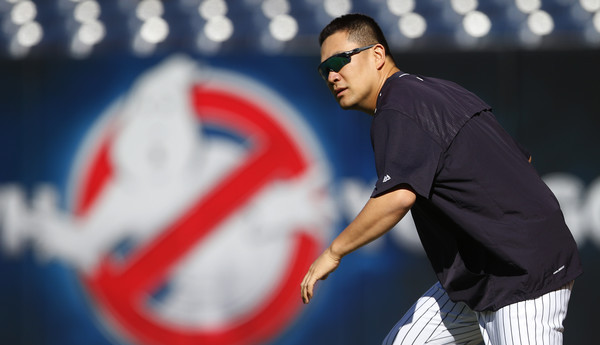 Many asked: If the Yankees can't extend Masahiro Tanaka, why not trade him instead?
It seems my Tanaka extension post had a lot of folks thinking the same thing. I'm going to start with this: I think the chances of the Yankees actually trading Tanaka this offseason are zero. They're not going to commit $86M to a closer only to turn around and trade their ace a few weeks later, even if it would be the smart thing to do long-term. Not happening.
Trading Tanaka at the 2017 trade deadline is a different story. For that to happen, two conditions must be met:
The Yankees are out of the race and willing to sell again.
The Yankees are convinced Tanaka will use his opt-out clause.
If that happens, then yes, the Yankees should absolutely trade him at the deadline. Perhaps they could swing a trade/re-sign a la Aroldis Chapman. Trade Tanaka for prospects at the deadline, then re-sign him a free agent. Boom! It does take two to tango, of course. Maybe it would work. Who knows?
Anyway, keep in mind the free agent compensation rules have changed. Since the Yankees are going to pay luxury tax in 2017, they'd get a compensation draft pick after the fourth round for Tanaka should he reject the qualifying offer and leave as a free agent. You can't let this guy walk for a pick that late, especially if you're out of the race at midseason. It would be negligent.
Should the Yankees trade Tanaka this offseason? Yeah, I think you could argue they should. The opt-out is looming and his value might never be higher than it is right now. Also, the free agent class stinks. Tanaka and Jose Quintana would be by far the available pitchers on the trade market, and there are no shortage of teams that need aces, so the Yankees should be able to get a nice haul even with the opt-out.
My guess is the Yankees start the 2017 season with Tanaka, see where they sit come July, then make a decision about his future. My preference would be an extension along the lines of the one I laid out earlier this week, but if the Yankees are only fringe contenders and they receive indications a contract that size isn't doable, a trade is pretty much the only alternative.
Keith asks: Do you think keeping Tanaka on the team increases the Yankees' chances of landing Otani? Is this potentially a reason not to trade Tanaka given that the Yankees won't have a financial advantage over many teams in the league as they usually would?
It's possible, sure. Thing is, we have no idea what kind of relationship Tanaka and Shohei Otani have. Yeah, they've played catch this offseason, but they might only be workout buddies. Based on everything we heard in 2014, Tanaka and Hiroki Kuroda weren't all that close. Just because two guys come from Japan doesn't mean they're guaranteed to be best buds, you know?
I doubt having Tanaka on the roster would hurt the Yankees' chances of signing Otani. The Yankees have to proceed with these two guys independent of each other though. The potential to woo Otani can't be a factor in the decision to re-sign Tanaka next offseason, should he opt out. There are too many other more important factors in play. Ultimately, Otani is going to make the best decision for him and his family, and maybe that leads him to the Yankees.
Fernando asks: Rule 5 eligibility rules are confusing. Why is a guy like Ty Hensley taken in the Triple A Phase when a younger player like Luis Torrens is available in the Major League Phase?
The Rule 5 Draft is confusing. The most straightforward part is the eligibility rules. Players who signed their first pro contract at 18 or younger at least five years ago, and players who signed their first pro contract at 19 or older at least four years ago are Rule 5 Draft eligible each year. It's possible to be eligible for the MLB phase of the Rule 5 Draft and not the Triple-A phase, but not vice versa.
There are multiple rosters in the offseason. In addition to the 40-man roster, there's also the Triple-A reserve roster, which is 38 players deep. Players on the 40-man roster are protected from the Rule 5 Draft, period. Players on the Triple-A reserve roster are eligible for the Major League phase of Rule 5 Draft but not the Triple-A phase. There used to be a Double-A phase as well, but MLB got rid of that this year. Players on the 37-man Double-A reserve roster were eligible for the MLB and Triple-A phases of the Rule 5 Draft, but not the Double-A phase. Got that?
So, in the nutshell, the best players are on the 40-man roster and protected from the Rule 5 Draft. The next tier of players are then put on the Triple-A reserve roster to be protected from the Triple-A phase. Hensley was eligible for the MLB phase of the Rule 5 Draft this year, but wasn't selected. He was also left off the Triple-A reserve roster in favor of healthy players, and that's when the Rays grabbed him. There are no roster rules to satisfy with the Triple-A phase. Hensley is Tampa's to keep now.
The Yankees have a very deep farm system, so when time came to put together their 38-player Triple-A reserve roster, Hensley was left out. It was a no-brainer. I'm not sure he would have made the Double-A reserve roster either. The kid has thrown a little more than 40 innings in five years and is currently rehabbing from his second Tommy John surgery. His status as a former first rounder is moot at this point. The Yankees had better and healthier players to protect, so Hensley was left exposed.
Peter asks: Thinking about Yankees' take from the Chapman and Miller trades, how have the A's pieces from the Donaldson trade worked out?  Are there any legit parallels to draw regarding the assumption of the trade pieces both teams got in return for the star players?
These trades aren't comparable at all. The only similarity is that each one involved a star being traded for four players. The Yankees were universally praised for their trades, in which they gave up a half-year of a great reliever (Chapman) and two and a half years of a great reliever (Andrew Miller). The Athletics were widely panned at the time of the Josh Donaldson trade. They traded four years of him for this:
Three years of Brett Lawrie: Hit .260/.299/.407 (97 wRC+) with +0.7 fWAR and +1.9 bWAR in his lone season with the A's before being traded to the White Sox for two mid-range prospects.
Six years of Kendall Graveman: Has a 4.08 ERA (4.43 FIP) with +2.0 fWAR and +4.6 bWAR in two seasons with the Athletics.
Six years of Sean Nolin: Had a 5.28 ERA (5.13 FIP) in six starts and 29 innings with the A's in 2015. Got hurt and hasn't pitched since. The Brewers claimed him off waivers earlier this year.
Six years of Franklin Barreto: Oakland's top prospect and currently the 43rd best prospect in baseball, per MLB.com.
The A's need Barreto to work out for this trade to have a chance to be something less than a total disaster. Graveman is serviceable, and that's about it. Until Barreto arrives, Graveman is all Oakland has to show for the Donaldson trade. And again, he was star with four years of control remaining. Four!
The Yankees might get absolutely nothing for Chapman and Miller. All the prospects could flame out. It's entirely possible, in which case the franchise would be set back years. But at least the Yankees went for the best talent available. Had the A's opened the bidding for Donaldson to all teams, they'd have beaten that offer. Instead, they went quantity over quality, and focused on a new third baseman and two young and cheap arms. Blah.
Joe asks: With the current market for back end bullpen arms going crazy wouldn't it make sense to trade Betances now for some very valuable rebuilding pieces? By the time the yankees are really ready to compete again Betances will be a free agent and possibly more expensive than chapman is now.
I was open to trading Dellin Betances even before the Yankees signed Chapman. The bullpen market is insane right now. Why wouldn't you make Betances available? It doesn't cost anything to listen. I think the Yankees are going to do exactly what they did last year. Go into the season with what they feel is a very strong bullpen, see what happens through the first 100 or so games, then sell if necessary. Chapman has a no-trade clause, but Betances and Tyler Clippard don't. They could be hot commodities come the deadline, especially Dellin.
Chase asks: Can you explain how arod counts towards the luxury tax, but Allen Craig from Boston does not since he was out-righted?
Craig (and Rusney Castillo, for that matter) are still in the Red Sox organization but not on the 40-man roster. They were outrighted off the 40-man at some point in the last few months. Only players on the 40-man count against the luxury tax, ditto former 40-man players who have been released from their contracts, like Alex Rodriguez.
The Yankees could have tried to outright A-Rod off the 40-man roster to rid themselves of his luxury tax hit, but there are two problems with that. One, he has enough service time to refuse the assignment (Craig and Castillo didn't) and there was no way he'd agree to spend the next year and a half in the minors. And two, had A-Rod agreed to the outright before being released, thus removing his tax hit, I'm certain MLB would have considered that luxury tax circumvention and put an end to it.
Lou asks: Is there a risk in keeping Gardner in 2018 if Judge and Frazier are full time contributors in RF and LF and Hicks is the 4th OFer. 13 million is a lot for a 5th outfielder. With the constant need to hold on to 40 man ready prospects isn't retaining Gardner closer and closer to contract expiration very risky business?
Not really. The Yankees had no problem reducing Brian McCann's and Mark Teixeira's (and Alex Rodriguez's) playing time this past season when it came time to put young guys in the lineup. I don't think they'd hesitate to do the same with Brett Gardner, regardless of his salary. Same with Chase Headley for that matter. The 2018 season is the last guaranteed year on Gardner's (and Headley's) contract, so it's not like they'd be sitting a dude signed long-term. I'd worry more about this if the Yankees didn't show a willingness to sit well-paid veterans in favor of younger players this summer.
Vincenzo asks: With the Yankees still looking for middle relief help, why didn't the Yankees target Koji Uehara? 
The Yankees did check in with Uehara earlier this offseason. Considering the guy will soon turn 42 and just signed with the defending World Series champs — and a team that looks poised to contend again in 2017 — I'm going to venture a guess that signing with a winning team was a top priority for Uehara this offseason. The Yankees are in the middle of a youth movement and even the most optimistic of folks will admit they're not no-doubt contenders right now. Uehara has had trouble staying healthy and he's become really homer prone the last few years. A one-year deal would have been more than fine, but I'm not going to lose sleep over this one.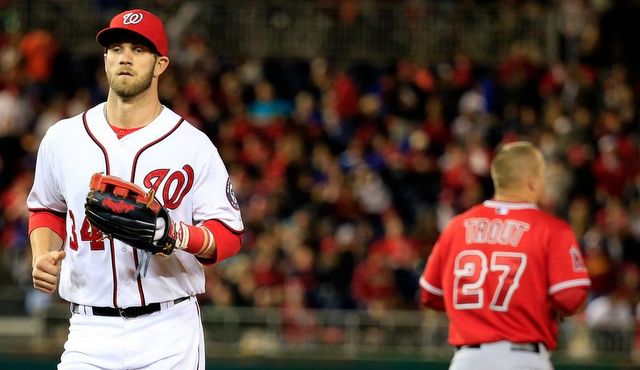 Anthony asks: Who do you think the top 10 players in the game right now? Thanks.
This is always a fun question and worth revisiting every offseason. I'm going to answer this two ways. First, here are my top ten players for the 2017 season only:
Mike Trout
Kris Bryant
Manny Machado
Nolan Arenado
Josh Donaldson
Bryce Harper
Clayton Kershaw
Francisco Lindor
Corey Seager
Jose Altuve
The next five would come from a group that includes Paul Goldschmidt, Mookie Betts, Robinson Cano, Max Scherzer, Chris Sale, Miguel Cabrera, Madison Bumgarner, and Corey Kluber.
Trout is on a level all by himself. You could stick the next six names in a hat and pick them out in any order, and it would defensible, I think. Those are my ten best players for the 2017 season. Now here are my ten best players for 2017-21. These are the ten guys I'd want for the next five years:
Mike Trout
Bryce Harper
Francisco Lindor
Kris Bryant
Nolan Arenado
Corey Seager
Manny Machado
Mookie Betts
Christian Yelich
Carlos Correa
I have a hard time putting a pitcher in my top ten for the next five years because they're so damn fragile. Kershaw and Noah Syndergaard are my top two pitchers for the next five years. Bumgarner would probably be third. I'm not betting on any of them staying healthy though.
As for the Yankees, Gary Sanchez would be my top catcher for the next five seasons, rather easily too. Buster Posey is about to turn 30, and give me Sanchez from ages 24-28 over Posey from ages 30-34. Sanchez would probably crack my top 25 players for 2017-21 list. Maybe top 20. Or am I being too much of a raging homer here?