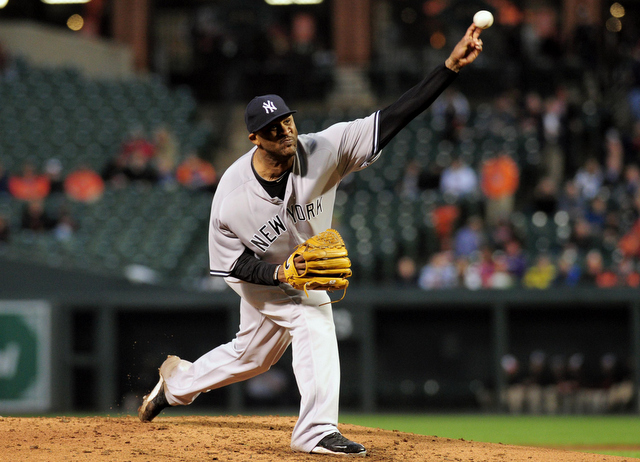 Seven months ago CC Sabathia left Camden Yards and entered an alcohol treatment center. Last night Sabathia pitched in Camden Yards for the first time since rehab and he had his best start of the season, holding the Orioles scoreless over seven innings. Sabathia has been through it all as a baseball player. I'm sure last night's game was as special as any win in his career.
"It's a big contrast from me standing in this locker room last time. To be able to go out and get us a win felt great," said Sabathia to Chad Jennings after the game. Joe Girardi added, "I'm sure it meant a lot. I kind of thought about it as we came into the ballpark and it was his day to pitch. The circumstances were a little bit different (last time). I'm sure it meant a lot. It meant a lot to this club."
Through five full rotation turns Sabathia has been New York's second best starting pitcher behind Masahiro Tanaka. Only Tanaka has a better ERA (2.87 to 3.81) and a better FIP (2.78 to 3.53) among the team's five starters. That's pretty surprising considering the Yankees made Sabathia compete for a rotation spot in Spring Training, or at least they said Sabathia had to compete for a rotation spot.
The changeup was Sabathia's best pitch last night — the O's missed eight times on 13 swings against the change — but it's another pitch that has allowed him to have this success early on: the cutter. Sabathia has been toying with a cutter on and off for years now, and for most part it was just talk. He would say he was working on it and then throw maybe one or two per start. Now he's committed to it. From Brooks Baseball: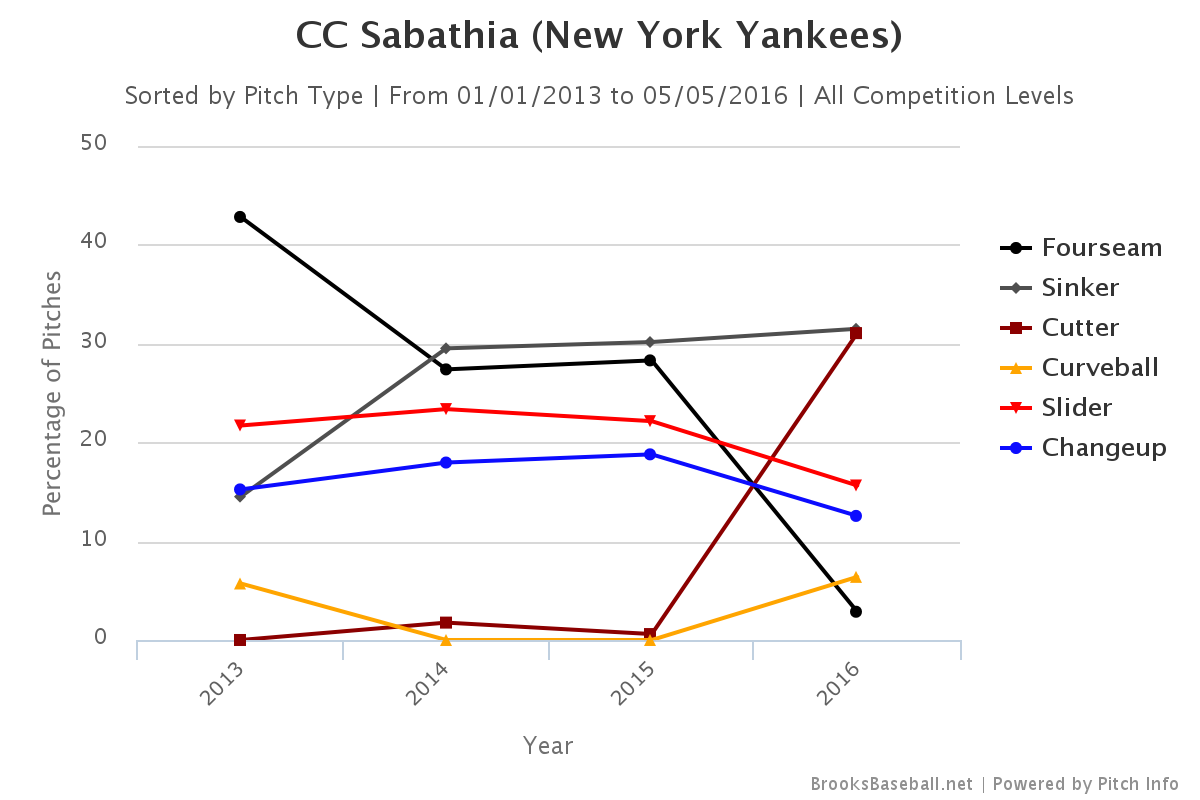 Notice the cutter has more or less replaced the four-seam fastball in Sabathia's arsenal. In fact, PitchFX says he's thrown 13 four-seam fastballs all season. He threw 27 cutters just last night. It's for the best too. Last season opponents hit .300 with a .167 ISO against Sabathia's four-seamer. The league averages were .269 and .175 last year, respectively. "Stop throwing an ineffective pitch" is a good strategy as long as you have a way to compensate.
The cutter has given Sabathia a way to compensate. He doesn't throw hard anymore — Sabathia hasn't thrown a pitch over 92.4 mph all season — so the extra movement is crucial. So is the location. More than ever before, Sabathia has to disrupt the hitter's timing and keep them guessing. "That's exactly what happened," said Girardi after last night's game. "Just kind of keep guys off balance. Try to out-think them and make some good pitches."
Once again per Brooks Baseball, here is the strike zone heat map of Sabathia's cutter location this season. This is from the catcher's point of view and, in a nutshell, the brighter the red, the more cutters in that location. The brighter the blue, the fewer cutters in that spot.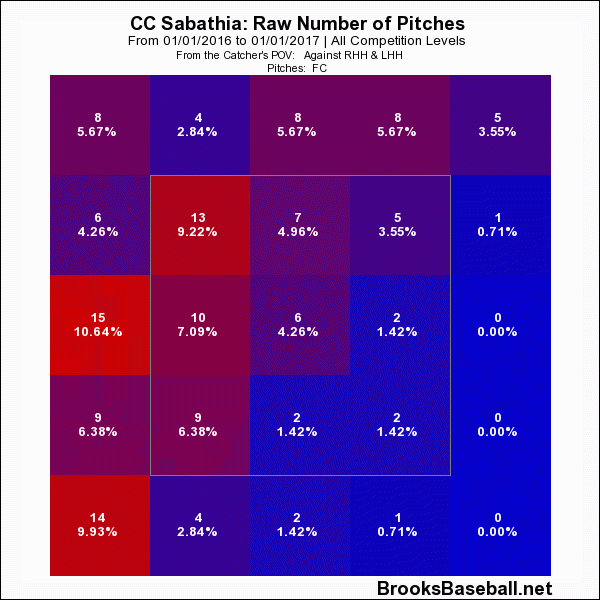 Sabathia is getting the cutter right in on the hands of right-handed batters to jam them and even back them off the plate. He did that last night and it set up all those swings and misses on changeups away. The O's had seven right-handed hitters in their starting lineup and it played right into Sabathia's cutter/changeup plan. It's might not be a coincidence that in the other two starts in which he completed six innings, the Tigers and Rangers had eight and seven righties in the lineup, respectively.
Last year right-handed hitters meant bad news for Sabathia. They hit .304/.363/.502 (.370 wOBA) against him in 2015, so Sabathia essentially turned every righty hitter he faced into Manny Machado (.286/.359/.502/.370). That's bad. So far this season CC has not been great against righties, but he has been a bit better.
| | AVG/OBP/SLG | wOBA | K% | BB% | GB% | Hard% | Soft% |
| --- | --- | --- | --- | --- | --- | --- | --- |
| 2015 vs. RHB | .304/.363/.502 | .370 | 16.2% | 7.5% | 47.0% | 30.9% | 15.3% |
| 2016 vs. RHB | .290/.350/.391 | .328 | 16.8% | 6.9% | 47.3% | 26.3% | 26.3% |
A .290 average and a .350 OBP still isn't good, obviously, but righties haven't hit for the same extra base power. The big increase in soft contact rate is most encouraging. Righties haven't been squaring up as many pitches against Sabathia so far this season and that's because he is now pounding them inside with cutters. He's jamming them and missing the sweet spot. That wasn't happening with the four-seamer.
Coming into this season Sabathia was viewed as the fifth starter and for good reason. He simply hasn't been all that good in recent years. Tanaka has been the unquestioned staff ace, but Michael Pineda and Nathan Eovaldi continue to be consistently inconsistent, and Luis Severino has been shockingly bad early on. Through five starts Sabathia has stepped up and been rock solid for the Yankees, thanks partly to his new knee brace and also to a new cutter, one he actually throws.