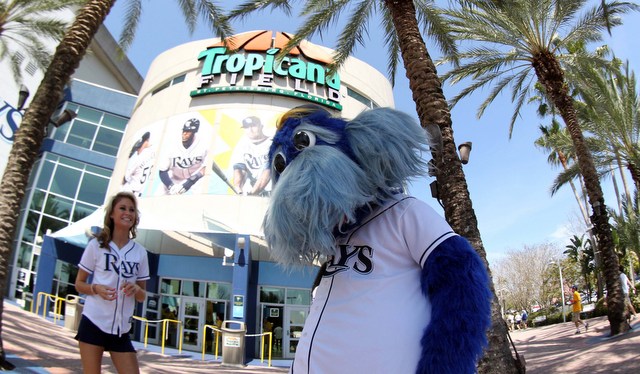 The Yankees spent yesterday's off-day at their second home in Tampa, and tonight they'll open a three-game series with the Rays at Tropicana Field. The Trop used to be a house of horrors for New York — back in the day everything that could go wrong did go wrong there, it seemed — but the Yankees won five of ten games there last season. That's … decent.
What Have The Rays Done Lately?
While the Yankees were in Tampa resting yesterday, the Rays were up in Toronto wrapping up a series with the Blue Jays with a 4-2 win. They took three of four in the series and probably didn't get in until 3am or so this morning. Tampa and is 6-4 overall with a zero run differential. Exactly as many runs scored as allowed.
Offense & Defense
Believe it or not, the Rays are one of the better scoring teams in baseball so far this season, averaging 4.40 runs per game. (MLB average is 4.13 right now.) They are currently without 1B James Loney (oblique), DH John Jaso (wrist), and 2B Nick Franklin (oblique) though. Loney straight up destroys the Yankees. They're catching a break that he's out this series. Also, 3B Evan Longoria took a pitch to the hip last night and left the game. Not sure what his status is for tonight's opener or the series in general.
Here is Tampa Bay's regular lineup at the moment, their 2015 performance to date, and their 2015 ZiPS projections:
| | 2015 Performance | 2015 ZiPS Projection |
| --- | --- | --- |
| DH David DeJesus | 7-for-18 (.389), 1 HR | .235/.321/.366 (95 OPS+) |
| RF Steven Souza | 8-for-32 (.250), 2 HR | .231/.309/.403 (107 OPS+) |
| SS Asdrubal Cabrera | 8-for-42 (.190), 1 2B, 1 3B | .260/.325/.411 (101 OPS+) |
| 3B Evan Longoria | 7-for-31 (.226), 1 HR | .255/.330/.441 (117 OPS+) |
| LF Desmond Jennings | 8-for-34 (.235), 4 SB | .243/.320/.385 (100 OPS+) |
| 1B Allan Dykstra | 1-for-14 (.071) | .193/.312/.398 (82 OPS9) |
| 2B Logan Forsythe | 2-for-33 (.242), 1 HR | .224/.301/.341 (82 OPS+) |
| CF Kevin Kiermaier | 11-for-32 (.344), 2 HR | .253/.305/.392 (97 OPS+) |
| C Rene Rivera | 4-for-34 (.118) | .215/.269/.333 (73 OPS+) |
New manager Kevin Cash is not quite as platoon happy as Joe Maddon but he does use UTIL Tim Beckham and OF Brandon Guyer against lefties, usually in favor of Forsythe and DeJesus, respectively. (Cash is also quite fond of the double steal, I've heard.) C Bobby Wilson and OF Mikie Mahtook are the other bench players. Fun fact: The Rays selected Mahtook with the Yankees' first round pick in 2011, which they received as compensation for Rafael Soriano.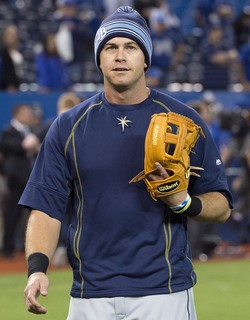 With Loney hurt, Longoria is the Rays' only above-average defensive infielder. Cabrera has a knack for highlight reel plays but he's a weak spot overall. His defense has really fallen off the last three or four years. Forsythe is just adequate at second and is better suited for third, really. Rivera is a stud behind the plate though. I guess he counts as an infielder.
The outfield is a much different story. Kiermaier is one of the best defensive outfielders in all of baseball — that's why they moved Jennings to left — and the two guys flanking him are very good as well. Cash has used Kiermaier in right to shut down the running game on occasion because he has a very strong arm. If the Yankees hit the ball in the air, it'll probably be caught. If they hit the ball on the ground … who knows.
Pitching Matchups
Friday: RHP Adam Warren (Career vs. TB) vs. RHP Nate Karns (Career vs. NYY)
Karns, 27, came to Spring Training as a fifth starter candidate, and he wound up starting the second game of the season because Alex Cobb, Alex Colome, and Drew Smyly all got injured. Karns spent just about all of last season in Triple-A, where he had a 5.08 ERA (4.03 FIP) with a 24.5 K% and a 9.9 BB% in 145.1 innings. He owns a 5.65 ERA (6.02 FIP) in 36.2 career big league innings scattered across the last three years. Karns' go-to pitch is a big breaking low-80s curveball, which he sets up with a straight low-to-mid-90s four-seamer. He also throws a mid-80s changeup, but that curve is his moneymaker. Karns has made two starts this season — one good (two runs in seven innings) and one not so good (six runs in 5.2 innings.)
Saturday: RHP Masahiro Tanaka (Career vs. TB) vs. RHP Jake Odorizzi (Career vs. NYY)
Very quietly, the 25-year-old Odorizzi ranked ninth among 88 qualified starters last season with a 9.32 K/9. (That translated to a 24.2 K%.) Odorizzi had a 4.13 ERA (3.75 FIP) in 168 innings with an 8.2 BB% a year ago, and righties (.324 wOBA) actually hit him better than lefties (.294 wOBA). Thanks to low-90s two and four-seamers and a mid-80s cutter, Odorizzi is very fastball heavy, throwing those pitches a combined 65% of the time or so since the start of last season. A mid-80s splitter is his main offspeed pitch (hence the reverse split), and he'll also throw a very low upper-60s curveball. It's an extreme change of pace pitch. Odorizzi's two starts have been excellent this year — 6.2 scoreless innings (two hits and seven strikeouts) and eight innings of one run ball.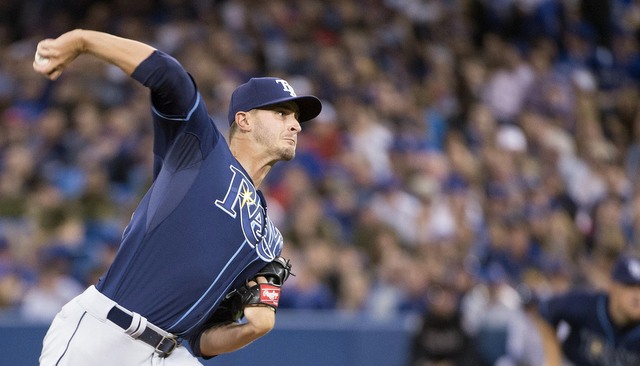 Sunday: RHP Michael Pineda (Career vs. TB) vs. TBA
The Rays still have not announced their starter for Sunday but all indications are it will be right-hander Matt Andriese. He's made one start and one relief appearance so far this year, allowing two runs on five hits and two walks in 4.2 total innings. He struck three. Last year in Triple-A the 25-year-old Andriese had a 3.77 ERA (4.24 FIP) with a 17.1 K% and a 4.9 BB%. He throws three fastballs (low-90s two and four-seamers and an upper-80s cutter) and a mid-80s slider. Andriese has thrown a handful of upper-80s changeups but it's not a big weapon for him. If Andriese doesn't start Sunday, I honestly have no idea who Tampa Bay would run out there. They have an off-day Monday and could decide to bite the bullet and go with a bullpen game Sunday.
Bullpen Status
Chris Archer gave the Rays seven excellent innings last night — the Yankees are pretty lucky to be missing him, it looks like he's ready to take that next step towards true ace-hood — yet Cash still used three relievers, including closer RHP Brad Boxberger. He threw 24 pitches in an inning of work. RHP Steve Geltz and RHP Kevin Jepsen both pitched as well. They've both thrown in two of the last three games.
RHP Grant Balfour is currently filling a middle relief role and LHP Jeff Beliveau is their only southpaw reliever. The ultra-hard-throwing RHP Jose Dominguez and the not as hard-throwing RHP Kirby Yates round out the bullpen. Andriese is technically in the bullpen too, but he's kinda in the rotation as well. The Yankees were off yesterday, so their bullpen's fresh, but head over to our Bullpen Workload page anyway. Then check out DRays Bay for the latest on the southern-most AL East team.