I've got eight questions for you in this week's mailbag. The best way to send us questions is through the Submit A Tip box in the sidebar. We get a lot of questions each week, so don't take it personally if yours isn't answered.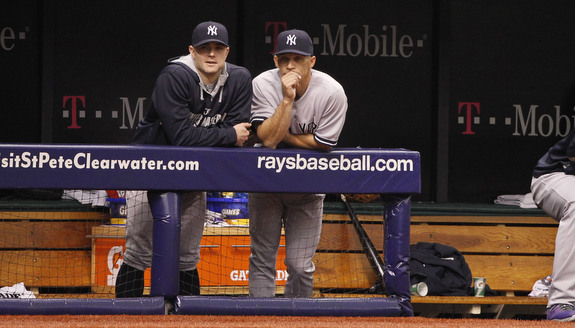 Dan asks: These bullpens in the post season are terrible. D-Rob is gonna be a hot commodity this off season, qualifying offer be damned. Why are the Yankees so good at piecing together and developing RPs, and so bad at developing talent elsewhere?
The Yankees don't have a good reputation for developing talent overall but, once again, they churned out some useful arms this past season. No aces, we're all still waiting for that next great homegrown Yankees ace, but guys like Shane Greene and Dellin Betances had success this season. Last year it was Adam Warren and Preston Claiborne. The year before that it was David Phelps. Despite their (well-earned) reputation for not developing players, the Yankees do still crank out enough quality arms to fill out a staff and make trades each year.
Anyway, I think the bullpen stuff just boils down to having a lot of options and Joe Girardi's ability to put guys in position to success. He's a little rigid with assigned innings and makes moves fans don't agree with like every other manager, but I think Girardi is clearly an upper echelon manager at using his bullpen. The Yankees value strikeout-heavy relievers and they hoard these guys in the draft, off waivers, in trades, any way they can get them. Some of them stick and the ones that don't are quickly replaced.
There is also an element of luck here that we can't ignore. This is baseball and sometimes things break your way. The Yankees drafted David Robertson as a fastball/slider pitcher, but that summer he learned a curveball from his Cape Cod League pitching coach, and boom. He took off. Dellin Betances going from near-bust starting pitching prospect to elite reliever in 12 months was the best case scenario. 99th percentile stuff. The answer isn't sexy. They just try to have as many guys with good arms and hand 'em over to Girardi as necessary.
Travis asks: Could we match up with a trade with Detroit, given their bullpen struggles? Who would the Yankees, realistically, target?
The Tigers will no doubt be looking for bullpen help this winter but they're a win now team, and win now teams usually don't give up big league players. They'd prefer to dangle the few prospects they have and that doesn't really help the Yankees. Prospects are one of the few things in baseball more volatile than relievers. I joked about trading Shawn Kelley and Warren for Nick Castellanos last week but that isn't going to happen even though Castellanos kinda sucks. I'm sure Detroit would like to get their hands on one or three of the Yankees' relievers, but I don't see what they have to offer. Jose Iglesias coming off a lost season? Ewww.
Travis asks: Would the Yankees move Brett Gardner to CIN if it would help net one of Mat Latos, Mike Leake or Johnny Cueto?
I don't think they would and not just because the team clearly loves Gardner. Trading him for one of those admittedly very good (well, just good in Leake's case) pitchers doesn't make sense for a few reasons. One, they'd be subtracting one of their best hitters at a time when they need offense more than anything. Two, all three of those pitchers will be free agents next winter, so they'd only have them for a year. Flipping four years of Gardner for one year of a pitcher doesn't make sense for the current roster, not when someone like Brandon McCarthy available for nothing more than money. I don't think trading Gardner is off the table this winter, but he'd have to go in a package for a young bat, not one year of a veteran pitcher.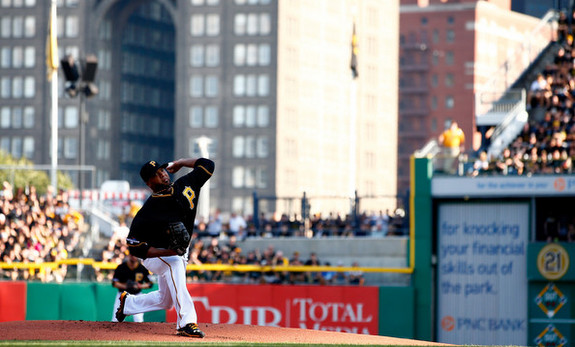 P.J. asks: With questions about CC Sabathia going forward is Francisco Liriano a viable starting pitcher for the Yankees to target this winter in free agency?
Yes if he doesn't receive a qualifying offer. I personally wouldn't give up a first round pick for someone as unpredictable as Liriano. He is relatively young (turns 31 later this month) and even though he didn't repeat his 2013 success (3.02 ERA and 2.92 FIP in 161 innings) in 2014, he was still pretty good (3.38 ERA and 3.59 FIP in 162.1 innings). Liriano still misses a ton of bats (9.70 K/9 and 25.3 K%) and gets ground balls (54.4%), but he also walks a lot of guys (4.49 BB/9 and 11.7 BB%) and is good for a DL stint or two per year. Plus he's a lefty and the Yankees could use one of those in the rotation. I would prefer McCarthy but Liriano makes sense as a Plan B. Does two years and $25M get it done?
Greg asks: What case can be made for Brendan Ryan getting the 2015 starting shortstop job?
I can make only one case for starting Ryan at shortstop next year: the Yankees tear it all down and rebuild, but are unable to come up with a young shortstop this winter. That won't happen. The tear down and rebuild part, I mean. They probably won't find a young shortstop but at least it's possible. Tearing it down? Not a chance. Ryan flat out can not hit, we have almost 2,800 plate appearances telling us that (career 69 wRC+), and his defense is merely very good but no longer elite these days. I think there's a much better chance of the Yankees dropping Ryan from the 40-man roster and sending him to Triple-A — he'd forfeit the rest of his contract by electing free agency rather than accepting the Triple-A assignment, and he ain't doin' that — than going into next season with him as Plan A at shortstop. With all due respect, Ryan isn't someone a winning team plays regularly.
Jimmy asks: As nice as the "Core Four" sounds, and due respect to Derek Jeter et al, but at some point we're going to have to note that the entire 90's dynasty paralleled the arc of Bernie Williams' career. Bernie was the lynchpin for those championships, no?
I think Jeter was the lynchpin to the late-90s dynasty but yes, Bernie doesn't get enough respect for the role he played on those teams — cleanup hitter! center fielder! — because his career ended a few years before everyone else's. My favorite thing about him is how consistent he was from 1997-2002:

Source: FanGraphs — Bernie Williams
Bernie sat between 4.8 and 5.1 WAR every year for six straight years, his age 28-33 seasons. That's pretty neat even if WAR is far from perfect.
Michael Kay has justified excluding Williams from the Core Four by saying he wasn't part of the 2009 World Series team and I can't do anything more than roll my eyes at that. It totally diminishes not only what Bernie did for the Yankees in the late-90s and early-2000s, but also diminishes what guys like Paul O'Neill and David Cone and Tino Martinez did. Core Four is a catchy nickname and nothing more. Bernie was every bit a part of the core of those teams as Jeter and Mariano Rivera and everyone else. It's a damn shame he is stuck on the outside looking in despite being such an important part of team history.
Matt asks: How worried are you about field conditions next year when the new York Football Club plays at Yankee stadium?
Worried but not full blown panic. I'd say a five on a scale of one to ten. They didn't agree to house a football team for (at least) a year without considering the field conditions, especially since they have so much money invested in so many players. Imagine if Jacoby Ellsbury tears up a knee or an ankle stepping in a divot? That would be a nightmare. Grounds crews these days are amazing though, and the fields themselves are state of the art. I'm sure there will be some ugly patches across the 81-game home schedule and faded lines as well, but what can you do. I'll be paying attention to it next year but I'm sure this is a lot of worrying about nothing.
Anthony asks: It might be a little early but where do you predict some of the bigger prospects to start next season? Aaron Judge, Eric Jagielo, Ian Clarkin, Luis Severino?
I expect Clarkin to start next season with High-A Tampa and the other three to start with Double-A Trenton, with Judge and Severino candidates for a quick promotion to Triple-A Scranton. I think both Gary Sanchez and Tyler Austin will start the year with the RailRiders while Slade Heathcott settles in with Trenton, if he ever gets healthy. The Yankees did not have many prospects at the upper levels this year but that will change in 2015, at least in theory. Not all of these guys will work out, that's baseball. But if the Yankees can hit on Severino and get a quality bat or two out of the Judge, Sanchez, Jagielo, and Austin group, it would be a huge help.