On the bright side, Friday afternoon's 4-0 loss to the Tigers was fairly quick. The game took only two hours and 44 minutes. The Yankees did their part to improve the pace by never once threatening offensively. There was nothing close to a rally.
Rested For Saturday
The Yankees and Joe Girardi have been saying they plan to rest their regulars more often this season since the end of last year. I just didn't think they would rest them all in the same game. Alex Rodriguez, Brian McCann, and Carlos Beltran were all on the bench Friday afternoon, and Girardi cited the afternoon game following the late flight into Detroit as the reason. That makes sense, I guess.
Not surprisingly, the Yankees didn't muster much against Jordan Zimmermann, who looked razor sharp in his first start with the Tigers. They had two hits and three walks in seven innings against Zimmermann — he walked three or more batters only four times in 33 starts last year — and they didn't have a runner make it to second base until there were two outs in the seventh. At one point Zimmermann retired eight straight and eleven of 12 batters faced.
The Yankees did a little better against the bullpen — Austin Romine drew a walk against ex-Yankee Justin Wilson in the eighth and Brett Gardner led off the ninth with a single against Kyle Ryan — but not much came of it. It was a little late by then. Gardner, Jacoby Ellsbury, and Mark Teixeira had the team's three base hits. They were all singles. Teixeira advanced to second on a wild pitch and was the team's only base-runner in scoring position.
I understand the importance of resting the veteran players, I do, and I'm all for it, but maybe stagger the rest going forward? That lineup didn't stand much of a chance Friday afternoon. The pitching staff is not good enough to put a game in their hands like that.
Death By Soft Contact
In the fourth inning, the Tigers put together one of those annoying rallies in which Luis Severino's biggest mistake was allowing too much soft contact. I hate those. It'll go into the records books as two hits on four singles and a fielder's choice, but there was one hard-hit ball, and it should have been an out. J.D. Martinez lifted a high fly ball to center field that Ellsbury misread and turned into a base hit.
It's kinda silly that plays like do not get ruled an error. It was a very catchable fly ball the outfielder misread, yet it counts against the pitcher. So silly. Anyway, regardless of the scoring, the ball fell in and the Tigers had a runner on first with one out instead of the bases empty with two outs. Nick Castellanos followed by pushing a ground ball single through the right side of the infield, then James McCann pulled a ball into the hole at shortstop for an infield single.
Didi Gregorius saved a run on McCann's single — at least temporarily — because he kept it on the infield, but he had to dive and there was just no way he had time to get up and fire to first for the out. So the bases were loaded on a fly ball that should have been caught and two well-placed ground balls. Stupid baseball, man. Jose Iglesias then plated a run with a single on this not poorly located slider …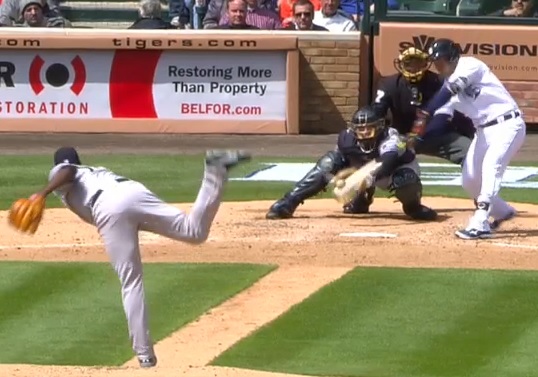 … which was the second hardest hit ball of the inning. Anthony Gose grounded out to second to drive in the second run of the inning. I initially thought there was a chance for Starlin Castro to come home for the force out — Castellanos was chugging in from third — but he was playing far too deep, so he instead got the lead runner at second. There was no chance at a double play because Gose runs too well. Some innings, man.
Sevy's Slider
In a weird way, the Tigers were not a great matchup for Luis Severino because they're so right-handed. He has issues getting his slider down, and on Friday six of the ten hits he allowed came on sliders. When a right-hander is facing a lineup full of righties, he's going to throw a lot of sliders. Very few of Severino's sliders were as good as the one Iglesias singled off in that fourth inning.
Severino's best secondary pitch right now is his changeup — to be clear, Severino's slider typically has nasty movement, but he doesn't command it consistently, so it's a location issue more than a stuff issue — and he only threw eight of them Friday because the Tigers are so right-handed. That's a pitch usually reserved for lefties. Also, Severino very rarely pitched inside …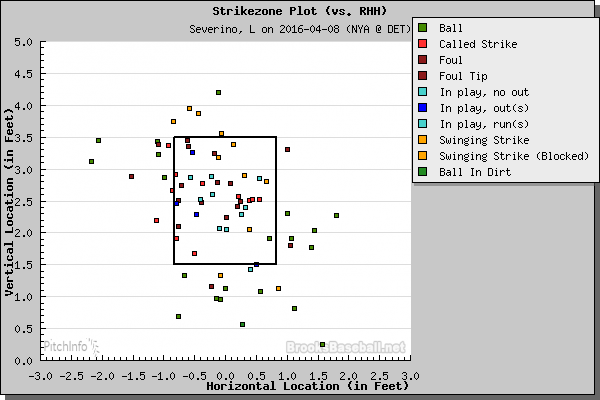 … which didn't help matters. (The plot is from the catcher's point of view.) I'm not sure if that was the game plan — guys like Ian Kinsler, Miguel Cabrera, and J.D. Martinez are going to punish an inside fastball if you miss even a little bit — but Severino didn't make them move their feet at all. Little too predictable there, kid.
Severino was mostly fine overall. Certainly not overwhelming or dominant, but it was his first start of the year, and it was cold, and he was facing a good team. His final line was three runs on ten hits and no walks in five innings plus two batters. He struck out five and threw 95 pitches. My big takeaway: the slider location still needs work.
Leftovers
Luis Cessa became the final member of the Opening Day roster to get into a game this season. He made his Major League debut in the seventh and struck Justin Upton on four pitches. Not a bad way to begin your career. Cessa then allowed an opposite field home run to Cabrera, so yeah. He struck out two and allowed just the one run in two innings.
The Yankees got their first taste of the new neighborhood play rules. James McCann grounded into a 5-4-3 double play in the eighth, but the replay showed Castro was off the bag when he made the pivot, so the runner at second was ruled safe. It's amazing MLB is going to such great lengths to make the game safer, yet they eliminated the neighborhood play.
Gregorius went 0-for-3 and saw four pitches total. Castro, in his first game as the No. 3 hitter, went 0-for-4. He banged into one double play and nearly hit into another, but was able to beat the throw at first. Ellsbury, Gardner, and Teixeira actually reached base five times in a dozen plate appearances. (Ellsbury was caught stealing after his single.) The rest of the team reached base twice in 20 plate appearances.
Box Score, WPA Graph & Standings
Head on over to ESPN for the box score and MLB.com for the game's video highlights. Here are the updated standings, if you're interested. We also have Bullpen Workload and Announcer Standings pages. The former is pretty useful. I'm still not sure why I bother with the latter. Now here's the loss probability graph:

Source: FanGraphs
Up Next
The Yankees and Tigers continue this three-game set Saturday afternoon. That's another 1pm ET start. CC Sabathia will toe the slab for his first start of the new season. Mike Pelfrey will be on the bump for the Fightin' Miggys.