By

As expected, the Yankees have activated Frankie Cervelli off the 60-day DL, according to Mark Feinsand. John Ryan Murphy was sent to Triple-A Scranton in the corresponding move. The Yankees already had an open 40-man roster spot for Cervelli, so no other move was needed. The 40-man is now full.

Cervelli, 28, missed two months with a Grade II hamstring strain. He went 3-for-16 (.188) with a double in five games before getting hurt. The Yankees had Cervelli play some first base during his rehab assignment, so he could see time there this summer. The 23-year-old Murphy went 18-for-63 (.286) with a homer in 24 games as Brian McCann's temporary backup. If he doesn't get traded at the deadline, we'll see Murphy in September or when Cervelli gets hurt again, whichever comes first. · (36) ·
The Yankees are home from their nine-game road trip and will play their biggest series of the season (to date) starting tonight. The first place Blue Jays are in the Bronx for a three-game series, giving the Yankees a chance to make up some ground in the AL East race. The alternative is getting buried. The Bombers took two of three in Toronto back in April.
What Have They Done Lately?
The Jays went on an insane run last month, winning 20 of 24 games at one point. They've since lost six of nine, including two against the Orioles this past weekend. Toronto comes into the series with a 41-30 record and a +39 run differential. They are 4.5 games up on the Yankees.
Offense
The Blue Jays have one of the very best offenses in all of baseball. They average 4.70 runs per game with a team 112 wRC+, and they currently lead baseball with 92 homers. The Yankees have hit 55, by comparison. Toronto is currently without OF Colby Rasmus (105 wRC+), DH Adam Lind (155 wRC+), and IF Maicer Izturis (78 wRC+) due to injury. Rasmus (hamstring) could be activated off the disabled list this week and Lind (foot) is only day-to-day with a bruise. Izturis (knee) is out long-term.
Manager John Gibbons builds his lineup around baseball's best three-four hitter combination: OF Jose Bautista (173 wRC+) and 1B Edwin Encarnacion (152 wRC+). They have 35 homers, 70 extra-base hits, 86 walks, and 91 strikeouts combined. SS Jose Reyes (105 wRC+) leads off and former Yankee OF Melky Cabrera (119 wRC+) gets the cushy job of batting second between Reyes and Bautista. Add in a healthy Lind and the top five of the Toronto lineup is devastating. I remember when the Yankees had a lineup like that.
3B Brett Lawrie (92 wRC+) headlines the rest of the lineup, and he has been spending some time at second base so 3B Juan Francisco (135 wRC+) and his huge lefty power can play against righties. OF Anthony Gose (89 wRC+) has been playing center while Rasmus is out and IF Steve Tolleson (122 wRC+ in limited time) is the backup infielder. Yes, he is Wayne's son. The Jays are currently carrying three catchers — former Yankee C Dioner Navarro (83 wRC+), former Met C Josh Thole (106 wRC+ in limited time), and C Erik Kratz (80 wRC+) — for whatever reason.
Pitching Matchups
Tuesday: RHP Masahiro Tanaka (vs. TOR) vs. RHP Marcus Stroman (No vs. NYY)
Stroman, 23, was the 22nd overall pick in the 2012 draft and he zoomed to the big leagues in less than two years. He has a 5.18 ERA (3.04 FIP) in 24.1 innings spread across three starts and five relief appearances so far, and both his walk (1.11 BB/9 and 2.7 BB%) and ground ball (56.0%) rates are excellent. Stroman has also kept the ball in the park (0.74 HR/9 and 7.7 HR/FB%) and kept righties in check (.303 wOBA), though lefties have crushed him (.426 wOBA) and his strikeout rate isn't anything special (7.77 K/9 and 18.9 K%). A mid-90s four-seamer is his main offering and he uses it a lot, nearly 60% of the time. Stroman also throws a low-90s cutter, mid-80s sliders and changeups, and a low-80s curve. He's a tiny little guy at 5-foot-9 and 185 lbs., but he's got a huge arm.
Wednesday: RHP Chase Whitley (No vs. TOR) vs. LHP Mark Buehrle (vs. NYY)
The 35-year-old Buehrle is currently in the middle of his best big league season, pitching to a 2.28 ERA (3.36 FIP) in 14 starts and 94.2 innings. His strikeout (5.23 K/9 and 14.2 K%) and ground ball (43.3%) rates are right in line with the rest of his career, but Buehrle has enjoyed an exceptionally low homerun rate so far (0.38 HR/9 and 4.0 HR/FB%). I can't imagine that'll stick given his division and home park. Buehrle is walking a career high number of batters (2.47 BB/9 and 6.7 BB%) and righties (.315 wOBA) are having some more luck against him than lefties (.273 wOBA). As always, Buehrle works in the mid-80s with his four-seamer, two-seamer, and cutter combination, mixing in some upper-70s changeups and low-80s curves. His current four-seam fastball average velocity (83.6 mph) is the lowest by a non-knuckleballer, non-Jamie Moyer pitcher during the PitchFX era.
Thursday: RHP David Phelps (vs. TOR) vs. RHP Drew Hutchison (vs. NYY)
Hutchison, 23, missed all of last season due to Tommy John surgery. He's come back well, with a 3.62 ERA (3.88 FIP) in 14 starts and 82 innings so far this year. His peripherals — 7.68 K/9 (20.6 K%), 2.52 BB/9 (6.8 BB%), 1.10 HR/9 (9.5 HR/FB%), and 36.5% grounders — are solid but unspectacular across the board. He doesn't have much of a platoon split at all, but it's worth noting Hutchison has been far better on the road (.254 wOBA) than at home (.439) this season. A low-90s fastball is his bread and butter and he throws it a ton, more than 60% of the time. Mid-80s sliders and changeups round out the repertoire. The Yankees roughed Hutchison up for six runs in 3.1 innings back in April.
Bullpen Status
Like the Yankees, the Blue Jays were off yesterday, so both bullpens are pretty well rested coming into the series. Closer RHP Casey Janssen (1.73 FIP) anchors a relief crew that also includes setup men RHP Sergio Santos (5.75 FIP in limited time) and RHP Steve Delabar (5.24 FIP). LHP Brett Cecil (2.15 FIP) is currently dealing with a nagging groin issue and could be headed for the disabled list.
If Cecil does wind up on the shelf, Gibbons still has a solid southpaw in LHP Aaron Loup (3.37 FIP). He's one of those classic funky delivery, low arm slot guys. RHP Todd Redmond (2.91 FIP) is the long man while RHP Dustin McGowan (4.70 FIP) and RHP Chad Jenkins (5.17 FIP) handle the middle innings. You can check up on the Yankees' bullpen at our Bullpen Workload page. For everything you need to know about the Blue Jays, head over to Drunk Jays Fans.
The Yankees are back home in the Bronx following their five-win, nine-game trip west of the Mississippi. It felt a lot longer than that for whatever reason. Here are some scattered thoughts before tonight's series opener against the Blue Jays.
1. I know it's only June, but the Yankees are entering a crucial stretch of the schedule right now. After putzing around with the other AL divisions and interleague play for the last few weeks, they'll play their next nine games against the Blue Jays (six games) and Orioles (three games), who have become their primary competition in the AL East. The Rays are completely out of it already and the Red Sox have quite a bit of ground to make up before being a real concern. The Yankees come into this nine-game stretch 4.5 games back of Toronto and a half-game up on Baltimore. It's very simple: if they play well during these nine games, it'll leave them right near the top of the division. If they don't, they end up buried in the standings. These next three series will go a long way towards determining whether the Yankees can actually win the AL East. These head-to-head matchups are of paramount importance and even though there are still 90-something games left in the season, these games need to be treated with a sense of urgency. Kinda like playoff games.
2. Frankie Cervelli is expected to be activated off the disabled list tonight, meaning John Ryan Murphy will go back to Triple-A Scranton and play everyday. Whatever. I'd rather see Murphy stick around as Brian McCann's backup but it doesn't really make much of a difference. I guess there's a chance Murphy has already played his final game for the Yankees since the trade deadline is coming up in a few weeks, which would suck. I really like him and think he's someone the team should keep going forward. McCann won't be able to catch forever, Cervelli can't stay healthy, Austin Romine is an afterthought, Gary Sanchez is being benched for disciplinary reasons in Double-A, and Peter O'Brien flat out can't catch. Murphy is the only non-McCann guy at the upper levels the Yankees could legitimately run out there as an everyday catcher if need be. He is their top trade chip though, and the team has so many needs (infield, right field, rotation) that it's tough to think Murphy will remain in the organization much longer. I am usually all in favor of trading prospects for MLB help, especially non-elite prospects, but he's the one guy I think the Yankees would be wise to keep. Quality catching is too hard to find.
3. The Yankees are basically out of rotation depth at this point. CC Sabathia and Michael Pineda are still weeks away and I'm not even sure who would be next in line if another starter gets hurt. I guess David Huff? Either him or Alfredo Aceves again. Neither Shane Greene nor Bruce Billings has pitched all that well in Triple-A, and Manny Banuelos isn't stretched out enough to be an MLB option. Maybe the Yankees have reached the point where pulling Adam Warren out of the bullpen and stretching him out is their best rotation option. Shawn Kelley just returned from his back injury, so the bullpen would more easily be able to absorb the loss. The problem with converting Warren back into a starter is a) it'll take several weeks to stretch him back out at this point, and b) how much of an upgrade would he really be over Vidal Nuno? Warren's excelled in short relief because he can air it out and not have to worry about facing a lineup multiple times. We saw last year that being asked the turn a lineup over wasn't necessarily the easiest thing for him. I would prefer to leave Warren in his current role and not mess around, but if push comes to shove and more rotation help is needed, isn't he the best option right now?
4. Since we're already talking about pitching depth, I want to mention the Marlins designated the slightly interesting Kevin Slowey for assignment yesterday, clearing a roster spot for top prospect Andrew Heaney. (They also designated Randy Wolf for assignment, but there's nothing to see there.) Slowey, 30, missed a month with shoulder inflammation in 2011 and a bunch more time from 2011-12 with non-arm injuries (abdominal strain, broken rib), and over the last two years he's pitched to a 4.45 ERA (3.79 FIP) in 129.1 innings as a swingman for Miami. You might remember him from his time with the Twins, and he's a classic low strikeout (17.7 K%), low walk (4.8%) Twins pitcher. There's nothing sexy about Slowey at all, but he might be better than Vidal Nuno (5.24 ERA and 4.88 FIP since moving into the rotation). If nothing else, he's better than Huff. The Yankees could pluck him off waivers, stick him in the bullpen in a long relief role for a few weeks, and see what happens. Even if they have to send Jose Ramirez down for a few weeks to make it happen, it wouldn't be the end of the world. I like Ramirez as much as anyone, but his big league opportunity can wait a few more weeks if it means potentially upgrading the rotation.
5. Following the news of Tony Gwynn's death yesterday, there were all sorts of fun information and hard-to-believe stats floating around the internet. My favorite (by far) comes from Chris Jaffe, who pointed out Gwynn has the highest batting average in two-strike counts in baseball history by 40 (!) points. Here's the full list. Gwynn hit an absurd .302 in two-strike counts in his career. Fellow Hall of Famer and totally awesome hitter Wade Boggs is second with a .262 lifetime average in two-strike counts. Former Yankee Luis Polonia is third at .261. (Luis Polonia, huh? Alrighty.) Derek Jeter is tied for 67th all-time with a .228 average with two strikes. During Gwynn's career, from 1988-2001, all of baseball hit a combined .187 in two-strike counts. He was 115 points better than everyone else. We're talking thousands of plate appearances too, so this isn't some small sample noise. Hitting .300+ in general is hard. Doing it in two-strike counts over a 20-year career blows my freaking mind.
Two very quick notes:
As expected, OF Aaron Judge will be promoted to High-A Tampa after the Low-A South Atlantic League All-Star Game this week, according to Josh Norris. Judge hit .333/.428/.530 (166 wRC+) with nine homers in 65 games for the River Dogs. Pretty, pretty good.
OF Dustin Fowler was named the Sally League Offensive Player of the Week. The team's 18th round pick in last summer's draft started the season in Extended Spring Training, but he has quietly hit .260/.324/.458 (116 wRC+) with three homers in 26 games for Charleston as a 19-year-old. Not too shabby.
Triple-A Scranton (4-2 win over Toledo)
LF Jose Pirela & DH Corban Joseph: 2-5, 1 R — CoJo drove in a run
RF Zoilo Almonte: 2-4, 1 2B, 1 RBI — 17-for-50 (.340) during his 12-game hitting streak, which started as soon as he was sent down
3B Scott Sizemore: 0-4, 1 RBI, 2 K
1B Kyle Roller: 2-4, 1 K
2B Rob Refsnyder: 1-3, 1 R, 1 K, 1 SB, 1 HBP
C Austin Romine: 0-4, 1 K
RHP Shane Greene: 6 IP, 2 H, 2 R, 2 ER, 4 BB, 3 K, 1 Balk, 6/6 GB/FB — 52 of 93 pitches were strikes (56%) … 23 walks in 48.2 innings this year after 30 walks in 154.1 innings last year
RHP Danny Burawa: 1 IP, zeroes, 3 K — 13 pitches, nine strikes … 18/6 K/BB in his last 16 innings
RHP Matt Daley: 1 IP, 1 H, 0 R, 0 ER, 1 BB, 0 K, 2/1 GB/FB — 12 of 21 pitches were strikes (57%)
RHP Preston Claiborne: 1 IP, 2 H, 0 R, 0 ER, 0 BB, 1 K, 1/1 GB/FB — ten of 16 pitches were strikes (63%)
By

Well this is a record, two posts in one day from me.  Unfortunately we won't have a podcast for you tonight.  But there's a good reason, fellow RAB contributor and a really good friend, Joe Pawlikowski and his lovely wife have welcomed a new baby daughter.  I pushed for the name "1998 New York Yankees Pawlikowski" but i was overruled as I am just the servers guy, not the baby guy.   Welcome to the RAB family little Veronica, and congrats to Joe, his wife and family. We'll be back on the regular podcast schedule Thursday to talk more Yanks! · (22) ·
Baseball lost an all-time great earlier today when Hall of Famer Tony Gwynn passed away following a battle with salivary gland cancer. Gwynn was the greatest pure hitter of his generation and I still feel he's underrated. His career .338 average is the highest by any player who began his career after Lou Gehrig retired, he was hitting .394 at the time of the 1994 strike, and he never struck out more than 40 times in a season. If you haven't taken a second to look at his Baseball Reference page today, make sure you do it now.
Gwynn only played two career games in Yankee Stadium, both during the 1998 World Series. He went 8-for-16 with the homer you see above in the series, never striking out once. It's hard to believe 13 people left him off their Hall of Fame ballots a few years ago. Gwynn attributed his cancer to using chewing tobacco throughout his career, and while MLB has already taken steps to curtail chewing tobacco use, maybe this will push them towards getting it out of the game completely. Gwynn is gone way too early at age 54.
* * *
Here is your open thread for the off-night. The Mets are playing and both the World Cup (ESPN) and College World Series (ESPN2) are being played. USA is playing their first World Cup game right now and both UC Irvine 1B Connor Spencer and Vanderbilt SS Vince Conde are playing in tonight's CWS game. The Yankees drafted them in the eighth and ninth rounds, respectively. Talk about those games, Gwynn, or anything else right here.
By

Got some updates on a pair of Cuban free agents. First, Jesse Sanchez reports the Giants have agreed to sign OF Daniel Carbonell. The Yankees were said to have some interest in him, but not enough to make an offer. Sanchez says Carbonell received a three-year contract worth $3.5M, which tells you teams valued him as an extra player. If there's one thing the Yankees don't need, it's more fourth outfielder types.

In other news, Ben Badler reports RHP Raciel Iglesias has been granted an extension to sign by MLB. Because of the league's silly rules, he would have had to sign by yesterday to avoid being subject to the international spending restrictions. He can now sign for any amount before July 2nd. As I wrote in this mailbag a few weeks ago, Iglesias is a pure reliever who some teams believe can help as soon as the second half. There have not yet been any reports linking him to the Yankees or any other team. · (5) ·
The Yankees just wrapped up a nine-game road trip through two time zones and return home this week with five wins in the bank. It was a good trip, not a great trip. Stealing one of those last two games from the Athletics would have been awesome, but they are the best team in baseball. What are you going to do? Considering the injury-riddled rotation and mostly sputtering offense, winning five of nine works fine for me.
The road trip was not at all good for infielder Yangervis Solarte, who had four total hits in the nine games. All four came in back-to-back games in Kansas City. Solarte went hitless in his final 19 at-bats on the trip, though his recent slump extends further back than that — over the last calendar month he's hitting only .208/.269/.313 (60 wRC+) in 105 plate appearances. That's just bad. That's what you'd expect from … well, a journeyman infielder who signed a minor league contract.
Despite the slump, Solarte is still hitting .274/.347/.420 (113 wRC+) on the season, which is a reminder of just how excellent he was a few weeks ago. I don't think anyone realistically thought he could maintain the 144 wRC+ he posted through April or even the 131 wRC+ he posted through May. That's Josh Donaldson/Hanley Ramirez production. I'll be more than thrilled if Solarte manages to produce at a 113 wRC+ clip from here on out.
Sort through his day-by-day graphs page on FanGraphs and you can see Solarte's gradual return to Earth pretty clearly. The AVG, OBP, SLG, BABIP, and wOBA graphs are all moving in the wrong direction, the walk rate slightly less so. The strikeout, K/BB, and ISO graphs show little change. They've held steady even through this slump and that's encouraging. The one graph that stood out to me was the batted balls. Check it out: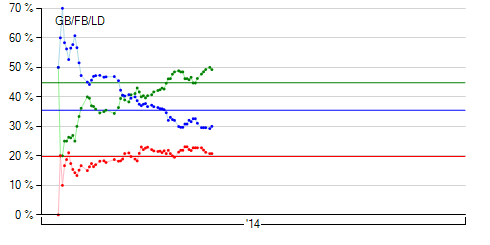 The green line is ground balls, the blue is fly balls, and the red is line drives. Solarte's ground ball and fly ball rates have been moving in opposite directions, which is sorta weird because his ISO has held steady. Usually when a hitter stops hitting the ball in the air, he stops hitting for extra bases. Maybe it's just a small sample thing. Solarte isn't fast and won't beat out many infield singles (he has three infield hits all season, including this one), so it makes sense that the increase in ground balls has led to decreased production overall.
One thing that has impressed me about Solarte — really more than anything — is his approach. His 11.6% strikeout rate is much better than the league average (20.3%) and his 9.6% walk rate is a touch better than average (8.0%) as well. He has swung at only 27.9% of pitches outside the strike zone, a tick below the 29.3% average. Has that changed at all during the slump? Here are Solarte's plate discipline stats broken down into ten-game chunks because ten is a nice round number:
| | O-Swing% | Z-Swing% | O-Contact% | Z-Contact% | Zone% |
| --- | --- | --- | --- | --- | --- |
| Games 1-10 | 27.1% | 59.2% | 78.3% | 95.2% | 45.5% |
| Games 11-20 | 34.4% | 56.3% | 74.2% | 93.3% | 47.1% |
| Games 21-30 | 21.8% | 66.7% | 73.7% | 95.7% | 44.2% |
| Games 31-40 | 20.9% | 52.2% | 66.7% | 97.2% | 44.5% |
| Games 41-50 | 29.3% | 53.3% | 82.4% | 95.0% | 56.4% |
| Games 51-62 | 33.7% | 52.3% | 83.9% | 97.8% | 48.9% |
Solarte has gradually swung at fewer pitches in the strike zone as the season has progressed, and lately he's offered at more pitches out of the zone as well. That's not really a good combination. Swing at strikes and lay off balls is a pretty good rule of thumb. Furthermore, Solarte has not only swung at more pitches out of the zone these last 22 games, but he's made more contact with those pitches as well. Unless you're a total freak like Vlad Guerrero, it's really tough to made hard contact with a pitch out of the zone. Usually the hitter is reaching and either grounding out weakly or popping the ball up.
As Joe wrote two weeks ago, it is very rare for a player to make his MLB debut at age 26 and stick around for a few years. At least rare among non-Cuban players. Dan Uggla and David Eckstein have both done it, and Solarte is more Eckstein than Uggla in terms of his high-contact, low-power playing style. Every little slump makes you wonder if this is the end — for what it's worth, Solarte has hit much better at Yankee Stadium, so coming back home this week could help jump start his bat — but Solarte has rebounded each previous time. A little less hacking at pitchers' pitches would help get him back in line this time. That might not be his only problem right now, but it is part of it.
By

Maybe not a Yankee, but there's no way to deny the grace and respect in which Mr. Padre played the grand ol' game.  While the league was obsessed with juiced up homer hitters, Gwynn continued to put up his high average and on base numbers season after season.  Cancer once again has robbed us of a brilliant athlete and a good man.  Sorry about 1998, but I am sure the Hall of Fame was a pretty great consolation prize.  Thanks for everything. · (37) ·
One of the many reasons the Yankees failed to reach the postseason last year was the lack of help from the farm system. Outside of Adam Warren, who was a low-leverage swingman, no one came up from the minors and was able to contribute when the opportunity for playing time presented itself. David Adams and Austin Romine didn't hit, and others like Zoilo Almonte and Vidal Nuno quickly went down with injuries.
This season has been a little different, thankfully. Dellin Betances has emerged as one of the very best relievers in baseball and a key late-inning piece in Joe Girardi's bullpen. John Ryan Murphy had a successful stint as Frankie Cervelli's injury replacement and Jose Ramirez is being a given a chance to contribute out of the bullpen right now. Others like Rob Refsnyder and Jose Pirela could get looks in the coming weeks.
Given all the pitching injuries, I think you could argue Chase Whitley has had the most impact out of the team's homegrown players in 2014. It's either him or Betances, though the rotation would be in much worse shape without Whitley than the bullpen would be without Betances. That's what I think. Either way, both guys have been a big help and this is the type of production the Yankees weren't getting from their system a year ago.
Whitley, 25, has a 2.51 ERA (2.58 FIP) in 33.2 innings and six starts this season, the 15th through 21st starts of his five-year career. It's a really small sample, yeah, but I think it's remarkable he's done so well in a starting role (in MLB!) after being a reliever just about his entire life. Girardi has been careful with Whitley, limiting how often he's faced the lineup a third time and keeping his pitch count tight after so many years in the bullpen, which can be annoying but is understandable.
Now, with all due respect to Whitley and the job he's done, I think it's important to add some context to his performance. He's made six starts and the best lineup he's faced has been the Twins and their team 99 wRC+. That was also the only start Whitley has made at home in hitter-friendly Yankee Stadium. (He held Minnesota to one run in five innings.) The Cardinals have a 92 wRC+ while the Mets, Cubs, Royals, and Mariners are bottom six offenses (81-87 wRC+ range).
Whitley's two best starts have been his last two starts, when he held the Royals and Mariners to two runs in seven innings and 7.2 innings, respectively. As a team, the Royals have an 83 wRC+ in Kansas City while the Mariners boast an MLB worst 73 wRC+ at home in Seattle. Those are some favorable pitching conditions and Whitley did exactly what he was supposed to do in those games. I don't want to take anything away from him, pitching is hard, it's just important to fully understand what's been going on.
The Yankees open a three-game series with the Blue Jays tomorrow night and Whitley is scheduled to start the second game. Toronto will be, by far, the best lineup he has faced in his short time as a big leaguer. They lead baseball with 92 homers — Whitley's allowed just one dinger this year, a no-doubter by Logan Morrison last time out — and have a team 112 wRC+, also the best in baseball. Jose Bautista and Edwin Encarnacion are elite sluggers, Jose Reyes and Melky Cabrera high-end contributors, and Adam Lind is in the middle of his best season in forever. It's a tough assignment.
Now here's the thing: Whitley will face the Blue Jays on Wednesday, then he's scheduled to face them again in Toronto next Monday. The Jays have a 116 wRC+ as a team at home, so it's more or less a lineup full of David Ortizes (117 wRC+) whenever they're in Rogers Centre. The Man in White has been putting in some overtime this season, I guess. Whitley is not only going to face the best hitting team in baseball next time out, he's going to face them in back-to-back starts. It'll be the first time a team sees him twice.
Whitley has effectively replaced Michael Pineda, giving the Yankees high-end performance in short, workload-controlled starts. He's done it against a favorable schedule so far, but you can only pitch against who the schedule says you have to face. These next two starts against the Blue Jays will be the toughest test of Whitley's brief career and, given where they sit in the standings, the Yankees need him to be sharp so they can climb back into the division race. The cakewalk against the Mariners, Mets, Royals, et al is over. Whitley's about to be introduced to AL East baseball.