By

Via Bryan Hoch, Eric Chavez's bone-bruised left foot is getting better, but the infielder is still no closer to returning to the team. "He's still not where he needs to be to run," said Joe Girardi yesterday. "He is getting better, though, but he's still not there yet." According to the official site, Chavez is now on the 60-day disabled list, presumably to make room on the roster for recently claimed Jeff Marquez. That means he's not eligible to be activated until July 5th at the earliest. Le sigh. · (15) ·
By

Joba Chamberlain landed on the DL with a strained flexor muscle in his right elbow, the club announced a few minutes ago. The Yanks' set-up man had been feeling soreness for weeks, according to manager Joe Girardi, and will miss at least three weeks. Joba himself doesn't believe the injury is too serious, but he won't throw for at least ten days. I'd be surprised if he's back before the end of June.

In the meantime, Amaury Sanit will take his place on the roster, but that's probably temporary. The Yanks need some late-inning depth, and this injury is clearly a big blow for the Yanks' endgame plans as they now have three key relievers on the shelf. David Robertson will slide into the set-up role while Luis Ayala and Boone Logan will be called upon to get outs in higher leverage situations. Hold onto you hats, folks.

In other injury news, Russell Martin's back "locked up" on him last night, Girardi says. With Jorge Posada away from the club due to another surgery for his son, the Yanks' bench tonight will consist of Chris Dickerson and Andruw Jones. Confirming what we knew already, Jeff Marquez will be activated for the bullpen, and Hector Noesi has been sent down. · (128) ·
For the longest time, it seemed like the Yankees were completely unable to build a solid bullpen. The relief corps fell apart following the departure of Jeff Nelson and later Mike Stanton and Ramiro Mendoza. The merry-go-round of high priced free agent relievers and AAAA-type arms ran from 2003 through about 2008, when the team finally wised up and started growing their own relievers while seeking low-cost options capable of missing bats from the outside. The more the merrier.
As a result from this reliever hoarding, the Yankees ended up with some bullpen depth in recent years and were able to move a number of these guys in trades. They went from having a shallow and ineffective relief corps to actually being able to trade away effective arms to shore up other parts of the team. Crazy, I know. Anyway, let's look at a bullpen of pitchers built entire of guys the Yankees have traded away in recent years, starting with someone that wore pinstripes a little more than two months ago…
The Long Man: Sergio Mitre
It wasn't that long ago that our standard for pitching acquisitions was "better than Mitre," but The Experience moved on to Milwaukee in the Chris Dickerson swap and has done fine work in low-leverage spots for the Brewers. His almost non-existent strikeout rate (3.24 K/9) is buoyed by his typically gaudy ground ball rate (53.0%), and of course he has the ability to go multiple innings if needed.
The Middle Reliever: Dan McCutchen
After spending a few years bouncing back and forth between Triple-A and the big leagues as a spot starter, McCutchen has carved out as a nice niche for himself in Pittsburgh's bullpen this year. The former DotF superstar isn't striking out many batters (4.73 K/9), but he's made up for it by limiting walks (1.69 uIBB/9) and getting a healthy amount of ground balls (45.1%). McCutchen was the fourth guy in the Xavier Nady-Damaso Marte trade.
The Lefty: Mike Dunn
I'm sure most of you remember Dunn's big league debut with the Yankees in September of 2009, when he came out of the bullpen in Toronto only to walk three of the first five men he faced on 13 total pitches (not counting the other two batters). He went to the Braves in the ill-fated Javy Vazquez trade last offseason, walked 17 men in 19 IP for Atlanta before being traded to the Marlins for Dan Uggla this offseason. Dunn has emerged as Florida's top setup man this year, striking out 33 and allowing just 14 hits in 27 IP. He has walked 15, though. Still, can't argue with that strikeout rate from the left side.
The Setup Man: Tyler Clippard
Long-time readers of RAB are well-aware that I was never much of a Clippard fan. His six start cameo in the Bronx in 2007 was completely forgettable (6.68 FIP), then he was shipped to the nation's capitol for Jon Albaladejo after the season. Clippard struggled as a starter in 2008 and for the early part of 2009, but a shift to the bullpen late that year changed everything. He's turned into one of the most dominant relievers in the game, throwing multiple innings pretty much every time out with an 11.01 K/9 and a 3.23 FIP in a MLB-high 126.2 relief innings (105 appearances) since the start of 2010. I think it's safe to say the Yankees would love to have a do-over on this trade.
The Closer: Mark Melancon
Melancon received four different call-ups with the Yankees in 2009 and 2010, striking out 13 and walking ten in 20.1 IP. He was sent to Houston in the Lance Berkman trade and almost immediately settled into their bullpen. Melancon finished last year with a 3.19 FIP in 20 appearances for the Astros, and this year he's sporting an impressive 2.46 FIP on the strength of 8.28 K/9 and 2.76 BB/9 in 29.1 IP. He has since moved into the closer's role with Brandon Lyon on the disabled list with a case of the awfuls, and he's 5-for-6 in save opportunities so far.
* * *
If you're going to give away good players in trades, relievers are good guys to do it with. They typically have short shelf lives and their impact is much smaller than what you can get from position players or starting pitchers. Of course, trading good players is always a bad thing either, it helps build a solid reputation and ups the chances of making good deals down the road. Of course, it helps when you get good players back as well.
By

The Nick Swisher trade just gets better. Today the Yankees claimed off waivers one of the players they sent to Chicago in the trade. According to MLB Trade Rumors's Tim Dierkes, not only will Jeff Marquez return to his original team, but he'll be in uniform for tonight's game. Presumably that means Hector Noesi's reward for a job well done is a ticket on the shuttle back to Scranton. Hopefully he's back with, and making a start for, the big league club in due time. The Yankees will also have to make a 40-man roster move here, but with Amauri Sanit and Buddy Carlyle taking up spots, it shouldn't be much of a bother.

Marquez made one appearance for the White Sox this year, allowing a hit and a homer before recording his three outs. At AAA this year he made nine starts and had a 3.97 ERA and 4.37 FIP. He's basically filler at this point, someone who is a step above Sanit. That's setting the bar pretty low, though. · (24) ·
Yankees fans want blood, and it's understandable in every way. Last night the Red Sox got away with a few transgressions that, whether intentional or not, will rile up a fan base. It was inevitable, then, that at least one of the tabloids would call for retaliation. John Harper took the lead for the Daily News, betting that "fireworks are coming" during the final two games of the series. While that's a natural reaction based on the emotions of the moment, it doesn't really do the Yankees any good.
Let's get the easy one out of the way first. Jon Lester certainly didn't mean to plunk Mark Teixeira in the knee on an 0-2 pitch, and then later hit Russell Martin in the leg with a 1-2 offering. There was just no reason. It was simply Lester's inability to control the inside part of the plate against righties — a weakness that the Yankees never fully exploited during the game. While the image of Teixeira rolling on the ground and writhing in pain evokes angry feelings, it doesn't make it any less of an accident.
The stronger point for retaliation comes in reaction to David Ortiz's home run in the fifth. Hector Noesi, who pitched as well as the Yankees could have hoped in relief of the ineffective Freddy Garcia, delivered a 94 mph fastball on the inside part of the plate. Ortiz turned on it and sent it eight rows back into the right field stands. It wasn't a moonshot, as Harper described it, but rather a line drive. Ortiz put a short, sweet swing on it and clearly hit it right on the fat part of the bat. The subsequent bat flip seemed more like a "hell yeah!" reaction than anything else.
Again, it's understandable why there is a faction that favors retaliation. Ortiz showed up a rookie and then took his sweet time getting around the bases. Joe Girardi said that he didn't care for it, but then said that it was more about protecting Noesi than legitimate offense at the flip itself. While the flip did sting — no one wants to see that when their team just went down 6-1 — I didn't think it was too over the top. He took a good pitch, 94 mph inside, and got all of it. I can totally understand that, in his moment of elation, that he twirled around and flipped the bat. It's not as though he blew a kiss at Noesi on his way home (though he did take a long time getting from third to home). It happens in the heat of battle.
(I'm actually more offended by Jon Papelbon's scream after closing out the game. He was handed the cheapest of cheap save situations, a clean inning with a three-run lead, and he not only allowed a run to score, but faced the No. 4 hitter as the tying run. It's a relief to get out of that, sure, but to scream in celebration? It's kind of embarrassing.)
By this point I think I've made it clear that I would prefer the Yankees to avoid the retaliation beanball. That's not only because I don't think the infraction was too egregious, but also because there are more important matters at hand. While winning and retaliating aren't necessarily at odds, the latter can make the former more difficult. A.J. Burnett takes the mound tonight, and he has enough trouble throwing strikes as it is. I have little doubt that he will throw at someone; that just seems to be the way A.J. rolls. But that doesn't mean it's the right move. I'm not sure how much beaning Ortiz will mean to the Yanks in an emotional sense. But I do know that putting him on base will make the No. 1 goal, winning, a little harder.
(Hell, if I'm Francona I'd consider moving Ortiz up to 3rd for the rest of the series. He's hitting well enough to justify it, and it would make beaning him that much more difficult. Are they really going to put him on base, even if they're empty with two outs, with Youkilis and Adrian coming up?)
There are times when retaliation for showboating is warranted. A rookie blowing a kiss after a home run? Sure, drill him in the ribs. A guy staring at the pitcher as he rounds the bases, or unnecessarily yapping at him? Go ahead. But in this case I just don't see it. The emotions are certainly running high, because of the Yanks' futility against the Sox this year. But a win, more than retaliation, will make things feel better. I think Russell Martin puts it well: "You never want to see it happen to you, but I guess it's up to us to do it right back to him."
It was a rough loss to the Sox last night, the sixth in seven games this season. That leads to some tense feelings this morning. Mike and I run down the frustrations as well as the bright spots. We also make time to talk about what happened and what remains in the draft.
Podcast run time 19:01
Here's how you can listen to podcast:
Download the RAB Radio Show by right clicking on that link and choosing Save As.
Listen in your browser by left clicking the above link or using the embedded player below.
Subscribe in iTunes. If you want to rate us that would be great. If you leave a nice review I'll buy you a beer at a meet-up.
Audio clip: Adobe Flash Player (version 9 or above) is required to play this audio clip. Download the latest version here. You also need to have JavaScript enabled in your browser.
Intro music: "Die Hard" courtesy of reader Alex Kresovich. Thanks to Tyler Wilkinson for the graphic.
Podcast: Play in new window | Download (8.7MB)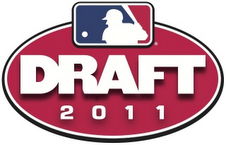 Days One and Two of the draft were … interesting for the Yankees, I think that's the best way to put it. They eschewed the consensus "big names," instead opting to draft to the beat of their own drum and select what we fans perceive to be "lesser" players in pretty much all 30 rounds so far. That's not to say the Yankees completely botched the draft, far from it, but it definitely hasn't gone down as we expected so far. A recap of all the team's picks can be found here, and you can listen along to the last 20 rounds this afternoon via MLB.com's Draft Tracker. The actual liveblog is after the jump…
By

Via George King, Phil Hughes is on track to begin a minor league rehab assignment next week after Tuesday's bullpen session went well. Larry Rothschild explained that the right-hander will take today off before throwing 30 pitches tomorrow, and assuming he feels good on Friday, Hughes will make a rehab start on Monday (with a bullpen session in between). Great news, though I remain nothing more than cautious optimistic. Hard to be anything more than that give everything that's gone on this year. · (44) ·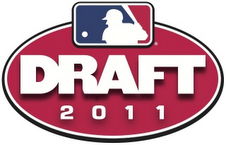 Through two days and 30 rounds, the Yankees have yet to select a middle infielder in this year's amateur draft. In fact, they've taken just nine position players total, and only two are projected to stick at an up-the-middle position long-term. That's unusual, but I'll talk about that more in-depth in tomorrow's grand recap. For now, we've still got the final 20 rounds to worry about. The draft resumes at noon ET and can be followed on MLB.com's Draft Tracker. Audio of the conference call is available through that link.  Based on last year, today's liveblog should last "only" five hours, which sounds great after yesterday's ordeal. Here's a collection of links regarding the last two days…
Here's what Keith Law had to say about the Yankees' haul in his AL Day Two recap (Insider req'd): "I always expect them to shoot more for upside than they do; they did go for some with New Hampshire prep righty Jordan Cote (3) and Virginia prep player Jake Cave (6), listed as an outfielder (he'd be a corner bat with doubles power) but also a prospect as a left-handed pitcher. Greg Bird (5) can hit but is fringy behind the plate. Right-hander Philip Wetherell (8) is probably a reliever in pro ball. Right-hander Zach Arneson (9) from Lewis & Clark State has two average pitches and probably also goes to the pen."
My favorite pick of Day Two: 20th rounder Dan Camarena, a high school southpaw from California. He reportedly sits 88-91 with his fastball and backs it up with a very good changeup and a solid curveball. I'm not sure if he'll add any velocity given his almost maxed out frame (6-foot-1, 205 lbs.), but Camarena is lauded for attacking hitters and being aggressive. High school kids with three legit pitches are fantastic picks in the double digit rounds, especially ones that could have gone as high as the third or fourth round.
Last month, KLaw mentioned 18th rounder Hayden Sharp as a pop-up guy (someone that burst onto the scene this spring), noting that he has run his fastball as high as 98 at times while often sitting 93-96. That's huge velocity from anyone, but especially from a high school kid with room to fill out his 6-foot-6 frame.
Joe and I talked about the concept of drafting makeup guys and how their work ethic could help them improve weaknesses in their game (especially on defense) on yesterday's podcast, and scouting director Damon Oppenheimer pretty much confirmed that yesterday. He told Jack Curry that "talented kids who are willing to work at defense will succeed." First pick Dante Bichette Jr. fits that mold, but so do kids like Matt Duran (4th round) and Greg Bird (5th).
Speaking of Bird, he played the whole "it's a win-win situation" card when asked by The Denver Post if he's rather turn pro or follow through on his commitment to Arkansas. Third rounder Jordan Cote had the same reaction when speaking with The New Hampshire Union Leader. You'll hear a lot of that, but it's just agent speak. Kids will cost themselves a few bucks if they come off as overly anxious to sign.
As for Bichette, Oppenheimer told Curry he doesn't "think we'll have any trouble signing him. He wants to play." He might be under contract in time for the rookie level Gulf Coast League season, which starts in less than two weeks. Chad Jennings recapped the Joe Girardi-Dante Bichette relationship last night, in case you missed it.
You can see all of the Yankees' selections right here. Probably should have mentioned that earlier.
Update: After running through Baseball America's list of the top 200 draft prospects, the following players are still available …
Jake Reed, RHP, California HS (ranked 128th overall)
Dante Flores, 2B, California HS (148th)
Chris Mariscal, SS, California HS (168th)
Michael Cederoth, RHP, California HS (169th)
Pat Connaughton, RHP, Massachusetts HS (170th)
Ricky Jacquez, RHP, Texas HS (189th)
I wrote about Jacquez earlier this spring, and I'm a definite fan. He's probably going to end up going to school though.
Update Part Deux: Here's a great article on Cote from The Concord Monitor. It says he's already asked the Yankees for more than slot money, which isn't surprising. Slot for the 118th overall pick is somewhere around $250,000.
This game was pretty much over in the first inning. Freddy Garcia came out of his pre-game warm-ups with nothing, and I mean even less than usual. When he's not commanding his slop to the corners, he's a batting practice pitcher, and the Red Sox treated him as such in the series opener Tuesday night. I'm still a little pooped from the marathon draft liveblog, so let's recap with bullet points…
Game two of the series is on tap for Wednesday night, when A.J. Burnett gets the ball against Tim Wakefield. Perhaps the Yankees will decide to beat their division rivals this time.