David Ortiz would probably like nothing more than to see his last eight baseball games erased from the collective conscious. Since the start of the playoffs, the Red Sox's three hole hitter is 5 for 31 with eight walks and eight strike outs. He has a double, a triple and an RBI.
All over New England, the whispers are building, and the rumors are mounting. As The Wall Street Journal's Numbers Guy noted Wednesday before Ortiz's 1 for 4 performance last night, Boston fans are questioning the clutchiness of Big Papi. Carl Bialik, of course, uses New York's favorite whipping boy as a point of comparison:
In his last 16 postseason games, the New York Yankees' Alex Rodriguez has collected eight hits in 56 at bats, with one home run and one run batted in. In his last 13 postseason games, Boston Red Sox slugger David Ortiz has 10 hits in 51 at bats, with no home runs and five runs batted in. Rodriguez is famously un-clutch; Ortiz famously clutch. Yet both have had ups and downs in their playoff careers, which provide too small a sample size to reach definitive conclusions…Now Ortiz, the hero of the 2004 playoffs, is beginning to experience what A-Rod has: doubts about his clutch abilities.
Now, we've all been where the Rays are right now. We all know what it feels like to be in the drivers' seat against the Red Sox in a short series, and we all know what the Red Sox — or any team, really — can do with three very good pitchers lined up to pitch their next three games. If I've learned nothing since the start of the 2004 postseason, it is not to celebrate until the last out of the clinching game is within hand.
But David Ortiz's struggles present a very apt parallels to those of Alexander Emanuelle Rodriguez. For years, Ortiz has been a fan-favorite in Boston. He seemingly comes through in every conceivable clutch situation, and the fans expect him to pick up this team and carry them to promised land.
As Ortiz nears his 33rd birthday in a month, though, his body, never really a fine specimen, isn't holding up its end of the bargain. Various joints ache, and Ortiz's weakness — that he is a one-dimensional player — are laid out for all to see. David Ortiz without his power and hitting is nearly as a dead a weight in the Red Sox lineup as Jason Varitek currently is.
On the other side of things is A-Rod. Unlike Ortiz, A-Rod doesn't carry that clutch reputation. He's won two MVP awards in New York and through the first seven games of the 2004 playoffs, he was as hot a hitter as any in baseball. But over the Yanks' last few postseasons, A-Rod hasn't lived up to his billing.
In the end, of course, it's an issue of sample sizes. It's bad practice to aggregate playoff appearances over the years, and it's bad practice to assume that Ortiz isn't any more or less clutch than he used to be based on 31 at-bats in October. But fans will be fans, and as the Red Sox stare down the looming threat of elimination on Thursday, Ortiz, if he doesn't start hitting, will hear something familiar to A-Rod: boos in his home ballpark. The fans can be quite fickle as they wonder, "What have you done for me lately?"
By

Bryan Hoch reported this evening that the Steinbrenner Foundation has donated $1 million to MIT. The money will go toward improvements for the school's athletic facilities. On the face of it, it's a rather random donation, but George's dad Henry graduated from the Massachusetts university in 1927. · (26) ·
Things aren't looking so great for Bahston, and the Red Sox propaganda machine is already pumping out the excuses (sorry, subscription req'd). Their problems start right here: Jacoby Ellsbury, David Ortiz, All-Star Catcher Jason Varitek & Jed Lowrie are a combined … wait for it … wait for it … 0 for 40 in the series. Oh for forty. O 4 4T. That's not gonna get it done.
The Rays, on the other hand, are cruisin'. They've put up 18 runs in the past two games, mashin' seven homers in the process and powering past Lester The Invincible. Tim Wakefield draws the task of trying to stop them, but he had a 5.87 ERA in 3 starts against Tampa this year, and his postseason track record isn't encouraging: 6.36 ERA in a not small sampling of 69.1 IP. Joe Maddon wants to sweep the leg tonight, adding Fernando Perez's speed to the lineup against the knuckleballer.
First pitch is set for 8:07, you can catch the game on TBS. If you just can't get enough Frank Caliendo, check this out.
Tampa Bay
1. Akinori Iwamura, 2B
2. BJ Upton, CF
3. Carlos Pena, 1B
4. Evan Longoria, 3B
5. Carl Crawford, LF
6. Willy Aybar, DH
7. Dioner Navarro, C
8. Fernando Perez, RF
9. Jason Bartlett, SS
- Andy Sonnanstine, P (13-9, 4.38)
Boston
1. JD Drew, RF
2. Dustin Pedroia, 2B
3. David Ortiz, DH
4. Kevin Youkilis, 3B
5. Jason Bay, LF
6. Mark Kotsay, 1B
7. Coco Crisp, CF
8. Kevin Cash, C
9. Jed Lowrie, SS
- Tim Wakefield, P (10-11, 4.13)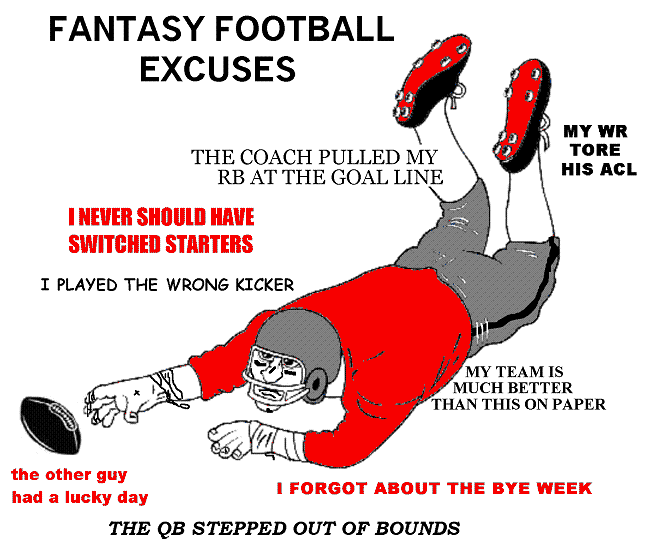 Back in August, a few of us casually brought up the idea of starting a fantasy football league, and an idea that went from "yeah, it sounds like it'll be a nice hobby" exploded into a massive 20-team league with more than enough trash talk to go around.
Having this many teams means that resources are scarce. Free agency and the waiver wire are basically barren, backup QB's are at a premium, and third string RB's are often trade targets. My original roster has undergone quite a facelift, although it hasn't helped much.
Gone are Rashard Mendenhall (injury), Kevin Faulk, Dennis Northcutt & Joe Jurevicius, replaced by John Carlson, Bobby Wade, Justin McCareins & Harry Douglas. That's how scarce decent players are. Vince Young's meltdown has forced me to start Chad Pennington, and Todd Heap's suckiness threw Carlson into a key role. San Diego's defense is sorely missing Mr. Merriman, as is my team. Michael Pittman's been a Godsend, covering for Ryan Grant, who's allergic to the endzone.
My top two players are Brandon Jacobs & Calvin Johnson, scoring 72.10 & 65.20 points, respectively. The second tier includes Pennington, Pittman, Kevin Walter & Antwaan Randle El, all of whom are in the 53-60 point range. I own exactly one of the top 52 point getters in the league, and just four of the top 65. It's shaping up to be a long season, unless VY starts performing like he's playing USC every week.
Standings after the jump. If any of the other teams want to chime in, leave your two cents in the comments (if I missed a link to someone's site, let me know).
Thanks to loyal RAB reader Bryan for sending along this tidbit last night….
Jason Grey, a graduate of the MLB Scouting Bureau's Scout Development Program and two-time Tout Wars champ is scouting the Hawaii Winter League for ESPN. In yesterday's entry, he offered up his takes on two Yankee pitching prospects, Andrew Brackman and Jeremy Bleich.
We know a lot about Brackman's pitching style already. He's tall; he throws hard and has some plus breaking pitches. Grey offers up his take on Brackman's efforts as he rehabs from Tommy John surgery. He likes Brackman's seldom-used slow curve as a surprise out-pitch and offers up some encouraging reports on Brackman's rehab:
He's still battling his mechanics, keeping his delivery too closed at times, and is having the predictable command issues that occur after a ligament replacement in the elbow, but the important thing is his raw stuff has come back, and the 22-year-old could start moving quickly next season. He profiles as a potential front line starter.
The other Yankee pitcher — lefty Jeremy Bleich — was another first-rounder. Drafted this year, Bleich will move through the system as a starter. Grey, however, sees him as a reliever at the big league level:
His fastball was clocked between 88 and 91 mph with easy arm action, and he coupled it with a potential plus pitch in an upper 70s curveball. Though he has a changeup, he put it in his back pocket for his first outing. He had some command issues, leaving the ball up in the strike zone way too much, but if nothing else he profiles as a solid bullpen arm in the big leagues, and perhaps more if he can find more consistent command.
I'm more excited to see what Brackman can do, but it's great that ESPN is providing readers with a non-Insider blogger covering the winter leagues. The Minor League-obsessed masses will eat this right up.
By

We've got a ton of afternoon content in the pipeline, but I wanted to take this opportunity to discuss Ivan Rodriguez's free agent status. I was thought that he'd get the Type B label, and that the Yanks wouldn't go through the pain of offering him arbitration, only to have him accept and saddle them with a hefty contract for a declining player. Eddie at Detroit Tiger Thoughts whipped up his reverse-engineered Elias Rankings, and it appears Pudge could be a Type A. This complicates matters.

You can head over there to find out the entire reasoning, though as Mike said after reading it, "my head hurts." Eddie puts the probability of Pudge garnering Type A status at 80 to 90 percent. If that's the case, is he worth the risk? · (56) ·
By

According to Ed Price of the Star Ledger, the Yankees will not renew the contract of third base coach Bobby Meacham. There was considerable criticism of Meacham this year, as he made a few obvious blunders early on. On Baseball Prospectus yesterday, Steven Goldman took a look at the Meacham situation, concluding that the Sox and Rays made more outs-at-home blunders. It's tough to break this down by numbers, though, since not every situation is the same. We saw Meacham blow what should have been obvious calls, and have therefore called for blood. Today, we got it. · (21) ·
Last week, we ponedered the Damaso Marte question. The Yanks, long in the hunt for an effective lefty out of the pen, hold a pricey $6-million option on Marte. Last week, I advocated re-upping with Marte. It is, after all, only money.
Today, we introduce a new wrinkle into the debate. Eddie Bajek released his Elias rankings for relievers, and Marte seems to have earned himself Type A status. (Of note is Kyle Farnsworth. He didn't even garner Type B status. We'll find out about Pudge later today.)
Bajek speculates that the Yankees will decline Marte's option. I don't agree with this conclusion, but the Type A status makes things interesting. If the Yanks let Marte go and if they happen to sign two or three Type A free agents this year, they recoup the draft pick they lose by letting Marte go.
Now, I know a lot of Yankee fans and analysts are high on the idea of getting more draft picks. After all, if you throw enough things against the wall, something's going to stick. But I approach draft picks more guardedly than that. Simply put, draft picks are an unknown quantity. The best can't-miss prospects miss, and the guys in the later rounds that some team takes a flyer on becomes an All Star. Having more picks in the first round just gives a team like the Yanks a little more margin for draft error.
But the Yankees have another advantage: They have a lot of money. They have money to spend on Major League-ready free agents; they have money to spend on international free agents. If they miss out on one of their draft picks because they feel Marte — or a similar player — has a role to fill at the Big League level, then so be it. They'll just snap up the next best guy on the international scene.
This news about Marte's status isn't surprising. It just adds one more dimension to the decision Brian Cashman and Co. will have to make in three or four weeks, and on this one, I don't really know the answer. I like Marte's stuff, and I like his left-handedness. But if the Yanks opt to safeguard some draft picks, I can't argue with that decision either.