By

Okay, we all know the Yanks aren't going to follow my advice. But seriously, there are some moves that you just have to make. And to me, the moves that the Yanks have to make from here on our are pretty clear: Get rid of Farnsworth. To be clear, here's how I would construct the 25-man. C: Jorge 1B: Phillips 2B: Cano 3B: Alex SS: Jeter LF: Matsui CF: Melky/Damon RF: Abreu DH: Giambi/Damon BEN: Betemit BEN: Duncan BEN: Molina BEN: Cairo (because we know he's not going anywhere) SP: Wang SP: Pettitte SP: Clemens SP: Mussina SP: Hughes RP: Rivera RP: Vizcaino RP: Bruney RP: Chamberlain RP: Karstens RP: One of Villone/Myers/Henn You can add another reliever to that list if you subtract Cairo. But you get the gist. · (10) ·
In the middle of the trade deadline countdown, the Yanks held a press conference today to unveil the 2008 All Star Game logo. The team also announced that they will try to seat fans in the black bleachers section for the home run derby. That might mess around with the batter's eye, but those would be awesome seats for the derby.
Here's the logo as it now appears above the façade in center field at the Stadium. It's a classy one. I'll try to get a better picture at the game tonight.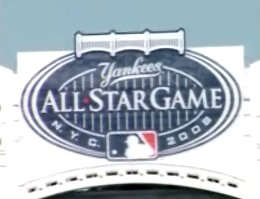 Here's the logo as it appears on the Yanks' website.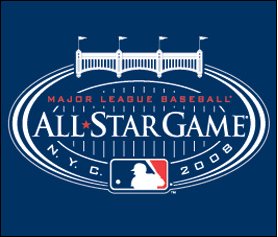 And because it's never too early, you can now start buying All Star Game 2008 merchandise.
Tim Brown of Yahoo wrote it, and Jayson Stark of ESPN just said it on the teevee. If Octavio does end up in Atlanta — and it's official at this point — the Braves will look for a quick swing on Wickman.
Farnsworth and $5 mil for Wickman. Former Yankee Bob may not be Gagne, but he's also not Farnsworth.
The tireless Ken Rosenthal notes that Eric Gagne appears to be Boston-bound. The Red Sox are waiting for Gagne's medical records and need him to waive his no-trade clause. I don't really understand this move. The Sox already have a dominant closer in Papelbon and a great bullpen with Okajima, Delcarmen, Kyle Snyder and Javier Lopez. With Brandon Donnelly on the DL, the Sox have the pitching. Considering their needs, whatever they give up is too much, and getting everyone adequate work will now be a challenge for Terry Francona.
Update: Just to stress a point, Jon Daniels is a terrible GM. When the dealings and negotiations for Gagne started, he wanted either Joba or Phil Hughes from the Yanks. Then he said he would take Kennedy or Melky Cabrera straight up. Then he said he would take Alan Horne. So now he's going to get Kasson Gabbard and Dave Murphy from the Red Sox. That's poor. He can't make either of them into a legitimate good player. Terrible trade for the Rangers. But at least the Yanks aren't giving up too much for Gagne.
And hopefully Miguel Cairo, too.
According to ESPN, the Yanks and Dodgers have agreed in principle on a Wilson Betemit for Scott Proctor deal. More details as they're released.
Update by Ben: A few points: Proctor is returning to Los Angeles. He came over in the deal for Robin Ventura in 2003, and I'm sad to see him go. I've always liked his stuff. While his walks are up this year and strike outs are down, I have a feeling that has more to do with the 100+ innings he threw in 2006.
I know a lot of people keep saying that Wilson Betemit is insurance if (or when) A-Rod exercises his opt-out clause. Betemit turned 27 last week and has a career offensive line of .263/.338/.441 in 825 at-bats. Obviously, those numbers don't even approach A-Rod's output. Betemit could be used as a chit in a deal for A-Rod's replacement, but I'm holding out hope that A-Rod stays in the Bronx beyond 2007.
Update by Joe: Just to keep you caught up on the roster implication so far, Mark Feinsand is reporting that the Yanks plan to recall Edwar Ramirez and send down Chris Basak.
While some sources had previously reported that Eric Gagne was Bronx-bound, the latest word has him sticking in Texas. According to a report by Gordon Edes, Rangers owner Tom Hicks has pulled Gagne off the table and wants to sign him to an extension. What's Plan B?
Update: Ken Rosenthal, who by my account hasn't slept since Saturday night, echoes this report. The Yanks are no longer confident that they can acquire Gagne.
By

In his oft-updated trade deadline piece, Ken Rosenthal notes that the Yanks are, according to an MLB source, "begging" to get rid of Kyle Farnsworth. There's no way this guy's still on the Yanks tonight. · (1) ·
Right now, as I type, we've got 5 hours and 40 minutes until the trade deadline. The Yankees, we know, want Eric Gagne, and want to move at least Kyle Farnsworth and possibly Kei Igawa. Bigger trades, while unlikely, are off the table.
We'll keep updating with news and rumors as we hear them. I promise: No more advocating for Eric Gagne-for-Melky Cabrera trades.
Update by Ben: Mike, on vacation, points us to the BA hot sheet where the Yankees have not one but two pitchers in the top five. The BA staff feels that, as good as their number one hot sheet pick Chamberlain's been, number five Ian Kennedy has been even better. Check it out.
Update by Joe: Someone asked about Gardner. He's on the 7-day DL with what they're calling a lower body contusion (I think Ajax missed time with that this year). He was hurt last week when running into a wall. The ball was trapped between him and the wall, leading to the contusion. It's not serious, but he's going to need the 7 days.
Triple-A Scranton (3-2 loss to Rochester)
Kevin Thompson: 0 for 3, 1 K
Justin Christian: 2 for 4, 1 3B
Erubiel Durazo: 0 for 3 — hitting .209 so far
Eric Duncan: 0 for 3, 1 K, 1 BB
Alberto Gonzalez — 0 for 2, 1 BB — not a very triumphant return
Wil Nieves: 0 for 3, 1 K — not missing a beat
Steve White: 6 IP, 5 H, 3 R, 3 ER, 3 BB, 3 K — those 3s are not a typo
Joba Chamberlain: 1 IP, 0 H, 0 R, 0 ER, 0 BB, 3 K — look out American League!
Scott Williamson: 1 IP, 0 H, 0 R, 0 ER, 1 BB, 1 K