The Yanks and righty Chien-Ming Wang agreed to a one year, $5M deal today, avoiding a second straight arbitration hearing. Last year, as you may recall, the two sides went to arbitration over a $600,000 difference in perceived value, and the arbitrator eventually sided with the Yanks, awarding Wang a $4M salary in 2008. Many felt the Yanks were being stingy with their top pitcher, after all what's another $600 grand on a team with a $200M payroll? Well, it's not much, but it sets a precedent for the future and triggers a snowball effect.
If Wang won his case and earned a $4.6M salary in '08, all of a sudden he's looking at maybe a $5.8-6.2M salary in 2009, rather than the $5M he signed for. The process then repeats after 2009, and again after 2010. They saved themselves just $600,000 in 2008, but perhaps saved themselves millions in future payroll.
There's also the overall effect. When Joba Chamberlain, or Phil Hughes, or Chad Billingsley, or Tim Lincecum, or any young right hander reaches arbitration, they'll probably use Wang as a comparable pitcher because arbitrators love simple stats like wins. Wang getting $600,000 less keeps those salaries down somewhat as well. That benefits everyone.
The Yanks have more money than any team in the game, but that doesn't mean they should spend their dollars senselessly. They're still a business, after all. (h/t MLBTR)
Here's your open thread for the night. Talk Wanger, Packers-Bears, whatever you want. Just be nice.
Oh, and make sure you check out Zell's run-in with Phil Hughes. Color me jealous.
By

Despite the Yanks' $240-million pitching binge, FoxSports' Dayn Perry still seems them as a third-place team. As a few other commentators have noted, the team's defense isn't still and the offense is no sure thing. But while Perry may have a point about the Yanks, Nick over at YFSF pinpoints the problems with Perry's piece. The FoxSports scribe seems to be evaluating the Yankees in a vacuum without questioning how the Rays or Red Sox will perform next year. As Nick writes, "A lot of pundits are taking it for granted that neither team will take a step back," and that's just a bad assumption. · (35) ·
By

While we all know the big signings of the Yankee off-season, it is somewhat shocking to many see the Yanks pouring hundreds of millions into player contracts during a global recession. Maury Brown, however, sees this as the perfect storm of Yankee spending. In a piece that summarizes the Yankee off-season, he explores how the non-trade for Santana, a bunch of contracts coming off the books and the tax shelter of the new stadium have put the Yankees in the free agent driver's seat this winter. With Manny and Teixeira still out there, the team might not be done yet either. · (31) ·
The Yanks have been hot on Brewers' centerfielder Mike Cameron this offseason, at least until the deal was deemed "officially dead" last week. With Brett Gardner unproven and Melky Cabrera perpetually underperforming (see, I was nice about it), it's hard to blame the Yanks for seeking out a short term upgrade until Austin Jackson is ready. With Cammy off the board, perhaps the Yanks should turn their attention to another 2008 Brewers' outfielder: Gabe Kapler.
Most Yankees' fans probably remember Kapler from his exploits with the Red Sox, particularly during their 2004 World Series season. He played for the Yomiuri Giants in 2005, then returned for another season in Boston before serving a tour of duty as manager of the Low-A Greenville Drive (BoSox affiliate) in 2007. The itch to play returned, and he spent 2008 as the Brewers' fourth outfielder/primary right handed pinch hitter.
Boy was that a smart decision. Kapler hit .301-.340-.498, setting career highs with a 117 OPS+ and .362 wOBP. He did most of his damage against southpaws (.354-.379-.622) and was money off the bench, hitting .323-.364-.548 as a pinch hitter. A .757 career OPS guy, Kapler's also a tough at-bat, averaging 3.94 P/PA since 2003. He doesn't draw as many walks as that number might lead you to believe however, and he struggles against breaking balls.
Defensively, Kapler's good in all three outfield spots (he was unreal in center last year, posting a .945 RZR and 33.2 UZR/150) and has a strong arm. Maintaining his career average of 0.8 UZR/150 would be perfectly acceptable for a part time player. He's also a tremendous person and clubhouse guy, which only continues the under-the-radar theme of bringing in "chemistry guys" this offseason.
Last year Kapler settled for a minor league deal that paid him $800,000 when he made the team, but this year he'll be looking for a guaranteed roster spot and maybe even a full-time gig. He missed the last two weeks of the season and the NLDS when he tore his lat on a throw to the plate, so that's something that has to be checked out in any predeal physical. The beauty of signing a guy like this is that you could still play Gardner every day while using Kapler against tough lefties and off the bench late in games. As far as Melky … well I dunno, I hope he enjoys Scranton.
KLaw ranked G-Kap the 35th best free agent in the class (subscription req'd), and when the alternatives are Willy Taveras, Corey Patterson and a not physically able to play everyday Rocco Baldelli, how do you not at least give Kapler a phone call? Quality bench players go a long way.
Last week I looked at what sabermetric guru Bill James projects for the Yanks' rotation next year, and now it's time to take a gander at the lineup. While many hope the Yanks pounce on free agents Manny Ramirez, Mark Teixeira or Adam Dunn, it's very likely that the Yanks won't add a bat and instead go into the season with Nick Swisher at first and some homegrown youngster manning centerfield.
We're used to juggernaut offenses that threaten 1,000 runs each season, but this year is different. Alex Rodriguez is the only proven homerun threat, while most of the other guys expected to hit in the middle of the order are more likely to line one into the gaps than shoot it over the fence. Save for one or two outliers, the lineup is full of guys that will grind out at-bats and work their fair share of walks. He might see more hit-and-runs and RBI ground outs than we're used too, and that's not necessarily a bad thing. Homers can only take you so far, especially once you face better pitching down the stretch and in the playoffs.
So let's get to it. What does James see for the Yanks offense next year? Fun starts after the jump.
By

Bryan Hoch texted Brian Cashman this morning, and the Yanks' GM categorically denied last night's report of an impending Manny signing. I'm inclined to believe the words coming out of Cashman's mouth, but he could just be denying the report because it's not a done deal. Either way, if the Yanks and Manny are even in discussions, I highly doubt a signing will be forthcoming any time soon. · (51) ·
It's hard to know what to make of Bob Klapisch's latest on Joe Girardi. On the one hand, it's a rather obvious piece exploring how Girardi may lose his job if the Yanks don't get off to a good start in 2009. On the other, it's something of a hack job designed to rile up the anti-Girardi factions among us.
While much of the piece focuses around some non-existent conflict between Joe Girardi and Manny Ramirez that may not even be an issue, Klapisch fires some blanket warning shots Girardi's way. Take a look:
This is bad news for Joe Girardi, who's already facing a difficult 2009 agenda. Despite the apparent imbalance in the Yankees' roster — terrific pitching, questionable offense — the manager is expected to get the Bombers to the playoffs or else lose his job.

Of course, the front office hasn't issued a win-or-else edict to Girardi. But officials are aware that his leadership style was too rigid and too intense for a veteran clubhouse. It's hard to believe Girardi can loosen up in the span of one off-season, but he'd better: If the Yankees are playing .500 ball in mid-May, the clock on his dismissal will be ticking loudly.

This is the same pressure that Willie Randolph faced early in 2008, and look how the Mets responded: They got their manager fired as they sunk under .500. Girardi is getting one more chance to undo last year's mistakes, including his over-reliance on team meetings, his inability to digest and process tough losses and his ill-advised policy of banning junk food in the clubhouse.
Got that? We have "questionable offense," Girardi's "inability to digest and process tough losses," and an "ill-advised policy" designed to encourage healthy eating in the clubhouse. I can't help but wonder what the agenda is.
In truth, Girardi probably will face a tough 2009 if the Yanks falter. The brass seemingly gave him a pass on 2008. The Yanks were facing some growing pains as they tried to determine how their young arms would fit in, and the teams had to overcome far too many injuries to make the playoffs. A poor start in a few months will land Girardi in the hot seat whether he deserves it or not. It won't be over some junk food ban or Girardi's inability to cope with losses. It will be because the team just doesn't perform up to anyone's expectations.
Update 1:22 a.m.: According to SportsCenter, Manny won't be taking any offers until after Teixeira signs. That news could be in response to this leak and a sluggish market for Teixeira or it could be more reliable. Just keep it in mind as you read about the Impacto Deportivo report about Manny I highlight below.
* * *
The Yankee news of the night doesn't come from ESPN, FoxSports or Jon Heyman. Rather, it's from a Spanish-language sports site based in the Dominican Republic.
According to Impacto Deportivo, the Yankees and Manny Ramirez are on the verge of a three-year, $75-million contract. The short report says that negotiations are advanced with an official announcement set to come on Monday or Tuesday. It also notes that Manny would have liked to stay in LA but that the Dodgers didn't want to pay the steep price.
Tim Dierkes, at MLB Trade Rumors, reported this story about 40 minutes ago but did so with an eyebrow raised in skepticism. Impacto Deportivo has a mixed track record when it comes to breaking stories. They did, however, break the Damaso Marte signing earlier this winter.
I, like Tim, am a bit skeptical of this news. First, it's the first we've heard of advanced negotiations between the Yanks and Manny's camp. Considering how Scott Boras runs the exact opposite of a tight camp, news embargoed until the negotiations are at an advanced stage would be shocking. This may also just be a mistranslation of Mark Feinsand's story of a Manny offer. Furthermore, the Mark Teixeira situation has not been resolved, and in fact, the Yanks could be emerging as prime players in that market.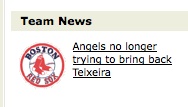 To wit, the Angels have officially dropped out of the Teixeira bidding, and reports say that the Red Sox have not contacted Boras since Thursday. While ESPN, as you can see at right, clearly wants all Mark Teixeira to involve the Red Sox — how is Angels' news not deserving of an Angels logo? — this latest development would increase the Yanks' chances. Unless Teixeira absolutely wants the Nationals' money, he may be fielding offers from the Yanks, Red Sox, Orioles and Nats. The field is that more wide open.
We'll of course monitor as this new develops, but things may be coming to a head for the Yankees, Manny Ramirez and Mark Teixeira as Christmas looms. Who knows which one, if any, will be under the Steinbrenner tree. If tonight's Impacto Deportivo story is to be believed, Manny it will be.
Ian Kennedy's season is over, he was sent home after throwing 34.2 excellent innings in Puerto Rico. He finished the year at 168.1 IP (counting the Triple-A playoffs), meaning he's good for 190-200 IP in 2009.
Here's the other winter ball notables:
Melky Cabrera: 27 for 83 (.325), 19 R, 6 2B, 1 HR, 12 RBI, 13 BB, 10 K, 2 SB in 22 games … Gammons says the Yanks stopped pursuing Mike Cameron because Melky improved his plate approach this winter, but I don't buy it for a second
Robbie Cano: 19 for 68 (.279), 14 R, 8 2B, 1 HR, 15 RBI, 7 BB, 5 K, 1 SB, 1 HBP in 17 games … he'll be done soon, he was only scheduled to play for a month
Frankie Cervelli: 12 for 49 (.245), 2 R, 2 2B, 1 HR, 3 RBI, 9 BB, 12 K, 1 SB, 1 CS, 1 HBP in 22 games
Edwar Gonzalez: 26 for 73 (.356), 8 R, 5 2B, 1 3B, 3 HR, 10 RBI, 4 BB, 16 K, 2 SB, 1 HB in 27 games … they resigned him after he became a 6 year minor league free agent
Walt Ibarra: 15 for 75 (.200), 3 R, 2 RBI, 6 BB, 17 K, 3 SB, 1 CS in 35 games
Ramiro Pena: 29 for 114 (.254), 13 R, 4 2B, 1 HR, 9 RBI, 3 BB, 14 K, 1 SB, 1 CS, 2 HBP in 32 games
Jorge Vazquez: 69 for 198 (.348), 37 R, 12 2B, 15 HR, 46 RBI, 23 BB, 50 K, 2 HBP in 54 games … Yanks just signed him as a minor league free agent after he spent the last ten years playing the Mexican League … MTOM has more info on him if you're interested
Jon Albaldejo: 16 IP, 11 H, 0 R, 0 ER, 2 BB, 11 K, 1 WP in 14 appearances
Wilkins Arias: 10.2 IP, 16 H, 16 R, 15 ER, 7 BB, 12 K, 2 WP, 1 HB in 16 appearances
Wafy Rufino & Abe Almonte just reported to their winter league teams in the Dominican, but haven't had any signifcant playing time yet.
Use this as your open thread for the night. The G-men kick off against the Panthers at 8:15pm, and home field advantage throughout the NFC playoffs could very well be decided in this one. Have fun, but play nice.
By

The Padres sure love the Yankees cast-offs. They nabbed Scott Patterson when we placed him on waivers. They selected Ian Nova in the Rule 5 draft, someone no one thought a possibility. Now they've grabbed yet another Yankee reliever: Chris Britton. The Friars have inked the hefty righty to a minor league deal. As with Patterson, I wish Britton the best of luck and hope he doesn't spend the year traveling between the majors and minors. That might not be much of an issue now, as he's out of options. · (22) ·