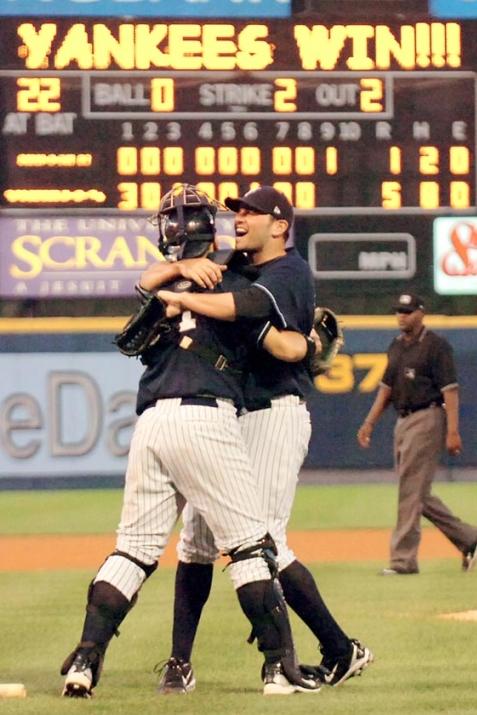 There's no question that 2010 was a banner year for the Yankees' farm system. Not only did their top prospects perform very well and continue along their development path, but numerous players broke out and several others returned from injury and exceeded every reasonable expectation. The system had been trending downward over the last few seasons due to graduation, trades, and normal attrition, but this year has re-established the system as one deep in both high end talent and role players, exactly what the Yankees need.
The Yanks' six domestic affiliates went a combined 368-318 (.536) in 2010, at least the 28th consecutive season the affiliates have combined for an above-.500 record. Triple-A Scranton (right), Double-A Trenton, and High-A Tampa all won their division and qualified for postseason play. A large part of that success can be attributed to all of the top shelf pitching prospects the Yanks have at the upper levels. It really is an impressive group.
This post is not intended to be any kind of prospect ranking. It's quite the opposite. It's a recognition of those who had great statistical years regardless of their future potential. Sometimes, we just have to step and say damn, that guy was awesome without obsessing over the underlying data and whether or not it's sustainable.
Here are my 2007, 2008, and 2009 awards posts. If you're unfamiliar with how I do these things, I disqualify the Player of the Year from the other major awards just to mix things up. Variety is the spice of life, as they say.
Minor League Player of the Year: Brandon Laird, 3B, AA/AAA
Following a 2009 season in which he started off slowly before turning things around in the second half, Laird dominated the Double-A Eastern League right from the get go in 2010. He clubbed four homers with a .334 wOBA in April, then improved to six homers and a .408 wOBA in June, nine and .382 in July, and then four and .346 in August before being promoted to Triple-A Scranton. Overall, Laird hit .281/.336/.482 with a system leading 25 homers and 102 RBI, but his performance with Trenton is what really solidified this award for him. He hit .291/.355/.523 (.371 wOBA) for the Thunder, enough to win him the league MVP and Rookie of the Year awards. Of course, the RAB Minor League Player of the Year Award trumps all.
Honorable Mention: Jesus Montero, C, AAA; Graham Stoneburner, RHSP, A-/A+