Last season spoiled us all. The Yankees amassed so many come from behind wins with late inning theatrics that it we came to expect it. This year's team has shown the same propensity to battle back in the late innings, but with a lineup shortened due to injuries, they just haven't been able to cash in over the last six days.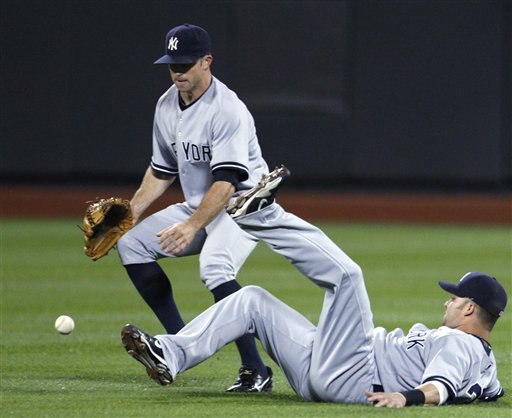 CC stands for C(an't finish off) C(ora)
Well that was lame, but then again Sabathia didn't deserve much of a headline after this one. The Yanks' ace, just like Phil Hughes last night, struggled to put Mets' hitters away, most notably Alex Cora (!!!) in the 2nd inning. The Mets' fill-in second baseman fell behind 0-2 with men on second and third, but Sabathia just couldn't get that third strike. After a fastball inside for ball one (that was probably a strike), Cora fouled off another heater and a rare curveball to stay alive before spitting on a slider to even the count at two.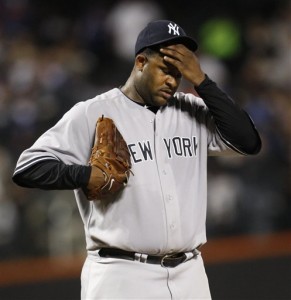 Sabathia and catcher Frankie Cervelli had had enough by that point, so they went right back to the old number one to try and finish him off. CC's offering was clocked at 95 and was on the inner half, but Cora pulled his hands in and muscled the ball into center for a single. Both runs scored, and just like Saturday night the Mets jumped out to a quick lead. They never looked back.
Gardner makes two outs with one swing

With the Mets staked to a four run lead just three innings in the Yankees were looking for any way to get themselves back in the game. Sabathia of all people singled to lead off the Yanks' half of the 3rd, and Derek Jeter followed that up with a single to right to put men on first and second with no outs. A normal baserunner would have been able to go first to third on the play, but there's no reason to push CC, especially not after the Chien-Ming Wang episode of 2008.
Up came the struggling Brett Gardner, who squared around to bunt in the 1st inning of not just this game, but Saturday's as well. Instead of doing that, he might as well have "I'm struggling and I know it" tattooed across his forehead. Santana got ahead with a fastball before going to work with his world class changeup, the second of which Gardner slapped right to Cora at second. It was an easily turned 4-6-3 double play despite his speed, and the Yanks' chance to get back into this one basically went down the toilet.
Slumping Yanks
Oh let us count the ways…
Prior to his 8th inning single, Mark Teixeira had one hit in his last 29 plate appearances. Hopefully that – along with his 9th inning chopper – will get him going, because holy cow has he looked absolutely dreadful of late.
Meanwhile, Gardner's regression to the mean is in full effect. Dude is a capital OH for his last 16, and as you've already read, has added grounding into double plays to his repertoire. His batting average dipped under .300 tonight for the first time since April 18th, and his OPS has fallen a hundred points in the last two weeks. Joe Girardi said during his postgame press conference that he doesn't plan to do a "whole lot" of lineup rearranging next time out, but with  Nick Swisher back and healthy, it's time to move him up to the second spot in the order to try to generate some more offense at the top of the lineup.
Cervelli, starting his seventh game behind the plate in as many days on Sunday night, is five for his last 23. To his credit, he hit what might have been the longest single in the history of baseball tonight with that shot off the top of the wall in the 7th. Of course, he should have been standing on second as Girardi acknowledged after the game, but that's another topic for another time. He also singled again in the 9th.
Bad Stuff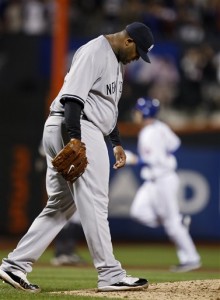 Jason Bay with not one, but homers after coming into the series with one all season. I hate to say it, but I totally called that on Friday. That dude just kills the Yankees. Kills 'em. Let's be glad he's in the NL now.
Johan Santana was excellent, but seriously, he threw 27 pitches combined in the 4th, 5th, and 6th inninsg. I know it's tough to do against a pitcher of that caliber, but at least try to work the count. Hats off to him for a fine performance.
How about home plate ump Marvin Hudson warning both benches after Sergio Mitre hit Bay with a curveball with two outs in the 6th? How can the umps be so out of tune with what's going on?
The Yankees haven't hit a homerun since Juan Miranda took James Shields deep on Thursday. Bronx Bombers? Bronx Flyouts is more like it. (I keed, I keed) (Sorta)
Good Stuff
Hooray for Sabathia getting a hit. And Swisher for scoring from first on Cervelli's single. He's a hustler baby, he just wants you to know.
The late inning rallies once Santana was out of the game give me hope that the offense is starting to click. Kevin Russo, Jeter, and Alex Rodriguez in particular worked some good at-bats. Once they get a few more healthy bodies in there, they should start converting some of these rallies into wins.
WPA Graph & Box Score
MLB.com has the box score, FanGraphs the more in-depth box score.
Up Next
The Yankees are off tomorrow and they could probably use a day away from a baseball field. They'll head to Minnesota to play in new Target Field for the first time starting Tuesday evening.