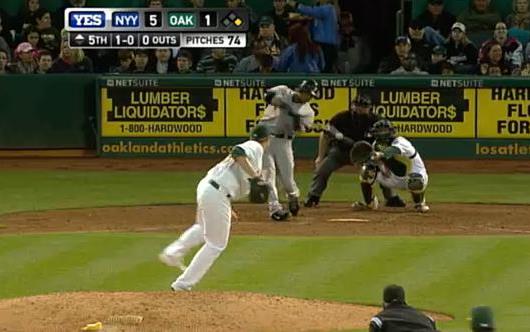 Weird things happen in Oakland. Last year it was the whole Dallas Braden-Alex Rodriguez nonsense (don't forget the triple play!), and tonight it was Mark Teixeira stealing home. No, it wasn't a straight steal of home, Conor Jackson's errant throw had a hand in it, but it all looks the same in the box score. Since it's late because of the west coast stuff, let's recap this one the easy way…
Coming into Tuesday's game, Brett Anderson had allowed exactly zero extra base hits to left-handed batters this year. Four pitches into the game, the Yankees had a two-run lead thanks to Curtis Granderson's 17th homer of the season, his league leading ninth off left-handed pitching. Raise your hand if you thought you'd ever hear that. Robinson Cano homered in the fifth inning, so make that two lefties with extra base hits off Anderson in the game.
Tex's steal of home came after A-Rod got caught in a run down between first and second following a Cano strike out. Tex broke for home and Jackson essentially threw the ball into the dirt and Kurt Suzuki was unable to handle it. That's pretty much it, but it's still cool.
As for the rest of the offense: A-Rod had three hits and drove in three runs, Derek Jeter had two hits and scored three runs, Grandy had three hits total, and both Nick Swisher and Andruw Jones reached twice as well. Swish had a rough night, he got doubled off first on an infield fliner, bobbled a ball off the wall, and then got picked off third when Brett Gardner failed to get a bunt down on a squeeze play. Why they were attempting a squeeze in the fourth inning, I will never know.
Freddy Garcia was good enough but not great, though going seven innings in a laugher is always appreciated. Somehow the A's only scored three runs off him despite two walks and nine hits, four of which went for extra bases (including a triple and a homer). It wasn't always pretty, but I'll be more than happy with that effort every time out.
I didn't hear it myself, but I've been told that the Athletics broadcast (which is very good) said Cano is just the second second baseman in history to hit at least ten homers in his first seven big league season. If true, that's pretty cool.
These two teams will wrap up this series tomorrow when A.J. Burnett gives it a go against Gio Gonzalez. That game starts at 3:35pm ET, so none of this late night nonsense.