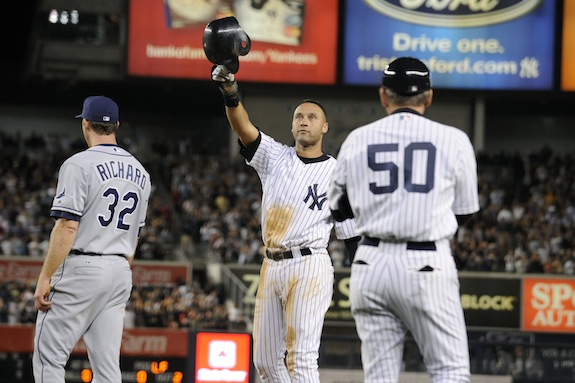 Despite some simmering disputes over his rightful place in the lineup, Derek Jeter will begin the 2011 season with a milestone in sight. As he digs in against Justin Verlander to start the bottom of the first on Opening Day, Jeter will stand just 74 hits away from becoming the first person in Yankee history to rack up 3000 hits while wearing the pinstripes. Although the Yanks cheered Jeter's franchise record-setting hit back in 2009, this year, they'll roll out the red carpet for him.
The question often on fans' minds then is the when of it all. When will Jeter get his 3000th hit? Will the Yankees be in the Bronx when it happens? How crazy will the media attention be? Who will the Yanks face when he does it? Since you just can't predict baseball (Suzyn), the best we can do is try to guess when that day will be. Enter the spreadsheets.
Over the past three years, Derek Jeter has averaged 4.62 plate appearances and 4.12 at bats per game played. Over the span of 162 games, those totals drop slightly to 4.37 PAs and 3.89 ABs. He doesn't, after all, play every game, and the 157 games he played in 2010 were a five-year high for Derek.
I plugged the Yanks' schedule into an Excel table and set Jeter's target batting average at four different marks. First, I picked .333, a point below his 2009 mark. Next, I went with .300, his 2008 mark and a point below his three-year aggregate total. Then, I went with .314, his career mark, and finally, I considered the worst-case scenario: a .270 mark, in line with Jeter's final 2010 batting average.
[TABLE=77]
Now a few caveats. The more likely scenario is the left column. The Yanks won't kill Jeter early on by playing him every day, and the left column assumes that he plays 162 games a season. He just doesn't do that anymore. Second, these projections are just that. They're based on some simple assumptions and some simple math, nothing more, nothing less. Third, I'm assuming that Jeter sticks in the leadoff spot, but more on that in a minute.
That said, we have a pretty sense of a two-week window in early June in which Jeter ought to be approaching or passing hit number 3000. Unfortunately for the fans, if Jeter is going well, the team will be on the road when he nears the milestone. The team has a nine-game swing through Seattle, Oakland and Anaheim from May 27 through June 5. After that, the club comes back to the Bronx for 10 home games, and of course, the first three are against Boston. Imagine the craziness if Jeter is sitting on 2998 when the Red Sox come to down.
Finally, we also here in the bottom row Jeter's worst-case scenario. If he's hitting only .270 again this year, he won't break the record until close to late June. The Yanks land in Chicago for a set in Wrigley on June 17, and he could very well still be trying for that hit by then. If he is hitting lower than that, these projects are likely moot because they're based on the number of at bats Jeter gets as the leadoff hitter. If Joe Girardi drops him down in the order, expect the timeline to extend by a handful of days.
So ultimately, that's where we stand with Jeter. I'm not going to tell you to buy tickets for any of these home games because things change. Injuries, hot streaks, slumps — they all happen. Jeter could explode out of the gate and reach his milestone by late May. He could slump and take nearly three months. With Opening Day just over three weeks away, we'll find out soon enough, but start revving up the hype engine in the meantime.