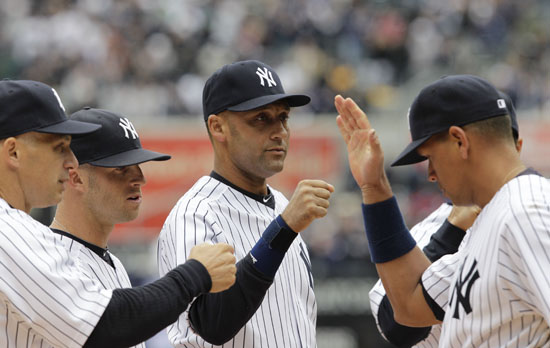 One of the best things about the beginning of the season is that we are presented with statistics that are mildly nuts to absolutely absurd. It's not unusual for players to go through slumps and streaks, but when they happen in July or August, the numbers are evened out by what the player in question has been doing for the rest of the year. If he's absurdly hot for two weeks, he'll be bogged down by his crappy season, and vice versa. The beginning of the season doesn't have any of that.
In light of this dramatic game (and the not-so-dramatic game from yesterday), I'd like to present some of the streaks and slides the Yankees have been going through so far, only extrapolated to fill the entire season. Blowing the numbers up to 162 games just makes them look even sillier than they do now, and hopefully the craziness of the numbers are enough to calm down anyone freaking out about some of the struggling players on the roster.
Here are some crazy hitter numbers:
Jorge Posada: 86 hits in 152 games (last year, he had 95 hits in 120 games). 57 of those hits will be home runs. He'll also strike out 152 times.
Russell Martin: 162 hits, 54 home runs, and a 1.132 OPS. He'll steal 18 bases and not get caught once.
Mark Teixeira: 54 home runs (he's only had one 40+ homer year), 154 hits (one more than last year), and 144 RBIs (he had 108 last year).
Alex Rodriguez: .370/.483/.826 with almost as many homers (45) as strikeouts (54). Also, his 99 walks would be better than every year except 2000, when he had 100.
Robinson Cano will have 9 walks all season. On the other side, Nick Swisher will have a career-high 108 walks. Swish will also rock a career-low 72 RBIs, which might have something to do the fact that he'll hit zero home runs.
Derek Jeter's projected slash line? .243/.308/.271 with 36 RBIs and 18 doubles. That RBI number is pretty depressing, but considering  he's batting after Brett Gardner (projected: 72 hits, 18 doubles, and a .207 OBP), you can't really blame him.
And some pitchers:
Bartolo Colon will throw 172IP with 191 strikeouts and only 48 walks and 67 ER.  I'd take that for sure.
With today not factored in, Freddy Garcia's numbers look like this: 117 IP, 9 ER, 81 Ks. Yes please.
AJ Burnett: 210 IP, with 210 strikeouts (that would be the second best in his career, behind 2008), and 95 walks (also two behind his career high of 97). He's also projected to give up a whopping 38 (!) home runs.
It'll be an even worse season for Soriano, though, who would, in 76 IP strike out as many as he walked (57) and give up 57 ER.
Luckily, Mo is slated to have another awesome season behind him. 86IP with 19 ER and 67 strikeouts.
It just goes to show you that early-season numbers can turn into some crazy longer season numbers. I'm pretty sure Burnett won't be giving up 38 homers, and if Soriano is striking out and walking the same amount of people, we have a major problem. Likewise, if if Teixeira really does hit over 50 homers this year, I think that would be a pretty awesome surprise. Nick Swisher will eventually get something out of the park. Don't put too much stock into what players have done already, because while it may be impressive (or really depressing), things tend to even out.