Normally in this time slot I'll present a pitching breakdown of the previous game using MLB's PitchFX data. There are plenty of great PitchFX resources out there, including Brooks Baseball and Texas Leaguers, so I can always find the information I'm seeking. These numbers are most useful, I think, for home games, since we have a large body of comparison. When we start crossing parks we run into calibration differences that can skew analysis. There's a chance we saw that last night.
The PitchFX readings suggest that A.J. Burnett's fastball averaged 91.5 mph, topping out at 93 mph. That's clearly not the Burnett we've seen in the past year and a half. He might not have that upper 90s speed any more, but he has averaged 93, 94 mph. So was this Burnett slowing things down to compensate for his back issues? Or is it a PitchFX calibration issue? I'll suggest that it's the latter.
Rangers starter C.J. Wilson had similar velocity numbers to Burnett. He averaged 90.3 mph with his four-seamer and ramped it up to 93. In his previous start, up in Seattle, he averaged about a mile per hour faster with his four-seamer, both average and max. I've heard before that the PitchFX data in Texas is a bit slow, and while this observation doesn't confirm it we can see that there easily could be differences between parks. That makes it difficult to break down Burnett's start by comparing it to his previous ones.
What we can do is compare Burnett to his counterpart. Both Burnett and Wilson pitched well, allowing just five runs between them in 12.1 innings. There was a curious balance there, with Burnett, despite being over 100 pitches entering the inning, finishing the seventh, while Wilson was lifted in the middle of the sixth. That helps bridge the one-run discrepancy. But other than the results, Burnett and Wilson aren't that alike at all.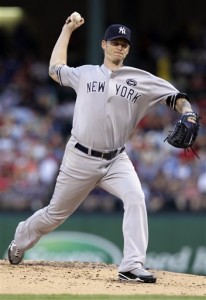 By this point we understand Burnett's arsenal. He'll normally rely on the four-seamer and move to the curve or the two-seamer for a change of pace. Last night he threw 57 four-seamers, 23 two-seamers, 25 curves, and he even snuck in six changeups. Best of all, it looked like he might have rediscovered something he'd been missing in previous months. The four-seamer generated five swings and misses, the curve three, and even the changeup led to a strikeout. It's nice to see the fastball fooling the Rangers hitters. We put a lot of emphasis on the curve, but without his fastball the curveball becomes that much less effective.
(As an aside, just to hammer home how effective Burnett's fastball was last night, remember that David Murphy hit his home run on a first-pitch fastball. It wasn't a bad location, down and in, so it's tough to kill A.J. for that. But even with the resulting homer, Burnett's fastball was still rated as excellent. In other words, I think we saw Good A.J. get some bad results last night.)
Yet even with the effective fastballs last night — his two-seamer didn't have that tail that we noticed in his last start — the curve was again not that effective. The Linear Weights score on Brooks Baseball, which assigns run values to each pitch based on its outcome, had the curve as ineffective as the fastball was effective. Anecdotally, that sounds about right. It did generate three swings and misses, but all three came in a single at-bat against Vladimir Guerrero in the fourth. Burnett threw him four straight curves, and then went for a fifth when Nelson Cruz came to the plate. Cruz had grounded out on a curve in his first PA, so Burnett went back to it. This time it produced poor results, an RBI double that gave Texas a 1-0 lead.
On the other side, Wilson attacked the Yankees with a mixed arsenal. He threw all six of his pitches 11 times or more. That was his changeup, and he even got a swing and miss on it. Wilson also featured 15 curveballs, on which he got four swings and misses. As Ken Singleton noted on the broadcast, Wilson didn't even flash this pitch the first time through the order. He really didn't have to. With five other pitches, he could keep that one in his back pocket until he needed it. That proved effective, as he dropped 10 of 15 for strikes, including four swings and misses.
One thing I love about Wilson's arsenal is that he employs fastballs that move in two directions. That would be the two-seamer, which breaks towards a left-handed hitter, and the cutter, which bears in on a righty. That must make it tough for opposing hitters, since a fastball can move in any direction (or come in straight). I'm guessing that makes his changeup, and even his curveball, more effective. The two-seamer wasn't working that well last night — he threw just seven of 16 for strikes and got no swings and misses — but I do wonder how well it worked as a setup tool for his other pitches.
This isn't how Wilson attacks every lineup. In Seattle for his last start he went heavy on the four-seamer and cutter, throwing them 44 times out of 85 pitches. The changeup, four times, and the curveball, five times, were afterthoughts. Apparently Wilson thought he needed those weapons to attack even a depleted Yankees lineup. It worked well enough, though the Yanks did a good job of driving up his pitch count and forcing Ron Washington's hand. Wilson threw 15 pitches in the sixth, leaving runners on first and second with one out.
While we didn't get the best look at Burnett by the PitchFX numbers, what we can glean suggests that we did, in fact, see Good A.J. last night. Finishing seven innings while only giving up three runs is almost always a positive. That two of those runs came from a fairly good pitch makes it look a bit better. In other words, the process was good but the results didn't match. That happens plenty in baseball. Give credit, too, to the Yankees lineup, a ragtag bunch that forced Wilson from the game before the end of the sixth. It was a tough loss, but there was plenty that went right in this one.