Well, the Yankees weren't supposed to win on Monday night, so the baseball gods did the Rays a solid on Tuesday and helped them to a come from behind win. It's only fair, I guess.
Blown
We'll talk about Bartolo Colon's outing a bit, but we might as well start with the turning point of the game, Tampa's two-run seventh inning. The Yankees were up 2-1 at the time and Colon started the frame with a strikeout, but Robinson Chirinos beat out an infield single to short ahead of Sean Rodriguez's legitimate single to right. That took Bartolo out of the game, and that's when things started to get weird.
Boone Logan came in to face the lefty Sam Fuld, which was kind odd because Sam Fuld is terrible and doesn't need to be LOOGY'd. Joe Maddon predictably pinch-hit the right-hander Justin Ruggiano, who lifted a ball to center in an 0-2 count. It was a total can of corn, aside from that fact that it was in a dome. Curtis Granderson lost the ball in the roof and it dropped in for a hit about 15 feet in front of him. All the runners moved up and the bases were loaded with one out. The lefty swinging Reid Brignac was lifted for the righty Elliot Johnson, and frankly I expected them to squeeze to tie. They didn't, and Johnson bounced the ball back to Logan.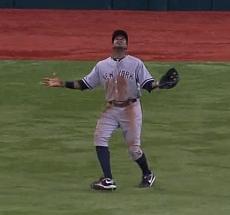 Instead of a 1-2-3 inning-ending double play, the ball clipped off Logan's glove and went behind him. The tying run scored and everyone was safe. It looked like Boone took his eye off the ball and was already thinking home, but I could be wrong. Logan finally got to face a lefty after that, and Johnny Damon lifted another harmless fly ball to center. This one was shallower and in no man's land, forcing Granderson to catch it on a slide. That slowed him down just enough so that Rodriguez could trot home with the go-ahead run. Logan came in and did his job, getting two high pop-ups and a ground ball back to the mound, but the roof and some sloppy defense cost them the lead.
The Hammy's Okay
Before those two singles in the seventh, Colon looked like vintage Bart. Both of his fastballs had their usual velocity and movement, and he did not appear to be favoring his hamstring at all. At the very least, he had the full recoil in his delivery when he threw his four-seamer, something we didn't see last time out in Toronto. Colon was dotting the corners of the zone and struck out a season-high nine against just a pair of walks. His fastball velocity increased as the game went on, which is what we saw earlier in the year. It was a vintage Colon outing, he threw 70 of his 105 pitches for strikes (exactly two-thirds) and got 13 swings and misses. The Yankees lost the game, but it was very obvious that the pre-DL version of Bartolo had returned. That's one big positive.

The Post-Home Run Derby Swing Is Okay
Every year we hear about the Home Run Derby and how it sabotages perfectly good swings for the second half, but so far Home Run Derby Champ Robinson Cano has yet to show an ill effects. He had five hits during the four games in Toronto and singled in the opener against Tampa, but he hit his first post-Derby homerun in the third inning of this game, sending a 1-0 fastball over the wall in left-center for two runs. It was a oppo bomb, so he hasn't gotten pull happy. Nope, no worries about his swing at all. Unfortunately, those were the only two runs the Yankees would score on the night.
Leftovers
Boy that Jeremy Hellickson kid, he's some kinda of talent. That fastball-changeup combo is super legit, he had the entire team off balance all night. I wish Tampa would stop rolling out young arms like this year after year, it's not fair. Do you know they haven't had a starting pitching prospect flame out since Dewon Brazelton back in the day? I mean completely flame out, like provide basically zero value at the big league level. Wade Davis doesn't count. That organization is the model player development machine.
Brett Gardner continues to be an offensive dynamo and continues to bat eighth. He singled twice in this game and stole a pair of bases, meaning he's now swiped 14 straight without being caught. He's also been successful in 23 of his last 27 attempts, and all of a sudden he leads the AL with 30 steals. That kinda came out of nowhere, no?
Mark Teixeira had two hits, believe it or not, and one was actually an extra base hit (a double). Derek Jeter took a big bat 0-for-4, and his groundout to end the seventh inning was one of the costliest plays in the game according to WPA. Gardner and Eduardo Nunez were on second and third, respectively, representing two big insurance runs. The Cap'n is just 15-for-82 with five walks and two hit-by pitches with runners in scoring position this year, a .183 batting average and .237 OBP.
Joel Peralta tried to get away with a quick pitch for strike three to Jorge Posada in the ninth, but the home plate ump wasn't having any of it. It's similar to the balk rule, a pitcher can not deliberately change his motion in an attempt to deceive the hitter. You don't see quick pitches too often, so that was kinda fun, only because Peralta got called for it though.
The last four games these two teams have played have been decided by one run, and this was the first one the Yankees lost. It was also just the sixth time they've lost after having a lead through six innings this year (46-6). New York is just 12-13 in one run games, which sounds like it sound be meaningful, but it's not. One run games are pretty fluky and don't reflect the true talent of the team. I think it was Bill James who showed that a team's record in games decided by three or more runs had a much stronger correlation to its overall record than games decided by one or two runs. Anyway, I'm rambling.
WPA Graph, Box Score & Standings
Sadface. MLB.com has the box score and video highlights, FanGraphs the nerd score, and ESPN the up-to-minute standings.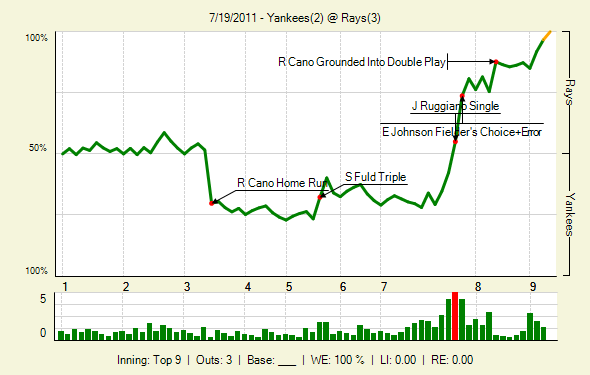 Up Next
Game three of this four-game series will be played Wednesday night. Freddy Garcia gets that start against David Price. Let's put this one in the rear-view mirror and move on.