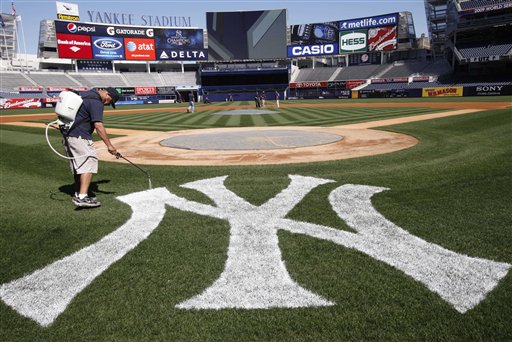 The season is six games old, but it hasn't felt like it's really started yet because the team has been on the road the whole time. That all changes today, when the Yankees take the field in the Bronx for the first time since walking off it as World Champions back in November.
Just like that great night, today's game will be started by Andy Pettitte, who's starting his fourth home opener. He's a perfect 3-0 in those other three starts. There's not much more to say, baseball is back in the Boogie Down. Enjoy it.
Here's today's lineup…
Jeter, SS
Johnson, DH
Teixeira, 1B
A-Rod, 3B
Cano, 2B
Posada, C
Granderson, CF
Swisher, RF
Gardner, LF
And on the mound, the man who won the games that clinched the AL East, ALDS, ALCS, and World Series last year, Andy Pettitte.
Ben, Joe, and I will be at the game, so stop on by to say hi if you want. We're sitting in YES' private box Section 426 Row 11 Seats 10-12. For the rest of you watching on the tube, first pitch is scheduled for 1:08pm ET and can be seen on YES. Here's the schedule of pregame ceremonies…
12:30-12:44 p.m.: Ring ceremony begins
12:44-12:54 p.m.: Introductions
12:54-12:56 p.m.: Giants flag, presentation of colors, and National Anthem
1:01 p.m.: Bernie Williams throws the first pitch

Game Notes: Yankees trainer Gene Monahan, currently away from the team with an undisclosed illness, will be attending the ring ceremony. Geno missed all of Spring Training this year, and although the team had kept his diagnosis a secret, Mariano Rivera said yesterday that Monahan had surgery for cancer. He should get a big standing ovation from his teammates and patience this afternoon as well as from the fans.