Given their pitching woes, the Yankees need A.J. Burnett to rebound from his horrible 2010 season and become at least a solid innings eater in the middle of their rotation this season. Not want, need. Burnett woke up this morning with a shiny 3.99 ERA, which is almost exactly league average these days. His 4.43 FIP is better than last year's mark (4.83) but is still below average, though his 3.98 xFIP (4.49 in 2010) is basically on par with the rest of the league. Returning to league average is an improvement for Burnett, sadly.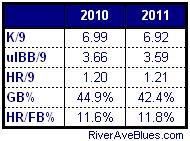 However, ERA and FIP really don't paint the whole picture. Offense was down last season and it continued to crater this year, so our feel for what's good and what's bad might need to be recalibrated. When you take a look at the underlying performance (table on the right), you can see that A.J. is essentially the exact same guy now as he was last year in terms of strikeouts, walks, ground balls, and homerun rate. The AL average strikeout rate actually dropped a bit this year despite the decrease in offense (6.83 K/9 vs. 6.67), but the homerun rate went down about a tenth of a homer per nine while walk rates remained static. So in a way you can say that Burnett's fielding independent performance (particularly homers and walks) actually got worse this year.
So what's different? For one, he's managed to cut more than 70 points off his overall BABIP (.246 vs. .319) even though his batted ball profile barely changed. The BABIP drop is most notable when there are men on base.  Last year, opponents tagged Burnett for a .247/.319/.410 line with men on base and .260/.328/.450 with runners in scoring position. Those lines have dropped to .212/.300/.394 and .197/.253/.379 this year, respectively. The BABIPs nosedived from a normal .285 and .292 in those spots in 2010 to a measly .227 and .197 in 2011, again respectively. A.J.'s strikeout rate is pretty much the same in those spots in both years (about one whiff for every five batters), but the batting ball data shows that hitters have been putting the ball in the air a lot more often with men on base this year than last (about 10% more often). More balls in the air translates to a lower BABIP, but sheesh, not that low.
Aside from the remodeled (but not overhauled) mechanics and a few more changeups, the 2011 version of Burnett is pretty much exactly the same as the 2010 version. He's running into some better luck (especially when pitching from the stretch with men on base) after being on the other end of the spectrum last season, but the underlying performance is all the same. If Burnett runs out of luck with men on base, it could get ugly, and will only emphasize the team's need for another high-end starter. For now, the end result (runs allowed) is better, but at the end of the day it's still the same old A.J.