By

No not that Gardner, I'm talking about RHP Mike Gardner, who the Padres plucked from the Yanks in the Rule V Draft. Gardner had an unimpressive spring for the Friars, which made it easy for them to use the 25-man roster spot elsewhere. I expect Gardner to return to Double-A Trenton to start the year, with a halfway decent chance of contributing to the big league team at some point this year. · (3) ·
At a Tampa ceremony honoring George Steinbrenner yesterday, Yankee great Reggie Jackson expressed his belief that Steinbrenner belongs in the Hall of Fame.
"Personally, when it comes to the game and its history, I think I certainly have a case for The Boss, George Steinbrenner," Jackson said. "With his ten pennants and six world championships, I would give him my nod to one day be elected to the Hall of Fame."
As anyone who knows Yankee history is sure to understand, it's only a little ironic to hear Reggie Jackson of all people proclaiming George's Hall of Fame destiny. But then again, Reggie and George seemed to have each other's backs in the 1970s.
Meanwhile, as much as we don't want to admit it, Jackson is right: George Steinbrenner belongs in the Hall of Fame. He's been suspended from baseball twice; he's one of the most abrasive owners in the game; but his contributions to the game and his legacy will live on long after he passes away. Forget the pennants; forget the World Championships. Just look at baseball's current financial structure, and you will understand why George belongs in the Hall.
By

The Yankees did what we figured they'd do in deciding to start Joba Chamberlain in the bullpen this year. Girardi says his future is as a starter, though he didn't say whether it would be this season.

Update by Ben: Tyler Kepner tells us that the Joba Rules will not be in effect this year. Joba can pitch whenever and as often as Joe Girardi and Dave Eiland see fit out of the pen. · (20) ·
By

Via Chad Jennings, JB Cox returned to game action Tuesday for the first time since undergoing Tommy John surgery, throwing fastballs and sliders (no changeups) in a minor league game. Cox will give it another go on Friday, and said he expects to start the year with High-A Tampa before heading up to Triple-A Scranton when the weather warms up. Oh boy, the kids are gettin' healthy. · (14) ·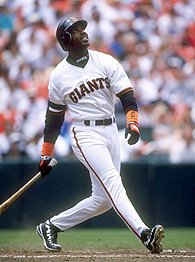 As you might have heard by now, MLBPA plans to investigate the lack of offers over the winter for 43-year-old Barry Bonds. While this might seem like big news, it's really little more than routine. Don Fehr, head of the player's association, tells us that his organization looks into free-agent issues every day. Only if they "come to the conclusion with respect to any player that there's a matter worth pursuing, [they'll] pursue it."
So, under normal circumstances, this wouldn't be news. However, we're talking about a guy who hit .276/.480/.565 in 477 plate appearance last year. A guy who hasn't had an OPS+ below 150 since 1989. A guy who, by all anecdotal evidence, has kept in shape this winter and could conceivably give your team another 450 or so plate appearances at a well above average clip.
Still, it's easy to ascertain why he hasn't landed a gig anywhere. An entire book is dedicated to proving that he abused PEDs willingly. The Mitchell Report, while not harping on Bonds like it did Roger Clemens, didn't help the former's case much. Why bring in a publicly-assumed PED user when there are younger, more flexible players on the market to fill your roster?
Before I go any further, I'd like to mention the definition of collusion: "secret agreement or cooperation especially for an illegal or deceitful purpose." I'll revisit this later. But for now, let's move on.
For some teams, this was an easy decision. Bonds can DH and play some kind of role in left field, but that's about it. So right then he's limited in a way that has nothing to do with steroids. The Yankees, for example, already have two players slotted for DH duty, Jason Giambi and Hideki Matsui. And beyond that, they already have a lefty-heavy lineup. So you can strike him off at least one team's list, two if you count the Giants, who publicly told him he wasn't welcome back, three if you count the Red Sox, who have Ortiz hogging the DH spot, four if you count the Indians, who have Travis Hafner doing the same. And let us not forget Frank Thomas in Toronto, Gary Sheffield in Detroit, and Jim Thome in Chicago.
What's holding the other teams back? Well, you first have to consider that Bonds only fits on contenders. So beyond the seven teams we just named, we can strike out the Marlins, Nationals, Astros, Pirates, and Orioles. So that's 12 teams out of 30 who right off the bat should have no interest in Bonds. And that's before we get a bit deeper into the matter.
I just got a call from RAB's reporter from the street. My mother — stopping by the Yankee Clubhouse Store — called to let me know that the ticket area has a schedule with X's through the games that are already sold out. She read me off the calendar, and already, ten days before Opening Day, 46 Yankee games are sold out. Every single weekend game is sold out, and no tickets remain for the All Star Game or the final regular season at Yankee Stadium.
The full list of sold out games is after the jump.
By

For the Red Sox, fate has a sense of irony, it seems. In February, Boston GM Theo Epstein railed on Mike Mussina for his 2004 comments about the Yanks' Japan trip only to find Boston players bemoaning the trip last week. Now, with David Ortiz backhandedly complaining, the Red Sox are threatening to boycott the trip entirely. The team voted not to go to Japan if their staff and coaches aren't given the $40,000 stipend the players will receive for the trip. Call me crazy, but that seems rather excessive. So much for Boston's taking the high road here. · (49) ·
I gotta say, I was a bit surprised to see this one pop up on MLB Trade Rumors. But apparently, at least according to one source, the Yanks have some interest in Oakland righty Rich Harden.
On the surface, it's hard not to salivate at this one. Harden is a nasty, nasty pitcher when healthy. Unfortunately, health has not been his forte. His career high in innings pitched came during his second major league season, at age 22 in 2004. He tossed 189.7 innings that year, to a 3.99 ERA. He was good, but not great that year, striking out 167 and walking 81.
The next year, however, was when he shined (shone?). His 2.53 ERA told part of the story, but his 121 strikeouts to 43 walks told another: That of an improving pitcher. However, he missed significant time during the season with an oblique injury, which sidelined him from May 14th through June 20th, and then another torso injury which had him pitching zero games between August 20th and September 24th. Even after that, he finished the season in the bullpen, and wound up with 128 innings pitched.
The next two seasons were far uglier, as he posted a combined 72.1 innings, including just 25.2 last year. His talent is still undeniable — that splitter is among the best, if not the best itself, among active players. However, the injury concerns are just too great for the Yanks to take on this season.
The San Francisco Chronicle article I linked earlier notes that Billy Beane would likely be looking for Ian Kennedy for starters, and likely Alan Horne and Jeff Marquez on top of that. In other words, there will be a discount, but it won't be much. Those three for a healthy and productive Harden would be a good deal. Those three, or even just IPK and Horne, for a questionable Harden is an undue risk.
Remember, we're still trying to figure out how to fill innings. In that regard, Kennedy has superb value for the Yankees. He has an innings cap for sure, but it will be well above that of Joba and Phil. I don't see how anyone can expect more than 100 innings from Harden. And if he hurts himself again, the entire trade is a bust. The Yanks will have given up hundreds of innings of at least replacement level pitching (presumably) for an oft-injured starter who, even if healthy, won't give them the innings they need.
It's a great idea in theory. But communism works, in theory. If Harden gets through the year healthy, he should be eligible for free agency after the 2009 season. Maybe, then, we can start talking about trading for Harden this winter. But until he gets through 100, 120 innings without hitting the DL, I'd keep my hands off, despite the glorious upside he presents.
By

A few sites have put up some galleries from the Yankees' exhibition game at Virginia Tech yesterday. The VT Hoakies' site has a 147-pitcture gallery (top left on that page), and LoHud.com has an 11-picture gallery focusing on the game. The VT campus was very appreciative of the Yankees yesterday. · (3) ·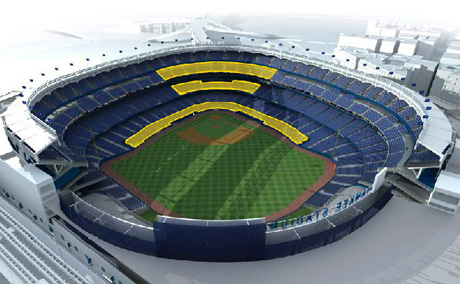 Premium seats, marked in yellow, will sell for a pretty penny at the New Yankee Stadium.
Earlier this week, the Yankees launched a new Web site detailing seating options at the New Yankee Stadium. Welcome to Yankees Premium, the Web site says. The pages within hold "an exclusive experience for those with discerning tastes who seek the very best that life has to offer."
What this flashy flash introduction neglects to tell the unsuspecting viewer is that this an exclusive experience for those with very deep pockets as well. But is anyone really surprised?
For the Yankees, this new stadium isn't about necessity, and it sure wasn't about history. Say what you will about the renovations in the 1970s, but Yankee Stadium, man, it has some history. It had Gehrig and Ruth and DiMaggio and Mantle and Reggie and Mattingly and the late 1990s. Sure, the concourses were a bit narrow, but if the Red Sox can eke our more seats in Fenway, the Yanks could have found a way to make their current stadium more hospitable for the 4.2 million fans who made the pilgrimage up the Bronx last year. They could have improved the food offerings and renovated the bathrooms.
But that would have left the Yankees right where they are now: with too few options to sell premium seats and too few options to milk money out of the luxury-box cash cows that ring more modern stadiums. They could have made Yankee Stadium nicer, but they couldn't retrofit it with the proper money-making amenities.
Now, at this point, regular readers may just roll their eyes. "There goes Ben. He's off on one of his anti-new Yankee Stadium rants," the thinking goes. But wait. That flashy Web site the Yankees have put together is a treasure trove of information that proves my point, and the ones who are going to lose out when this new stadium opens are you and me, the obsessed fan who isn't backed by Corporate America.
Last week, when I posted on the recently-spiking top ticket prices at Yankee Stadium, the unspoken conclusion was "watch out." If you think ticket prices at Yankee Stadium are bad this year, wait until next year when the action moves across the street.
Now, draw your attention to the diagram at the top of this post. Those yellow bands are all a part of the new Yankee Stadium premium seating experience. I am dismayed to note that those yellow bands include my Tier Reserve seats right behind home plate. At the old Stadium, those are the best seats in the house. The seats hang low behind the plate, and the view from foul pole to foul pole is expansive.
At the new Yankee Stadium, those seats are a part of the Terrace Level Outdoor Suite, and prices are going to start at $100 per seat per game. Remember when those used to cost $30 in the late 1990s? Those were the days.
For that $100 price tag, guests of the Yankees will enjoy myriad services during their "seating experience" (the Yanks' words; not mine). Fans will have access to a climate-controlled indoor lounge with private restrooms, HD TVs, food and a four-sided bar. Need I mention that there are 1300 of those seats? You do the math.
Meanwhile, on the lower levels, the Main Level Outdoor Suite, designated by the middle yellow band above, will occupy 1200 of the choicest seats. This time, guests who shell out at least $350 per seat per game will get access to their own lounge with the same amenities as the Terrace Level folks plus an espresso bar. Also available will be "a generous menu selection, featuring savory ethnic cuisine, traditional ballpark fare and made-to-order brick oven pizza, continues to underscore this world-class experience."
Finally, we arrive at the field level boxes, now known as the Legends Suite. For a starting price of $500 per seat per game, you can enjoy field-level views from one of 1800 seats — with teak arms — that ring the field and dugouts. And what else do you get for the money? "You will delight in the premium amenities, including cushioned seats with teak arms, in-seat wait service, concierge services, private restrooms and a delectable selection of all-inclusive food and beverages. Exclusive access to the bi-level Legends Suite Club and two Legends Suite Dugout Lounges, helps make the Legends Suite the most coveted ticket in sports," the Yanks say.
So outside of the new 74-seat, $700-per seat per game Club Suite section, now we know how the Yankees are going to repurpose and remarket some of the best seats in the house. And unsurprisingly, this new Stadium really is all about the money.
I hate to ring bells of doom and gloom, but I fear for the ability to go to games. There's nothing better than heading up to a Yankee game on a warm summer afternoon to watch the Bombers play. But when the new Stadium opens in little more than a year, it will turn from a game to "an experience." While these premium seats account for 4300 seats, that still leaves around 48,000 more for the rest of us, but the ticket prices, if these early warning signs are any indication, will be astronomical. The bleacher seats will sell for $20 or more, and the prices for the good seats — those not snatched up by season-ticket holders and the corporate accounts the Yankees will court — will make it next to impossible for anyone on a budget to go to more than a few per season.
The Yankees will get their $1.2 billion stadium. It will be fancy and luxurious. But at what cost to the rest of us?