Scott Patterson, he of the 77.1 IP, 45 H, 9 ER, 15 BB, 92 K line in 2007, was added to the Yanks 40-man roster yesterday. The chances of seeing the 28-yr old, 6′-7″, 250 lb former Indy baller in the Bronx next year just went up exponentially. Quick skinny: he's all fastball with a straight over-the-top delivery – the ball looks like it's dropping out of the sky. Not much of a breaking ball, so he'll have to be good with his fastball command. Sits at 91-92 with sink, but the downward plane makes it look like 97.
The 40-man roster has to be set Tuesday in regards to the Rule V draft. The biggest names the Yankees have to protect are Steven White, Marcos Vechionacci and Mike Gardner, but guys like Grant Duff, Matt Carson, Eric Hacker and Phil Coke are also eligible, just unlikely to be picked. Once the rosters are set, I'll look around and see if I can dig up a couple of guys the Yankees might target.
There are currently 4 spots open on the 40-man, although the Yanks need 2 spots if they plan on bringing Mo back and having Pettitte return. They could fill the roster up now and DFA someone in January or February to bring Pettitte back (later Sean Henn!), and/or  released Carl Pavano to free up another spot. They can't stick Pavano or Andrew Brackman on the 60-day DL until the season starts. I think they'll protect White and Gardner and risk it with Vech, but I never thought they'd protect Jeff Kennard like they did last year, so what do I know.
(hat tip to Chad Jennings)
Brett Gardner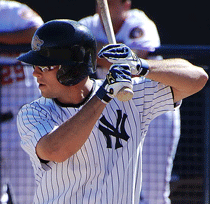 Pos: CF
Bats: Left Throws: Left
Age, DOB: 24, 8/24/1983
AFL Stats: AVG 343 OBP 433 SLG 380
Background: The book on Gardner would have you believe that he's a one dimensional slap-hitter that needs to outrun ground balls in order to get on base. That is simply not the case. According to Firstinning, he bunted in only 2% of his AAA appearances last season and his line drive rate was 18%. However, one area he needs to improve is being more aggressive early in the count. In the past, it seemed like his first objective was to draw a walk and if he got two strikes against him he would fight pitches off and hope that he gets another good pitch to hit. So his main goal heading into the AFL was to become a more aggressive hitter by looking for his pitch earlier in the count. This was very important for him to learn because most pitchers at the major league level will make him earn his way on base.
Offense: Gardner is the type of player that won't blow you away with his stats but when you watch him on a daily basis he can look like one of the most dominant players on the field. Read More→
Via The Big Lead – required sports reading, really – comes a tale of intrigue involving the Yankees Entertainment and Sports Network. According to Neil Best, Newsday's sports media commentator, the Yanks have banned SI.com's Tom Verducci from the YES Network because of his close ties to estranged former manager Joe Torre.
Last month, Verducci penned a very critical piece on the Yanks' treatment of Torre that was published just days before word came long that the two are working on a book. While I think YES should stomach the criticism, the ties between Torre and Verducci here blur the lines of journalist integrity. The relationship between sports writers and their subjects has always been cozy, and these co-writer situations like this always make me raise in eyebrow.
To replace Verducci, YES has turned to Jon Heyman for Sports Illustrated commentary instead.
By

From PeteAbe:

Karstens tossed seven innings in the World Cup quarter finals, striking out seven, walking none, and throwing 66 of 82 pitches for strikes.

So it's USA vs. Netherlands in one semi, and Japan vs. Cuba in the other. I'm not sure of the schedule. Maybe Karstens will have enough rest to pitch the finals? · (28) ·
By

Buried in the Marino article which Ben linked earlier:

The Yankees and backup catcher Jose Molina reached an agreement on a two-year, $4million contract.


When was the last time we went into Spring Training with an acceptable backup catcher? · (17) ·
By

What other owner has the balls to tell Scott Boras that he fucked up?

"Boras did a lot of good things for Alex through the years, and Alex knows that. I mean, obviously, he's going to look to Scott's advice on everything," Steinbrenner said. "That's not unusual today. It's not like he's the only one. And if an agent gets out of line or makes bad decisions, then that's going to hurt the player. And obviously, that's one of the things that happened here."


· (48) ·
The headline says it all. Mark Feinsand adds some details:
According to sources, the All-Star closer is now demanding a fourth year from the Yankees, who have already extended a three-year, $45 million offer to Rivera that would make him by far the highest-paid closer in baseball.

The $45 million offer drew criticism from Major League Baseball executives in charge of monitoring salaries and payrolls, as sources said that Yankee executives Hal Steinbrenner and Randy Levine were admonished during yesterday's owners' meetings in Florida for drastically upping the market for relievers. That criticism figures to be further incentive for the Yankees to stand firmly behind the three-year offer, and it could dissuade other teams from topping it – something that was unlikely to take place anyway.
That last line: We've said that here, here and here. Maybe it's time for the Yanks to reach out to Francisco Cordero's agent, if only for the sake of calling Rivera's bluff.
Earlier this evening, my dad and I were discussing the A-Rod contract, and just a short while ago in the comments here, Eli voiced what we had all been thinking: Did the Yankees really get a good deal for A-Rod? Does a 10-year, $275-million contract really represent a bargain?
Here's Eli's full question:
How badly did we overpay? What was our pre opt out offer? 5 year extension at $30 less the Texas discount on the remaining 3 for $81? Total $230 over 8, $28.75 per?

Now were paying $275 over 10. $27.5 per. How are we getting a discount?!?! Seems like were rewarding him for this nonsense. Giving him two extra years I doubt he could get anywhere else for what? A 40 + year old DH at $27.5 per??
To answer this question, we're going to have rely a little bit on conjecture and a little bit on the confusing terms of A-Rod's old contract. First up, A-Rod's old contract. According to the indispensable Cot's Baseball Contracts, A-Rod was due at least $27 million a year over the next three season for a base total of $81 million.
But he could void the deal after 2008 or 2009 if his club didn't increase his 2009-2010 salary by $5 million a year. He could have made up to $91 million over those three years, and it's hard to believe he wouldn't have held the Yankees up for that money had he kept the terms of his old contract. The Rangers were on the hook for $21 million of that total. So that leaves the Yanks' contribution at a potential $70 million.
Now, the conjecture. When the Yankees threw out an offer to A-Rod and Boras in October, the numbers included five years and $150 million. Remember though that this was simply their initial offer. It's my belief that the Yanks were willing to go seven and $210 million. At that point, their total contributions would have been at about $280 million over ten years.
So they saved a whopping $5 million.
Considering the stratospheric numbers we're talking about here, it doesn't sound like those $5 million will make a huge difference in the grand scheme of the Yankees. But I don't think that's the point.
Rather, the Yankees, by maintaining a hard line in the negotiations, proved that, while the Boss' days may be numbered, Hank and Hal are just as much a force behind this team as George was. They broke the Scott Borus stranglehold over baseball, and welcomed back A-Rod on their terms instead of on his.
After A-Rod opted out, I told my friends that I would still be more surprised if A-Rod weren't the Opening Day third baseman come 2008 than if he were simply because, when push came to shove, no other team was going to shell out the money the Yanks had available to them for A-Rod. I realized that well before the season ended; it took a colossal mistake on the part of Boras and A-Rod for them to realize it.
In the end, in all honesty, the Yankees aren't getting a great deal. They're not overpaying, but they're not underpaying either. They're simply paying A-Rod what they would have given him in the first place. But they're doing it on their terms, and that edge makes all the difference.
This should silence a few more of the doubters out there, but I won't breathe easy until A-Rod and the Yanks are holding the requisite press conference.
From ESPN:
Alex Rodriguez and the New York Yankees have agreed to the outline of a $275 million, 10-year contract, a deal that potentially would allow him to earn millions more if he sets the career home run record.

The amount of the guaranteed money was revealed by a person familiar with the negotiations who spoke Thursday on condition of anonymity because the deal hasn't been finalized. A-Rod met Wednesday in Tampa, Fla., with the Steinbrenner brothers but the parameters of the deal were set in place last weekend.
All that's left is for the Yanks to draft the agreement, and, yes, Scott Boras will be involved there. I guess I'll have to move A-Rod back into the "Current Yankees" category.
By

From the AP:

Barry Bonds was indicted Thursday on perjury and obstruction of justice charges, the culmination of a four-year federal investigation into whether he lied under oath to a grand jury looking into steroid use by elite athletes.


Update: KTVU has more. Bonds is facing a five-count indictment – four counts of perjury and one of obstruction of justice. A free agent right now, Bonds probably won't see too many offers heading his way this winter. · (9) ·