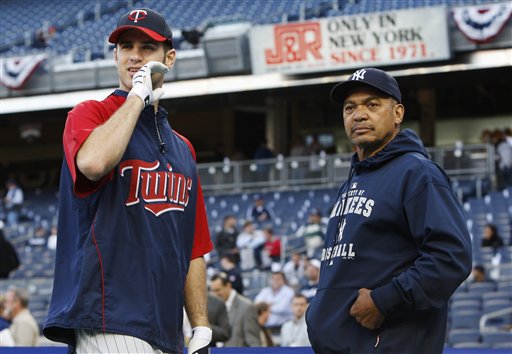 The Yankees closed out their season this afternoon just like they started it: with a loss to the Red Sox in Fenway. The Yanks finished the year with a 95-67 record, not to mention a +162 run differential that is the best in baseball. What was their run differential last season, Mike? Well, I'll tell you. That would be … wait for it … +162. Funny how that worked out.
The playoffs officially start on Wednesday with the Yankees in Minneapolis to take on the Twins, the same Twins they swept in the ALDS last season. This time around they'll be in Target Field and not the Metrodome, so we don't have to worry about balls skipping through the infield on the turf or getting lost in the roof, just a little cold weather. Until then, it's two days to rest, to game plan, to sort out the roster, and to relax. These guys run around from city to city for eight-plus months of the year, a little time with he family is surely welcome.
Anyway, here's your open thread for the evening. The football Giants are at home taking on the undefeated Bears this evening (8:20pm ET, NBC), and that's pretty much it. Baseball's over. Always a sad day when the season ends. Oh well, at least there's baseball playoff in the Yanks' future. You know what to do with the thread, so enjoy.
Oh, and just because he deserves to be called out, you were wrong Bret. Oh so wrong.