When I put together the Orioles series preview on Tuesday, tonight's matchup was listed as A.J. Burnett vs. Jeremy Guthrie. The Yanks have faced Guthrie a few times every year since the Orioles picked him up in 2007, so they have a decent history against him. It's a mostly favorable one, as Guthrie has allowed 48 runs, 47 earned, in 81.1 innings. That has been largely courtesy of the longball, 15 of them. Many of us were looking forward to more of the same tonight.
(There was also the storyline of Guthrie plunking a few Yankees, but that's not a huge deal. If he's doing it, he's only hurting himself. Well, himself and Jorge Posada…)
Instead, the Orioles decided to push back Guthrie a day and insert Jake Arrieta. A fifth round pick in 2007, Arietta ranked fourth on Baseball America's 2010 top 10 Orioles prospects list. The move makes enough sense. Again, the Yankees have seen plenty of Guthrie in the past four years. The Orioles, desperate for a win against their division foes, want to muster any possible advantage. Bringing up a highly touted prospect seems like as good an idea as any. That Arrieta is absolutely dominating AAA makes the decision a bit easier.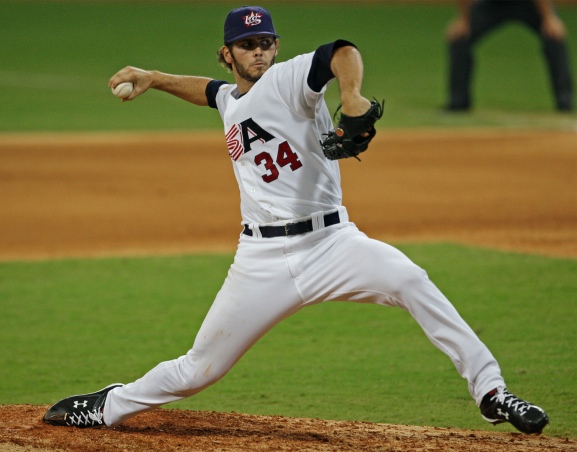 In terms of stuff, Arrieta is all there. He throws a 92-94 mph fastball that "has the action to generate swings and misses." (Per Baseball America.) He also has a slider that BA says can be a good pitch "at times." He also has a changeup that is a work in progress, and a curveball that is mostly reserved for lefties. Keith Law notes that Arrieta is " a four-pitch guy with no plus pitch but nothing below-average." That puts him in the No. 3 to No. 4 starter range, though as BA notes, his pure stuff probably puts him a bit higher than that.
What holds Arrieta back is his lack of command. All scouting sources I've seen make distinct note of that. He can get a bit wild inside the zone, which doesn't bode well against major league hitters, especially of the caliber the Yankees' lineup features. He also has a little problem with the walks. He handed out 56 free passes last season, when he pitched at both AA and AAA. That was the most in the Orioles' system. He has already walked 34 in 73 innings this year, so it doesn't look like something he's improved on.
It seems like the Yankees hitters should be comfortable enough with Arrieta on the mound, despite never having seen him. He plays to their strengths, not only with the walks, but also the lack of command of pitches in the strike zone. Then again, the same could have been, and was, said about Brandon Morrow. Yet he shut down the Yanks offense. I can see Arrieta doing the same. If, for this one start, he throws tons of strikes he could give the Yanks fits.
There is little more exciting in baseball than fresh, young pitching. We've got to seen plenty of it in the past couple of years. Arrieta is the next on that list. While I'll hope for the Yanks to put a few of his pitches on Eutaw Street, I am certainly excited to see the next crop of O's pitchers.