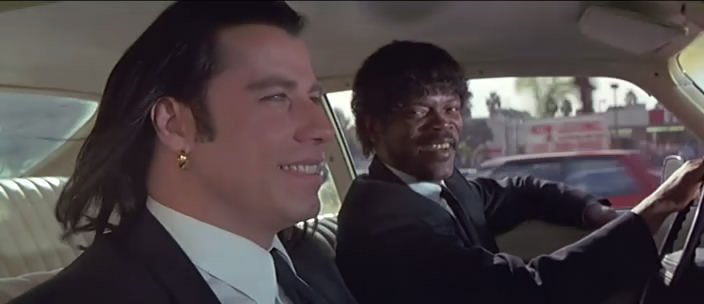 I love that movie. If you've never seen it (see it!), the dialogue in the scene above involves John Travolta telling Samuel L. Jackson that people in France call a quarter pounder a Royale. Ever since I've heard that, I've referred to Kansas City's baseball club as the Quarter Pounders. Perhaps I should grow up.
Anyway, back to something relevant. Tonight's game features a pair of lefties that were both ranked among the best lefthanded pitching prospects in the game by Baseball America at one point. Bruce Chen, who gets the ball for KC, was ranked as the fourth best prospect in the game way back in 1999, and two years later his counterpart CC Sabathia was ranked as the seventh best prospect in the game. Obviously their careers have taken very different paths, with CC living up to his promise while Chen has gone to play for ten different big league teams and in the minor league system of one more. He's got half decent numbers this year (4.35 FIP, 5.01 xFIP, 7.34 K/9), but still, it's Bruce Chen.
Here's your starting nine…
Jeter, SS
Swisher, RF
Teixiera, 1B – he's 7-for-11 with a double and six homers (!!!) off Chen in his career
A-Rod, 3B
Cano, 2B
Posada, C
Thames, DH
Granderson, CF
Gardner, LF
And on the mound, the Big Stoppa, CC Sabathia.
The Royals traded third baseman Alberto Callaspo the Angels earlier this afternoon, so we'll see old buddy Wilson Betemit man the hot corner for KC tonight. Who did they get for Callaspo? Sean O'Sullivan (and a minor leaguer), who beat the Yankees the other night. Lots of Yankee ties in that move.
The first game of this very welcome four game set with the Royals (no Zack Greinke, woo!) starts at 7:05pm ET. The game is on YES as (almost) always, and it's also part of MLB Network's regional coverage tonight. Depending on where you live, you'll either get Yanks-Royals or Twins-Orioles. Enjoy the game.