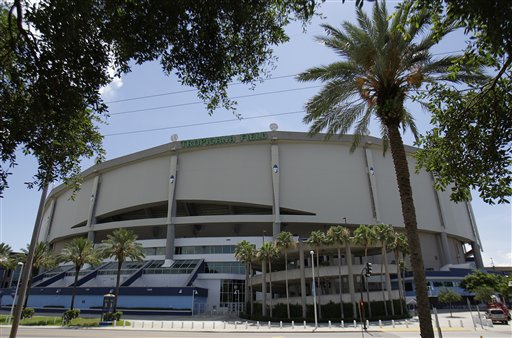 Tonight's game against the Rays will mean different things to different people. If you're someone who thinks that winning the AL East and securing homefield advantage in the playoffs is of paramount importance, then tonight's game is huge because it's the difference between being a game-and-a-half up or half-a-game back in the division with 18 left to play. If you're content with getting into the playoffs any way possible, then tonight's game won't mean too much because the Yankees are all but locked into a spot at the moment.
There's no right answer about how to feel, and I'm sort of in the middle. Obviously getting into the postseason comes first and foremost, but winning the division for a second straight year would be a nice bonus and one worth pursuing under the right conditions. Those right conditions, however, do not include playing injured players. Nick Swisher is out of tonight's lineup again because of his still sore left knee (he'll get an MRI tomorrow), and Brett Gardner is sitting this one out as well after getting a cortisone shot in his right wrist. Winning the AL East is absolutely not worth having those players risk further injury.
Of course, the Yanks are coming into this series having played a rather stinky brand of baseball over the last week or so. They've dropped five of their last six games and that one win was a miracle walk-off homer off Swisher's bat. They just got swept for the first time all season, and tonight they're going to try to avoid their first four game losing streak of the campaign. CC Sabathia is the right guy to have on the mound, and he's gunning for win number 20. His teammates will have to deal with David Price, so tonight's game definitely features a primo pitching matchup. Get excited folks, this is why we watch the games.
Here's the starting nine…
Derek Jeter, SS
Robbie Cano, 2B – first time all season he's batting somewhere other than fourth or fifth in the lineup
Mark Teixeira, 1B
Alex Rodriguez, 3B – .409/.462/.636 since coming off the disabled list
Marcus Thames, DH
Jorge Posada, C
Austin Kearns, LF
Curtis Granderson, CF
Greg Golson, RF
And on the bump, it's CyCy Sabathia.
This one's set to begin a little after 7pm ET and can be seen on YES locally and MLB Network nationally. I'm here in Tampa covering the series, so I'll try to bring the good stuff post-game. Here's my wonderfully obstructed view from the press box. Hopefully nothing gets hit to rightfield. Enjoy the game.