This one had trap written all over it. The Rays weren't just throwing a rookie starter, they were throwing a rookie starter that featured a knockout changeup. That's like using a cheat code against the Yankees. Sure enough, Alex Cobb kept New York in check for six innings, but ultimately a former Yankee and another rookie hurler did Tampa in.

A Krazy Komeback
We'll get into why the Yankees were down 4-2 going into the eighth inning in just a bit, but let's start with the comeback. Tampa's bullpen was already taxed from the 16-game against the Red Sox on Sunday, and Joe Maddon burned his top setup man (Joel Peralta) in the seventh. Cesar Ramos struck out Mark Teixeira with men at first and second to end the seventh, then came back on to start the eighth. The lefty allowed two baserunners within his first six pitches of the inning, a single to Robinson Cano and a four-pitch walk to Nick Swisher. Andruw Jones came off the bench to pinch-hit for Jorge Posada, but he flew out to center for the first out.
That brought Maddon out of the dugout and Kyle Farnsworth out of the bullpen. Farnsy's have a very good year, but he's still Kyle freaking Farnsworth and is born to blow leads. Russell Martin got a hold of a 1-0 fastball and singled to left, loading the bases with one out. That brought the molten hot Brett Gardner to the plate, who singled through the left side on the sixth pitch of his at-bat to make it a 4-3 game. Eduardo Nunez followed that up with a tailor made double play ball, but his speed combined with Gardner's hard slide at second meant it was just a fielder's choice. Nunez was safe and Swish trotted home from third to tie the game. It was nice to be on the other end of one of Farnsworth's eighth inning meltdowns for once.
A Lead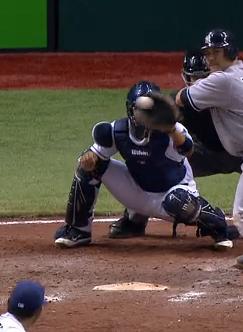 Poor Alex Torres. Being a rookie in the big leagues is tough enough, but being a rookie and making your big league debut against the Yankees in the ninth inning of a tie game when you haven't pitched out of the bullpen in two years is as tough as it gets. Curtis Granderson singled after an eight-pitch at-bat to lead off the inning, but Teixeira swung over top of (what else?) a changeup for strike three and the first out. Grandy stole second with Cano at the plate, who grounded out to second and moved the runner to third.
Tampa had two outs, but then Maddon got a little cute. Torres was ordered to intentionally walk Swisher to get to Andruw, which was the right move on paper but seemed destined to fail. It's amazing how often a pitcher will issue an intentional walk and immediately lose the plate, it's like they can't get back on track after the four wide ones. That's why you'll usually see a pitcher get yanked after the IBB and a fresh arm brought in for the next batter. Torres was left in there, and he predictably walked Jones on five pitches to load the bases. Martin saw a series of fastballs and changeups, and the count went 0-1 to 1-1 to 2-1 to 2-2 to 3-2 to 3-2 (after a foul) before a changeup hung up high for ball four. Torres' third straight walk and second straight unintentional walk forced in the go-ahead run in the top of the ninth. Gardner grounded out one batter later, but the damage was done. Torres threw 44 pitches in the inning, just 22 for strikes. As a thank you, he was shipped back to Triple-A after the game.
Bad A.J.
The Yankees staked A.J. Burnett to an early one-zip lead, but he felt bad for the Rays after their 16-inning loss to Boston so he gave it right back and then some. Johnny Damon walked on five pitches to open the first inning, then Ben Zobrist singled on the first fastball he saw to push Johnny to second. Evan Longoria jumped all over a first pitch fastball for a booming double into the gap, scoring two runs in the span of eight pitches. Casey Kotchman followed that up with a single back up the middle on the first fastball he saw, but Longoria only advanced to third.
Four batters into the game, the Rays had seen four fastballs in the strike zone and picked up a base knock on three of them. That prompted Burnett and Martin to switch to the curve, which they used to induce a 3-6-3 double play form B.J. Upton. Tex wisely looked Longoria back to third before throwing to second, so no run scored. Sean Rodriguez bounced a curveball back to Burnett for what looked like out number three, but A.J. made an off balance throw to first that beat Tex through the five-hole. The run scored anyway, and the Rays had a 3-1 lead.
Burnett got out of the inning but allowed another run in the second, which was all the damage Tampa did on the night. They should have done more though, a lot more. A.J. walked six batters and gave up eight hits, so that's 14 baserunners in 5.1 IP. He would have allowed more than the four runs if Hector Noesi didn't do him the favor of stranding the two runners he inherited in the sixth. If you want to grasp at straws and give Burnett props for pitching into the sixth after looking so awful early on, be my guest. I won't do it. He was terrible, but his offense picked him up.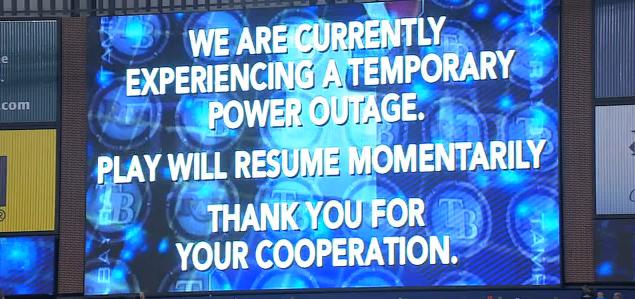 Lights Out
With Cano staring at a full count with men on first and second with two outs in the fifth inning … boom, the lights went out. Literally. A bank of lights went out at the Trop, and the two teams were pulled off the field. Apparently a branch line that services the building got struck by lightning, resulting in the 18 minute delay. That's the baseball gods' way of telling Tampa they should have played the doubleheader last weekend, jerks.
Anyway, ready for some fun arbitrary endpointness? Before the lights went out, Yankees hitters were 2-for-17 (.118) with four walks. After the lights came back on, they were 6-for-19 (.316) with five walks. Clearly, they should make sure the lights go out early in every game.
Leftovers
David Robertson will get with the win (two strikeouts (on changeups!!!) in a perfect inning) and Mariano Rivera will get the save (one strikeout in a perfect inning), but Noesi was absolutely huge. He inherited that first and second with one out situation in the sixth, loaded the bases with a walk of his own, but escaped the jam by striking out Upton. Noesi also threw a scoreless seventh before the Yankees mounted their comeback. Good stuff, kid.
Gardner continued his monster streak at the dish, fresh off his huge series in Toronto. He had that single in the eighth but also drew a pair of walks, and he saw a total of (get this) 31 pitches in his five plate appearances. That's pretty insane, but you know what else is insane? Granderson had two hits and two walks and he saw 32 pitches in his five plate appearances. That's 63 pitches of the 191 thrown by Tampa pitchers (33%) to just two players. They also combined to steal three bases as well (two by Grandy). Ridiculous.
The rest of the offense was pretty spread out. Jeter had a single and two ill-timed strikeouts (one ended the rally in the eighth, the other came with a man on third with one out in the fifth), Tex and Cano both had singles, Swisher had a single and two walks (one intentional), Posada drew a walk, and Martin had a single and a walk. The Yankees didn't have a single extra base hit in the game, and they set new season highs for hits (eight) and runs (five) in a game without an extra base hit.
On last thing: Martin climbed the dugout railing trying to catch a foul pop-up with two outs in the sixth inning, which was cool but holy crap don't ever do it again. That's an injury waiting to happen, there's no reason to try it. Anyway, the Yankees have won three straight and five of their last seven games.
WPA Graph, Box Score & Standings
Now that's a good one. MLB.com has the box score and video, FanGraphs the nerdy stuff, and ESPN the up-to-date standings.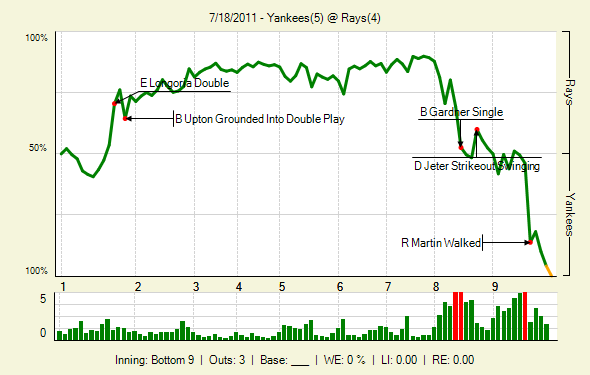 Up Next
Same two teams Tuesday night, when Bartolo Colon gives it a go against another rookie in Jeremy Hellickson. Hopefully Bartolo's not feeling apprehensive about his hamstring any more.