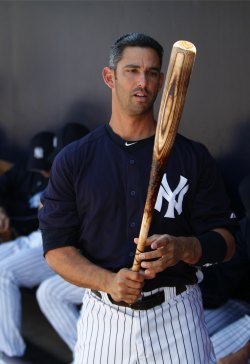 At the time it seemed like a horrible but necessary contract. Following the 2007 season, during which he hit .338/.426/.543, the Yankees had little choice but to re-sign Jorge Posada. It was going to be a risk move no matter how many years they gave him. Catchers don't age well, and Posada had turned 36 in August of 2007. But he had again shown that he ranked among the league's best offensive catchers, and the Yankees had few alternatives. Add in a little pressure from the Mets, and it becomes a four-year, $52.4 million contract that would run through Posada's age-39 season.
In many ways the contract worked out, at least in relative terms. Posada's offense helped power the 2009 Yankees to a World Series title, and he provided above average offensive numbers in 2010. He didn't require a move to DH until the final year of the deal, which, at the time he signed the contract, would have been considered a positive outcome. At the same time there are plenty of negatives. After voiding the DL for his entire career Posada missed most of the 2008 season with a shoulder injury, and then missed time in both 2009 and 2010. His offensive numbers also took a dip in 2010, not a good sign for any older player, let alone a catcher.
Now entering the final year of his contract, Jorge has something else to prove. As he told the New York Post's Kevin Kernan, he wants to play next year. That won't happen, of course, without a solid performance in 2011. Yet even with a solid performance I'm not sure the Yankees would want Posada back in a full-time capacity. It's not just based on him, but rather is based on the team's plans for the DH spot down the road. There just might not be room for a permanent DH — well, a 40-year-old one, at least.
In discussing the relationship between David Ortiz and the Red Sox, Fox Sports's Ken Rosenthal makes a point about the Yankees. "The Sox, like the Yankees, are itching to abandon a full-time DH and initiate a rotation at that position, the better to keep older veterans fresh," he writes. We've heard this line for years, but in 2012 it could become a greater necessity. Alex Rodriguez specifically might need more time at DH. And then there's that 21-year-old phenom who might or might not have a position.
Montero indeed will dictate what the Yankees do with the DH spot in 2012. They continue to insist that he can catch — at an above-average level, no less — in the majors. Yet they continue to be the only entity that professes this belief. If things don't work out and indeed Montero is not capable of catching every day at the major league level, they Yankees will have to find some spot for his bat. That could very well be at DH, perhaps with him also serving as the backup catcher. That would provide spots for A-Rod to DH, both on Montero's catching days and on his days off.
All of this assumes, of course, that Posada produces during his first season of offense-only duty. It stands to reason that he could. Previously his bat was never a question. It was only his defense, both in terms of his skill behind the plate and the toll constant squatting took on his body. Now that he is afforded the opportunity to focus on his greatest strength, his bat, he might prove he has more left in the tank. To the argument that he has poor career numbers as a DH, remember that he often takes a turn at DH when he's banged up and cannot catch. That factors in heavily to any drop-off when he doesn't play defense.
The Yankees thankfully have an entire year to determine whether they'd like to keep Posada around. But given their future team needs, the match doesn't seem likely. If the Yankees need the DH spot for A-Rod and Montero, they simply might not have enough at-bats for Posada. It would be odd to see him in another uniform, but if he wants to keep playing beyond this season it might become a reality.