By

For one day, Jose Veras will take Phil Hughes' spot, Chad Jennings notes. Tomorrow, Darrell Rasner will be called up to take Phil Hughes' spot in the rotation for now. Veras' promotion came about because Joe Girardi had two of his relievers throw 40 or more pitches last night, making them ineligible to pitch tonight. So now the Yanks are short an arm in the pen, and Scranton is set to play a double header with five relievers, one of whom is starting game two. That's bad roster management. · (9) ·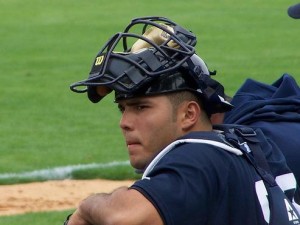 April's a wacky month. It's the only time of the year that Nate McLouth can sport a 1.047 OPS, or when Mike Mussina can boast better numbers than Roy Oswalt. Christian Lara played for two teams in a single game and Jay Johnson hit a walk-off double to make himself the winning pitcher, and I can't help but think that only April can contain that kind of madness.
April has been an interesting month in the Yankees' farm system, full of surprises and disappointments. You had Eric Hacker's pitch count ruined perfect game and Brett Gardner launching no-doubt homers. While April doesn't provide enough info to draw accurate conclusions, it does start to paint a picture of what's ahead.
Triple-A Scranton
Other than Darrell Rasner, who is now a big leaguer, the story of the month for Scranton has been none other than Eric Duncan. The 27th overall pick in the 2003 draft has had a … let's say, "rocky" career so far, but it looks like the light bulb may finally be coming on a bit. Even though he's been forced to play second fiddle to Shelley Duncan and Juan Miranda for playing time, Duncan's off to a .279-.384-.508 start. I pulling for him and I hope he can sustain it.
Robinson Cano's pathetically slow start has seemingly been the topic du jour around RAB tonight. While Joe touched on it yesterday, I want to revisit it briefly today.
After going 1 for 4 yesterday, Cano raised his average to a whoppin .155 with a .212 OBP and a .236 slugging. But things aren't bad for Cano; he's just been really, really unlucky. Or at least that's what the folks at Pinstripe Alley say. Take a look at this table, originally produced by jscape2000 on PA:
| | | |
| --- | --- | --- |
| Cano | 2007 | 2008 |
| BB% | 5.9 | 6.2 |
| K% | 13.8 | 13.2 |
| LD% | 16.9 | 17.4 |
| GB% | 52.2 | 51.1 |
| FB% | 30.9 | 31.5 |
Joe noted many of these numbers yesterday, and the trends are encouraging. As jscape wrote, "Robinson Cano hasn't been the worst player in the league, just the most unlucky.
We'd expect BABIP to be LD% plus .120. Robbie's expected BABIP is .284, his actual is .156."
In other words, Cano's slow start seems to be a case of his hitting the ball not where they ain't but where they are. Furthermore, Cano's not swinging any earlier in counts than he ever has. He has seen 3.40 pitches per plate appearances. That's down 0.02 from last year and up by 0.18 over his 2006 totals.
At some point, the balls Cano is hitting will begin to fall, and his average will rise. The Yanks could really use those breaks.
By

Good news for Yankee fans on a dreary day in New York: Bobby Murcer, recovering from a brain cancer scare and subsequent biopsy, will return to the broadcast booth tonight. He'll be resuming his full broadcasting role, according to the AP. Here's to you, Bobby. Welcome back. (Hat tip to iYankees.) · (12) ·
In discussing Phil Hughes' injury this afternoon, I teased you all with a forthcoming post on Joba and the starting rotation, long a favorite RAB topic. What better time than after another 4.2-inning effort by one of the Yankee starters?
Before delving into the fun, let's revisit tonight. Yanks score in the first and muster nothing offensively the rest of the game. Jonathan Albaladejo is worked well beyond any reasonable workload, and Chris Britton finally pitches in a game. Bad pitching, terrible offense, bad manager. The end.
So that brings to Joba Chamberlain. Currently, the Yankees are searching for answers out of the bullpen. They have Phil Hughes shelved with a fractured rib. Hopefully, he'll return before the All Star break, but that seems to be a rather optimistic assessment. He'll need at least a month of training and rehab after his month off for healing. Meanwhile, Ian Kennedy continues to struggle with his pitch counts.
But Joba Chamberlain's eventually arrival in the starting rotation should happen regardless of the 2008 fates of Kennedy and Hughes. It really is just a matter of innings.
One month into the season, Chamberlain has thrown 11.1 innings in 10 appearances. The goal for him this year is to reach about 145 innings pitched or 30 more than he threw last year. That, according to a whole bunch of recent studies, should help him improve his arm strength without sending him into that danger zone of arm trouble. So how does Joba throw 133 more innings this year?
Well, let's give him another 13 innings for May. That puts him needing 120 IP from June to September. For the purpose of this exercise, we can't assume that the Yankees are going to make the playoffs. Outside of their lackluster play recently, Joba needs to be a position to reach 145 innings before the season ends. If the end of the year rolls around and the Yanks are in a position to play in October, they can begin to get creative with Joba's turn in the rotation.
Now, luckily for us, the Yankees have a good benchmark for starts made in a partial season. We need to look no further than Roger Clemens to see how many innings Joba would pitch over a certain time frame. Between June 9 and Sept. 16 last year, Clemens made 17 starts and threw 98 innings in those starts, averaging 5.78 IP a start. He skipped a start in August and missed four in September. He also threw 15 Minor League innings over the course of three starts.
So now we can go back to those 120 innings Joba needs to throw over the last four months of the season. Let's say he too needs 12 innings in the Minors covering three starts to stretch it out: one three-inning appearance, one four-inning appearance and one five-inning appearance. We're now at 108 IP. How about three weeks of relief in June? That's about 8 innings.
So Joba the starter would have to throw 100 pitches. If he averages around 6 innings a start — and there's no reason to think he couldn't — he would have to make between 16 and 17 starts. Using the Roger Clemens gamelog, it seems that Joba should land in the rotation right before the All Star break during the first week of July. If signs don't point that way by the end of this month and the beginning of the next, then we'll know something is up with Joba's move to the pen. I think, however, that the Yanks will pursue this path.
Meanwhile, imagine if the Yanks get Joba into the rotation at around the same time that Phil Hughes makes his injury-free return to the Yankees. It would be like Christmas in July for us.
Chad Jennings notes the Yanks signed former uber-catching prospect JD Closser to a minor league deal to add some depth at Triple-A. No such thing as a bad minor league deal.
Triple-A Scranton was rained out, they'll play two tomorrow. Wilson Betemit was supposed to play third and bat leadoff for the first five innings, while Brett Gardner was slotted into the THIRD spot in the order. I can't imagine Gardner's gotten more than a handful of at-bats in that spot in his life.
Double-A Trenton (5-4 loss to Connecticut)
Ramiro Pena: 0 for 3, 1 BB
Austin Jackson: 1 for 4, 1 RBI, 1 K, 1 E (throwing) – threw a runner out at second from CF … 11 K in his last 8 games after 10 K in his first 20 games
Colin Curtis, Matt Carson, Cody Ehlers, Jose Tabata, PJ Pilittere: all 0 for 4, 1 K – Curtis scored a run … Tabata is back from his little sit-down, but is still 3 for his last 38 with 14 K
Chris Malec: 1 for 3, 3 R, 1 2B, 1 BB
Kevin Russo: 3 for 4, 1 RBI
Dan McCutchen: 7 IP, 10 H, 5 R, 5 ER, 1 BB, 8 K, 1 WP, 6-6 GB/FB – had allowed 5 ER in his previous 26.2 IP combined
David Robertson: 1 IP, zeroes, 1 K
A win tonight brings the Yanks back to the .500 mark they've been hovering around all season. Sadly, that's a good thing at this point. Given the craptastic offense and the shakiness of the non-Wang rotation, the Yanks should be thankful that they're not in a position similar to last year.
Big game for IPK. Another stinker could mean…geeze, I can hardly bring myself to say it…Kei Igawa. To me, it's going to be about throwing some freakin' strikes. If Kennedy gets hit hard, well, that's going to happen to a rookie against a lineup like the Tigers. But if he's missing the plate and racking up the pitch count, I think that's far worse. Of course, getting belted will run up the pitch count, too.
Shelley's hitting cleanup tonight against Nate Robertson. I dig the move. In fact, with the way the offense is going, I'd be finding any way possible to get Shelley into the lineup. He can't be worse than what we're trotting out there (::cough:: Giambi).
The lineup:
1. Johnny Damon, LF
2. Derek Jeter, SS
3. Bobby Abreu, RF
4. Shelley Duncan, 1B
5. Hideki Matsui, DH
6. Melky Cabrera, CF
7. Morgan Ensbgerg, 3B
8. Robinson Cano, 2B
9. Chad Moeller, C
And on the mound, number thirty-one, Ian Patrick Kennedy
By

The Yankees continued to make up injuries plaguing the 21-year-old Phil Hughes after his 22 disappointing innings this year. This time, the team claims that he has a fractured rib. He will be shut down for four weeks until the Yanks can come up with another injury to keep their prized prospect out of the rotation. This is what happens when you high-five Shelley Duncan one too many times.

In all seriousness, this is a real injury; Hughes has a stress fracture in his rib cage and will indeed be shut down for at least four weeks. Clearly, this is not good news for the Yanks, and it puts more pressure on Ian Kennedy. How about — and I'll have more on this tonight — prepping Joba for the rotation sooner rather than later? · (53) ·
I was just exchanging emails with a loyal reader on the topic of Robinson Cano. A hot topic for sure, considering his putrid start. To this point, I've remained unworried. We saw a similar start from Robbie last year, and I expect he'll turn around soon enough. But I'd like to take a look at some of Cano's numbers from the early going, and see if anything indicates that we should be really worried.
Last night, or the night before, someone in the game thread asked why we aren't platooning Robbie with Alberto for the time being. Simple: He's not showing any discernible platoon splits. In a tiny, 25 plate appearance sample size, Cano is hitting .150/.320/.300 off lefties. In 89 plate appearances against righties, .151/.180/.221. For his career, Robbie is .309/.337/.498 against righties, and .292/.339/.411 against lefties. So no, I don't think platooning him is quite the answer.
Here's the thing that has me optimistic about a turnaround: His batting average on balls in play is .156. That is the second lowest in the entire American League. Incidentally, Giambi is the pits with .119. Last year, Cano's BABIP was .329. In 06 it was .359, and in his rookie season it was .318. So I think we can expect that he will bring it up yet again.
Also, from April 24 through May 16 last year, he hit just .143/.176/.214. So it's not like we haven't seen a prolonged slump before. His line drive percentages are in line from last year (17.4% this year to 16.9% last year), as are his groundball rates (51.1% to 52.2%).
So all considered, I'm fairly confident that Robbie will swing his way out of this slump and back into our good graces in the near future.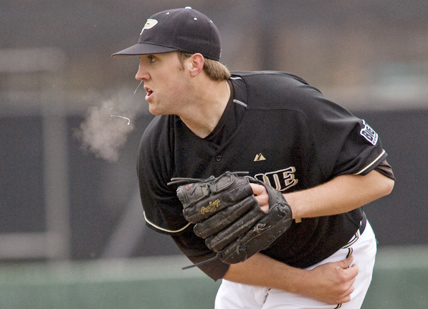 Purdue RHP Josh Lindblom and his snot. Photo taken from Baseball America's front page sometime last week.
It's been a while since we talked draft, so here's some bullet point style draft goodness:
MLB tweaked some of the draft rules a bit, so now failure to sign a second-round pick results in a compensation pick after the second round the following year. Previously the comp picks were awarded one spot after the original selection was made. The Braves and Red Sox saw their comp picks for the unsigned Josh Fields and Hunter Morris, respectively, drop 18 spots thanks to the rule change (haha). Fifth year seniors can no longer sign as free agents before the draft as part of the rule changes.