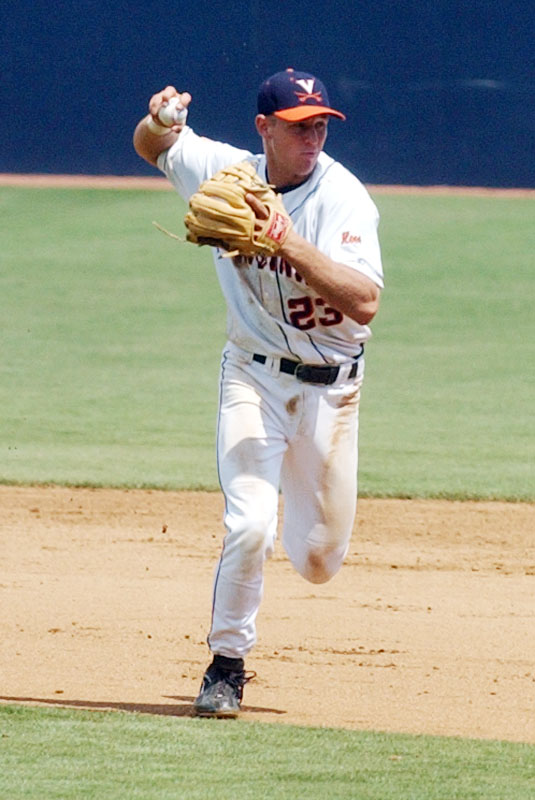 David Adams |   2B
Background
Born and raised in the Margate, FL (just outside of Ft. Lauderdale) Adams lettered for three years in basketball and four years in baseball at Grandview Prep, where his father Dale was the baseball coach. He led the county with a .548 batting avg as a sophomore, and was then named team captain and MVP as a senior. He was named third team All-American by the Baseball Coaches Association as a senior, and was listed as a top 30 high school prospect for the 2005 draft by Baseball America, Team One Baseball, and Perfect Game. By all accounts, Adams is the best baseball player in school history.
By

The fine folks at milb.com have started to release their list of the top 50 prospects in the game. As the title says, Austin Jackson came in at number 27, right alongside some big names like Tommy Hanson, Lars Anderson and Eric Hosmer. Jesus Montero was ranked #40, between Jeremy Hellickson and Adam Miller. No other Yanks' farmhands are expected to the make the list, which be fully released over the rest of the week. · (35) ·
By

With the Javy Vazquez trade set to be official any moment, the Braves aren't wasting any time moving on another top pitcher. Mark Feinsand, citing "sources," is reporting that they're preparing to offer AJ Burnett a five year contract, something that Burnett and his agent are looking for. Reports have indicated that the Yanks will not go to five years for Burnett, but they could still offer a higher annual salary to keep him interested. If this report is true, it would seem that Frank Wren & Co. have moved on from Jake Peavy.

For what it's worth, ESPN's Rob Neyer debated between AJ Burnett and Derek Lowe yesterday, concluding that Lowe is the better bet because he offers more certainty. I agree with that 100%. · (151) ·
By

We haven't checked in on CC Sabathia in a few days, and it looks like there's a new development. The Angels' GM has told MLB.com that the team is still focused on Mark Teixeira and hasn't been in on the CC Sabathia sweeps. This story is contrary to a report last week, and it's beginning to make me wonder what Sabathia is waiting. Of course, I understand that he wants more offers to push up his eventual price, but right now, the Yanks are clearly the only team with an offer on the table. If this isn't resolved by the Winter Meetings, the Yanks would certainly have reason to start pushing Sabathia's agent for a response.

Meanwhile, as long as Sabathia remains unsigned, Richard Justice will continue to publish drivel alleging that Joe Torre would have wrapped up the Sabathia deal weeks ago. Give me a break. It's about economics, not some call from the manager. · (100) ·
Scenario 1: The market for corner outfielders isn't strong, and while Bobby Abreu wants a three-year, $45-million deal, no club, for a variety of reasons, would dole that out right now. The Yankees offer arbitration, and Abreu accepts. All of a sudden, the Yanks will have to pay a 35-year-old corner outfielder in the declining phase of his career at least $16 million and probably closer to $18 or $19 million. Not only does Abreu occupy a spot on the 40-man roster, but his decision to accept arbitration means the Yanks cannot go after a younger and cheaper or older but better and more expensive alternative.
Scenario 2: The market for corner outfielders past their prime isn't strong. In fact, baseball executives feel that Abreu could command just a multi-year deal but only at an AAV of $8-$10 million. The Yanks know that, with this parameter in place, Abreu would do better to accept arbitration. So they don't offer it to him. They know this makes Abreu a bit more attractive in the eyes of his potential suitors because he won't cost a draft pick, but they're willing to make that move in the name of fiscal and roster flexibility.
* * *
If you're the General Manager, what do you do? To me, the answer is simple, and the Yanks made the right move. They picked scenario two. In doing so, they forfeited the potential to receive two draft picks, but right now, it seems as though Abreu would have been in a position where arbitration was the better option. The Yanks knew and didn't want to take that chance.
In the RAB piece for Newsday's On the Yankees beat blog, Joe made a similar point yesterday, and it's worth delving into the aftermath of this decision. It's not easy to replace Bobby Abreu's production, and I don't think the Yanks are expecting Nick Swisher and Xavier Nady to produce at Abreu's past levels.
But now without Abreu around — and it seems like he is definitely not coming back — the Yanks have options. They can take a good, long look at Manny Ramirez; they can explore Adam Dunn or Pat Burrell. They can spend on pitching and hope that their offense is good enough if their starters can be outstanding. No matter what, they aren't locked in to an outlandish obligation to Bobby Abreu.
These days, we tend to overvalue draft picks, and yes, compensation picks can be rewarding. After all, the Yanks wouldn't have Joba Chamberlain without them. In the end, though, they're just draft picks that may or may come due in a few years' time. The Yanks looked at the seemingly weak 2009 draft, they looked at where they needed to be right now, and they determined that Bobby Abreu and arbitration did not go hand-in-hand this year. It was the right decision.
By

Via the newly-relocated ShysterBall comes a fun little article on wezen-ball. The author of this new blog found a preview of 2000 written in 1981. Among the highlights are dire predictions of $3,000,000 salaries and — gasp — $25 tickets. It's quite amusing to see what happened and what didn't in the intervening 19 years. · (22) ·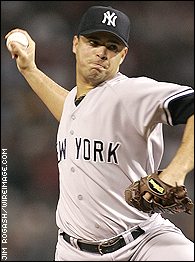 The Hot Stove picked up a little steam this evening, as ex-Yank Javy Vazquez was dealt back to the NL East in a five player deal with the Atlanta Braves. The deal is pending a physical tomorrow, but otherwise it represents the first of many moves we'll see over the next 10 days.
Yankees' fans have a strong and somewhat irrational dislike for Vazquez, but the bottom line is that he's been one of the better pitchers in baseball this century. He's supremely durable, throwing the second most innings in the game since 2000 (at least 198 IP for nine straight years), and a strikeout machine, trailing only Randy Johnson in K's during that time. His ERA is 4.11 since 2000, just 0.05 runs higher than Andy Pettitte's (that's one extra run every 180 IP). Given the Braves' current rotation situation (Jair Jurrjens and pray for rain), the move is exactly what the team needs.
The ChiSox are reportedly getting three players in return, but LHP Jo-Jo Reyes and IF Brent Lillibridge are fringy guys who shouldn't play a key role on a contending team. The third prospect, Tyler Flowers, is what makes deal worth it for Kenny Williams' & Co. One of the best unknown prospects out there, Flowers projects to be an offensive catcher who holds his own behind the plate. He's hit .291-.400-.488 in his three pro seasons, and he just finished annihilating the AzFL with a 232 OPS+. He instantly becomes the best White Sox prospect not named Beckham, and should render AJ Pierzynski moot no later than 2010. The Braves are also getting garden variety LOOGY Boone Logan.
Boy, Kenny Williams' trades always seem to come out of nowhere, huh?
*****
Not to be overshadowed by Javy, ex-Yanks' draftee Matt Carson agreed to a minor league deal with the A's and also gets an invite to Major League Spring Training. Good for him. Here's your open thread of for the evening, talk about the trade or anything else here. Just pay play nice.
As the arbitration fallout continues, two stories surrounding the new stadium have cropped up over the last few days. Both of them involve ongoing stories I've been following here over the last few years.
First up is fallout from the weekend. Richard Brodsky says that he will continue to hold hearings about the city's sweetheart deal with the Yankees. Greg Clary reported over the weekend:
State Assemblyman Richard Brodsky plans to continue an investigation into New York City's stadium deal with the Yankees after releasing e-mails detailing discussions of tax breaks, free food and who might get to use a city-owned luxury box…

Brodsky said his Assembly Committee on Corporations, Authorities and Commissions will look at how the assessment of the new Yankee Stadium was calculated, why ticket prices shot up hundreds of dollars each and whether promises that 1,000 permanent jobs would be created were knowingly overestimated.

"My job is to keep a check on authorities," Brodsky said. "We're doing the kind of oversight we're supposed to. Where we have documents that we've finished reviewing and are worth looking at, we will continue to make them public."
I'm a strong supporter of good government in New York City. I believe that, by and large, the taxpayers got a raw deal here while the Yanks and the City are busy patting each other on the back. I don't see how the stadium is going to deliver the 1000 new jobs, and I don't see why the city is footing the bill for so much.
But I have to wonder about the utility of more hearings. Does Brodsky have an end-game or is he just out to make the city and Yankees look as bad as possible? If the state assembly isn't going to levy any sort of penalty, just let the matter go. We know it was a bad deal. Let's not waste more taxpayer dollars on it.
Meanwhile, on the parks front, the Village Voice's Runnin' Scared blog directs our attention to a Daily News article about the replacement parks. The gist of is that the parks set to replace the Macombs Dam Park won't be open for a few years. It's not really new news as these parks have been behind schedule for over a year now, but it's just a reminder that the community benefits are slow to materialize. I know some fans disagree, but I think the Yanks should have been more responsive to the needs of the South Bronx residents who have long lived with the Yanks as neighbors.
By

Picking up where I left off this morning is Ken Rosenthal. While I think the MLB-wide arbitration decisions portend tighter economic times throughout the sport, Rosenthal feels that, contrary to what many of us assumed, even the Yankees will suffer. Outside of a soft market for outfielders, Rosenthal expects the Yanks' 2009 payroll to be significantly lower than their 2008 total and doesn't believe the new stadium will be as lucrative in its first year as it would be had the economy been stronger. Of course, we've heard the payroll line before, and the Yanks still have a $140 million offer outstanding to CC Sabathia. The Yanks' spending, though, may not be as all-encompassing as we once thought it would be. · (81) ·
There's only one week left in the regular season of our first ever fantasy football league, and just one of the twenty teams has clinched a playoff spot. The last time I updated you on the league's goings-on, I was tenth in the league with a 5-4 record, but riding the wave of a three week winning streak. One month later, that streak is still alive at seven wins, and I've gone from the middle of the pack to near the top of the standings.
The trade deadline came and went with much controversy (I'm not going to explain, long story), and now teams are stuck mining the unbearably barren free agent pool for fill-ins. I grabbed Ken freaking Dorsey a few days ago to replace Vince Young as my backup to Chad Pennington for no other reason than because Dorsey will actually get some playing time during the rest of the season. Ryan Grant, Brandon Jacobs, Kevin Walter and Calvin Johnson continue to carry my squad.
Loyal RABer JSBrendog and I lock up for a UUUUUUGE battle this week. We're tied for second in the league with identical 9-4-0 records, but I'm technically in third because my team has picked up 5.4 fewer points on the season. The winner of the week clinches a playoff spot and the second best record in the league, the loser's playoff fate will be decided by the what the six teams with an 8-5-0 record do. You're doing going down, fool.
Current standings are after the jump.