By

First, we had current and former mayors calling for Joe to keep his job. Now, the enemies are chiming in. David Ortiz of the hated Boston Red Sox believes the Yankes would suffer without Torre. Jack Curry has the story at the New York Times Bats blog as David Ortiz speaks from his heart about the Yankees skipper. · (1) ·
Drumroll please…
Ian Patrick Kennedy-Jaskowiak was named Minor League Pitcher of the Year, edging out the Twins' Kevin Slowey, who was runner-up for the second straight year. I have to say, I find this especially gratifying since I spent countless hours (okay fine, countless minutes) last year rebutting emails proclaiming how bad of a pick IPK-J was.
Edwar Ramirez took home Minor League Reliever of the Year honors, just a year removed from eating peanut butter & jelly sandwiches after his Indy ball games. You know the numbers, but they're so sick I'll repeat'em anyway: 56.2 IP, 26 H, 102 K. Crazy.
Congrats gents, now go win the World Series. (kidding)
In the back of my mind, something about Mariano Rivera's recent comments about his contract bugged me, and I couldn't quite put my finger on it. But this morning, it dawned on me that Rivera has changed his position a bit on the Yankees over the last few years.
Three years ago, when he negotiated his current contract extension, Mariano Rivera had nothing but praise for the Yankees. In this article in The Times from 2004, Rivera expressed his desires to remain in pinstripes. "I don't need to [be a free agent]," he said. "This is where my house is. I'd have to find another house. This has been home."
This wasn't the first time Rivera had expressed these feelings. In 2001, he basically said the same thing, and in both 2001 and 2004, he hinted that he would probably pitch only until 2007. Well, 2007 has finally rolled around, and Rivera is feeling restless. He is, for the first time in his career, inching toward free agency, and numerous other teams could use a Mariano Rivera in their bullpen. As Buster Olney might opine, Mariano Rivera is a good fit for many, many teams.
So I wonder what's changed in three years. It's possible that Rivera is using his own impending free agency as leverage to help Joe Torre. Rivera could have no intention of leaving the Yankees, the organization he's been with since 1990. Or it could be something else.
Maybe Mo is tired of the speculation surrounding his effectiveness and his elbow. Maybe he's tired of the three-ring circus in the Bronx. Maybe he was dismayed to see his friend Bernie Williams so unceremoniously dumped last year and wants the team to recognize and honor those who have contributed for a decade or more to a great run.
Either way, something about the Yankees has affected Rivera since he last re-upped with the team. Hopefully, that something won't be a deal-breaker this time around.
By

In the ALDS, Derek Jeter hit .176/.176/.176 and played a rather unspectacular defense. He hit into three double plays in two games and was responsible for a disproportionate 17 of the Yankees' 108 outs. Yet, people are more apt to blame A-Rod, mosquitoes or Joe Torre for the Yanks' early postseason exit. Doesn't Jeter deserve more than his fair share of the blame considering he was responsible for more than his fair share of rally-killing outs this month? · (27) ·
On Tuesday, I voiced my support for Joe Torre. My reasoning, like many others, is that there simply isn't anyone else better suited to manage this Yankees team. That remains my positio today, though as I read more I'm realizing that I'm succumbing to certain biases. Who knows? Another three days of mulling this issue might make me turn around. Bits of knowledge like this one, found at NoMaas (a site I've grown weary of this year), will do much to expedite a change in my thought process:
All managers, as a group are most effective in their early years on the job. I did a study of 103 managers who managed at least 600 major league games, a group basically including all twentieth-century managers who had significant careers and are now retired. The study documented something which is apparent if you just look at the records. A huge percentage of managers have their best seasons a) when they first get a chance to manage, and b) in their first years on the job.

Nonetheless, the most obvious fact about managers is that almost all managers become ineffective after two or three years in a position.

The most important question that a manager asks is "What needs to be changed around here?" Any manager, over time, loses the ability to see what needs to be changed.

There is the manager's loyalty to his players. A new manager owes nobody anything. He can bench or release unproductive players without apology. An established manager can't do that – not only because of his own reluctance to break faith with players who have given him their best efforts, but because of what it means to the rest of the team.

Another thing…the game of baseball changes, over time, much more extensively than most people realize. The way the game is played now is very different from the way it was played thirty years ago.

The older a manager is, the more likely he is to fight those changes. Older managers are trying to play the game the way it was played thirty years ago, usually without realizing it.
Of course, this not to say that managers always have their best seasons early on. Look at Bobby Cox. He managed the Braves, then was relegated to GM duties, and then returned as manager and went on the infamous division title streak. Many think that Cox is "losing it" today, but I don't remember his job coming into question during his tenure, despite a lack of playoff success. Then again, I'm not a Braves fan, so I'm not always privy to what they're saying about their manager.
The most eye-opening parts of that passage are the final four paragraphs. Joe is very loyal to his players, almost to a fault. In many instances, it worked out — Bobby Abreu is a good example of this. However, that's not to say that Joe's loyalty is the only way to get things back on track. Perhaps sitting Bobby for three or four games would have gotten him back on track faster. Who knows?
The point is, there are two sides to every story. Yes, many of us want Joe Torre back, and there is a valid argument for that. However, as I'm beginning to realize, there is a reason just as valid to can him. To me, this makes the decision that much more interesting.
By

On Tuesday night, during the Republican Presidential debates, Rudy Giuliani endorsed Joe Torre for manager. Not to be outdone, another New York politician spoke out in favor of Joe Torre's job, and it wasn't the state's junior senator. Rather, Mayor Bloomberg expressed his belief that Joe Torre should keep his job. But Bloomberg, a Boston native, is a Red Sox fan, and we don't really take kindly to their type interferin' in Yankee business. · (3) ·
SI's Jon Heyman is reporting that we might not hear anything on the Torre situation until next week:
The Yankees' brass is in the process of arranging a high-powered meeting in which the club's top decision-makers will consider the cases of Torre, as well as three star players: Alex Rodriguez, Mariano Rivera and Jorge Posada.

The big sitdown, which would take place in Tampa, Fla., could happen as early as Friday. More likely, it will wait until early next week. The reason for the delay isn't known.
I hate to see things drag out like this, but I think the longer it takes, the better the chance that Torre stays. Not sure how well that sits with the rest of y'all. The good news: I can finish my assessment of the situation, which I was rushing to get done for tomorrow. So now you might see it Friday.
Oh, and make sure to check out Mike's mind-blowing Andrew Brackman profile. The dude's good at writing these, and this is his best. Don't want it to get buried as we talk about the state of the Yanks.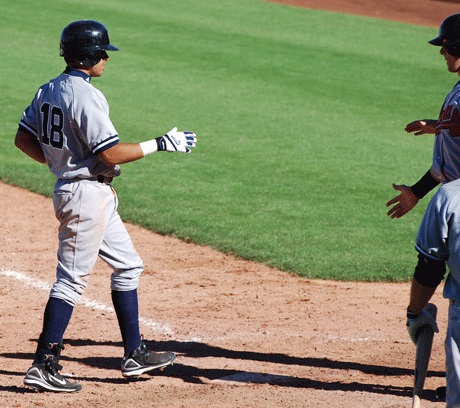 The Javelinas lost to the Rafters 11-14
The Yankee pitchers had a rough time today but they didn't get much help from their defense at times. The Javelinas commited three errors, two of them on routine fly outs to RF & LF, when Steven White was pitching in the first inning. Brett Gardner had another good day at the plate and the only thing that could limit his SB's were the aggressive hitters behind him. Read More→