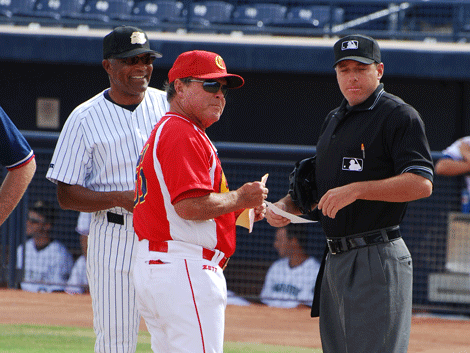 AFL Peoria Javelinas (20-4 Win over Team China in 7 innings)
Brett Gardner: 3-5, 4 R's, 2 RBI, 2 SB. All three hits were line drives – two were up the middle and one over 1B. Now has 11 SB's / 0 CS
Juan Miranda: 0-2, 1 R, 1 RBI, 1 BB, 1 K. Had trouble slowing the bat down – He SO on what looked like a 60mph change-up in the 1st inning. Now hitting an even .250. Replaced in the 4th inning.
Reegie Corona: 0-3, 1 K. Hitting .176 overall. Replaced in the 5th inning.
Steven White: 2 IP, 2 H, 1 ER, 1 BB. Lowered ERA to 10.29
The Chinese Olympic team was a late addition to the AFL schedule. The stats count but these are really just scrimmage games while they prepare for the Olympic tournament. Things didn't look good for them even before the game started. They instituted something I've only seen in beer league softball – they announced the game would be stopped if theres a 10 run lead after the 7th inning. The hitting wasn't bad but the pitching was terrible. It looked like they were topping out in the low-to-mid 80's at best.
The only thing that slowed down the Javelinas today was a swarm of killer bees (seriously) in the bottom of the 4th inning. It was a strange scene – some of the Chinese players started laying flat on the ground during a pitching change and no one seemed to know what was going on because of the language barrier. So then everyone sees them looking up at a black cloud of sorts that was hovering in across the right field foul line. Now I'm originally from NJ and have never seen killer bees in my life so I almost did a full stop-drop-and-roll technique as they passed over home plate. The bees didn't bother anyone and they eventually just flew over the media suites and left the stadium. I've been watching for foul balls and bats and such but killer bees was never a thought. I'll have to file that one away.
The photo's are on the other side Read More→
By

Christening our new Joe Girardi category, let me present to you news from Dan Shanoff's Quickie. Shanoff, a Northwestern alum like Girardi, shares an interesting story:


In the football weight room, where all athletes worked out … there are lists of weightlifting records, and the only non-football player ANYWHERE was in the squat, where Girardi was the all-time king.



So there you have it; all five feet, eleven inches of Joe Girardi, the new Yankee manager, could out-bench NU football players. Look out, Jason Giambi. · (12) ·
By

Top one sign that your agent is a class act: When the future Hall of Famer making obscene amounts of money decides to void the rest of his contract without responding to your more-than-generous extension offer, you alert said player's former employers via text message. · (6) ·
By

That's what A-Rod will have to top to beat the Yankees *initial* offer. Chances are, they would have upped that a bit in negotiations, since Boras was starting at 10 years, $300 million. · (8) ·
By

ESPN is finally officially reporting that the Yankees are offering the managerial job to Joe Girardi and that Girardi will accept the position. We've held off on reporting too much of the rampant speculation up until now because there were simply too many conflicting reports flying around. Don Mattingly is not expected to join the coaching staff. · (29) ·
Now that A-Rod is gone, it's time to assess the rest of the Yankees' increasingly painful situation. We'll go issue-by-issue, so that we don't get inundated as we have in the past.
First up: Mo and Posada.
Supposedly, the Yankees are prepared to offer them both a boatload of money. However, the Yankees shouldn't be opening the checkbook so hastily. They should consider the ramifications of locking up both vets to long-term deals.
Posada should get no more than a three-year deal. A fourth would be a deal-breaker for me. Now, many will think I'm nuts. The Yankees have these vast financial resources, and if they're not using them on A-Rod, they might as well use them on Posada, right? Maybe.
Signing him to a four-year deal would mean he'd be paid probably $15 million per year through the age of 41. That doesn't sound too attractive. But, as many have pointed out, the Yankees can afford a $15 million albatross, especially if he produces over the next two years (so that might be a $30 million albatross). Plus, having Jorge around to break in any future catcher — whether that be Pilittere, Cervelli, Romine, or Montero — would be invaluable.
The question, though, is whether you can make a $15 million player a part-time player, a la Joe Girardi when Jorge was breaking in. Or would the Yankees be forced to play Jorge full time — either by upper management not wanting to see its investment on the bench, or by a manager refusing to bench a veteran? That's a question you must answer to some degree before offering Jorge more than three years.
Mo, on the other hand, I can see blowing the cash on. At this point in his career, I can't think of a better person to have pitch the ninth inning. Why? Because I'm an enormous advocate of the "bullpen ace." This isn't a guy you save and deploy in the ninth inning. It's the guy you bring into the seventh inning with runners on first and third and one out. He's the guy who gets you out of big jams, so that you can get to the closer. Basically, it's the same idea as the "bridge to Mo," except the pitcher isn't necessarily relegated to the 7th or 8th inning.
Problem: we don't have that bullpen ace yet. But with Humberto Sanchez, J.B. Cox, and Mark Melancon coming back from elbow surgery, we might find that "bullpen ace" by 2009. Having Mo as the 9th inning at that point would be invaluable.
What do you guys think? Break the bank for Mo and Po? Or make reasonable offers (and by reasonable, I mean deals longer than one year in length) and if they don't like it, let them walk?
By

Clearly, A-Rod's opting out has provided a hot topic for discussion, and as the stellar conversation continues in the comments there, I want to offer up a short thought. While, short-term, the Yankees are worse off without A-Rod, in the long run, the Yankees are better off not signing A-Rod to a contract that would call for a 40-year-old to make in excess of $30 million a year. Thoughts? · (20) ·
CNNSI's Jon Heyman has the news: A-Rod will be opting out of his contract. Here's the story:
Alex Rodriguez notified the Yankees on Sunday that he's opting out of his record $252 million contract, SI.com has learned.

Rodriguez's decision means he will become a free agent and be able to negotiate with all clubs. Rodriguez's bombshell move will shake up the entire winter for the Yankees — who had hoped to retain him with a big extension — as well as other big-market clubs that will now pursue him.

Rodriguez's agent Scott Boras said he sent word of the opt-out in writing Sunday and left phone and text messages for Yankees general manager Brian Cashman. The Yankees have said that once A-Rod opts out, they wil not pursue him, since they will lose the benefit of the Texas Rangers' $30-million subsidy.

"Alex made the decision today," Boras said. "I thought we should notify the club."

The Yankees were preparing an extension to his current contract for either five or six years, believed to be for close to $30 million annually. However, team officials said Boras has politely declined to meet with them in recent days, and they never presented the offer.
So now we'll see if the Yankees are true to their word. As they're losing a year's worth of A-Rod money from the Rangers, they've said they won't negotiate with him. Can the richest team stay true to its word in dealing with the game's best player? The future just grew rather hazy for the Yankees.
As for A-Rod, if this report is true, I'm thinking some very unprintable things right now. Don't let the door hit your money-grubbing hands on the way out.
Update 11:10 p.m.: Ken Rosenthal during the game just said he spoke to Scott Boras, and A-Rod opted out supposedly because he is unsure of the future composition of the Yankees. He's unsure about Jorge Posada, Mariano Rivera and Andy Pettitte's return. He's unsure of the ownership transition. He claims he will continue to negotiate with the Yankees.
For my part, I call bullshit. I'm pretty pissed at A-Rod. The Yanks were willing to offer him a five-year, $150-million deal. Somehow, Boras and A-Rod think some team — not the Yankees — can trump that offer. As Joe wrote earlier today, no way.
Meanwhile, A-Rod is — or was — the future of the Yankees. Mariano Rivera has one more contract left; Andy Pettitte may retire after next season; Jorge has three or four years if we're lucky. Alex Rodriguez would have been the face of the Yankees for eight years. There would have been nothing at all uncertain about that.
As for the Red Sox, we'll see. Let's see how the fairweather fans who hated A-Rod in Boston respond to that one.
This World Series has taught me one thing: I love saying "Bob Apodaca." 
AzFL Peoria was off.
HWB Honolulu (8-6 loss to North Shore)
Austin Jackson: 3 for 4, 1 R, 2 3B, 1 RBI, 1 HBP – 7 of his last 10 hits have gone for extras
Bradley Suttle: 0 for 2, 1 R, 2 BB, 1 K, 2 E (fielding, missed catch) – still hittin' .109-.258-.218
Winter Ball (I'll update these stats every Sunday)
Aarom Baldiris: 0 for 1, 1 R in 3 games
Gerardo Casadiego: 6.2 IP, 2 H, 0 R, 0 ER, 4 BB, 5 K in 7 games
Frankie Cervelli: 0 for 4, 1 BB, 2 K in 2 games
Juan Francia: 1 for 12, 1 RBI in 6 games
Edwar Gonzalez: 8 for 26, 1 R, 1 2B, 4 RBI, 3 K, 2 SB in 10 games
Ben Kozlowski: 3 IP, 6 H, 2 R, 1 ER, 1 BB, 3 K in 5 games
Jesus Montero: 15 for 39, 8 R, 1 2B, 3 RBI, 7 RBI, 5 BB, 5 K, 1 SB in 11 games
Scott Patterson: 1 IP, 1 H, 0 R, 0 ER, 0 BB, 1 K in 1 games
Justin Pope: 8 IP, 3 H, 0 R, 0 ER, 1 BB, 4 K in 7 games
Marcos Vechionacci: 13 for 36, 8 R, 2 2B, 1 3B, 2 HR, 8 RBI, 4 BB, 4 K, 1 SB in 12 games
Guillermo Villalona-Bryan: 0 IP, 2 H, 2 R, 2 ER, 0 BB, 0 K in 1 games