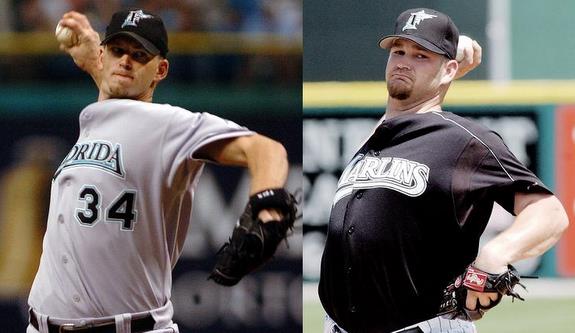 Once upon a time, A.J Burnett and Brad Penny were teammates taking on the Yankees in the 2003 World Series. Well, Burnett was recovering from Tommy John surgery at the time, so he was nothing more than a spectator. Penny got the Game One start after the NLCS required all seven games, and he held the Yankees to two runs in 5.1 innings, a game Florida eventually won. In Game Five, he held New York to just two runs in seven innings, another win for the Fish. Penny's recent history against the Yankees isn't very good though. They tagged him for eight runs over ten innings during his 2009 stint with the Red Sox, resulting in a memorable MLB.com headline. Hopefully today leads to more of the same.
Of course, the real story of today's game is Burnett getting his first crack at redemption, a chance to show that he's put last year's struggles behind him and can be a meaningful contributor to the team going forward. He showed off some revamped (but not overhauled) mechanics in Spring Training, which will hopefully help him find all those strikeouts that disappeared. Here's the starting lineup, same as Friday's…
Brett Gardner, LF
Derek Jeter, SS
Mark Teixeira, 1B
Alex Rodriguez, 3B
Robbie Cano, 2B
Nick Swisher, RF
Jorge Posada, DH
Curtis Granderson, CF
Russell Martin, C
A.J. Burnett, SP
Two games into the season, and we have our first FOX broadcast. How unfortunate. This game starts at 4:10pm ET, enjoy.
Pedro Feliciano Update: Via Peter Botte, the lefty says his shoulder is feeling better after a few days of rest, and he'll play catch either Wednesday or Thursday. Three days ago we heard that he would be shut down for ten days, but he appears to be ahead of schedule. I just hope they don't rush things and run into a setback. Brian Cashman said Feliciano was "abused" by the Mets in recent years, which apparently wasn't enough to stop them from giving him a multi-year deal. How stupid does that sound?