Just had a huge and delicious Sunday breakfast. Now have a cup of coffee and nothing particular on the agenda, so let's get to answering some questions Mike didn't get to in this week's official mailbag.
Plenty of people wrote in with shortstop-themed questions, and Mike covered ones relating to Asdrubal Cabrera, trades, and Korean SS Jung-Ho Kang. Yet there were plenty more.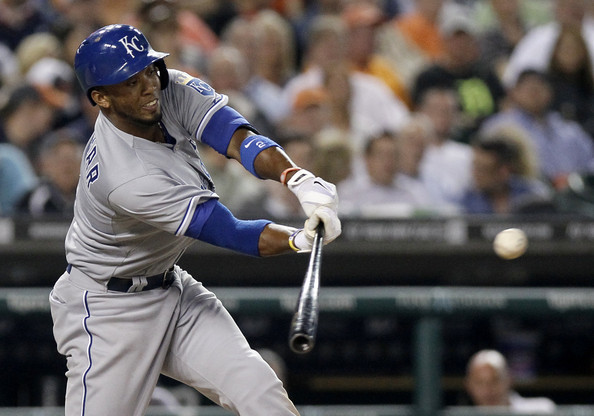 C.Roy asks: Could you see the Royals being willing to talk about Alcides Escobar in a trade this winter? I see it unlikely that we will fix our lack of power at the SS position and Escobar would provide great defense and one more solid leadoff type. Possibly get Beltran involved (eating money) to open DH for Arod and in turn 3B for Headley.
No, I don't see the Royals shopping Escobar this winter. They're right in the race this year and with some young players coming through the system I doubt they're ready to sit back and start rebuilding. He's also under contract and has pretty reasonable team options through 2017, so the Royals really have no reason to trade him.
Well, maybe they have one reason. Escobar isn't a guy known for his bat, as C.Roy mentions in his question. Great on defense, not much of a bat. Sounds like someone else the Yankees have on the roster, Brendan Ryan. Yes, Escobar's bat is considerably better than Ryan's, but remember that Ryan once could hit a little bit. His OPS+ during prime years:
2009: 97
2010: 57
2011: 85
It's only since 2012 that Ryan has been a complete and total zero with the bat. Escobar's last three years, by OPS+:
2012: 96
2013: 53
2014: 87
Escobar is a bit younger than Ryan was from 2009-2011, so it's not a straight comparison. But the point is that I wouldn't place my bets on a light-hitting shortstop, especially as the league hits lighter and lighter.
Nik asks: The Yanks seemed to have had a dearth of OF'ers and catchers, even arms for the mound over the last large handful of years. Why is it so hard to find shortstops who can hit AND play serviceable d? Has the era of Jeter and Ripken passed? Or is it that the Yankees just decided "Well, Derek will play until he's 55, we don't need to worry about it…"??
Not sure how they have a dearth of catchers, unless by dearth you mean abundance, in which case sure, maybe. But that misses the larger part of the question.
Yes, the era of Ripken and Jeter has clearly passed. Offense is down league-wide, as it seems we say in every post these days. Of the 22 shortstops who have enough PA to qualify (and Troy Tulowitzki does not), only seven have a wRC+ over 100 (although another four have 98 or 99). Of those seven, three were below average last year. (Of the four with a 98 or 99 wRC+, three were worse in 2013.)
Point being, it's incredibly difficult to find consistently good, healthy shortstops. In the last three years there are 26 shortstops who have 1,000 or more PA, and of them only eight have an above-average wRC+. Only 15 of them have 1,500 PA (so average of 500 per year, which is not that much).
Making matters worse, at least in terms of 2013 and 2014, is that the Yankees have Derek Jeter. Who's going to sign with them to play backup to Jeter? Stephen Drew wouldn't do it last year, even with Jeter's status uncertain. As for grooming one through the minors: it sounds nice, but how many teams have developed everyday shortstops in the last five years?
Jon asks: Why not take a chance on Tulo next year?
For starters, he's under contract with the Rockies through 2020, so it's not as though the Yanks can just take a flier on him. The Rockies aren't just going to give him away, even if they do owe him $118 million through 2020.
To that point, why would you want to take on the most expensive portion of that contract? Tulowitzki hasn't played in nearly two months and he's constantly hurt. Since 2012 he has 1090 PA, or 363 per season. He's played more than 140 games just three times since coming up full-time in 2007.
What is a fair exchange for a super expensive player (Tulo got the 18th largest deal in MLB history despite never hitting free agency)? How much would the Rockies have to eat? How little would they take? No, I don't think they're parting ways with him this winter, just because doing so will be too complicated.