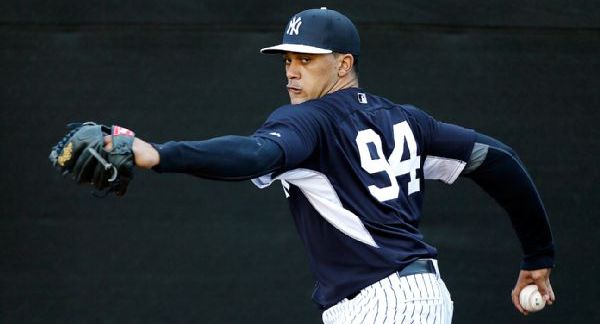 The Yankees will try to re-sign both outfielder Slade Heathcott and right-hander Jose Campos to minor league contracts, Brian Cashman told Andrew Marchand last Friday. Both players missed the entire 2014 season due to injury — Heathcott did play in nine games, but c'mon — and were non-tendered last week along with left-hander David Huff.
By non-tendering Heathcott and Campos, the Yankees were able to remove them from the 40-man roster without exposing them to waivers. They would have had to clear waivers had the team outrighted or released them, and there's a decent chance one or both would have been claimed since they're relatively young and have potential. The non-tender was the best way to try to keep them as non-40-man roster players.
Although they are both free agents right now, changing organizations isn't always that appealing to guys like Heathcott and Campos, as J.J. Cooper explained last week:
The now-free agent can opt to sign with someone else, but that's often not as appealing as returning to the organization one already knows. Go to another organization and you're often just another guy. Stick with your existing organization and you have a few coaches, a signing scout or a roving instructor who is sticking up for you in organization meetings.

We don't know for sure that Heathcott or Campos will re-sign with the Yankees, and (ex-Reds righty Curtis) Partch could try to make another team's bullpen. But it's a slight advantage in a business where teams are looking for any advantage.
Heathcott, 24, has played only 309 games since being the team's first round pick in the 2009 draft due to a series of shoulder and knee injuries. Knee procedures limited him to those nine games this summer. The 22-year-old Campos has only thrown 111.2 innings — all with Low-A Charleston — since being acquired from the Mariners as the second piece in the Jesus Montero-Michael Pineda trade. He missed most of 2012 with an elbow fracture and all of 2014 following Tommy John surgery.
At the time of the non-tender, neither Heathcott nor Campos were among New York's top prospects. Their prospect status has taken a big hit over the last year or two due to the continued injury problems. They're still interesting, but not much more than that.