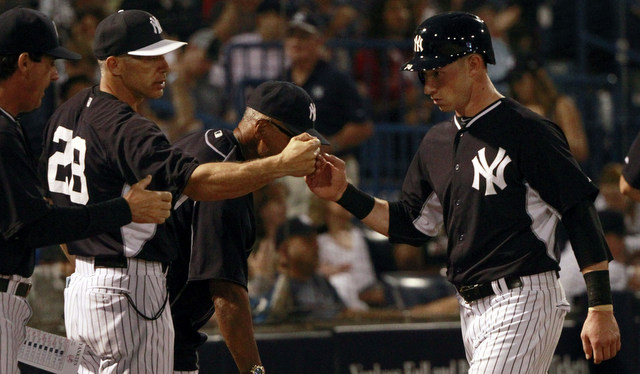 Spring Training this year was a great time to prospect watch. The Yankees had just about all of their top prospects in big league camp and they were all impressive. Aaron Judge, Greg Bird, Jacob Lindgren, and Luis Severino stood out in particular but they were hardly alone. It was a fun few weeks watching the kids play, that's for sure.
Perhaps the most impressive prospect in Spring Training was a player who came to camp barely registering as a prospect at this point of his career: Slade Heathcott. Heathcott played only nine games last season due a pair of knee surgeries and only 230 games from 2011-14 due to knee and shoulder surgeries, which means a lot of missed development time. I ranked him the team's 30th best prospect before the season, so he only barely made the cut.
The Yankees non-tendered Heathcott this past offseason because it was the only way to get him off the 40-man roster without exposing him to waivers. Heathcott could have signed with any other team as a free agent but instead returned to the Yankees on a minor league deal that included an invite to Spring Training, though he was an afterthought compared to the other prospects coming into camp.
Heathcott, now 24, had a dynamite showing in Spring Training, hitting .333/.450/.545 with three stolen bases in parts of 23 Grapefruit League games. He won the James P. Dawson Award as the top rookie in Spring Training and played so well the Yankees decided to send him to Triple-A Scranton to start the season rather than Double-A Trenton as planned.
So far this year Heathcott is hitting .347/.392/.472 (~145 wRC+) with two steals, a 7.5 BB%, and a 16.3 K% in 80 plate appearances with the RailRiders, including a torrid 14-for-25 (.560) stretch in his last seven games. He's also running around center field making catches like this (GIF via Donnie Collins):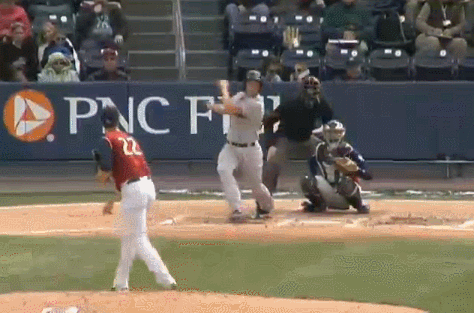 We didn't see Heathcott make any catches quite that good in Spring Training, but we did see a Slade Heathcott who looked fully healthy for the first time in years. You don't make athletic plays like that without being healthy. Heathcott moved around very well in camp and looked great physically following his various surgeries.
"Honestly, my knee never crosses my mind when I'm playing," said Heathcott to Chad Jennings in Spring Training. "I'm to the point that I've trained hard enough and ran enough and done the training that I need to do to make sure that it will hold up. It very seldom crosses my mind. So it's really just the confidence of getting back in the swing of things."
Heathcott's apparent return to health and bonafide hot start have me feeling … conflicted. My head says not to excited because Slade has basically no track record of health. When we all look back at his hot start in August, we'll laugh because it was just a hot start, nothing more. Know what I mean? This isn't the first time Heathcott's gotten off to a great start. He hit .370/.440/.616 in his first 18 games of 2011, for example.
At the same time, my heart is telling me hell yeah Heathcott's healthy! This is all legit! He always had talent, that was never the question. Heathcott could just never stay on the field but now he's doing it. This is great! How could you not get excited about what Slade has done so far this season? This is pretty much the best case scenario. Couldn't ask for a better Spring Training and start to the regular season.
So which one should I listen to, my head or my heart? I think the answer is both. Heathcott sure looked healthy in Spring Training based on how well he moved around following a pair of recent knee surgeries, and he can do some exciting things if healthy, but at the same time staying healthy has been a career long challenge for Slade. An impressive spring and a great start to the Triple-A season doesn't change that.
Against my better judgement, I find myself getting very excited about Heathcott and the prospect of finally (finally!) seeing what he can do across a full, healthy season. The Yankees have a lot of upper level outfield depth — Heathcott has been flanked by Tyler Austin and Ramon Flores in the Triple-A outfield, so yeah — so I'm not sure where Slade fits into the call-up pecking order, but if he keeps playing like this, he'll force his way into the picture. He offers a dynamic two-way, power-speed game Austin and Flores simply do not. For the first time in a long time, there is a reason to be excited about Heathcott.
"Heathcott's been very impressive. Very healthy, very athletic, very productive," said Brian Cashman to Jennings at the end of Spring Training. "There's optimism."