Just about everyone loves prospects, and the Yankees have a doozy on the way this season in the form of Jesus Montero. The 21-year-old's arrival is probably going to happen a lot sooner than most of us expected thanks to Frankie Cervelli's fractured foot, which opened the door for Montero to start the season as Russell Martin's backup. Thankfully he's proven himself at every step of the minor league ladder, finishing the 2010 season by whacking 15 homers in his final 45 Triple-A games. What the 2011 season has in store … well that's completely up in the air.
Best Case
Buster Posey? Seriously, a rookie backstop putting up a .305/.357/.505 (.368 wOBA) batting line with 18 homers and a measly 13.5% strikeout rate like the Giants' wunderkind did last year is as good as it gets. But that's just the offense. Posey's glovework behind the dish has never really been a major question, but Montero's certainly has.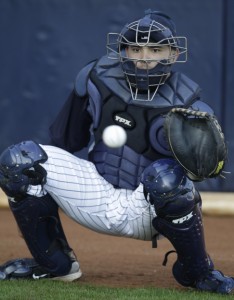 As far as the Yankees are concerned, the best case scenario really has little to do with Montero's bat in 2011, it's all about the glove. The best possible thing he could do this season is prove that he's a Major League caliber catcher defensively, and that means the total package: blocking balls in the dirt, framing pitches, and throwing out attempted basestealers. How that is accomplished, I don't care. Could be back in Triple-A or under the tutelage of Joe Girardi and Tony Pena at the big league level. Of course this is the best case section, so the latter is preferable.
If everything goes right this year, Montero will be a Rookie of the Year candidate and replace Martin as the starting catcher at midseason. A catcher with a .360-ish wOBA and what amounts to league average defense behind the plate is a four-win player, and the Yankees should do back flips if Montero gives them that in 2011.
Worst Case
Matt Wieters? Don't get me wrong, I still very much believe in Wieters and his ability to become a well-above-average big league catcher, but the fact remains that the start of the guy's career has not gone as scripted. In his year-and-a-half with the Orioles, he's hit just .266/.328/.393 (.315 wOBA), mostly due to a .249/.319/.377 (.303 wOBA) effort in 2011. It's been both disappointing and frustrating for Wieters and O's fans alike, but being a young catcher in the AL East is no easy task.
The worst possible thing Montero could do this season is regress, both at the plate and in the field. His defense is already bad enough, to lose any more ground on that front would really put his future role with the team in question. First base is not an option, and designated hitter isn't exactly the ideal spot for a 21-year-old. Montero's bat is going to have to carry him, and luckily for him it's very good, but if advanced pitchers start exploiting a hole in his swing or he starts squeezing sap out of the bat as a nervous rookie, it would only hurt him. If any doubt about his offensive potential starts creeping up, that's bad news.
The worst possible thing the Yankees could do this season is sell low on Montero or trade him for anything less than a star-caliber player. No one is untouchable, but as Joe has already discussed, you'd have to be getting a stud with a few years of contractual control left to move Montero at this point in the game. Depending on your point of view, the Yanks really dodged a bullet when the Cliff Lee deal fell through last July, because there's a very real chance they'd have lost Montero for half-a-season of the lefty.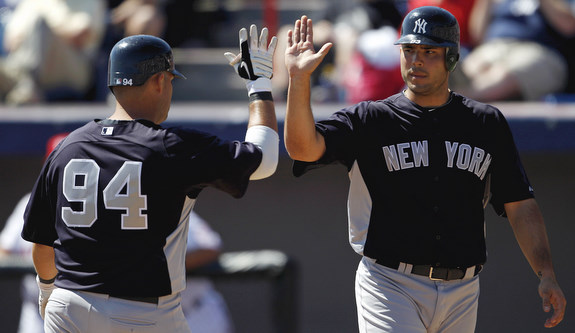 What's Likely To Happen
The recent track record of 21-year-old catchers in the big leagues is basically non-existent. Brian McCann is the most notable example, hitting .278/.345/.400 in 204 plate appearances for the Braves in 2005, though he was a midseason call-up. Joe Mauer, Dioner Navarro, and Yadier Molina are the only other 21-year-olds to get as many as 100 plate appearances in the show in the last 15 years. So yeah, Montero is about to join some exclusive company.
Although his skill set portends a middle-of-the-order bat, the Yankees don't need Montero to be that guy just yet. Like they did with Jorge Posada over a decade ago, it's likely that they'll break their new toy in slowly, giving him a few starts a week behind the plate and gradually build him up to a full season workload. Prospects, even ones that rank among the very best in the game, are highly unpredictable at the Major League level early in their career. They'll break your heart more often than not. Montero is no different, and in all likelihood he'll take some lumps after being dropped into the thick of the AL East at his age.
I'm not going to throw out some numbers and offer a prediction of what Montero will produce this year, but I will say that I don't expect him to come out and hit like Posey right out of the gate, nor do I think he'll fall flat on his face. If he hits for a little bit of average and power while showing he's not completely useless behind the plate, I'd consider it a win. If he doesn't hit right away, who cares, he'll go back to the minors to find his game, it happens all the time. In no way would it be a sign that he's not cut out for the big leagues or something, not this early in his career.