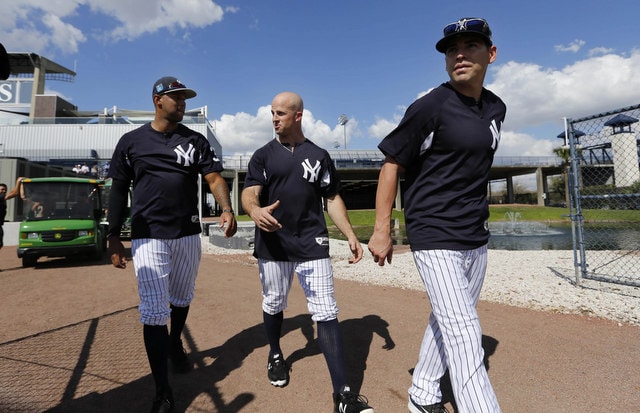 For much of the last five seasons Brett Gardner has occupied the leadoff spot for the Yankees, and he's been one of the more productive leadoff hitters in the game. Gardner started 513 of 810 possible games at the leadoff spot from 2013-17 — Jacoby Ellsbury started most of the other 297 games at leadoff — and during that time the Yankees are top ten in OBP and wRC+ from the leadoff spot.
Aaron Boone recently said he's kicked around the idea of batting Aaron Judge leadoff — "I've thought of it. I wouldn't necessarily say it's likely. But something like that I would view as possible," he said to Brendan Kuty — though it would surprise me if anyone other than Gardner batted leadoff this season. At least at the start of the season. Maybe at some point he has to be bumped down due to a lack of performance. For now, I think it's safe to say Gardner's the guy.
How much longer will Gardner be the leadoff hitter? It's tough to say, though I don't think it'll be that much longer. He'll turn 35 in August and 2018 is the final guaranteed year on his contract. The Yankees could pick up his $12.5M option for 2019 — Brian Cashman told Kevin Kernan they've yet to discuss Gardner's future, which makes seeing how there's an entire season to be played before a decision has to be made — but even then Gardner might not bat leadoff next year. His performance may no longer warrant it.
At some point in the not-too-distant future the Yankees will have to find a new leadoff hitter. Maybe this year, maybe next year, maybe two years from now. It'll happen at some point reasonably soon. And looking at the current roster and the farm system, there's not an obvious long-term leadoff hitter in the organization. Three names immediately jump to mind as leadoff candidates:
Jacoby Ellsbury
Aaron Hicks
Gleyber Torres
Ellsbury has not been good the last few years and it's difficult to expect him to get better as he enters his mid-30s, so even though he's under contract another three years, I'd bet against him being the next leadoff guy. Hicks has the OBP skills to hit leadoff, though he's yet to have a full productive season, and even then he's only under control through 2019. He might not be around any longer than Gardner.
Gleyber is an interesting case because he has the bat-to-ball skills and the OBP ability to hit leadoff, and there are some questions about his long-term power, and the best spot for high on-base/low power guy is leadoff. The Yankees have Judge and Gary Sanchez and Giancarlo Stanton to hit in the middle of the order for the foreseeable future, so it'll be tough for Torres to slot into the lineup as the No. 3 or No. 4 hitter. Leadoff may be the best spot for him.
Didi Gregorius doesn't get on base enough to bat leadoff. Love the guy, but no. Estevan Florial is too far away to start planning his future lineup spot. Miguel Andujar or Brandon Drury probably won't have the OBP skills for leadoff and Thairo Estrada might not hit enough in general to warrant getting more at-bats than literally everyone else in the lineup. Tyler Wade? He might be the best long-term leadoff candidate in the organization. Wade can run and he has a history of getting on base, and the skills to continue getting on base. He's almost like the infield version of Gardner.
There is a case to be made for batting Judge leadoff, a case built around his great on-base ability and the fact he sees tons of pitches. If he were even a 30-homer guy instead of a 50-homer guy, it would make more sense to me. George Springer, Brian Dozier, and Charlie Blackmon all socked 30+ dingers as leadoff guys last year. But 50? I think Judge has way too much power to stick him at leadoff, where roughly one-fifth of his at-bats would come with the bases empty. Bat him second and his OBP is still high in the lineup, but there will be more men on base to take advantage of his power.
Signing a free agent or making a trade for a post-Gardner leadoff hitter is certainly possible, and it may come to that. Hicks might not stick around long-term, Wade might not hit enough to deserve a premium lineup spot, and Gleyber might be too good to hit anywhere other than the middle of the order. Right now, in March 2018, I'd rank the future leadoff hitters candidates like so:
Gleyber Torres
Trade pickup
Tyler Wade
Free agent signing
Aaron Hicks
Jacoby Ellsbury
Gleyber at the top because I think he has the best chance of being great and being a Yankee long-term. Hicks near the bottom because he's two years from free agency and simply might not be around much longer. The Yankees — or pretty much any team, for that matter — are seemingly no longer interested in adding payroll, which is why I think a trade is more likely than a free agent signing. The Yankees will probably prioritize paying Judge and Sanchez (and Luis Severino) before spending money on someone else's players.
For now, the Yankees have a leadoff hitter in Gardner and a pretty good backup leadoff hitter in Hicks, plus there's always Ellsbury, who could fill in if necessary. Gleyber and Wade are knocking on the door and could seize the job long-term, so figuring out the next leadoff hitter is more of a thought exercise than a problem in need of a solution. These things tend to sort themselves out. Lots can and will change between now and the time the Yankees need to replace Gardner as the leadoff hitter, which could be as far as two years away.