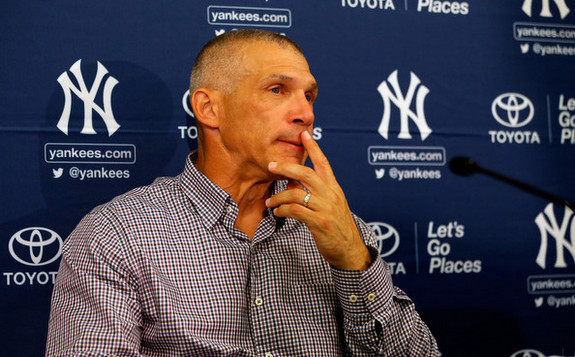 The Yankees wasted no time jumping into the offseason this year. Joe Girardi held his annual end-of-season press conference on Monday afternoon, the day after the team closed out its regular season. Usually they wait two or three days. Not this year though.
There was no major news announced during Monday's televised press conference — no coaching staff changes or surprise injuries, etc. — though Girardi did talk at length about all sorts of stuff. Especially Alex Rodriguez. People love talking about A-Rod. Here's a recap of Girardi's state of the team address.
On A-Rod
"We've gotta see where he's at. That's the thing we have to do," said the skipper when asked what he expects from Alex next year. "We have to see where he's physically at. If he can play the field, how many days will he DH, play the field … I don't think any of us know about him until we get him in games in Spring Training."
"I thought our guys handled it pretty well (when A-Rod returned in 2013)," added Girardi while acknowledging the first few days of Spring Training will be hectic. "Will there be a number of new guys in there? I'm sure … We'll do everything we can to make sure it's not a distraction, but until we get into it we don't really know. My personal opinion is it won't be."
"I have a good relationship with Alex. Our team enjoys Alex (in the clubhouse)," said Girardi. "I don't think that will be an issue. Will he have to deal with some angry fans? Yeah, but we'll help him get through that." (Girardi also joked that fans have been hating on A-Rod for years and he's used to it by now.)
Girardi said the Yankees "absolutely" expect Rodriguez to be on the team next year. "He hasn't played in a year. That's not easy to do, to sit out a year … Do we expect him to be a player on our team? Absolutely."
Girardi also confirmed they have not discussed having A-Rod work out at first base. "We expect him to be our third baseman," he said. They've stayed in touch via text message over the summer.