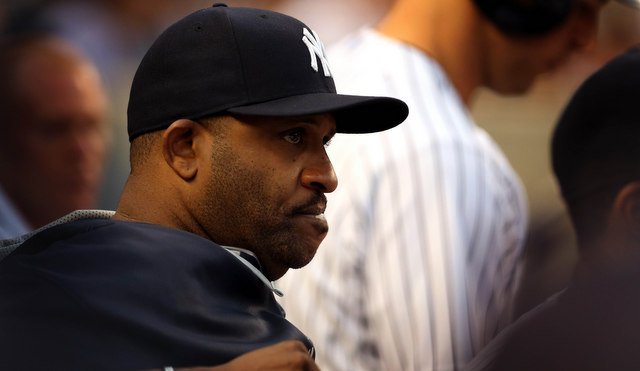 When we last saw CC Sabathia, he pulled himself from a start due to ongoing trouble with his right knee. At one point it appeared he would not pitch again this season. Joe Girardi admitted that was a possibility. Instead, Sabathia is back on the mound tonight with a new knee brace after spending the minimum 15 days on the DL.
The Yankees have a firm hold on the top wildcard spot, but catching he Blue Jays for the top spot in the AL East will not be easy, even with all those head-to-head games remaining. They need Sabathia to pitch well and pitch often. Soak up some innings each time out. They need as many as they can get these days. Here is the O's lineup and here is the Yanks' lineup:
It is cloudy and humid in New York, and there is rain in the forecast tonight. It's not supposed to start until 10pm ET or so, but it'll then continue through the night. That could be a problem. Hopefully they get the game in before the sky opens up. First pitch is scheduled for 7:05pm ET and you can watch on YES. Enjoy.
Injury Update: Brett Gardner (elbow) is feeling "much better" but has not yet played catch. He is available off the bench and is expected to play tomorrow … Sabathia (knee) has been activated off the DL, obviously. Rosters are expanded, so no other move was required.