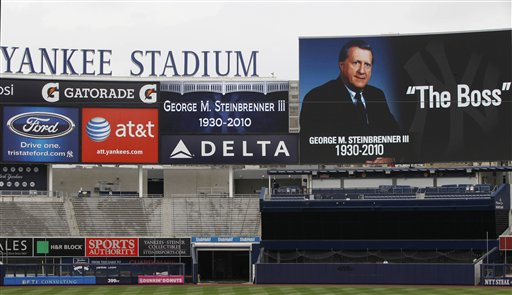 Joel Sherman had a great article in The Post this morning about just how much George Steinbrenner wanted to beat the Devil Rays whenever they played. Apparently the Boss didn't like then-Devil Rays owner Vince Naimoli, so he would have Joe Torre use his A-lineup and best pitchers during Spring Training games just because he wanted to beat them so badly. Since the Rays physically play in St. Pete, Spring Training was the only time the two teams would face off in Tampa, so George went all out for bragging rights. This was long before the days of YES, and we rarely, if ever, had a chance to see these games. I can imagine it was a blast.
A little bit more than just bragging rights are on the line in this weekend's series against the Rays as the two teams are separated by just two games atop the AL East. They have the two best records and two best run differentials on the planet, and both teams come in having won eight of their last ten games. Yeah, the Yankees only need to win one game this weekend to maintain sole possession of first place into next week, but let's not settle for mediocrity. Bury them right next to the Sox, and have those two duke it out for the Wild Card.
It's about as big as a series can get in July, and it should be fun one. Here's the lineup…
Derek Jeter SS
Nick Swisher RF
Mark Teixeira 1B
Alex Rodriguez 3B
Robinson Cano 2B
Jorge Posada C
Curtis Granderson CF
Juan Miranda DH – called up from Scranton this afternoon in exchange for Kevin Russo
Brett Gardner LF
And on the mound, the Big Man, CC Sabathia.
The Yanks will host a special pre-game ceremony tonight to honor George Steinbrenner and Bob Sheppard, and it will be shown on YES even though the game itself will air on My9. The ceremonies begin at 6:45pm-ish ET; the game 20 minutes later. Enjoy.