For the final installment of our mid-season review, we'll turn to the bullpen. It's far tougher to compare the relievers to their peers on an individual level, since there are 139 qualified relievers and likely many more when we set the bar lower to include LOOGYs and the like. There are often only granular difference between relievers as well, making it harder to rank them on that list of 139. Really, only Craig Kimbrel, at 2.0 WAR, stands out from the pack. But the Yankees have a few guys at the top of the list, so let's take a look at them, and then look at the bullpen as a hole.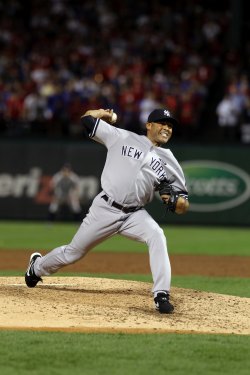 He might be 41, but that didn't stop Rivera from commanding a two-year contract this winter. He's shown few, if any, signs of slowing down lately. It seems that every year since about 2007 he's had a few more small injuries than in the past, but that doesn't stop him from pitching between 60 and 70 innings while leaving the competition beholden. This year he's getting it done in typical Mariano fashion.
ERA: 1.85, 14th. He might have blown a few saves this year, but overall he's held opponents mostly scoreless. This is right around the range of his ERA from the past few seasons, too, which is all the more encouraging.
FIP: 2.08, 7th. This is a surprise, because Rivera defies FIP. He is one of the rare pitchers who can always limit his BABIP, since opponents consistently make poor contact. But this year his BABIP is .295, which is a good 30 points above his career average, and about 70 points higher than last year. STill, he's managed to keep his walks way down and the ball in the park, which goes a long way.
WAR: 1.3, 5th. Even with just 34 innings, Rivera has still provided immense value. Remember, leverage gets factored into WAR for relievers, so that's where he gets much of his edge. Yet, he hasn't been the best relief pitcher on the Yankees this year. That would be…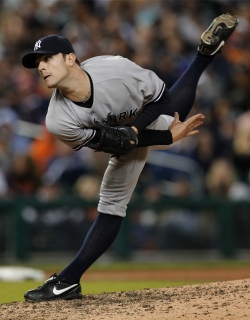 For the past few years Robertson has established himself as a mainstay in the bullpen. He might walk a few too many batters, but he has a knack for figuring out how to get a strikeout when he needs one the most. Then again, he just gets a lot of strikeouts in general. All in all, as you'll see, he's been the most valuable member of the Yankees bullpen this season.
ERA: 1.27, 4th. Robertson might put men on base with frequency — he does have a 5.86 BB/9 — but he doesn't typically let them come around to score. His strikeouts help fuel his superb ERA.
FIP: 1.74, 3rd. Typically we see FIP favor those who don't allow many walks. How, then, has Robertson managed the third lowest FIP in the league, with 20 points separating him and the 4th ranked reliever? By not allowing homers. As in, any. Guys just aren't making good contact off him this year, and it has made him all the more valuable. I can only wonder, though, if it's sustainable throughout the whole season.
WAR: 1.4, 3rd. As with Rivera, this is all the more impressive because of his low innings total. While it might seem like he warms up in every game and gets into every other, he has just 35.1 innings this year. That's 20 fewer than Jonny Venters, who is in 2nd with a 1.4 WAR (he wins on fractions). Robertson has been an absolute revelation this year. It goes to show that the Yankees didn't necessarily need a bridge to Mo in the form of an 8th inning man. They just needed someone who could get big strikeouts in big spots.
The bullpen as a whole
There have been plenty of other top performers in the bullpen, and they've added up to one of the better units in the league. Best of all, as we saw in this morning's starting pitching post, they haven't had to work overly hard, either.
ERA: 3.11, 5th. Thanks to unexpected contributions from guys such as Luis Ayala and Cory Wade, the Yankees have kept their bullpen ERA low. As we discussed this morning, that likely has something to do with the above average defense. But that shouldn't take away from what they've accomplished.
FIP: 3.44, 7th. Even when we remove fielders from the equation, the bullpen has done a fine job in its own right. Perhaps not quite as well as the ERA indicates, but it's still good nonetheless. The could stand to walk fewer batters as a group, but then again a lot of that is directly attributable to Robertson.
WAR: 3.5, 4th. It's tough not to love this ranking, especially given where the starting pitchers grade out. They're sopping up tons of innings, and the bullpen has done a great job filling in the rest. Even better, they'll stand to improve greatly if Rafael Soriano comes back as something resembling even his 2009 self. A lefty might be an area of nominal need, but really the Yankees have everything they need with the current bullpen.