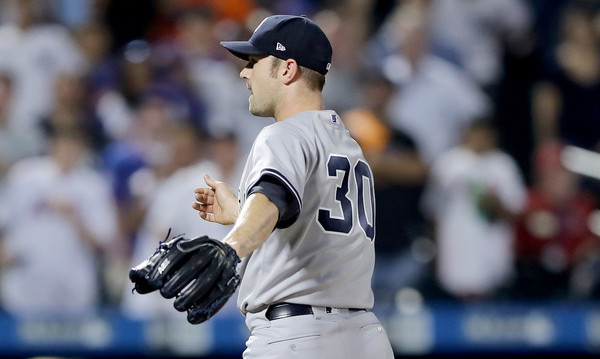 The Yankees ran into a bit of a predicament last night. CC Sabathia labored through the first four innings against the Rays — he allowed only one run, but he had to work hard for just about every out — and Tampa was again threatening in the fifth. They had two on with one out, and the middle of the order due up. The Yankees were up 5-1 at the time, so with one swing of the bat, it could've been 5-4.
Normally, that's a Chad Green situation. He's been the middle innings monster all season, often throwing multiple innings when the starter's outing is cut short. It was a classic Green situation. The problem: Green was not available. He threw 2.1 innings and 47 pitches Sunday. So, Joe Girardi did the next best thing. He went to David Robertson. And he stuck with him. Nine up, eight down, 2.2 scoreless innings to get through the seventh.
The role of Green was played by Robertson last night. Green is the guy we're used to seeing enter in the middle of the game, fire off 2.2 scoreless innings, then hand things over to the late-innings guys. Robertson is usually the one-and-done reliever. He pitches the seventh or the eighth or the ninth, and that's usually it. But, with Green unavailable, he went out and threw those 2.2 innings. Needed only 36 pitches too.
"That was his last hitter. I had (Dellin Betances) ready to come in. It was his last hitter. He kept his pitch count down and we felt comfortable running him back out there," said Girardi of Robertson's lengthy performance following last night's game (video link). "I think he's really adopted the attitude that 'I'm a real team player and I'll do whatever you want.' He said that from Day One … Let's win. Whatever you need to do, do it."
It has now been eight weeks since the Yankees re-acquired Robertson, and in those eight weeks he's thrown 26.2 innings with a 1.35 ERA (2.36 FIP) and stellar strikeout (35.6%) and walk (7.7%) numbers. After the trade Robertson told Girardi to use him whenever and not worry about a set role, and the manager has obliged. Robertson has appeared in 22 games with New York. Here's when he's entered:
Fifth Inning: One game (last night)
Sixth Inning: Two games
Seventh Inning: Six games
Eight Inning: Eight games
Ninth Inning: Four games
Extra Innings: One game
"I look at the spot in the fifth inning when I came in as being the same as coming in in the eighth inning. That was point where we needed to stop their momentum," said Robertson following last night's game (video link). "I don't care when I pitch. I'll do whatever it takes to get us back to the playoffs and give us a chance to get another ring."
Since returning to the Yankees, Robertson has been the team's best reliever. Well, second best behind Green, I'd say, but Green seems to be in his own little world of awesomeness. Robertson has been the best among the team's regular late-inning guys. Betances has had walk trouble all year, and it has been extreme at times. Aroldis Chapman has had his ups and and downs too. Tommy Kahnle has disappointed and Adam Warren is hurt. Robertson has been steady and reliable.
Acquiring Robertson was never a luxury — remember how bad the bullpen was at the time of the trade? — though he's become even more of a necessity than I think even the Yankees expected. Sabathia and Jordan Montgomery are no longer locks for five innings, nevermind six, and Green isn't available for days at a time given his multi-inning role. It's been Robertson who has stepped in to fill in the gaps, and do whatever the team needs. Sometimes it's get three outs, and sometimes, like last night, it's been get eight outs.