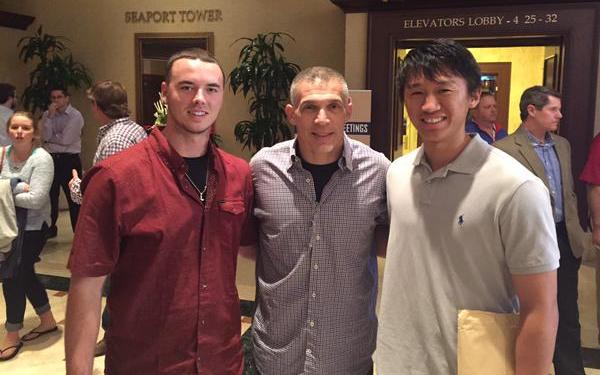 Yesterday afternoon Joe Girardi held his annual "state of the Yankees" press conference at the Winter Meetings. It was a fairly standard Yankees press conference, meaning lots of words were said but there wasn't a whole lot of substance behind them. The organization has mastered the art of saying a lot and nothing at all at the same time, if you know what I mean. Here's a recap of the important stuff from Girardi's press conference with some thoughts as well.
David Robertson and the Bullpen
The Yankees have a great opportunity to use a co-closer system, with Betances and Miller sharing eighth and ninth inning duty based on matchups. The Braves did this with Rafael Soriano and Mike Gonzalez a few years ago — Soriano (27 saves) faced the tough righties whenever they were due up and Gonzalez (ten saves) faced the tough lefties whenever they were due up. The Yankees could do similar but I think there's no chance they will. Girardi likes having set roles — seventh inning guy, eighth inning guy, closer, etc. — and so do the players. Someone will replace Robertson as the closer and everyone will fall into place behind him. I just have no idea who the new closer will be.
All A-Rod, All The Time
Girardi also mentioned he saw some video of A-Rod hitting and working out and other stuff and said he looked good. I fully expect Spring Training to be a total circus because of Alex and I think he will spend some time at first base, at least in camp. It's really hard to expect him to be productive though. How you do you think Chipper Jones would perform in 2015 if he returned to the game after a two-year retirement? That's basically what A-Rod will be doing, but with two surgically repaired hips.
The Rotation
I'm sure the Yankees are hoping Tanaka will make 32 starts next year but are planning for a scenario in which he makes, well, none. Nova not being ready in time for Opening Day is no surprise — he had surgery in late-April 2014 and at the very earliest would be ready in late-April 2015, but the more likely scenario is May or June. Who in the world knows what Sabathia can do. Not really much more to add here. The Yankees need some rotation depth.
The New Shortstop
Gregorius replacing Jeter is going to be a thing all season, isn't it? May the baseball gods help the poor kid if he gets off to a slow start in April. Every slump at the plate and error in the field will be scrutinized. That's just how it will be. I've already seen articles saying Gregorius has what it takes to succeed in New York (link) and articles saying he won't be able to handle the bright lights (link), so no one has any idea what the hell they're talking about. We just have to wait and see.
Girardi's right when he says Gregorius just has to be himself, and at the same time the Yankees can't baby him either. Treat him like any other 24-year-old you're trying to develop into your shortstop of the future. Play him everyday — sitting him against a tough lefty like Chris Sale or David Price is fine, but a straight platoon with Brendan Ryan would be so, so dumb — and give the kid an opportunity to make mistakes and learn from them. It's curious to see how the team balances Gregorius' development with winning because, frankly, they've sucked at developing players lately.
The Offseason
Getting Kuroda back would add some stability to the rotation but the Yankees can't wait around forever for him to make his decision either. The pitching dominoes are starting to fall and the club has to act soon to get the help they need. If Kuroda decides to play later, great. They can figure it out then. The Yankees don't want to be left standing at the game of pitching musical chairs because they spent weeks on end waiting for Kuroda.
Miscellany
Imagine if the Yankees don't re-sign Chase Headley and go into next season with a double play combination of Gregorius and either Pirela or Refsnyder. How much patience will they have for those growing pains on the middle infield? I'm guessing not much but more than most fans. And, as I've said before, I think I'm more curious to see how long the team can go without a hitting coach and first base coach than I am to see who they actually hire. Today's the two month anniversary of them firing Kevin Long and Mick Kelleher, you know.