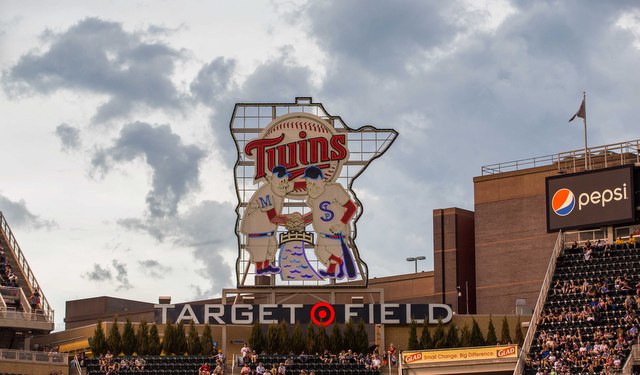 The eleven-game stretch against the Rockies and Twins has not gone well so far. Not at all. The Yankees were just swept in two games in Colorado, and now they're in Minnesota for four against the Twinkies. The good news? The Yankees are 18-5 all-time at Target Field. The Twins always seem to cure whatever ails the Yankees.
What Have They Done Lately?
Believe it or not, the Twins played a night game on the West Coast last night. They were in Anaheim to play the Angels. The Yankees were probably already checked into their hotel in Minneapolis before that game even started. Minnesota lost last night's game and they've lost eight of their last 12 games overall. They come into this series with the AL's worst record (20-45) and run differential (-109). Only the Braves have a worse record in all of baseball, and they're only one game worse than the Twins.
Offense & Defense
Manager Paul Molitor's team doesn't have the worst record in the league by accident. They don't do anything well. They're averaging only 3.88 runs per game with a team 88 wRC+, so offense is hard to come by. It doesn't help that RF Miguel Sano (115 wRC+), who is definitely their best power hitter and arguably their best hitter overall, is out with a hamstring injury. We won't see him this week. OF Darin Mastroianni and UTIL Danny Santana are also on the DL.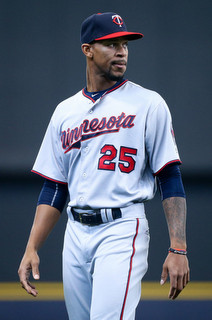 Minnesota's token All-Star this season is probably going to be ex-Yankee SS Eduardo Nunez (126 wRC+), who is having himself one heck of a season. Good for Nunie. He leads off for the Twins with LF Robbie Grossman (185 wRC+), 1B Joe Mauer (116 wRC+), 3B Trevor Plouffe (65 wRC+), and 2B Brian Dozier (93 wRC+) falling in line behind him. DH Byung-Ho Park (94 wRC+) hasn't worked out quite as well as Jung-Ho Kang did for the Pirates last year, at least so far. He's typically the No. 6 hitter behind Dozier.
Top prospects CF Byron Buxton (61 wRC+) and RF Max Kepler (63 wRC+) roam the outfield with Grossman. Buxton got off to a terrible start (29 wRC+), went to Triple-A for a few weeks, mashed (188 wRC+), then returned. He's done better since coming back (88 wRC+). C Kurt Suzuki (65 wRC+) is the regular catcher — ex-Yankee C John Ryan Murphy is currently in Triple-A — and ex-Yankees farmhand C Juan Centeno (60 wRC+) is backing up. IF Eduardo Escobar (59 wRC+) and OF Oswaldo Arcia (78 wRC+) are the other bench players.
In the field, the Twins have above-average defenders in all three outfield spots as well as second base. Plouffe is okay-ish at third and Mauer is fine at first. Nunez? He still has his Eduardo Scissorhands moments at short for sure. Suzuki has long had a reputation for being a good defender even though he's never been particularly adept at throwing out runners or framing pitchers.
Pitching Matchups
Thursday (8:10pm ET): LHP CC Sabathia (vs. MIN) vs. RHP Kyle Gibson (vs. NYY)
Boy oh boy did I think Gibson was going to be a star back in the day, when he was drafted out of Missouri in 2009. It hasn't happened, partly due to injuries. The 28-year-old has a 6.49 ERA (5.33 FIP) in five starts and 26.1 innings around arm problems this year, and he's walked exactly as many batters as he's struck out (10.5%). That is never good. Gibson is getting grounders (54.2%) and doing an okay job keeping the ball in the park (1.03 HR/9), and lefties are just destroying him. He works in the low-90s with his sinker and four-seamer, and his go-to pitch is a mid-80s slider. Gibson also throws some low-80s changeups and a few low-80s curveballs per start as well.
Friday (8:10pm ET): RHP Masahiro Tanaka (vs. MIN) vs. LHP Pat Dean (No vs. NYY)
Dean, 27, finally made his big league debut this season after spending parts of seven seasons in the minors. He has a 4.17 ERA (4.36 FIP) in 36.2 innings spread across five starts and two relief outings. Dean has decent enough peripherals across the board: 18.1% strikeouts, 7.7% walks, 40.9% grounders, and 1.23 HR/9. Righties have had more success against him than lefties. Dean is a finesse guy with a fastball in the 88-91 mph range, and when he cuts it, it comes in around 86 mph. A mid-80s changeup is his main offspeed pitch, and he also throws a mid-70 curve. Dean fits the "general lefty" mold to a T.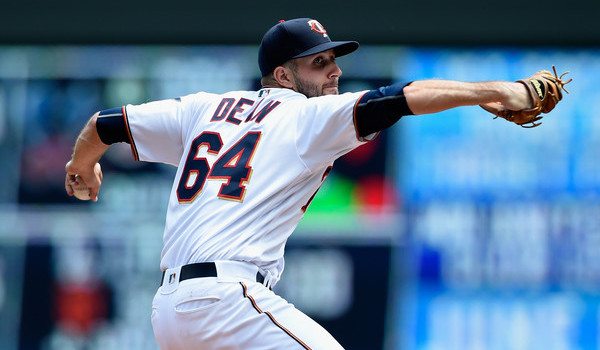 Saturday (2:10pm ET): RHP Michael Pineda (vs. MIN) vs. RHP Ricky Nolasco (vs. NYY)
A few years back the Twins decided to spend some money on pitching, and that led to them spending $49M across four years on Nolasco. Not the wisest decision. The 33-year-old has a 5.12 ERA (3.46 FIP) in 13 starts and 77.1 innings, so he's still doing that FIP underperforming thing he's done his entire career. People kept waiting and waiting and waiting for a breakout because his FIP was considerably lower than his ERA each season. The breakout never came. That's just who he is. Nolasco has impressive strikeout (20.7%) and walk (4.3%) numbers, though he's nothing special in the grounder (42.6%) and homer (1.05 HR/9) departments. His platoon split is small, mostly because he's a kitchen sink guy with something for everyone. He sits in the low-90s with his four-seamer and sinker, in the low-80s with his splitter and slider, and the mid-70s with his curveball. Nolasco throws all five pitches regularly too.
Sunday (2:10pm ET): RHP Nathan Eovaldi (vs. MIN) vs. RHP Ervin Santana (vs. NYY)
That decision to spend money on pitching? It also led the Twins to Santana. They gave him four years and $54M. Forfeited a draft pick too. And then Santana failed a performance-enhancing drug test during his first Spring Training with the team. So yeah, this signing hasn't gone according to plan either. Santana, 33, has a 5.10 ERA (4.58 FIP) in 12 starts and 65.1 innings this season. His peripheral stats look like they always have: 17.3% strikeouts, 7.4% walks, 43.3% grounders, and 1.38 HR/9. The homer rate is higher than usual, I guess. Righties have hit him harder than lefties, but that is exact opposite of the rest of his career. Santana still sits in the mid-90s with his fastball and he still throws a ton of mid-80s sliders. He'll chuck a few mid-80s changeups per start. Santana's the same guy he's always been.
Bullpen Status
Remember how I said the Twins struggle to score runs and they don't really do anything well? Well, thanks in part to their bullpen, Minnesota is on pace to allow 900 runs this season. That would be the most allowed by any team since the 2008 Rangers allowed 967 runs. Egads. Like most teams these days they're carrying eight relievers. Here is Molitor's bullpen crew:
Closer: RHP Kevin Jepsen (5.40/5.31)
Setup: LHP Fernando Abad (0.79/1.99), RHP Brandon Kintzler (2.65/4.67)
Middle: RHP Buddy Boshers (0.00/1.37 in 5.2 IP), RHP Ryan Pressly (4.17/4.31), RHP Neil Ramirez (5.11/6.95), LHP Taylor Rogers (5.28/5.55), RHP Michael Tonkin (3.27/3.50)
Regular closer LHP Glen Perkins has thrown only two innings this season because of an ongoing shoulder issue. Turns out he had a tear in his labrum and needs season-ending surgery. That's a shame. Ramirez (39 pitches) and Rogers (30 pitchers) both threw a lot yesterday. Everyone else should be good to go tonight.
I strongly recommend taking those roles with a grain of salt. Outside of Jepsen, who has been a constant in the ninth inning, and Abad, the high-leverage lefty, no one seems to have a set role. Molitor mixes and matches and sort of brings guys in whenever. It was tough to find a pattern when looking over his bullpen usage.
As for the Yankees, you can head on over to our Bullpen Workload page for the status of Joe Girardi's top relievers. Right now they're in "use the big relievers in games the Yankees are losing because they need work" mode. Sucks.