By

The Charleston River Dogs website has the 2009 roster up. The most interesting thing is that both Carmen Angelini and Garrison Lassiter – both shortstops by trade – made the team. Lassiter is listed as an IF (Angelini a SS), so he may end up playing some third base because third round pick David Adams will be manning second. We'll have to see how this plays out.

The rotation looks pretty stacked, headed by Andrew Brackman. Brett Marshall, Manny Banuelos and David Phelps will join him, with one of Brandon Braboy, Casey Erickson and Cory Arbiso holding down the fifth spot. Pat Venditte & Brad Rulon will anchor the bullpen like they did for Short Season Staten Island last year. The outfield is pretty exciting with Dan Brewer, Abe Almonte and Taylor Grote on board. I don't have anything definitive on the Triple-A Scranton, Double-A Trenton or High-A Tampa rosters yet, but as soon as we find out I'll post them. · (78) ·
Forgive the shameless self-promotion, but I'll be Mike Silva's show tonight around 7:45 to tell him what I think about the New Stadium after checking the place out yesterday. You can listen via the NY Baseball Digest website or 1240 AM WGBB. Howard Megdel of SNY will be on as well, but I'm not sure if we'll be on at the same time. Either way, make sure you give it a listen.
While I'm doing that, Ben will be appearing on Tyler Hissey's Around the Majors Weekly show at 8:00pm. He'll be previewing the Yanks' season for about 25 minutes, and you'll be able to listen here. Once you're done listening to me blabbing about the New Stadium, head on over and listen to Ben talk about the actual team.
Meanwhile, baseball season starts tonight! The first of 2,430 games will take place in Philadelphia, as the World Champion Phillies send Brett Myers to the mound to take on Derek Lowe and the Braves. In one of the many quirks of baseball, the Dodgers and Giants played a cactus league game this afternoon. The Yanks don't start their season until tomorrow afternoon, but right now the weather isn't looking so great, so they might have to push back the opener until Tuesday. Eh, what's another day at this point? I'm sure this would ignite another round of kneejerk "the season starts too late so push it back two weeks so the weather is better and play the World Series in November but when it's cold in November complain that they start the season too late and they should start it earlier so they don't have to play World Series games in November!" reactions. You know what I'm talking about.
Anyway, here's your open thread for the night. Talk about the Phils-Braves, Knicks-Raptors, Sixers-Nets, whatever your heart desires. Just be nice.
Oh, and if you haven't already pledged for our 2009 Pledge Drive benefitting Joe Torre's Safe At Home foundation, please considering doing so. Put your feelings about Joe aside and think of the kids who are scared to be in their own home.
By

While the Yankees have publicly set May 15 as Alex Rodriguez's return date from hip surgery, a new report alleges that A-Rod could return by late April. A-Rod, out since going under the knife on March 9, has begun to swing the bat and according to Kevin Long, is at about 70 percent strength. The Yankees will move A-Rod from Colorado to Tampa this week, and if all goes better than planned, A-Rod could be back before April ends. The sooner the Yanks get A-Rod back, the better off they will be. · (52) ·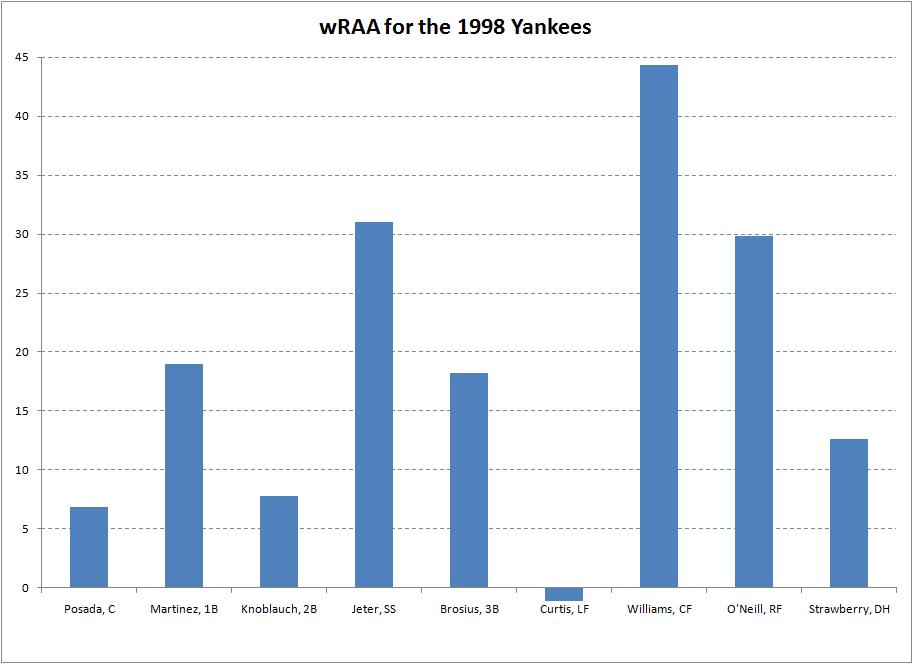 (click graph for a larger view)
The 1998 Yankees were just a beast. They scored 965 runs and allowed just 656, a ridiculous run differential of +309. +309! Their pythag record was 108-54, but they still managed to outperform that by six wins. Insane.
If you're not familiar with wRAA, read this. Essentially it's a weighted measure of how many runs above average a player is offensively. Some thoughts on the graph:
Bernie Williams was (and still is) so underappreciated, it's not even funny.
Four up the middle players: +90.0 wRAA. Four corner players plus DH: +78.5 wRAA. That's what you call a "recipe for winning."
If you discount 1998, Scott Brosius' career wRAA is -45.7. Yikes.
Derek Jeter (+31 wRAA) outperformed the DH, left fielder and first baseman combined (+30.5 wRAA).
Tim Raines also received significant playing time in left and at DH, chipping in another +7.7 wRAA.
Seriously, Bernie was great.
(inspired by this)
By

Pitching for Double-A Trenton against Triple-A Scranton, Joba Chamberlain allowed two runs on two hits and a walk over five and a third innings earlier today. He struck out five, and after allowing the hits and walk to start he game, he retired the final sixteen batters he faced. He was removed after reaching his scheduled limit of 75 pitches. "It took me just a little bit to get going," said Joba. "I wanted to work on fastball command and my changeup, and I think I did a great job with those two. I think it was one of my most productive days as far as consistency. It was good." His first regular start is scheduled for Sunday at Kansas City. · (38) ·
What is our fascination with predictions? Why do sportswriters specifically feel the need to guess how a season will end on the day before it begins? The only three answer I can think of: 1) they want to sound smart, 2) their editors told them to, 3) everyone else is doing it. It's still a fool's game, so I'm going to refrain — though I will make a bold prediction, because no one expect that to happen.
The newspaper masses have assembled, and they've made their predictions for the 2009 AL East. Joy of Sox, one of the better Sox blogs, shares the Boston writers' picks and the New York writers' picks. You'll never guess how each side picked.
Of the six writers from the Boston Globe, only two picked the Yankees to even make the playoffs, and none of them think the Yanks will take the division. Both of them, by the way, picked the Sox to win the World Series. On the New York end, we see that the Times loves the Yanks: both Jack Curry and Tyler Kepner picked them to win the division, though both had the Sox second and taking the Wild Card. Yet while every Red Sox writer had the Sox in the playoffs, one Yanks writer has excluded the hometown team. You can guess if you want, but I'm going to give it away: Bill Madden. He has the Rays winning 101 games. If there's a 100-win team in the division, I certainly wouldn't peg the Rays for the honor.
The lesson: don't listen to the predictions. They mean nothing, and even that gives "nothing" a bad name. Just look at ESPN's staff predictions. Ridiculous, right? Twins win the WC? Not that it can't happen, but given what we know right now how could you possibly predict that?* Just stay away from what the "experts" say and enjoy the start of the season. It's certainly one to get excited about.
* Answer: Matthew Berry knows that no one will remember his prediction when it doesn't happen, but on the off-chance it does he's going to reference it constantly in a reminder of just how smart he is.
By

Not all Yankee fans appreciate, respect of like Alex Rodriguez, but when members of the Red Sox start going after one of our own, well, we have to call them on it. In a wide-ranging profile in Boston Magazine that no self-respecting Yankee fan could ever read, Dustin Pedroia calls out A-Rod. "That guy is a dork," Pedroia says about A-Rod to Tommy Craggs. Interestingly, Pedroia's not-so-original takedown of A-Rod came after the diminutive MVP winner asked Craggs to strike his prior comments on the Yanks' third baseman from the record. I wonder what Pedroia really thinks of A-Rod. · (98) ·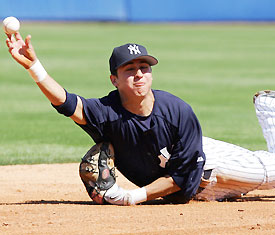 Alex Rodriguez officially hit the disabled list today, four weeks after undergoing surgery to repair a torn labrum in his hip. He was placed on the 15-day DL retroactive to March 27th, so he's eligible to be activated on April 11th. That's only five weeks out from surgery though, ahead of even the most optimistic of projections, however an assignment to the 60-day DL would have shelved him until May 26th, far beyond the worst case scenario of nine weeks of rehab. No matter how Cody Ransom performs in his stead, A-Rod's return to the lineup will be a welcome one.
As Ben mentioned earlier, A-Rod's spot on the roster will be kept warm not by Angel Berroa, but by young Ramiro Pena. This is a pretty noteworthy development to me, because it shows how committed the Yankees' front office is to getting  players that are younger, more athletic, and better defensively on the roster. Berroa is an experienced veteran with over 2,700 big league plate appearances to his credit and had an excellent camp (.371-.381-.597), so it certainly would have been understandable if the Yanks gave him the final bench spot. In fact, Joe and I advocated it in last week's radio show.
Instead the Yanks went with Pena, a career .266-.330-.357 hitters the minors. He'll jump right to the bigs without ever appearing in Triple-A because the Yanks value his top-of-the-line defense at multiple infield positions and speed off the bench. In years past they would have opted for the more seasoned player with some hardware and more of a name, it's just how the rolled. But the Yanks are a team in transition, and they don't need Pena to contribute offensively off the bench (they have Nick Swisher for that), they need him to shore up other weaknesses. It's part of a continued progression towards becoming a more multi-dimensional team that is as good at preventing runs as it is scoring runs.
Pena is just one of the first steps, right along with Brett Gardner being named the starting middle outfielder and the signing of Mark Teixeira. The next step is replacing aging and declining veterans in the final year of their contracts with young blood – like Austin Jackson – in the offseason. Ramiro Pena may or may not be able to hack it as a big leaguer, but just the simple fact that he's going to be on the Opening Day roster speaks volumes about where this team is heading.
Photo Credit: Robert F. Bukaty, AP
It's no coincidence that the Yankees invited the Cubs to stop by Yankee Stadium this weekend. In fact, it appears to be part of a Hal Steinbrenner-inspired masterplan to lure current Cubs manager Lou Piniella into the Yankee fold.
Take a look at how Pull Sulivan of the Chicago Tribune reported the story:
The Yankees could have chosen any team to be their first opponent, but Yankees general partner Hal Steinbrenner wanted Piniella to be part of the opening festivities, so the Cubs were his first choice.

Steinbrenner has told close friends he plans on hiring Piniella as a consultant when his managerial contract with the Cubs runs out after the 2010 season.
Sounds like a good plan to me. Bringing Sweet Lou aboard the Yankee ship after his managerial career is over would strengthen the Yankee Front Office and return a man who spent 11 years playing and another two-and-a-half managing the Yanks to the Bronx fold.

(click image of a much larger view)
That sorry excuse for a panoramic shot of the New Stadium was taken by me, from our seats while the Yankees were taking batting practice before today's game. Sheesh, you'd think I'd remember to at least get home plate in the picture, huh?
Luckily, I did manage to get some good shots of The Great Hall, which has banners of everyone from Reggie Jackson to Paul O'Neill, Donnie Baseball to Thurman Munson, and everyone in between. A banner alone couldn't hold Reggie's ego, so got his own wall as well. The screen in center field is frickin' huge, just massive. The obstructed view seats in right and left fields are pretty bad though, and the TV screens really don't help.
The position players stretched before the game while the pitchers played catch. Jose Veras played catch with Edwar Ramirez, CC Sabathia with Chien-Ming Wang, Andy Pettitte with someone I forgot, Joba Chamberlain with Brian Bruney, and Phil Coke with Dan Giese. Afterwards the starting rotation got together for a quick chat.
Coolest moment of the day: I was wandering around before the game, and as I walked past the entrance to the luxury suites Pilot Chesley Sullenberger walked out of the suite and took a look at The Great Hall. He's the guy that landed the plane on the Hudson a few weeks back (I'm sure you knew that already), and threw out the first pitch. I did my best to grab a picture of him talking to some people who stopped to say hi as I went up the escalator. Very cool.
You can check out my entire set of photos via my Flickr slideshow. Ben will upload his pictures at some point for you to see as well.
As far as the actual Stadium goes, the biggest problem I had with it was the levels of the sound system. We were sitting directly below a speaker, and my Mo, it was deafeningly. To whoever the lady is that goes about the Stadium asking people trivia questions and what not … don't talk so damn loud, the person is right next you! The sound system went completely silent in the sixth inning, and stayed that way for the rest of the game. It's a good thing they played these two games, now they have a chance to fix that.
Other than the PA system, the place was amazing. Monument Park seems a little too hidden, it would be nice to have it on full display as it was at the Old Stadium. The upper deck isn't nearly as steep as it was across the street, and I like the look of the dark blue seats. I'm sure some people will bitch and moan about tiny little things, but overall the place is phenomenal. I look forward to watching baseball there for the rest of my life.
Here's your open thread for the night. The Devils and Islanders are both in action, as are both Final Four games. Anything goes here, just be nice.