By

With his stolen base in the bottom of the 4th, Jacoby Ellsbury just delivered free tacos from Taco Bell to every single American. On October 30 from 2 to 5 p.m., head to your nearest Taco Bell for a free Crunchy Seasoned Beef Taco. Personally, I never realized beef was supposed to be crunchy. · (5) ·
Last night, toward the end of that painful 13-1 routing, Tim McCarver and Joe Buck turned their attention back to Game 3 of the ALCS. In that game, for those of you like me who have tried to forget 2004 even happened, the Yankees put a-hurtin' on the Red Sox. At that point in the series, the Yanks were up 3 games to none, and this where Tim McCarver's imagination takes over.
McCarver said last night that, following game 3 in 2004, the Red Sox players are already congratulating the Yankees and wishing them luck in the World Series against the Cardinals. I call this story complete and utter BS. In fact, I think McCarver simply just made it up to sound good.
Why? Well, following game 3 of the 2004 ALCS, neither the Yankees nor the Red Sox had any inkling of which team they could face in the World Series. Game 3 of the ALCS was on Saturday, October 16. Earlier that same day, the Astros won game 3 of the NLCS and cut the series to 2-1 in favor of St. Louis. That series would eventually go seven games as well and would end one day after the Yankees-Red Sox series wrapped up.
In other words, even after the Red Sox completed their comeback and the Yankees finished the collapse that should have gotten Joe Torre fired, they still had no idea who they would be playing in the World Series. There's no way the players would have mentioned the Cardinals following game 3 because the Cardinals simply weren't destined for the World Series yet.
In conclusion, don't trust stories that come out of Tim McCarver's mouth. Who knows what else he's pulling out of thin air?
For another view on McCarver's announcing, check out Breaking Balls.
Usually, I'd just post an aside to this article by Tyler Kepner about the three Yankee managerial candidates, but there are a few things I wanted to share. Allow me to quote the relevant parts, and discuss away in the comments.
On Don Mattingly:
Don Mattingly came in as the favorite of the principal owner, George Steinbrenner, and he made a strong impression on Steinbrenner's son Hank in his interview Tuesday.

"He gave them more than what they expected," a person who spoke with Hank Steinbrenner said. The person spoke on condition of anonymity because no decision had been announced. "They liked his aggressiveness and his strength. They saw some fire, and they liked that. He came across as real."

…Mattingly apparently convinced the increasingly powerful Hank Steinbrenner that he could be more than the quiet leader he is perceived to be. In doing so, Mattingly cleared what is thought to be his biggest hurdle in getting the job. Hank Steinbrenner did not know Mattingly the person, but now he does…

It is doubtful Mattingly would return to the coaching staff if he does not get the managing job.
On the Steinbrenners' leaving the decision up to GM Brian Cashman:
The feeling among ownership is that Girardi, Mattingly or Peña would all be acceptable choices. Hank Steinbrenner said that he would essentially leave the final call to General Manager Brian Cashman and his staff.

"If the baseball guys are unanimous or near it, that's the way you've got to go," he said, adding that there were no more interviews to be done.
On Larry Bowa and Seattle:
Bowa has been offered the Seattle Mariners' third-base coaching job, but he said Wednesday that he was still undecided about whether to accept.
Bowa, Kepner notes, could become the Yankees' next bench coach. I hope Larry sticks around the Bronx, especially if Mattingly is the next manager.
Reading in between the lines o the article, my money is now on Don Mattingly. I think the Yankees are leaning that way due more to PR reasons than anything else. Losing Mattingly after losing Torre would be a big blow to the public perception of this team, and that is not something the Steinbrenners want to face right now. Public relations aside, Joe Girardi would be a better choice based on baseball acumen. We'll know soon.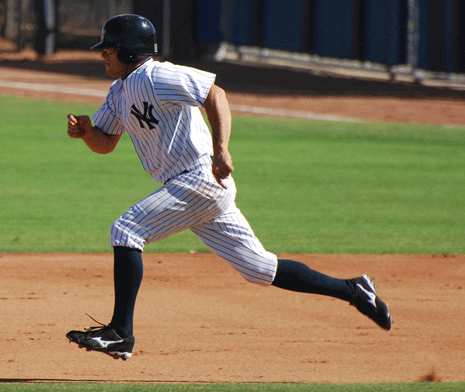 AFL Javelinas (9-5 win over the Phoenix Desert Dogs)

Brett Gardner: 2-5, 1 RBI, 1 R, 1 BB, 2 SB. Reached on a bunt single and stole both bases without a throw. He's now up to seven SB's.
Reegie Corona: 1-4, 2 R, 1 BB. Hitting .375 left handed / .000 right handed.
Eric Wordekemper: 1 IP, 1 H, zeros. Topped out at 89mph on the gun.
Miranda didn't play, but they've added one of his AFL hits on YouTube. The game photos are on the other side. Read More→
So Joe Torre. Let's talk about him. It's been hours days.
In the aftermath of Torre's dismissal/firing/decision to quit, the New York sports media, ready to collectively fire Joe in May, were anointing him a saint. He was the Manager Who Stood Up to Steinbrenner. He stuck by his guns and made fools of those Steinbrenner sons and Randy Levine. Hell, even we got into the act last week.
But what if Joe isn't exactly the saint he was made out to be? He did, as many of you are wont to point out, turn down a $5 million offer to manage the Yankees for another year and could have made up to $8 million. He claims he was insulted by the incentives, but I'm beginning to doubt the man.
Take a look here. In April of 2004, Joe Torre signed a three-year contract extension with the Yanks that carried him through this season. As part of the deal, he would be retained as a senior adviser with the club – the one he called "the last major league team I'm going to manage" – for six years following his retirement. But that's not the important bit.
The important bit focuses around incentives. Tyler Kepner wrote: "He will also receive bonuses for winning the American League pennant or the World Series, as he did in his last deal."
Well, well, well. That certainly changes things quite a bit, doesn't it? Was Joe Torre really that insulted by an incentive-laden deal this year if he had basically been managing on an incentive basis for the duration of his last two Yankee contracts? I find that hard to believe.
Meanwhile, last night on Bob Costas' show, as Cliff Corcoran details here, Torre said he would have taken an incentive-based deal with a pay cut had the Yankees been willing to offer a second year.
So then, this whole issue boils down to one of two things. Torre, who had long seen the writing on the wall, must have known the Yankees wanted him out of New York, but he wanted to go out on top. So when they publicly offered him a pay cut and a one-year deal, he highlighted the incentives – something in all of his deals – as the kicker for him. He was able to look good while backing out of a deal he probably just should have accepted. With an unstable ownership situation, Torre would most likely have kept his job in 2009 also had the Yankees made the playoffs next year even without a World Series ring. That's one.
The second piece is pride. Joe Torre always wanted to be the last Yankee Manager at the old stadium and the first at the new one. When the Yankees couldn't yet guarantee him that experience, he bailed. While the team didn't need help in making themselves look bad, he took the contract negotiations public and came out unscathed. I'm beginning to think we should question the purity of St. Joe as the Yankees move forward with their managerial search. He surely is not that innocent.
Much has been said about the lack of pitching in the Arizona Fall League. On the surface, the lack of pitching is simply a result of an innings cap that many teams now employ for their top prospects. However, there are always quality pitchers that don't get enough innings during the year because of injury or other miscellaneous issues. In fact, Humberto Sanchez made a name for himself during the '05 season when he put up a 2.15 ERA while making up for lost time.
So why is the pitching so consistently bad, you ask? Well, the problem is two-fold. Read More→
AFL Javelinas (7-6 loss to the Scottsdale Scorpions in 10 innings)
Brett Gardner: 1-5, 1 R, 3 K's. Beat the pitcher to 1B for an infield single
Juan Miranda: 1-3, 1 2B, 1 RBI, 2 BB, 1 K. Picked off second base.
Steven Jackson: 1 IP, 2 H, 2 ER, 1 BB, 2 K's. His grandfather, Scott Jackson, was a three-year letter winner at Clemson in the 1950′s
Ross Ohlendorf: 1 IP, zeros. 3-0 GB/FB ratio. Say goodbye to the taxi squad.
Remember when I said that outfielders don't get errors if the sun was in their eye. Well that goes for the moon as well. Miranda's double was a sinking line drive but the left fielder got a terrible jump and the ball skipped under his glove when he tried to make a diving catch. It was originally ruled an error but later changed to a hit. Read More→