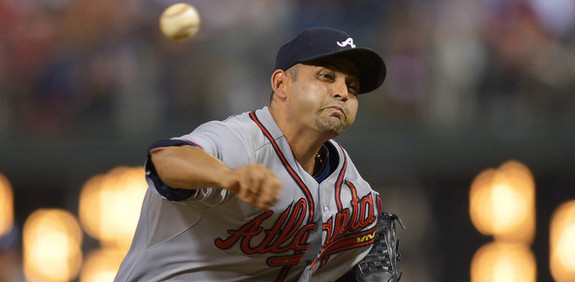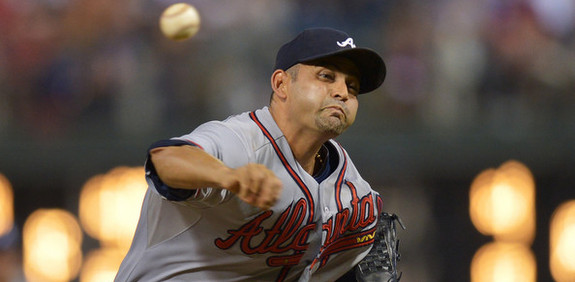 Three years ago, the Yankees gave veteran right-hander Luis Ayala an opportunity to bring his career back from the dead. He had not been an effective big leaguer in four years (or a big leaguer at all in two years) when they signed him to a minor league deal, but he impressed in winter ball and the team gave him a chance. Ayala wound up making the club and having a strong season in a middle relief role.
The Yankees now find themselves in a similar situation as three years ago. They need some bullpen arms and Ayala remains unsigned, looking for a job. The Tigers, Indians, Orioles, Red Sox, Rays, Dodgers, Giants, and Phillies have all expressed interest in him according to Tim Dierkes and Chris Cotillo, enough teams that he is holding out for a multi-year contract. I'm not sure if that will happen at age 35 (36 on Sunday), but it doesn't hurt to ask. Does a reunion with Ayala make sense for the Yankees? Let's look at what he has to offer.
The Pros
Since resurfacing with the Yankees three years ago, Ayala has remained effective and pitched to a 2.58 ERA and 3.85 FIP in 164 innings. He's been outperforming his FIP pretty much his entire career. At this point we have to say it's a skill, not a fluke.
Ayala is a classic sinker/slider guy who gets grounders (51.4% since 2011) and limits walks (2.58 BB/9 and 6.8 BB% since 2011). His trademark sinker continues to sit right around 90 mph.
He hasn't had a platoon split these last three years. He's held righties to a .311 wOBA (53.8% grounders) and lefties to a .318 wOBA (48.3% grounders) since 2011.
Ayala has done it all out of the bullpen, so he has experience in a number of roles and is versatile. He closed earlier in his career, he's been a setup man, a mop-up man, a middle reliever, you name it. Hooray flexibility.
The Cons
Ayala is a low strikeout pitcher (6.15 K/9 and 16.1% since 2011) and his strikeout rate is slowly trending in the wrong direction: 6.27 K/9 (16.7 K%) in 2011, 6.12 K/9 (15.9 K%) in 2012, and 6.00 K/9 (15.0 K%) in 2013.
Although his overall platoon split is small, lefties have been giving Ayala a harder time in recent years. They tagged him for a .301 wOBA in 2011, a .322 wOBA in 2012, and a .346 wOBA in 2013. He might devolve into a pure righty specialist in 2014.
Ayala is no stranger to the DL. He missed more than two months with an axiety disorder last year and he spend a month on the sidelines with a shoulder problem in 2011. Ayala also had shoulder (2003) and elbow (2005-2007) problems earlier in his career.
The Yankees and Ayala are already familiar with each other from their previous marriage, so both sides know what they're getting into. The team knows what he is like in the clubhouse, knows his medical history, all that stuff. Ayala knows the coaching staff, a bunch of guys on the team, and the expectations that come with wearing pinstripes. I don't think that stuff is a huge deal — especially when talking about a middle reliever on a short-term deal — but it's not a negative.
When the Yankees let Ayala walk following the 2011 season, I was totally cool with it because he is exactly the kind of pitcher you want to cut ties with a year too early rather than a year too late. He's since gone on to have two strong seasons with the Orioles and Braves, so his success in the Bronx was not a one-year fluke. The declining strikeout rate and decrease in effectiveness against lefties are red flags, no doubt about, but not big enough to scare me away from a one-year deal. Multiple years though? No thanks.